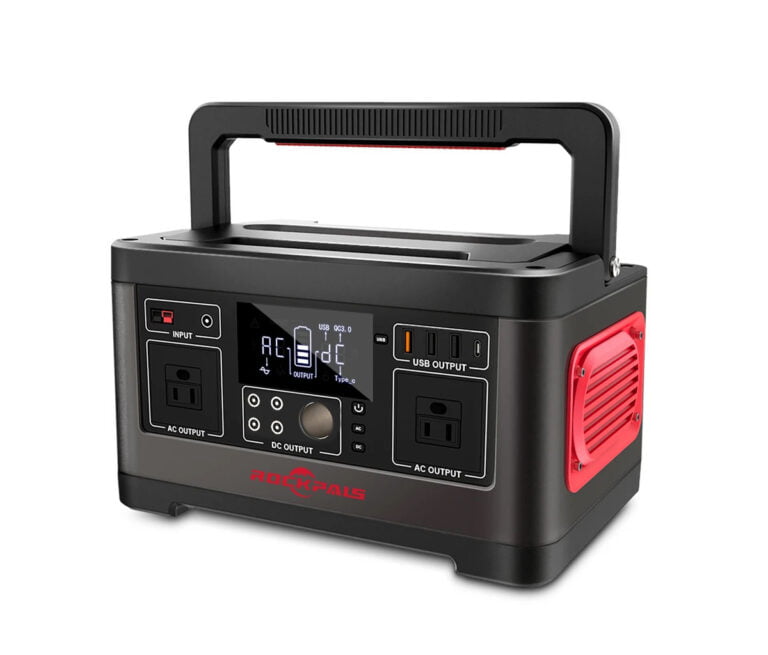 Gone are the days when people traveled with no electric gadget on a camping trip. Nowadays, a camping trip is invaded with all types of gadgets, be it a smartphone, tablet, water filter, camera, drones, GPS units and more. It is not easy to keep all these gadgets powered up throughout the trip, unless you have a portable power station with you. Along with camping trips, a portable power station could also be of use in case of a road trip, or an extended power outage. So, if you are planning to buy a portable power station and are looking for help, then I suggest going for the Rockpals 500W/520WH Portable Power Station.
Rockpals Portable Power Station – easy to use
Rockpals 500W/520WH Portable Power Station is powerful and does its job efficiently. One useful and distinguishing feature of this power station is that it does not solely depend on the solar panels for recharging. Rather, they can be easily charged with a 12V car cable as well.
This means you can charge the power station using your car, or from a wall socket. Rockpals claims that one can charge it fully via 110V AC Outlet and 12V Car Adapter in about 7 to 8 hours. In our testing, we charged it via 110V AC Outlet for about two hours and got enough juice to power many of our gadgets.
Crypto Hedge Fund Three Arrows Blows Up, Others Could Follow
A few years ago, crypto hedge funds were all the rage. As cryptocurrencies rose in value, hundreds of hedge funds specializing in digital assets launched to try and capitalize on investor demand. Some of these funds recorded double-digit gains in 2020 and 2021 as cryptocurrencies surged in value. However, this year, cryptocurrencies have been under Read More
Additionally, the easy-to-read LED display of the power station keeps a user informed about the battery status. The display informs how much power is left in the power station. When on the charge, the display informs how long one needs to charge it. Moreover, the power station sounds an alarm/beep when the battery dips 10% or below.
This power station uses 520Wh lithium batteries, with a peak of up to 1000W. Lithium batteries are the best in terms of the battery life, efficiency and the charge time.
Light, compact and noise free
Carrying it is easy as well. It is unlike the traditional heavy power stations that are bulky to carry and are noisy as well. Rockpals power station weighs just 14.33 lbs (6.5 kg), much less than other similar products in the category. It is compact as well measuring just 12.05 x 7.87 x 6.93 inches. This power station works silently behind-the-scenes to ensure a smooth trip for you. Moreover, a pop-up handle mounted on the top makes it super easy to carry around.
Also, unlike traditional generators, Rockpals' power station doesn't use gasoline or kerosene to operate. Thus, it doesn't emit fumes. This means you won't have to worry about where to keep this power station. You can place it inside your tent as well.
Serves all your needs and is safe to use
Another feature that makes this power station extremely useful is the presence of tons of ports. This portable device has four USB ports, AC outlet, 4 DC outports and a Car Port. It can easily charge all your gadgets, including phone, tablet, laptop, drone, camera, bulbs and more. Moreover, the power station supports Qualcomm Quick Charge 3.0 to fast charge your devices.
Talking about safety, the power station uses pure sine waves. This means, it protects your sensitive devices, such as TVs, laptops or even Continuous Positive Airway Pressure (CPAP) machines, from damage.
Additionally, the model comes with an effective battery management system (BMS) to ensure that the power station stays on for a long time. Moreover, the BMS protects the power station, as well as the electronics with the help of usual protections, such as temperature control, over discharge protection and overcurrent protection.
It is environmentally friendly as well and doesn't emit any fumes, while EMR (Electromagnetic radiation) is also well below the tolerance limits.
Final Words
In all, this light and portable power station could prove extremely useful and make your camping and road trips a breeze. When not camping, use it as an emergency back-up at home. It can charge all types of devices, and you can charge it easily as well. Also, it has a sturdy and professional look and feel.
You get all these services at a very affordable price of just $429.90 (excluding the portable solar panel). To make the deal even more sweet, you can save $80 more by using the coupon code on the company's order page. Rockpals is also offering a 24-month warranty on the product to assure you of its quality.
Disclosure: This product looked great so we reached out to Rockpals. The company was kind enough to send us a unit in return for an honest review.
Updated on