Whitney Tilson's email to investors discussing billionaire investor Bill Ackman is hedging the pandemic again; comparing the Covid-19 crash to prior ones.
Q3 2020 hedge fund letters, conferences and more
Bill Ackman Is Hedging The Pandemic Again
1) Here's some very interesting breaking news: Billionaire investor Bill Ackman is hedging the pandemic again after raking in $2.6 billion from a similar bet in spring - Business Insider. Excerpt:
Exclusive: York Capital to wind down European funds, spin out Asian funds
York Capital Management has decided to focus on longer-duration assets like private equity, private debt and collateralized loan obligations. The firm also plans to wind down its European hedge funds and spin out its Asian fund. Q3 2020 hedge fund letters, conferences and more York announces structural and operational changes York Chairman and CEO Jamie Read More
Billionaire investor Bill Ackman turned $27 million into $2.6 billion by insuring his hedge fund against a wave of corporate defaults earlier this year. The Pershing Square chief placed a similar bet – almost 30% of the original's size – on Monday after news broke of a highly effective COVID-19 vaccine, he revealed at the Financial Times' Dealmakers Conference on Tuesday.
"I hope we lose money on this next hedge," Ackman said, according to the Financial Times. "What's fascinating is the same bet we put on eight months ago is available on the same terms as if there had never been a fire and on the probability that the world is going to be fine."
Ackman described the vaccine news as "bearish" during his keynote speech, the Financial Times said. He cautioned people could become nonchalant about wearing masks and might worry less about catching or spreading the virus with mass inoculation on the horizon.
I've also become more bearish about the pandemic.
The news about rising hospitalizations in particular has been worse than I expected, especially in places like Arizona, which were already hit hard earlier this year. I'll share more detailed thoughts in a future e-mail (to receive them first, sign up for my coronavirus e-mail list by sending a blank e-mail to: [email protected]).
Comparing The COVID-19 Crashes
2) Though it's three months out of date, this is nevertheless an interesting chart from VisualCapitalist showing how rapid the COVID-19 crash and recovery was relative to five other major market crashes over the past century: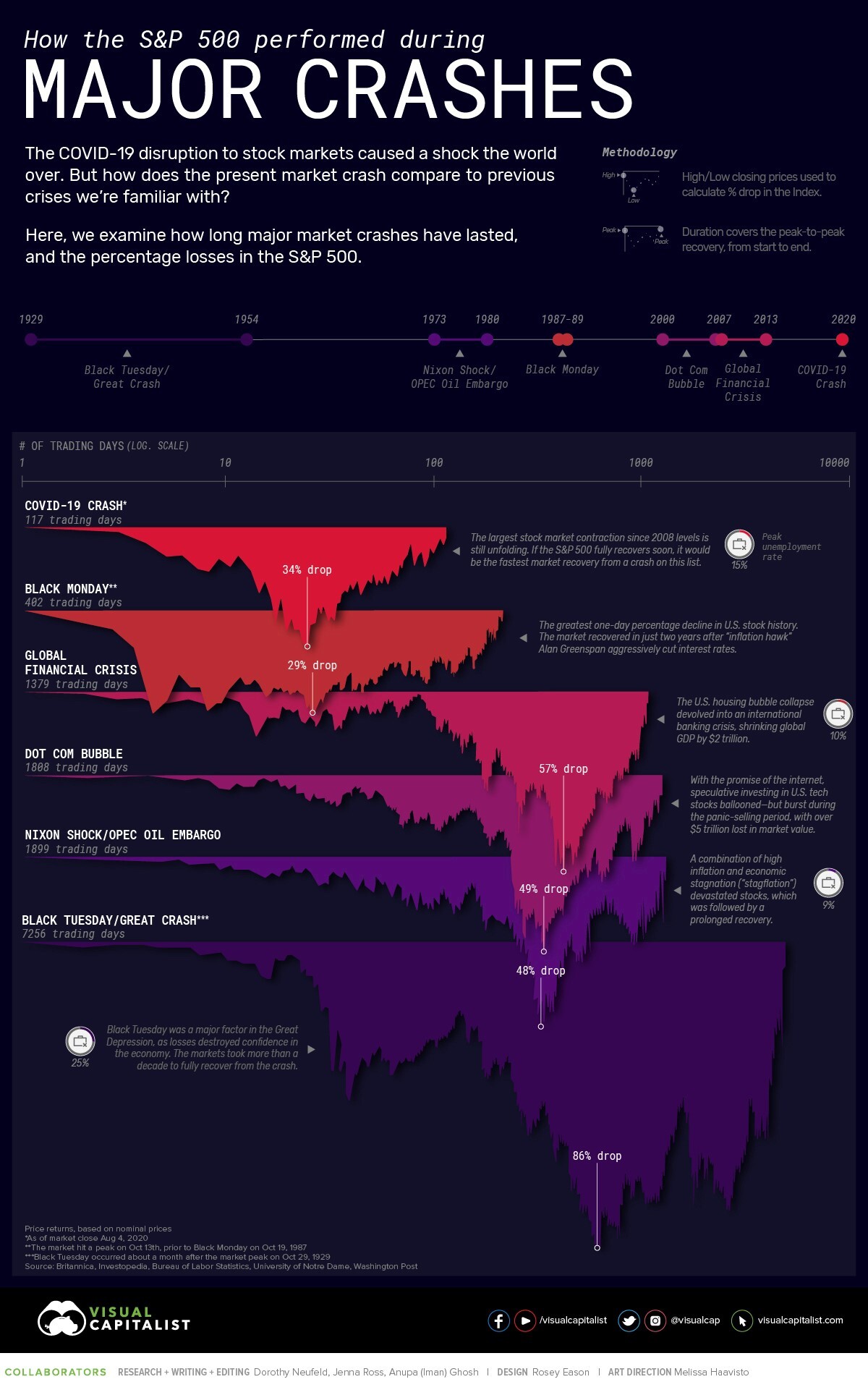 Note that the S&P 500 Index surpassed its prior all-time high set in February on August 18, only nine trading days after this chart was published. This means that the market's recovery took only 126 days – by far the fastest on record.