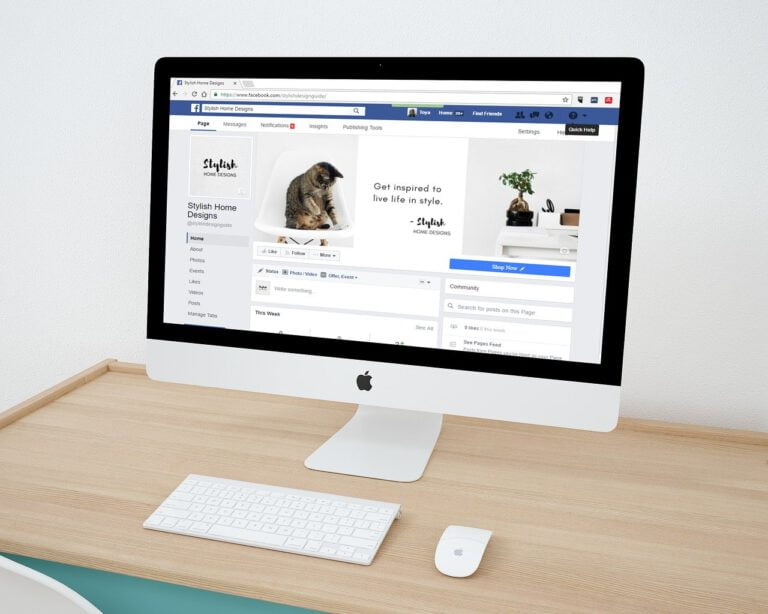 Talkwalker/Hubspot report reveals top 10 social media industry trends predicted by 50 global experts for the coming year
Q3 2020 hedge fund letters, conferences and more
The Trends That Will Shape The Social Media Industry
NEW YORK - International social media analytics firm Talkwalker and Hubspot asked 50 social media gurus, industry experts and PR professionals from around the world to define the trends that will shape the social media industry for 2021, turning that into a report available here.
Crypto Hedge Fund Three Arrows Blows Up, Others Could Follow
A few years ago, crypto hedge funds were all the rage. As cryptocurrencies rose in value, hundreds of hedge funds specializing in digital assets launched to try and capitalize on investor demand. Some of these funds recorded double-digit gains in 2020 and 2021 as cryptocurrencies surged in value. However, this year, cryptocurrencies have been under Read More
"While 2020 was a year that no one could have predicted, with mentions of COVID-19 going from near zero in November 2019 to more than 1.2 billion so far in 2020, COVID-19 was a catalyst not an outcome," says Todd Grossman, CEO Americas Talkwalker.  "It expedited issues, ideas and initiatives that were bubbling away, but may not have happened quite so soon without the crisis."
This year's Social Media Trends report ranked trends to look for in 2021 as identified by experts and by the audience as consumers were surveyed to rate the trends and see how they are impacting brands at the ground level.  The number one trend identified was focused on the impact of socially conscious audiences.
In 2020, it was clear how this socially conscious generation had an impact on brands, politics and society as a whole.  Companies will have to engage more with topics like mental health, "inclusivity" and "social justice" or face becoming irrelevant and potentially obsolete in 2021.
Identify The Issues That Matter To The Audience
"Brands must understand their audiences to identify the issues that matter to them," says Grossman.  "But before engaging publicly, brands need to be earnest, ensuring they are tackling the issue across the whole company.  And go full throttle – you have to be committed to your cause but also be aware of any backlash by monitoring sentiment and ensuring that you are striking the right tone with your messaging."
One example of a company embracing social consciousness from 2020 is Nike, which has never been a brand to edge away from politics. Following the rise of the Black Lives Matter movement earlier in the year, Nike engaged with the topic quickly, drawing their line in the sand. This tweet quickly garnered attention.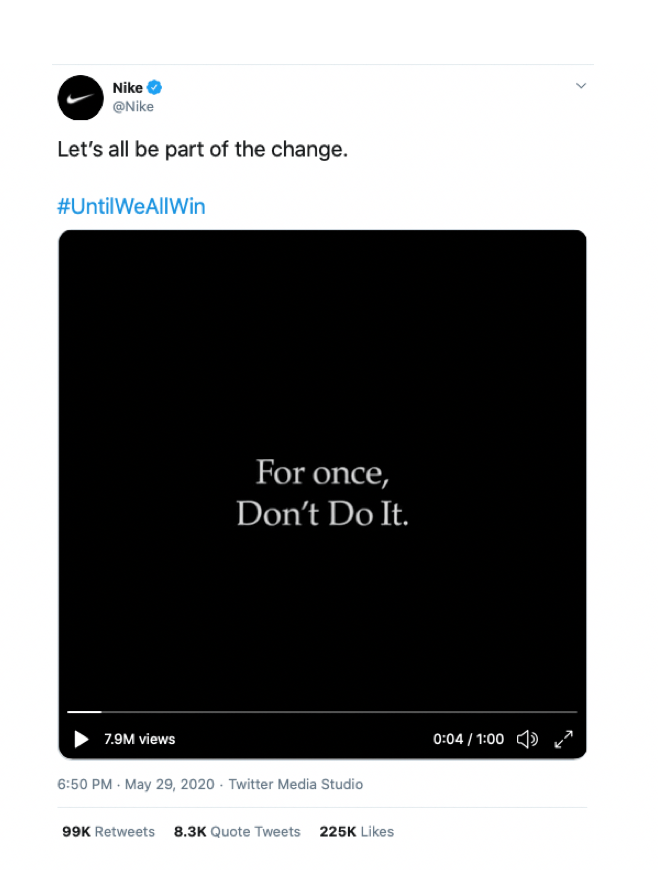 With more than 7.8 million views and 326.5K engagement, the message resonated. Nike followed up with clear brand commitments, both financial and strategic, to support their employees, supply chain and communities. To date, #UntilWeAllWin has been mentioned 131K times, with 671K engagement. Their socially conscious strategy is making a difference with powerful messaging, like their You Can't Stop Us campaign, already reaching nearly 58M views on YouTube alone.
"Brands will have to find their place in public dialogue on social, particularly when it comes to social justice," says Eva Taylor, Director of Social Strategy, Operations & CSR at Hootsuite. "However, words without action are meaningless: demonstrating commitment will matter more than ever when it comes to attracting (and retaining) employees, customers and other key stakeholders."
---
About Talkwalker
Talkwalker is a social listening and analytics company that empowers over 2,000 brands and agencies to optimize the impact of their communication efforts. We provide companies with an easy-to-use platform to protect, measure, and promote their brands worldwide, across all communication channels. Talkwalker's state-of-the-art social media analytics platform uses AI-powered technology to monitor and analyze online conversations in real-time across social networks, news websites, blogs and forums in 187 languages. Talkwalker has offices in New York, Luxembourg, San Francisco, Frankfurt, and Singapore. It is also the home of Talkwalker Alerts, a free alerting service used by over 500,000 communications and marketing professionals worldwide.
Updated on