A new report shows the states and cities that offer the highest number of remote jobs. Moneypenny has analyzed over 71,000 job offers to find out states that offer the most remote roles and those offering most entry-level roles. 
Q2 2020 hedge fund letters, conferences and more
It's no surprise that the US has seen a huge increase in those working from home over the past few months. With the pandemic having a huge impact on how we work and socialize.
David Einhorn Buys Three New Stocks: These Are The Names And Theses (Q3 Letter)
David Einhorn's Greenlight Capital funds returned 5.9% in the third quarter of 2020, compared to a gain of 8.9% for the S&P 500 in the same period. This year has been particularly challenging for value investors. Growth stocks have surged as value has struggled. For Greenlight, one of Wall Street's most established value-focused investment funds, Read More
But which state currently offers the most remote jobs and where can we find the most entry-level jobs?
Moneypenny, the outsourced communication provider, has analyzed over 71,000 remote jobs that are currently advertised on Indeed.com to reveal which states offer the highest number of remote roles.
Florida tops the list with 10,826 remote jobs currently advertised. This is followed by California with 7,944 remote jobs available and New York with 7,154 remote jobs.
The top 10 states with the highest amount of remote roles are:
Florida 10,826
California 7,944
New York 7,154
Texas 5,434
Illinois 2,334
North Carolina 2,214
Virginia 2,199
Pennsylvania 2,190
Georgia 2,166
Arizona 1,793
However, some of the states with the lowest amount of remote jobs were:
Maine - 207
Delaware - 205
Vermont - 181
Hawaii - 170
Montana - 168
Rhode Island - 167
Alaska - 155
South Dakota - 133
North Dakota - 130
Wyoming - 109
To understand the remote work demand, Moneypenny assessed Google Trends data, to find out which states search for remote jobs online the most.
Searches in Hawaii for remote work has seen a 73.50% increase in Google Searches since the pandemic began.
The same can be seen for Alaska and New Mexico, with Alaska's remote job search increasing by 37.50% and New Mexico's by a staggering 118.90%.
Moneypenny also looked into the cities that offer the most remote jobs. The cities with the biggest number of remote job opportunities were:
New York - 1,693
Los Angeles - 1,086
Chicago - 1,052
Atlanta - 969
Austin - 789
Denver - 702
Boston - 683
Phoenix - 670
Seattle - 622
Philadelphia - 559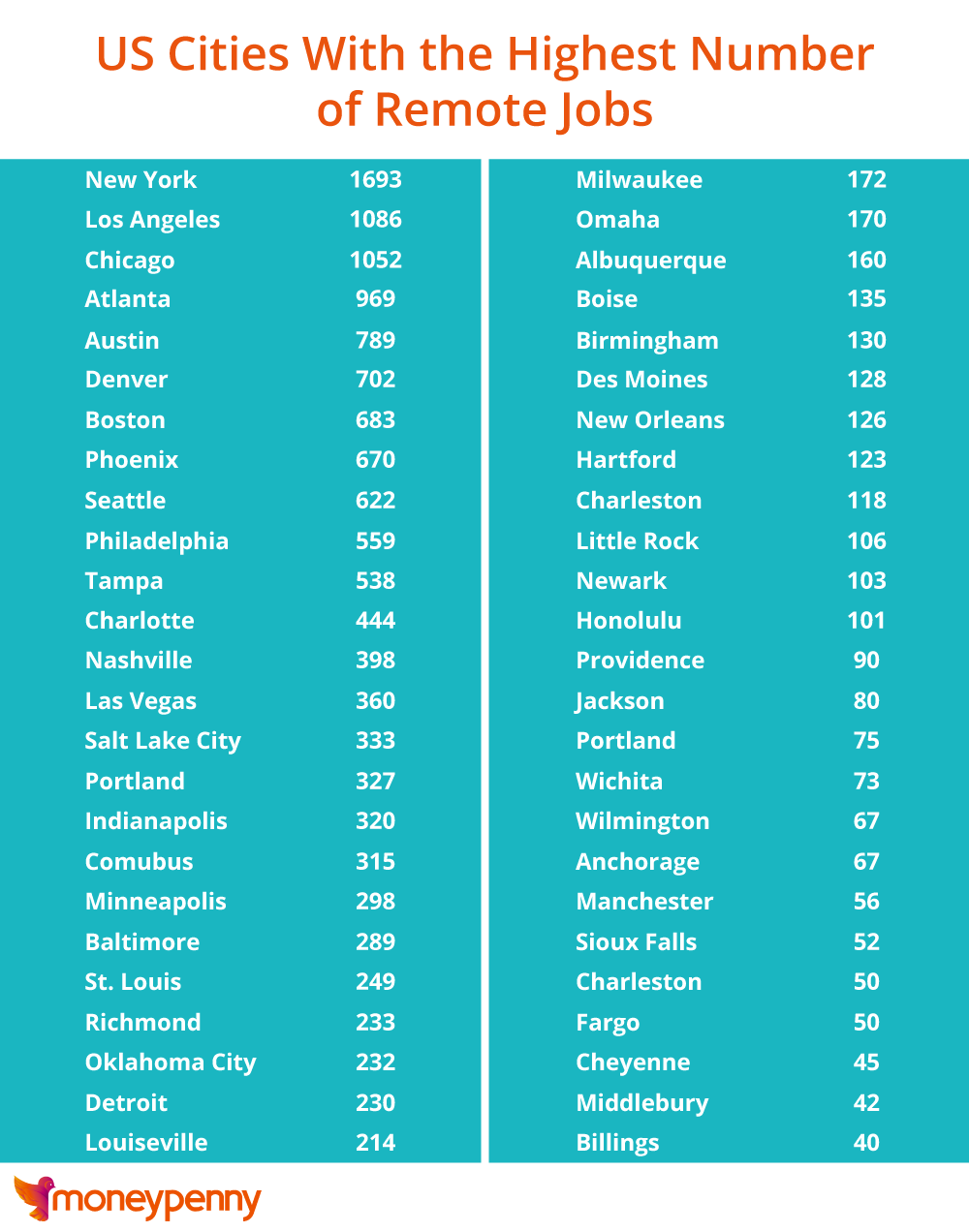 The findings also showed states that have the highest number of entry-level positions being advertised as remote, with Florida listing 8,503 entry-level remote positions, New York listing 5,213, California listing 3,897 and Texas listing 2,645. States such as Wyoming (61 entry-level listings), North Dakota (63) and once again Vermont (104) were all in the bottom 10 for states advertising remote entry-level positions.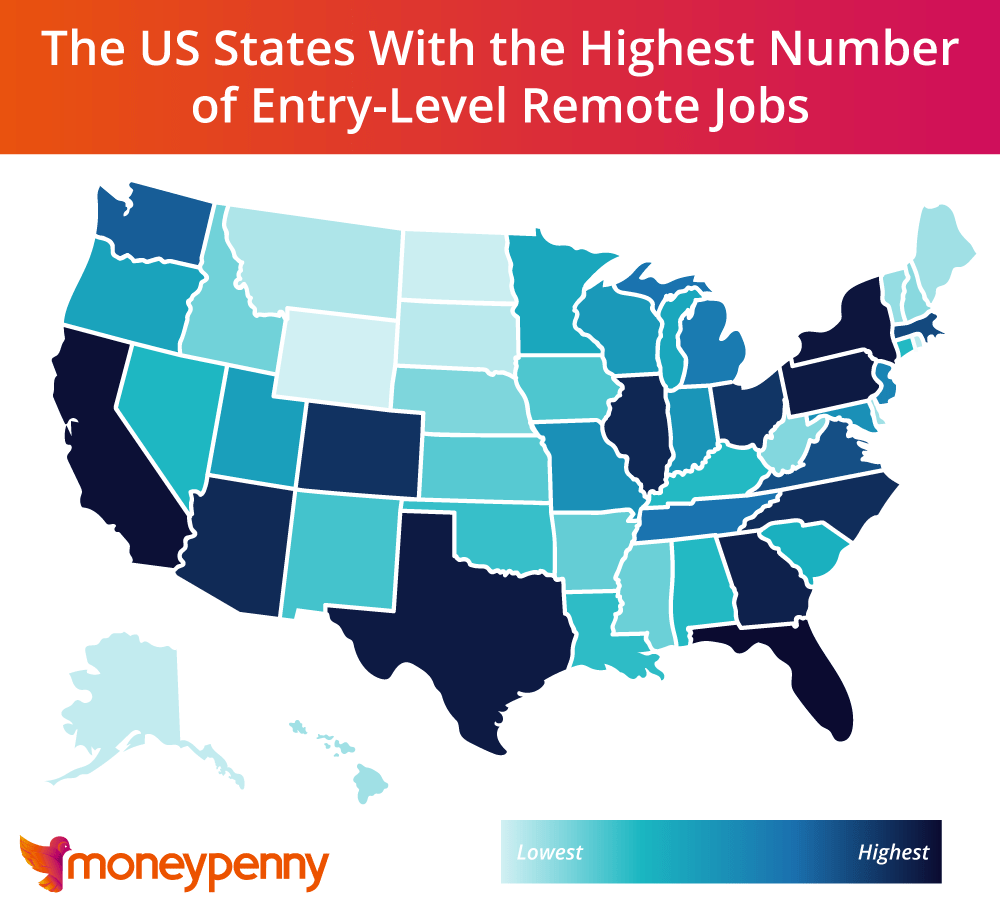 Overall we can see that COVID has had a dramatic impact on the need and desire for remote working opportunities, not just in the current workforce, but also for those looking to get started in their career. With a rise in entry-level positions, this could suggest a gradual transition into a more remote work environment across the US.
---
About Moneypenny
Moneypenny is the world's leading outsourced communications provider, delivering telephone answering, live chat, switchboard and multichannel customer services. Moneypenny works with businesses of all shapes and sizes, from sole traders right up to multinational corporations. In the UK, Moneypenny has over 750 staff, a figure that is growing at a rapid rate and has offices in Charleston, USA. The company was founded by a brother and sister team in 2000 and currently handles over 15 million customer communications a year for 13,000 businesses. Moneypenny is proud to have won the Queen's Award for Enterprise and has been recognised six times in The Sunday Times '100 Best Companies to Work For.'
Website:https://www.moneypenny.com/us/
Twitter: @Moneypenny