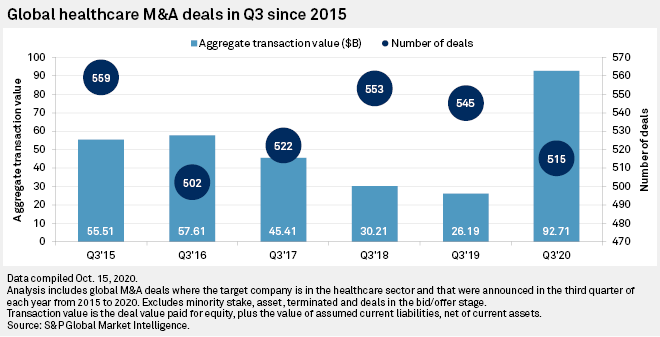 According to a recent S&P Global Market Intelligence analysis, the aggregate value for healthcare M&A increased sharply in Q3, both compared to the first half of the year and the year-ago period, as three deals crossed the $15 billion mark.
Q3 2020 hedge fund letters, conferences and more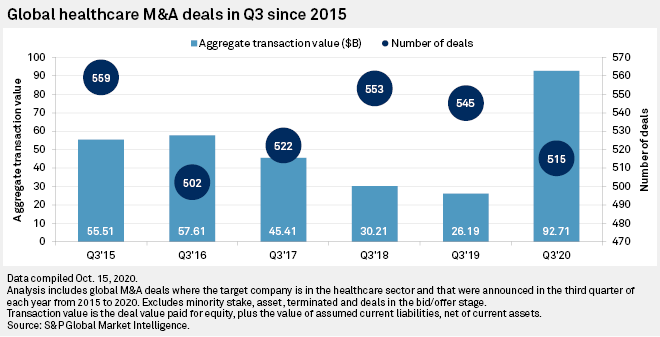 Crypto Hedge Fund Three Arrows Blows Up, Others Could Follow
A few years ago, crypto hedge funds were all the rage. As cryptocurrencies rose in value, hundreds of hedge funds specializing in digital assets launched to try and capitalize on investor demand. Some of these funds recorded double-digit gains in 2020 and 2021 as cryptocurrencies surged in value. However, this year, cryptocurrencies have been under Read More
The Resurgence In Deal-Making Activity Boosts Healthcare M&A Value
Aggregated transactions totaled $92.71 billion in Q3, compared to $12.26 billion in Q2 and $26.19 billion in the year-ago quarter. The increase can be attributed to large and complex deals, whereas Q3 saw a 256% increase in transactions valued at $5 billion or more, per Mergermarket.
Additional key highlights from today's healthcare M&A analysis include:
Of the 20 largest healthcare deals in the quarter, nine targeted biotechnology companies and three involved pharmaceutical firms.
The largest M&A transaction of Q3 belonged to Gilead Sciences Inc.'s acquisition of Immunomedics Inc. valued at $19.92 billion. This is followed by Teledoc Health Inc.'s acquisition of the California-based Livongo Health Inc. at $18.26 billion.
Despite the uptick in M&A activity in Q3, the increase could not cover the slowdown in activity from earlier in the year attributed to COVID-19 uncertainty. The overall value of the disclosed deals year to date is down 27.9% to $1.86 trillion from $2.58 trillion during the same period in 2019.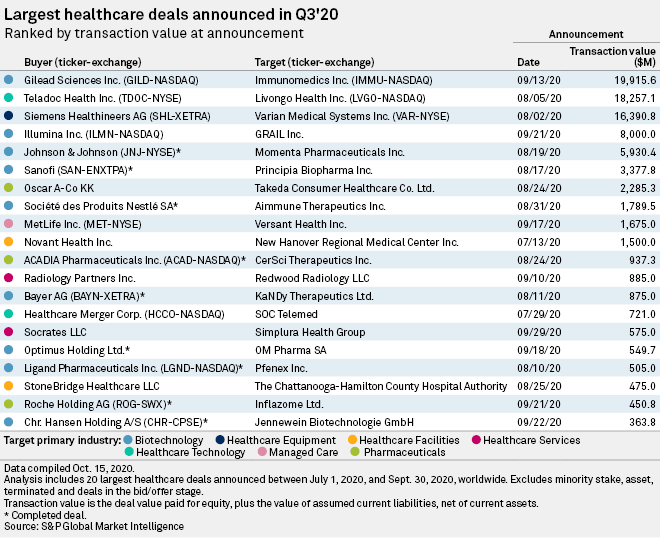 Mergermarket's Global and Regional M&A Report for the third quarter said Blackstone's acquisition of Takeda Consumer Healthcare is the largest private equity buyout deal during the third quarter and is part of a wave of noncore asset divestitures by Japanese blue-chip companies.
The resurgence in deal-making activity in the third quarter was driven by the largest and most complex deals — a 256% increase on a quarterly basis in transactions valued at $5 billion or more, according to Mergermarket. Most of the healthcare sector's $1 billion-plus deals were announced in the second half of the year, and only one was announced before May.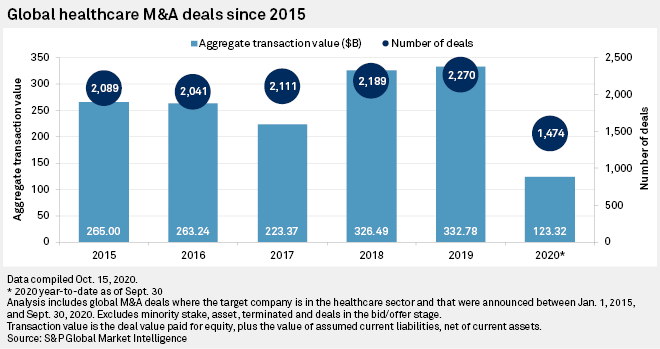 Read the full analysis here by S&P Global Market Intelligence
Updated on