The job market is fluid. With the introduction of new technologies – and in the face of crisis – industries are forced to adapt or fail. As the coronavirus continues to make waves around the world, the labor force is experiencing a direct impact.

Q1 2020 hedge fund letters, conferences and more
Some industries are stepping up, changing how they operate, and, by consequence, potentially affecting the impact the labor force has on sustainability. However, a new study by ZenBusiness, which motivates people to start their own companies, suggests that many fields have not seen change for decades. So, for them, this global crisis stands to push adaptation.
Morningstar Investment Conference: Everything You Need To Know About Preferred Securities
Preferred stock has been around for more than 150 years. One study suggests that the first shares of preferred stock were issued in 1836 by internal improvement companies in Maryland. However, some investors might not have given this asset class much thought until the government commandeered preferred shareholders' dividends in the government-sponsored enterprises Fannie Mae Read More
Using data from the Bureau of Labor Statistics (BLS), ZenBusiness analyzed generational trends and shifts across 13 industries.
Education and Health Services Appeal to Younger Employees
Previous research suggests that, compared to baby boomers and Generation X, younger employees desire long-term job security. Perhaps that's why, with a median age of 43.1, the education and health services fields have grown younger. As we see with the current coronavirus pandemic, while most industries are struggling to remain afloat, there's a high demand for medical professionals. And although educators have had to move their teaching online, they remain employed.
Despite the demand, ZenBusiness found that career opportunities in health services and education only yielded an average of $57,851 in 2018. The industry with the largest paycheck was mining, quarrying, and oil and gas extraction, standing at an average of $69,518. Nearly 30% of workers in that field were between the ages of 25 and 34 in 2018, likely due to its successful attempts to attract millennials.
Dying Industries: Agriculture, Forestry, Fishing, And Hunting
Like the youngest industry, the oldest field (agriculture, forestry, fishing, and hunting) also took a modest paycheck home – an average of $52,216 – but it lacks promise. The median age for those working in agriculture, forestry, fishing, and hunting is 48.1, and as the workforce ages, it is not drawing in younger prospects. Compared to the other industries ZenBusiness analyzed, agriculture, forestry, fishing, and hunting had double the number of workers aged 65 and older.
Agriculture Forestry Fishing Old, A Look At Industries Developing a Younger Crowd
Current unemployment statistics show that more young employees are out of work than old ones, with those aged 45 and older being the least impacted. This is likely because, as ZenBusiness' report shows, the younger generation has flooded restaurants, food service, retail, and the beverage industries in recent years. Unfortunately, coronavirus has hammered those fields the hardest, leading to a wave of unemployed young people.
Hope for the Future
However, there's good news: Like the job market, the younger generation is adapting. As technology and global demand shifts work online, research shows that Generation Z is following suit; they've taken on the "adapt or die" mentality, and it seems to be serving them because as the recent pandemic has shown, businesses that have evolved with time and technology can thrive no matter how strong the turbulence.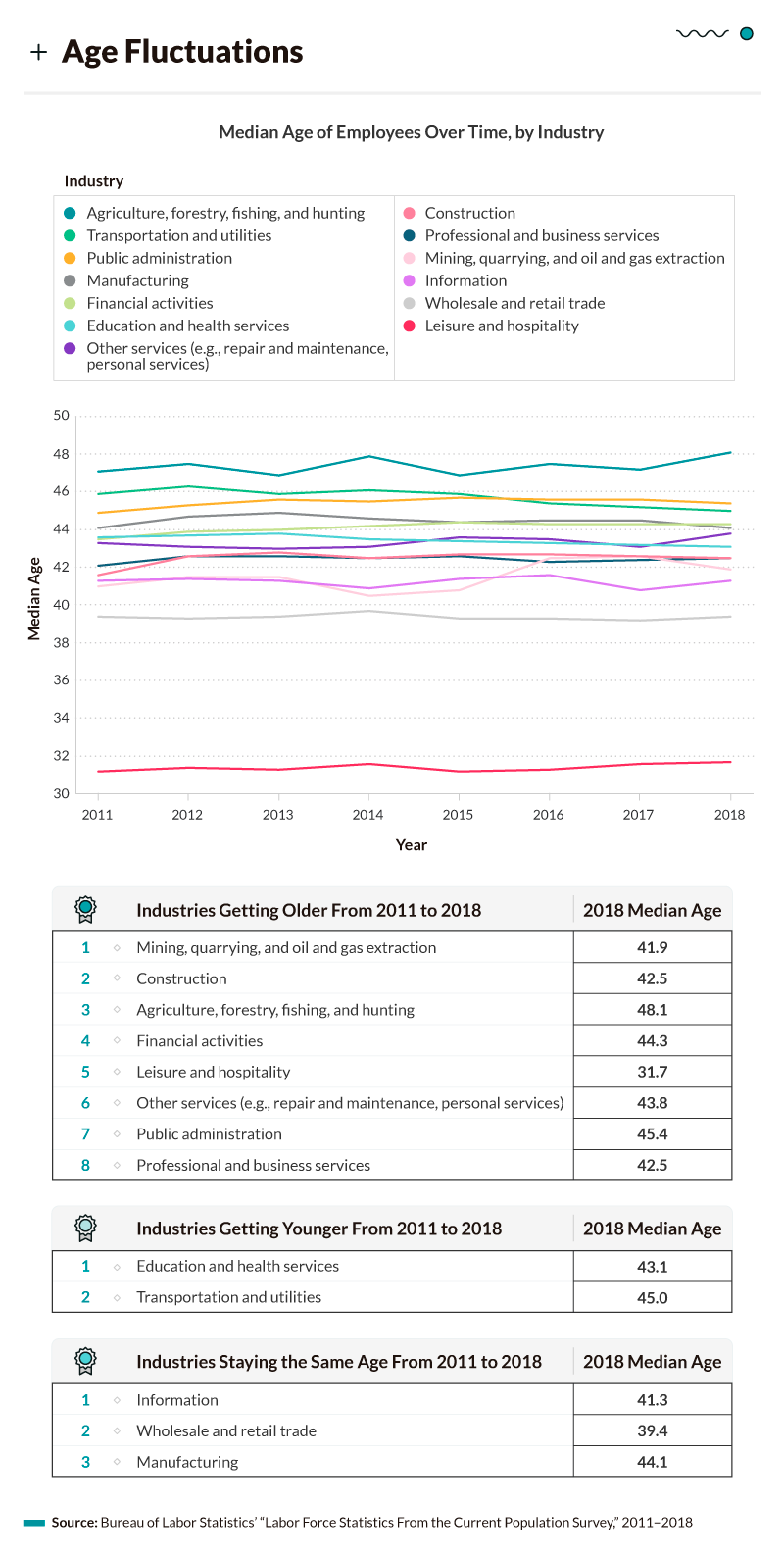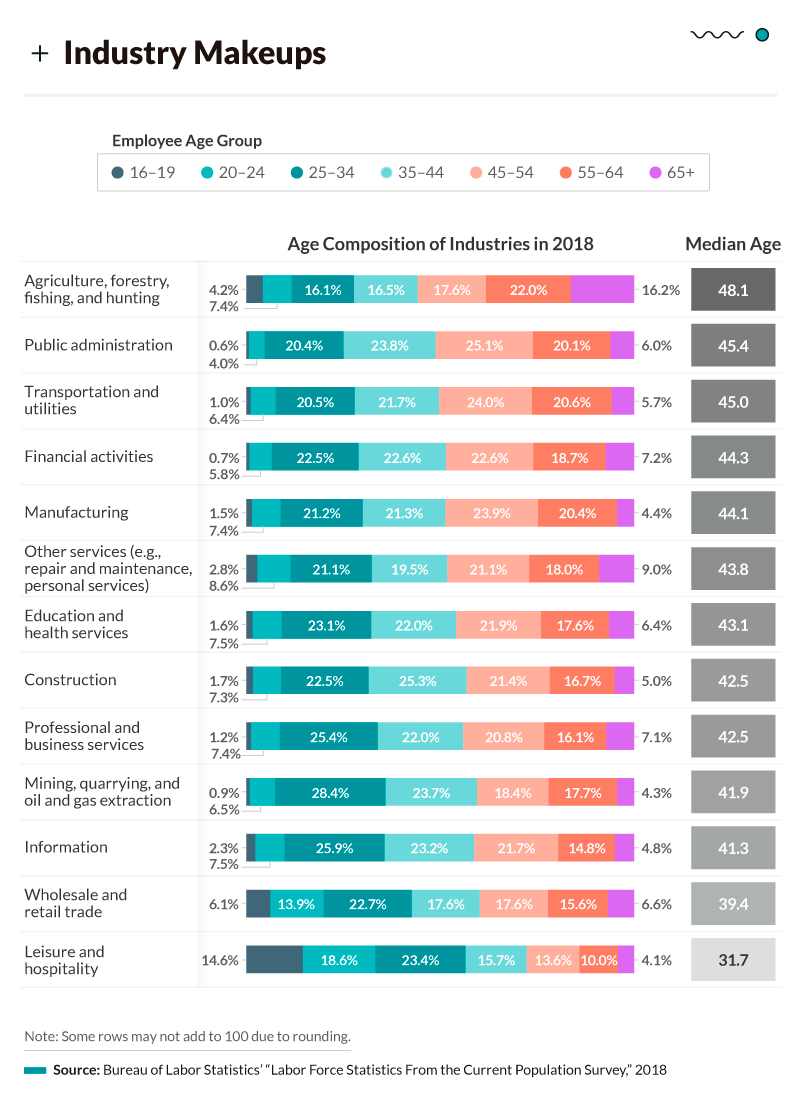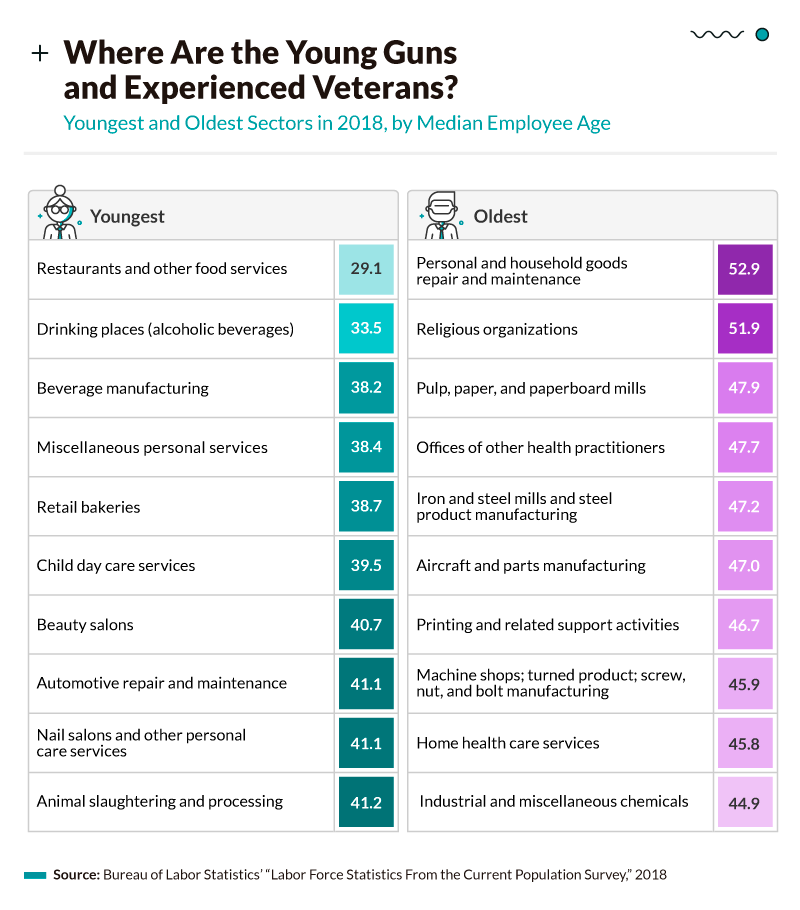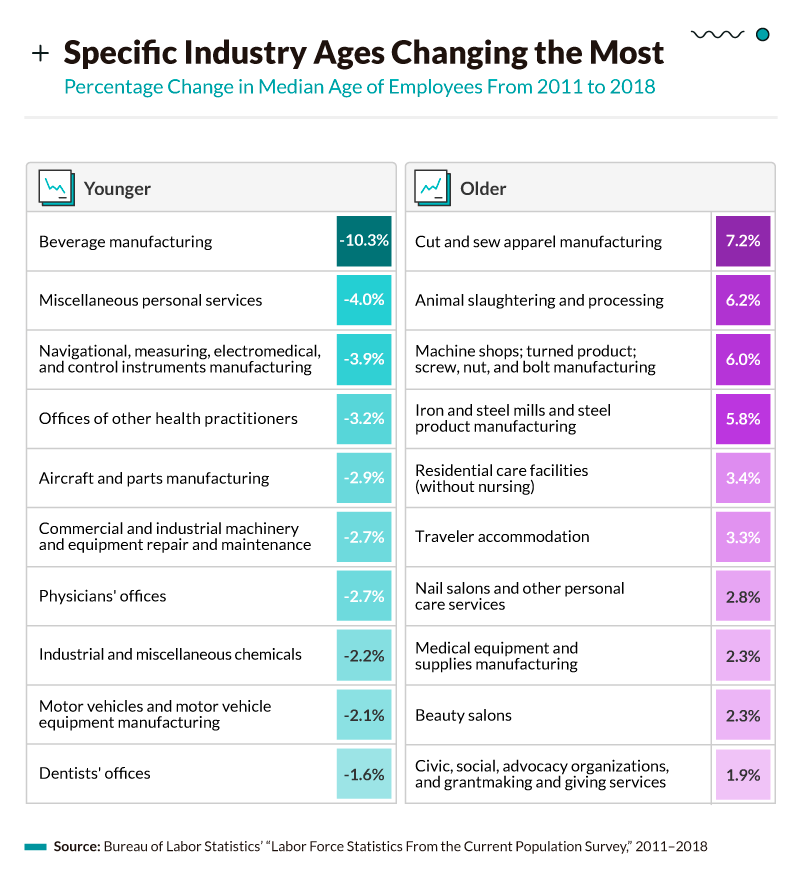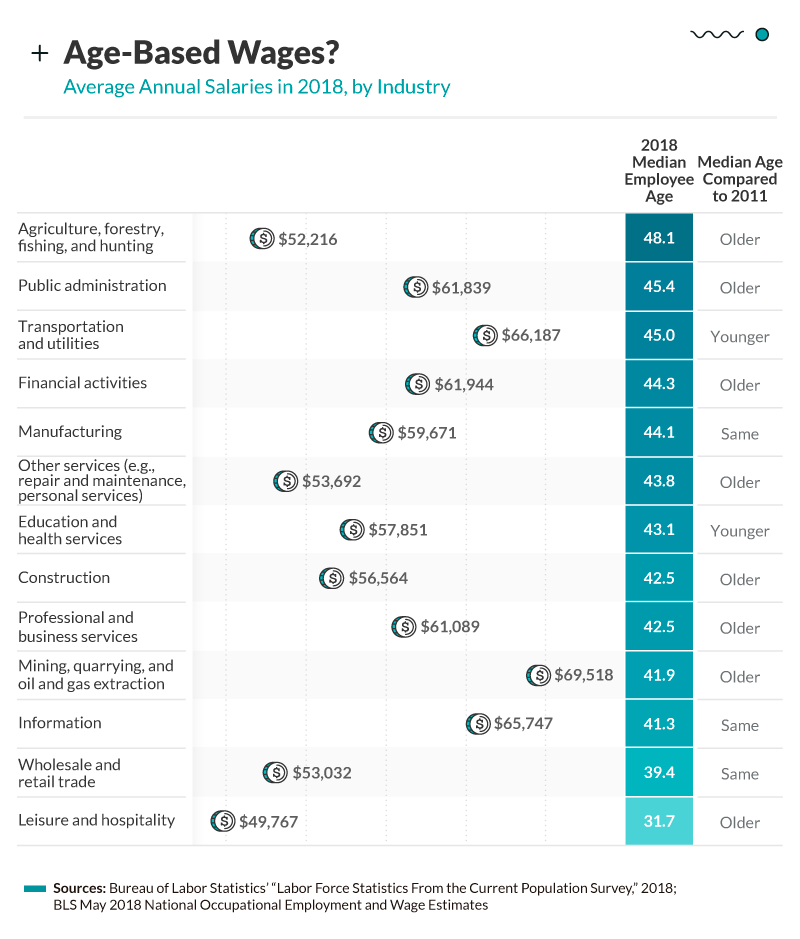 Updated on