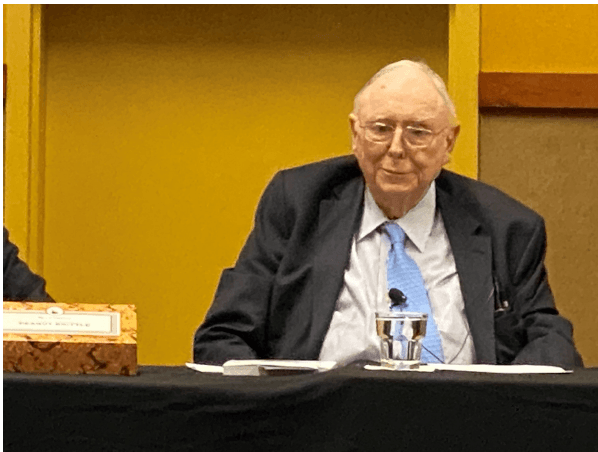 The 2020 Daily Journal Corporation (NASDAQ:DJCO) meeting is in the books.  At today's meeting, board chairman Charlie Munger introduced the board and other key management of Daily Journal and spoke for a few minutes about the company.  He then took questions from the audience.  At age 96, Charlie is quite remarkable.  He's full of knowledge on all topics and has a great attitude.  And he mixed humor into several answers.  Adam Blum notes on his phone, so please excuse any errors. The notes can be found in this post.

..............
Munger on newspapers
It's peculiar that the old little newspaper is now owning marketable securities and software – and you who come from all over the world to be here, you're as nutty as we are. The world needs what we are trying to do. We are trying to reward the right people and serve customers.
This Too Value Fund Explains Why Turkey Is Ripe For Investment Right Now
The Talas Turkey Value Fund returned 9.5% net for the first quarter on a concentrated portfolio in which 93% of its capital is invested in 14 holdings. The MSCI Turkey Index returned 13.1% for the first quarter, while the MSCI All-Country ex-USA was down 5.4%. Background of the Talas Turkey Value Fund Since its inception Read More
We want to be as close to Costco as we can be. No one works harder to serve customers. I have never seen a better company at it than Costco. I hate companies who derive success from cheating people or selling something not good for them like gambling services in Las Vegas. But I am not trying to irritate our customers there! We sell stuff good for people versus tricking them. And I would choose to do this even if we made less. In fact it leads to us making more. Warren [Buffett] always said to take high road, because it's less crowded."
.............
2020 Daily Journal  meeting: Munger on Quant investing
"Those in the investment management industry should prepare for tougher times ahead. This indexing thing has run and run and run. And there are wretched excesses in well paid hedge funds and private equity that will result in troubles and give pain. Everywhere I see endowments wanting fewer and better managers, and the rest of people are indexing. Neither is good for managers. Want cheery news? If you think the way nerds think and go at it long enough, you will be alright. For others, if you go with that crowd, I think there is pain ahead."
On Index funds
"It works for most people. But there's a huge proclivity to gamble. It's interesting to play in a game where returns are variable. It's a lure for gambling. China's average holding period is lower in
equities than it is here. They love to gamble in stocks. This is really stupid. They're all gamblers. It's hard to imagine anything dumber than the way the Chinese hold stocks. They're so good at everything else. Trouble's coming."
2020 Daily Journal  meeting: Fintech
"I don't know crypto technology except to avoid it. Like a lot of things, it goes in my "too hard" file. I don't think on it, but every once in a while, I take something on and do it because it's perverse – I am enormously rich and 96 years old. Daily Journal is difficult. Why take it on? I'm a nutcase. I hate bitcoin. It's intrinsically antisocial. We need a stable currency. We created the reserve currency of world by accident. It's a big responsibility when others are depending on you, think about them too."
Read the full 2020 Daily Journal  meeting notes right here.
Updated on