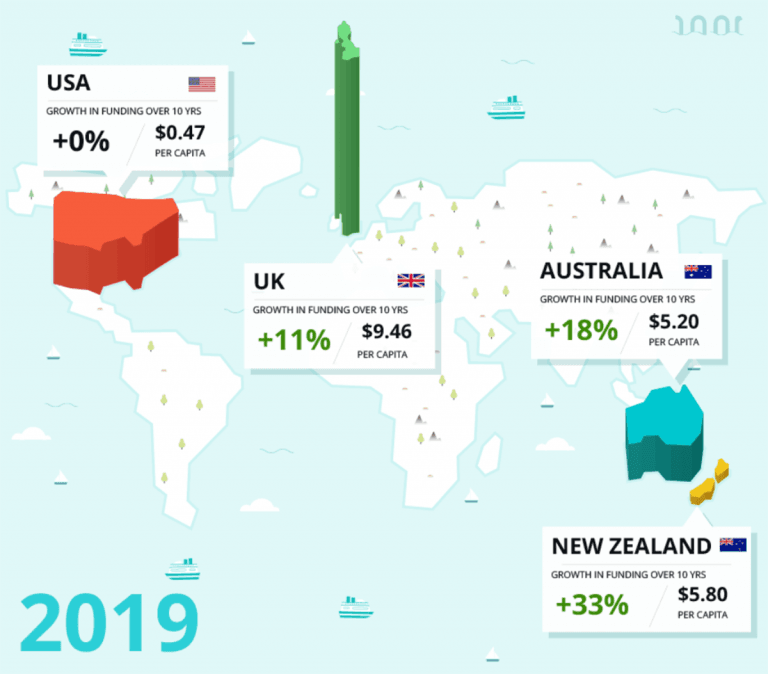 The Creative industries generate $2.25 trillion in revenue every year around the world, employing 29.5 million people, highlighting the importance and affinity for the arts and creativity throughout all nations.
But where in the world does creativity thrive the most? Canva looked at four countries selected as some of the "most creative" in the latest ranking of Global Creativity Index and found that The US, UK, Australia and New Zealand contributed around $1 billion in total last year to their respective governmental art programmes, which seek to inspire and encourage art and creativity to further build their economies.
Q4 2019 hedge fund letters, conferences and more
Crypto Hedge Fund Three Arrows Blows Up, Others Could Follow
A few years ago, crypto hedge funds were all the rage. As cryptocurrencies rose in value, hundreds of hedge funds specializing in digital assets launched to try and capitalize on investor demand. Some of these funds recorded double-digit gains in 2020 and 2021 as cryptocurrencies surged in value. However, this year, cryptocurrencies have been under Read More
The data shows that the UK has invested over 300% more government funding of their central arts programme than the US and has increased funding by 11% over the past 10 years. Australia have increased their investment into their arts programmes by 18% and New Zealand by 33% while the US remains the same as it was 10 years ago with no increase in funding.
This means that federal funding in the US is just $0.47 per capita compared to the UK which is $9.46 per capita, Australia which is $5.2 per capita and New Zealand which is $5.8 per capita.
However, this has not affected the revenue they have witnessed in their creative industries, with the US creative industry worth a massive $804 billion, followed by the UK at $130.6 billion and Australia and New Zealand at $58.7 billion and $2.4 billion respectively.
Threats to global creative industry
Despite this, there are threats to creative industries and creativity across the world. Terry Flew, Professor of Creative Industry Studies, says, "if there is a global economic downturn, this will disproportionately affect the creative industries. The challenge of digitalization is strong, too, but I also think that imagination exists to make this work, if digital platforms can be convinced (or compelled if required) to be supportive."
Looking to developing creative regions such as Latin America and Africa however, there does seem to be some strong positive movements. The British Council's report on the Brazilian Creative Economy found that there are one million creative jobs in Brazil and 200,000 creative businesses that account for 2.64% of its GDP—an almost 70% increase in the last decade.
This is growing at an annual rate of 4.6% per year – more than double the growth of Brazilian economy overall. Fashion is the leading creative industry, followed by music, film and online media, which are all growing in Brazil.
Meanwhile, Africa has one of the youngest populations in the world, and the growth of digital and mobile technology and systems means there's many opportunities for progress powered by creative minds.G
Growth of Africa
Afripedia is a website where African creatives worldwide can collaborate, create opportunities and inspire the next generation.
"While producing the Afripedia series, it became evident that there was a significant group of talents across the continent who had remained underrepresented in the global creative industry," explains Teddy Goitom, who co-founded the project alongside Senay Berha.
"Our aim is for Afripedia to serve as the premier search engine to find the best creative talents of African descent, a platform for creative collaborations across Africa and her diaspora, and a global employment pool for future top talents," says Goitom.
"We hope that the platform will become a digital home for our creative community and that it will continue to grow and become larger than what we envisioned at its beginning.
On a practical level, we aspire to connect and showcase the talent of the African continent and her diaspora as well as create new synergies, jobs and promote present and future role models within and outside creative industry."
Creativity drives success in every country that supports it. Whether it comes from government sources or independent organisations, investing in arts and culture has a hugely beneficial impact on countries as a whole. And with this comes the growth, innovation and fresh ideas that will shape the global society of the future.
Updated on