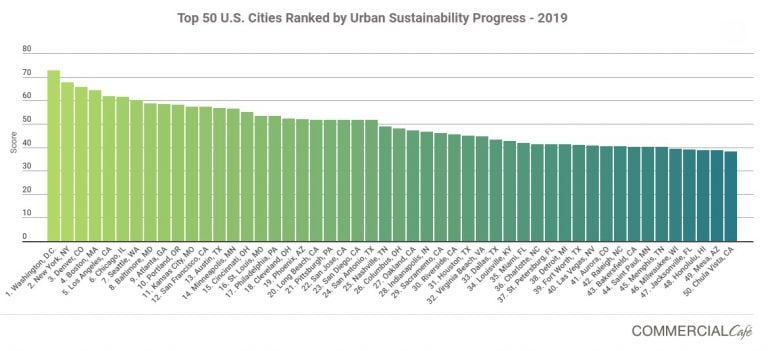 As environments and industries change, urban centers of all sizes must adapt both economically and administratively, in order to maintain growth. Commercial real estate website has recently published an urban sustainability progress ranking of the country's top 50 cities.

The report's methodology scored cities according to six metrics: reduction of energy-related CO2 emissions; improvements in median air quality; difference in the share of walking and biking commuters; increase in number of LEED-certified properties, growth in number of select environmentally focused occupations, as well as detailed ratings by the ACEEE for city policies.
How A Weakening PE Market Serves As Another Sign Of A Weakening Economy
Amid the turmoil in the public markets and the staggering macroeconomic environment, it should come as no surprise that the private markets are also struggling. In fact, there are some important links between private equity and the current economic environment. A closer look at PE reveals that the industry often serves as a leading indicator Read More
Washington D.C. earned the highest score and was highlighted as the U.S. city to have made the most progress in terms of urban sustainability. The capital is home to more than 2,500 LEED-certified properties. Just over 1,000 of these certifications were awarded since 2014, marking a 67% five-year increase in LEED-grade inventory. D.C. also scored fourth best for lowering energy-related CO2 emissions and seems to be well focused on its target of decarbonizing the city's power grid by 2032.
New York City garnered the second-highest score overall. Notable progress included the city's sustainability oriented administrative policies that were well rated by the ACEEE, and the growth in green building, as shown by the increase in number of LEED certification awarded since 2014. With the current real estate inventory including nearly 1,300 LEED-certified projects, NYC landed sixth among the cities considered in the report, on a scale of largest to smallest certified inventories.
Denver continues to climb the ranks in reports looking at sustainability and overall "green" efforts made by U.S. urban centers interested in securing their resiliency. The city received the third-highest score in the COMMERCIALCafé ranking, with notable progress made in terms of growth in green jobs, LEED-certified building, and adoption of green commuting – by bike or by foot. The Mile High City scored better than the Green Apple on the green building index, with 449 new LEED certifications awarded between 2014 and 2019. The city did not, however, surpass NYC in terms of existing inventory—with a total of 940 LEED-compliant properties currently gracing the Denver skyline, the city landed 11th on this scale.
Notable entries also include Detroit, which got the highest score for progress made in terms of lowering energy-related CO2 emissions, while Kansas City reported the highest percentage improvement of median air quality between 2014 and 2018. Tulsa boasted the highest increase in share of environment-focused occupation out of total local occupations and Nashville was home to the highest percentage increase in walking and biking commuters.
COMMERCIALCafé analyzed data from sources such as the U.S. Energy Information Administration, Bureau of Labor Statistics, U.S. Green Building Council, Census Bureau, Environmental Protection Agency, and the American Council for an Energy-Efficient Economy. The report focused on gauging progress made by U.S. cities with populations greater than 300,000 residents in terms of embracing urban sustainability to improve the lives of their inhabitants, as well as the ease of doing business.
Check out the full 50 city list, as well as the detailed highlights as per each metric, on the COMMERCIALCafé blog.
Updated on