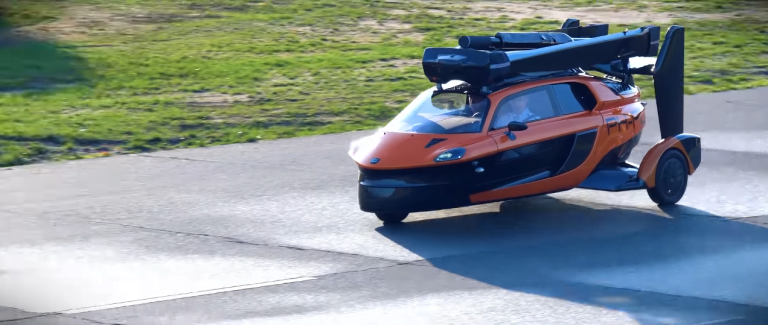 Almost every one of us would have seen a flying car in a sci-fi movie or cartoon, and would have thought about driving such a thing in the future. One Dutch company now has transformed that future into the present by coming up with what many claim to be the first flying car, called PAL-V (Personal Air Landing Vehicle).
First flying car already in production
The Dutch company (also called PAL-V) showcased the first commercial flying car at an event in Miami yesterday. In 2017, Maxim magazine chose PAL-V as the most likely company to come up with a commercial flying car. Two years later, the Dutch company has lived up to those expectations.
"After years of hard work, beating the technical and qualification challenges, our team succeeded in creating an innovative flying car that complies with existing safety standards, determined by regulatory bodies around the world," Robert Dingemanse, CEO of PAL-V, said in an earlier statement to The Associated Press.
Seth Klarman Describes His Approach In Rare Harvard Interview
In a rare interview with Harvard Business School that was published online earlier this month, (it has since been taken down) value investor Seth Klarman spoke at length about his investment process, philosophy and the changes value investors have had to overcome during the past decade. Klarman's hedge fund, the Boston-based Baupost has one of Read More
This flying car meets all the flying and driving regulations. Dingemanse notes that the concepts of other companies working on a flying car need "modified regulations," but PAL-V worked with proven technologies that are in line with the current regulations.
"We aim for excellence. Therefore, we only use state of the art proven technology in our flying," the company's website says.
This so-claimed first flying car is already in production with the first delivery expected to be in 2021. You can currently pre-order the vehicle, and the starting price is $599,000. As per the Dutch company, it has already got 70 pre-orders for the flying car to date. The owners must have a driver's license and a pilot's license as well.
After the PAL-V, the company plans on making a slightly cheaper version, called the PAL-V Liberty Sport. This would carry a price tag of about $335,000.
PAL-V: all you need to know
PAL-V can carry two people at a time and hold up to a mass weight of 664 kg and baggage of 20 kg.  It features a dual-engine and is a self-stabilizing aircraft, and can cruise at an altitude of about 12,500 feet.  This car can go from 0 to 60 mph in less than eight seconds. The car runs on gasoline with a top speed of 100 miles per hour on the ground and 200 miles per hour in the air.
In terms of design, this first flying car features a full leather interior. On the exterior, it has a retractable overhead and rear propellers. The car is made of carbon fiber, titanium, and aluminum. Overall, the flying car weighs about 1,500 pounds.
It takes about ten minutes for the vehicle to convert from a three-wheeled car to a gyrocopter. On the press of a button, the blades of the car fold down. The car requires a 100 foot runway for landing, but 540 feet for take-off.
The handling system of this car is similar to a motorbike, and the driver needs to tilt the vehicle using a control stick, on both ground and air. It is fitted with a 27-gallon gas tank to give a range of about 248 to 310 miles in the air, and up to 750 miles on the road.
"The PAL-V Liberty is a marriage between safety and fun, designed to satisfy the most demanding customers," reads the company's website.
According to the Dutch company, the PAL-V is not a helicopter, rather is a gyroplane. In helicopters, the blades are powered by the engine, while in a gyroplane, the blades rotate due to airflow. Thus, in a gyroplane, the blades will turn even if both engines die, acting sort of as a parachute.
Others working on a flying car
On Tuesday night, PAL-V showcased their prototype at the Paramount Miami Worldcenter. The prototype is part of the "Miami 2020 and Beyond" art exhibit, and thus, will be on display throughout the event.
Though it is still some time for this car to hit the roads (or, should I say, hit the air), this first flying car has already created quite a buzz on social media. The hashtag #palvflyingcar is trending on Twitter.
2020 flying car at the #GenevaMotorShow #PalV #PalVflyingcar #flyingcar #flying #fly #prototype #car #helicopter #carfly #exclusivity pic.twitter.com/M4m2Kh7mMa

— Stef Romecki (@StefRomecki) 24 April 2019
Going forward, the PAL-V is expected to face stiff competition from other known names that are working hard to be the first to launch a commercial flying car. Uber has already revealed plans to showcase demonstrator flights for Uber Air, its flying taxi service, in 2020. In 2023, Uber plans to start commercial operations of its flying taxi service.
Toyota is also working on a flying car. The Japanese car maker plans to showcase a flying car during the 2020 Olympic Games opening ceremony in Tokyo. Porsche and Boeing together are working on a flying electric car as well, while Airbus showcased its ambitious autonomous flying car concept a couple of years back.
Updated on