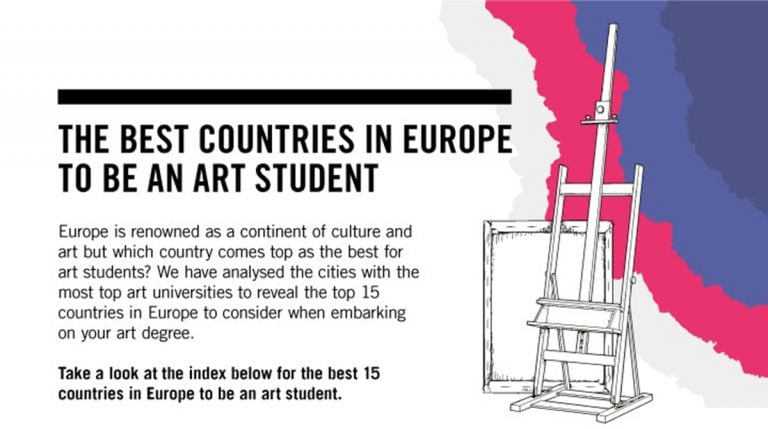 Leading independent art retailer Cass Art has analysed the locations of the top art universities to reveal which country takes the crown for art students in Europe.
Of all the cities that are home to a top art university, 18 are in the UK, more than any other country in Europe
London, UK, tops the leaderboard as the best city in the world to be an art student, with eight top art universities in the capital 
Europe is the best continent for art students, hosting five out of the top 10 art cities, including London, Barcelona, Paris, Madrid and Prague
The UK is home to 28 top art universities including the top-ranking university, Royal College of Art
Q3 2019 hedge fund letters, conferences and more
Two Sigma's Venn outlines factor performance for March
Equities did well last month as most market watchers have noted that Value outperformed growth. In his March Factor Performance report, Alex Botte of Venn by Two Sigma noted that March was a strong month for the global Equity factor, especially in developed markets. Q1 2021 hedge fund letters, conferences and more He said Europe Read More
December 2019: Cass Art has analysed over 100 cities around the world that are home to the world's top art universities to discover which location is the best to be an art student. You can see the full piece here.
Art is present in every country, from street art to beautiful architecture, which surrounds and inspires individuals every day. Whether you're into classic fine art or a more modern art deco style, there are plenty of locations around the world where you can catch a glimpse of unique artists and different genres. But for those seeking a career that will bring out their creativity to the fullest, finding the right place to study can be difficult. So which cities around the world are the best for prospective artists?
These are the top countries in Europe to be an art student:
The UK comes out on top as the best country in Europe to be an art student
Aside from London, which takes the top spot in the world as the best city to be an art student, there are many other UK cities that are home to top art universities such as Edinburgh, Newcastle, Sheffield and Leeds, meaning the UK is the best country in Europe to be an art student.
Edinburgh hosts a huge 63 art galleries and museums and is home to two top art universities, Edinburgh College of Art (ECA) and The University Of Edinburgh, both of which are in the top 100 art universities in the world. Newcastle is next on the list of top cities to be an art student across the UK, with affordable rent for students in comparison to both London and Edinburgh, with an average of £631 pm, in comparison to Edinburgh's average rent of £780pm and London's at £1,715pm for a one-bedroom flat.
The top art universities in the UK
There are a total of 28 top art universities across 18 UK cities, with London showing off the top two institutions in the world; Royal College of Art and University of the Arts London. Both universities have been the birthplace of a multitude of talented artists from Ken Howard, David Hockney and Barry Driscoll. It's not just London that's home to the top art universities in the UK though, the Glasgow School of Art is ranked 8th in the world as well as Loughborough University, the University of Brighton and University of Oxford all appearing in the top 50.
These are the best cities in the UK to be an art student:
London comes out as the top city for art students across the world
With a staggering 250 galleries and museums, including the National Portrait and Saatchi Gallery, London has tons of creative culture to offer. What's more, there are 92 art supply stores across the city to get new art equipment whilst at university. However, studying at the top art city in the world comes at a price, with London ranking as the 11th most expensive city to live in out of the 129 cities analysed, with an average cost of rent sitting at £1,715.07 per month.
The top cities to be an art student in Europe
Although the UK dominates in Europe with the most top art universities, some European cities outside of the UK scored highly on the search for the best city to be an art student.
Paris, famed for The Louvre which is home to the Mona Lisa and the Venus de Milo, is one of the top cities in Europe to be an art student. With 179 art museums and galleries on offer as well as five top art universities, it's no wonder the French capital is a dreamy destination for a budding art student.
Mark Cass, founder and CEO of Cass Art comments:
"It's great to see UK institutions leading the way in providing such rich and diverse opportunities for art students. We are fortunate to have some of the best art universities in the world, with each location offering something completely different. 
We were founded on the belief that art should be accessible to everyone and are delighted to see this reflected in the top ten best cities to be an art student. While I'm excited about the future of our creative industries, it's vital that subjects such as art are truly championed in schools for the transformative role they play not only to students themselves but to society at large."

---
Methodology
Methodology: We analysed 128 cities featuring a top art university according to best student art cities and searched sources like TripAdvisor, TopUniversities.com, Indeed, Google, Numbeo and Instagram to discover the number of art galleries/museums, art universities, part-time jobs, art supply stores, cost of rent and the number of art-related hashtags each city has on Instagram. We combined these results for each city to create an overall index score, revealing the best city to be an art student. In order to establish which cities to analyse, we looked at locations which are home to some of the world's best art and design universities, as well as those known for their art and culture. All data was pulled between 05/08/19-06/08/2019.
Data
You can view the data here.
About Cass Art
Cass Art is a leading art supplies store based in the UK committed to making art both accessible and something to be enjoyed by all, whether you are a beginner or professional. Working with leading art brands across the UK as well as local galleries and art institutions, Cass Art provides top quality materials at the best price for its customers.