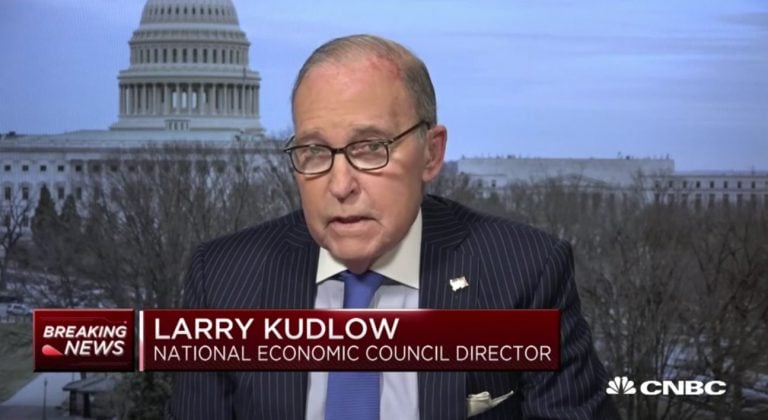 First on CNBC: CNBC Transcript: National Economic Council Director Larry Kudlow Speaks CNBC's "Closing Bell" Today

WHEN: Today, Tuesday, November 12, 2019
WHERE: CNBC's "Closing Bell"
How A Weakening PE Market Serves As Another Sign Of A Weakening Economy
Amid the turmoil in the public markets and the staggering macroeconomic environment, it should come as no surprise that the private markets are also struggling. In fact, there are some important links between private equity and the current economic environment. A closer look at PE reveals that the industry often serves as a leading indicator Read More
The following is the unofficial transcript of a FIRST ON CNBC interview with National Economic Council Director Larry Kudlow on CNBC's "Closing Bell" (M-F 3PM – 5PM) today, Tuesday, November 12th. The following is a link to video of the interview on CNBC.com:
Q3 2019 hedge fund letters, conferences and more
National Economic Council Director Larry Kudlow: No tariff adjustments until deal is made
WILFRED FROST: Let's bring in President Trump's Economic Adviser, Larry Kudlow, Director of the National Economic Council of the White House. Very good afternoon to you, Larry. Good to see you.
LARRY KUDLOW: Thank you, Wilf. Appreciate it very much.
WILFRED FROST: What does "close" mean? Days, weeks, months?
NEC COUNCIL DIRECTOR LARRY KUDLOW: I wouldn't put a timetable on it. "Close" means close. And I think in fairness, the two sides are still thinking about what I'll call APEC time. That is the Chilean APEC Conference that got canceled. So, I think that would have been this coming weekend. But, don't hold me to it. It could be a little bit later. It could be a little bit earlier. I don't want to put words in the President's mouth. I think the key point he made was that it's got to be a good deal, first of all, for the United States. He's said that many, many times.
He truly believes that China needs a deal more than we do, because our economy is in much better shape than the Chinese economy is. We are taking in pretty good tariff revenues from China. But on the other hand, as you noted, he said, we are close to reaching a Phase 1 deal. I'm reading from his speech. It could happen soon. But it must be a good deal. So, I would say, that's a constructive and somewhat optimistic point of view. But, again, nothing has been settled or fully agreed upon.
WILFRED FROST: >> But if both sides are still working on APEC time, as you said, we're talking days, not weeks.
NEC COUNCIL DIRECTOR LARRY KUDLOW: Well, that's perhaps right. Again, I can't hang a hat on anything. I'll just call it APEC time. And we'll all figure out what APEC time really means, because we're not going to APEC, unfortunately, in Santiago, Chile.
COURTNEY REAGAN: Larry, what is a good deal? What are the details you're still trying to work out?
LARRY KUDLOW: Well, look, I can't go into the negotiating details on this. But I think it's fair to say, as Ambassador Lighthizer has suggested and Secretary Mnuchin has suggested, we've made a lot of progress on IP theft. We've made a lot of progress on financial services and 100% ownership of American companies that might open up investment firms in China. That's a big plus. We've made progress on currency stability.
We've also made a lot of progress on commodities and agriculture. As far as I know, the Chinese have publicly accepted $40 to $50 billion purchase of American AG commodities. Also, on the point to agriculture, it's not just the purchase, but they have been willing to open up their markets, non-tariff barriers might be brought down. I have to say, "might be," because again, none of this has been in put in cement and none of it's been fully agreed upon. And the President is going to make the final deal himself. There may be matters that slip into the so-called Phase 2, which would be following Phase 1.
But again, the President in his New York Economic Club talked today, he was very constructive. He was very optimistic. But, as he always said, there has been no agreements, there has been no final deal, and it's got to be a good deal for the United States.
And let's not forget, we've had a very unfair relationship with China down through the years: IP theft, forced transfer of technology, cyberspace, tariffs, non-tariff barriers and so forth and so on, I could go down a long laundry list of structural and nonstructural issues. It's got to be to our satisfaction. And I reckon, it's got to be to their satisfaction, too. So, I'm going to play this from the optimistic side, because that's what I heard the President say today.
WILFRED FROST: Larry, where are you in the debate as to whether tariffs could or should be relaxed at all before the ink is on the paper for Phase 1. Are you against that?
NEC COUNCIL DIRECTOR: No, look, I -- you're not going to -- you're not going to have one side or the other agree to any tariff adjustments until the entire deal is put together. Okay. Let me make that as clear as possible. And the President has said again, since there's no formal agreement, we can't say whether there'll be any tariff adjustments at all. It may be part of the package, if there is a package. I want to underscore "if," because the President hasn't signed off on it yet. But it is possible that a tariff adjustment would be part of this deal. It is possible.
COURTNEY REAGAN: Larry, you really think that we are close here? I just ask this because I feel like we've been here before. We were so close. I thought we were only at the point of just trying to get the translation right for the deal. I know we've worked on these phases and now we're putting it to paper. But really, is this really actually happening in a substantial way? You know the markets are waiting for this.
LARRY KUDLOW: Well, Courtney, you and I have been here before, talked about many things, down through the past. I try to give you my best guess. I guess my answer is -- well, was the question -- the question was, is this for real? Is that what you're asking me?
COURTNEY REAGAN: Close. We keep hearing this word "close," but we heard "close" months ago. Back in May, write thought we were only just down to the point of making sure the translation was appropriate for both sides of the deal and then we kind of went back to the drawing board all over again. I mean, can you give us any more than close?
NEC COUNCIL DIRECTOR: I'm not sure I can give you more than close. I can say -- I can say what the President told the New York Economics Club. He said, quote, we are close to reaching a Phase 1 deal. And then he ad-libbed and added to that, it could happen soon, but then his ad lib was, again, it must be a good deal for America.
And again, I just want to make this generic point. You know, you and I and Wilfred and others have talked about this. The President has to defend the American economy. He has to defend the American workforce, whether it's farmers, manufacturers, automakers, technology, finance. So, he has to defend the American economy. There have been a lot of unfair trading practices by China down through the years.
There has been no reciprocity down through the years. The President is trying to transform and change this relationship and generate more balance that will benefit, first and foremost, the American economy and America's national security, okay. That's the -- that's the most important thing. He has said from time to time, it would be good if it would help both countries. But his number one priority, as he said in today's Economic Club speech is looking after America.
WILFRED FROST: Larry, there was some criticism of the Fed in the speech, as we've come to expect. There was also some discussion of the negative rates that we see in Europe. After mentioning negative rates, the President said, quote, give me some of that. What do you make of that? Do you actually think the President wants to see negative rates from the Fed?
LARRY KUDLOW: Well, look, the President has made his views known on the Fed for quite some time. You are aware of it. I don't know whether he wants negative rates, exactly. He's making a point.
WILFRED FROST: Do you want negative rates?
NEC COUNCIL DIRECTOR: Do I personally want – I don't think the United States needs negative rates, because I think our economy, as the President said today, our economy is in very good shape. And in fact, faced with severe monetary tightening last year, it's almost a miracle that we're doing as well as we're doing this year. I noticed ten-year paper is sliding back up towards, what, 190, 195. The yield curve, which everybody was talking about as a recession a couple of months ago, I disagreed with that then and I disagree with it now.
The yield curve is normalizing. That's a good thing. Short rates are below long rates. That helps create bank loans. And I think we're seeing a comeback after a couple of soft quarters. My own view is, we're going to see a much stronger fourth quarter heading into 2020. As you probably have reported, the NFIB's Small Business Optimism Index was very strong today. We had very strong job numbers.
And after revisions and adjustments, those job numbers were absolutely a blowout, close to $300,000. We have good wages. And I might add one other thing on the wage front, very happy to see that wages are rising over 3%. But here's the thing, and he mentioned that in his speech today, the wage increases for the production workers is actually growing faster than the wage increases for their manager. And I think that's very rare.
I think that a test to the success of the President's program, as he mentioned today to the New York Economics Club: low taxes, rollback of regulations, opening up the energy sector, and bringing down trade barriers have been a great success in just, what, two and a half years. And I kind of like this phrase, Wilfred. I kind of like this phrase: I think we are in a worker boom. That's what the numbers show. The president took care today to walk through some of these numbers. $5,000 increase on an after-tax basis for incomes for the average middle-class family of four. I think it's about $66,000.
The prior administration had a decline in that measure of average family incomes. They had a significant decline. And that's something that we very rarely see. And for those critics of Mr. Trump's program, they should look twice at the numbers before they say that the middle and lower middle=class is actually the bottom, I believe, the bottom 10% has had the single biggest wage gain of any single quintile in the formulation. So, we are in very good shape and monetary policy at least has moved back to neutral.
COURTNEY REAGAN: Larry –
LARRY KUDLOW: And we'll let the rest of it take its course.
COURTNEY REAGAN: Larry, on this point, when you're talking about where we sit with incomes and the ability to spend here in the United States, there is a story just out here from "The Washington Post," saying that you're exploring a tax proposal, lowering the middle-class rate to 15% for income taxes. Is that true?
NEC COUNCIL DIRECTOR: Well, look, the President has asked me to pursue something called Tax Cuts 2.0. My pleasure. I think our tax code could always use plenty of pro-growth reforms. I don't want to, to be specific on anything, Court. It's way too soon for that. I'm consulting with the leading tax people in the Senate and the House. I might add, the leading tax people on both sides of the aisle, as well as my colleagues in the administration and the Treasury, as well as people on the outside. We're in very preliminary stages right now.
This thing will not be completed for many months, as I say, it will be released as a strategic pro-growth document for the campaign. We want to see middle income taxpayers get the lowest possible rates. And I guess at a speech I gave before the National Taxpayers' Union, they had a big 50th anniversary gala or some such thing, they're good folks. I just happen to remember the last time I did this, which was quite a few years ago, several decades ago. One of my bosses, my former boss, Ronald Reagan, left the tax code, the individual code at 15 and 28.
Now, I'm not saying those proposals will come out of our Tax Cuts 2.0. I'm just reminding people that that's where it was, 15 and 28. President Trump's phenomenal business tax cuts have made America the most competitive country in the world. And that's why our economy is booming right now. And that's why middle-income wages are going up. But we have a lot of work to do.
And whether we get to 15% on a middle-class tax rate, I don't know, sounds like a pretty good idea to me, but I've got to consult with a lot of people and I've got to get the President's sign-off before anything comes out. And I will just say that -- those conclusions will come, not for many months, not for many months. But you know me, I'm working on it.
WILFRED FROST: Not for many months on that, Larry, but a hint that the trade deal could be days away. You don't have to respond again. Larry, thank you so much. Great to see you, as always.
NEC COUNCIL DIRECTOR LARRY KUDLOW: My pleasure. Thanks to both of you.
WILFRED FROST: Larry Kudlow.
COURTNEY REAGAN: Thanks, Larry.
Updated on