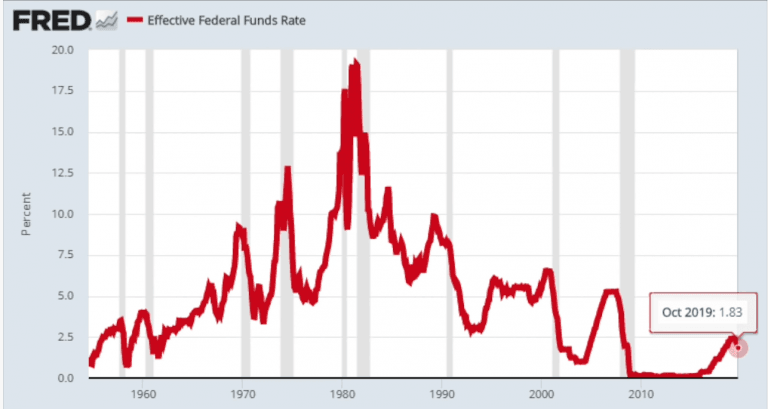 Ray Dalio discusses how capitalism is broken and monetary policy is mad. It is imminent there will be a slow but steady currency collapse alongside sluggish economic growth. The only option governments and banks look at is printing money, which doesn't affect the economy at all. The market will deliver low nominal and perhaps negative returns as investors are buying dreams not earnings. Money printing distorts fundamentals. This is why the Fed will not increase interest rates anytime soon.

Explaining Dalio's Economic Views: Why The Fed Cant Increase Interest Rates
Q3 2019 hedge fund letters, conferences and more
London Value Investor Conference: Joel Greenblatt On Value Investing In 2022
The first London Value Investor Conference was held in April 2012 and it has since grown to become the largest gathering of Value Investors in Europe, bringing together some of the best investors every year. At this year's conference, held on May 19th, Simon Brewer, the former CIO of Morgan Stanley and Senior Adviser to Read More
Transcript
Good day fellow investors. Ray Dalio recently gave an interview with CNBC at the Grandage Economic Forum and 17 minutes he said it all he gave a description of the economic and market environment we live in the outlook, what has to be done and what we can expect. He reiterated this with his LinkedIn article titled The world has gone mad and capitalism is broken.
However, he said it all by just using a few words here in there, as the article and interview are just a summary of his ideas. I wish to add value to you building on dollars words and explain his message. This should give you a good perspective on how you stand where we are now. And whether you are prepared for this environment that is coming as the world has gone mad and the system is broken.
Ray Dalio expects a paradigm shift and we have to see whether we as individuals, investors, folders are prepared for what is going to come in the economy in the markets. And in general, the topics are separated on the economy on the market. So we're going to discuss what are the main issues in the economy in the market, and then what can be done to solve that, in general and also from an investing perspective. So let's start immediately with the economy to quote Ray, the world has gone mad and capitalism is broken.
Monetary policy is broken
Monetary policy is not working anymore because there is absolutely no benefit coming from lower interest rates, and more money printing and what our central bank's doing they're printing more and more money and lowering interest rates. Just over this quarter. They will be 20 free, global interest rate cuts that will supply even more money make more and more available just for those that are creditworthy. The majority of the population doesn't get access to this more money does the system is broken because it helps only the rich getting richer, and not everybody.
And that's one point that real Ray Dalio makes very well. The Fed has tried to increase interest rates lately, but has immediately reversed it policy. It has tried to lower its balance sheet if you look at the red line here, but also the policy has been quickly reversed after just two years of unwinding. And that is the Fed. And that's just the Fed. We have the ECB continuing with stimulating the economy on a monetary perspective. Bank of Japan, China, everybody is doing it and the party seems just to continue.
Demographics explain no increase in interest rates
The thing is that all the developed countries have seen sluggish economic growth. And they are trying to print economic growth. They're trying to financially engineer economic growth. But it's not about financial engineering, they can post bone issues, but they have to really solve issues if they want to improve things. And the issue is always the same. You can push things up by using that. But sooner or later, those things come back to you and chase you and decrease your growth in relation to your growth in productivity, growth and productivity can be achieved through education improvements, which is not the focus, the easiest thing you can do is print money. And that's why they are just printing, printing and printing demographics don't help. There is no demographic growth, especially in Europe, and the United States or even the best among developed countries on that playing field.
So slow demographics, a lot of money, high debt levels are not painting a good picture for the future. If we go to Albert Einstein insanity is doing the same thing over and over again and expecting different results. The Fed, ECB, Bank of Japan are doing the same thing over and over again the same thing that they have been doing for the last 45 years by constantly lowering interest rates, and they expect different results, which is the clear definition of insanity. So radio says it all the system is broken, it is not effective. The Federal rate cuts are not helping now in late part of the economic cycle, with the economy still still doing good, they cannot increase interest rates. So the effect of those cuts and the effects of money printing.
Updated on