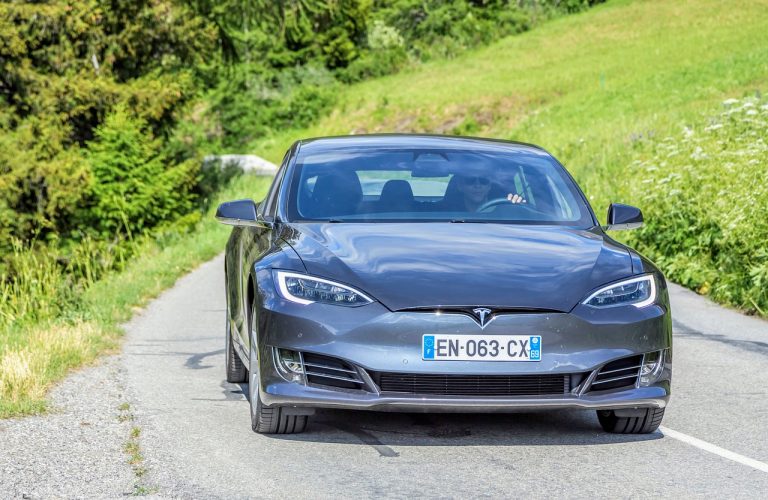 Whitney Tilson's email to investors discussing the lawsuit Tesla shareholders filed against Musk/Solar City.
1) Linette Lopez with her usual excellent reporting:
Q3 2019 hedge fund letters, conferences and more
Hedge Fund Launches Jump Despite Equity Market Declines
Last year was a bumper year for hedge fund launches. According to a Hedge Fund Research report released towards the end of March, 614 new funds hit the market in 2021. That was the highest number of launches since 2017, when a record 735 new hedge funds were rolled out to investors. What's interesting about Read More
The future of Elon Musk's empire was in peril in 2016, and new documents reveal more about the desperate plan to save it
Linette Lopez - Business Insider
Tesla shareholders filed a lawsuit against the company in 2016, alleging that CEO Elon Musk pushed the company to buy SolarCity to enrich himself. They said it was a breach of fiduciary duty.
On Thursday, several depositions (including one of Musk) and documents included in the suit were published on the website PlainSite, an organization focused on transparency in the US judicial system. The Think Computer Foundation originally obtained the documents.
Some documents showed that SolarCity was facing a liquidity crisis when Tesla bought it, and that some Tesla board members had a lot to lose personally if the deal didn't go through.
2) Two VIC posts about it:
Question: Has anyone else been following the details of the civil class action against Elon Musk/Tesla in the Solar City bailout lawsuit?  From the testimony and documents I've seen so far it seems indisputable that Elon engaged in fraudulent self-dealing and securities fraud with respect to Tesla shareholders when he orchestrated the Solar City bailout. It's so clear from the emails and other documents that have come to light so far that I don't see how there aren't serious repercussions from this.  Does anyone with a legal background who has read these documents have an opinion over whether he will face criminal charges, from what agency, and when this is likely to occur?  How does he not end up with multiple criminal indictments over this?  Also, if anyone has the technical expertise to link all the relevant sections of the documents from Twitter and elsewhere it might be helpful for those who have not yet read them.
Reply: What kind of implications this Solar City lawsuit might have for Tesla stock? In my opinion almost none whatsoever - does not matter which way it ends up getting resolved. The only positive outcome (for shorts) is Musk getting indicted and forced to step down from Tesla, which is a very low probability event. Otherwise it is just a distraction that gives TSLA shorts some comfort that they have been right re TSLA/SCTY merger.
3) Here's Glenn Tongue's take on it:
I enjoy reading. Given that one of my passions is investing, most of my readings tend to be of the non-fiction variety. This is a shame, as there is so much great fiction out there. So imagine my delight when Tesla offered not one but two fabulous works of fiction for me to digest last weekend: the incredible earnings report and the Solar City saga (presented through depositions that were publicly released last Friday).
I had to pick one to start with, so let's go with Solar City. As background, it was a solar products company run by Elon Musk's cousin, Lyndon Rive. Musk was chairman of the board and owned 22% of the company. Musk's brother, Kimbal, beneficially owned 147,541 shares of SCTY as of September 23, 2016. On November 21, 2016, Tesla closed on the purchase of SolarCity for $2.6 billion.
We are learning quite a bit about the acquisition because of a shareholder derivative lawsuit that certain Tesla shareholders filed against Musk and Tesla's board. Now that we have the benefit of the deposition documents, we can see what happened: Solar City was failing. It was losing large amounts of money and couldn't raise capital, so for all practical purposes was bankrupt – and there were no buyers for the business. What a pickle!
This was a big problem for the Musks because they had borrowed against their Tesla, Solar City and SpaceX (another Musk company) stock and were getting margin calls. SolarCity's failure would likely have brought down the other two companies because of the interconnected web of borrowings.
So Musk did what he's done many times before: he faked it. He had Tesla make a bid for SolarCity – at a 30% premium (despite the lack of other bidders). But there was a big problem: Tesla shareholders were resisting approving a deal to pay $2.6 billion for a near-bankrupt company. The solution: Musk trumpeted to Tesla shareholders – on a movie set no less! – a revolutionary new product, the solar tile. The only problem was that it didn't exist – it was as phony a three-dollar bill! But that didn't deter an increasingly desperate Musk – he presented it as real. Amazingly, the ploy worked: shareholders ended up approving the acquisition. The Musks' SolarCity stock was bought out at a nice premium and the crisis was averted.
What happened is beautifully depicted in this Twitter thread: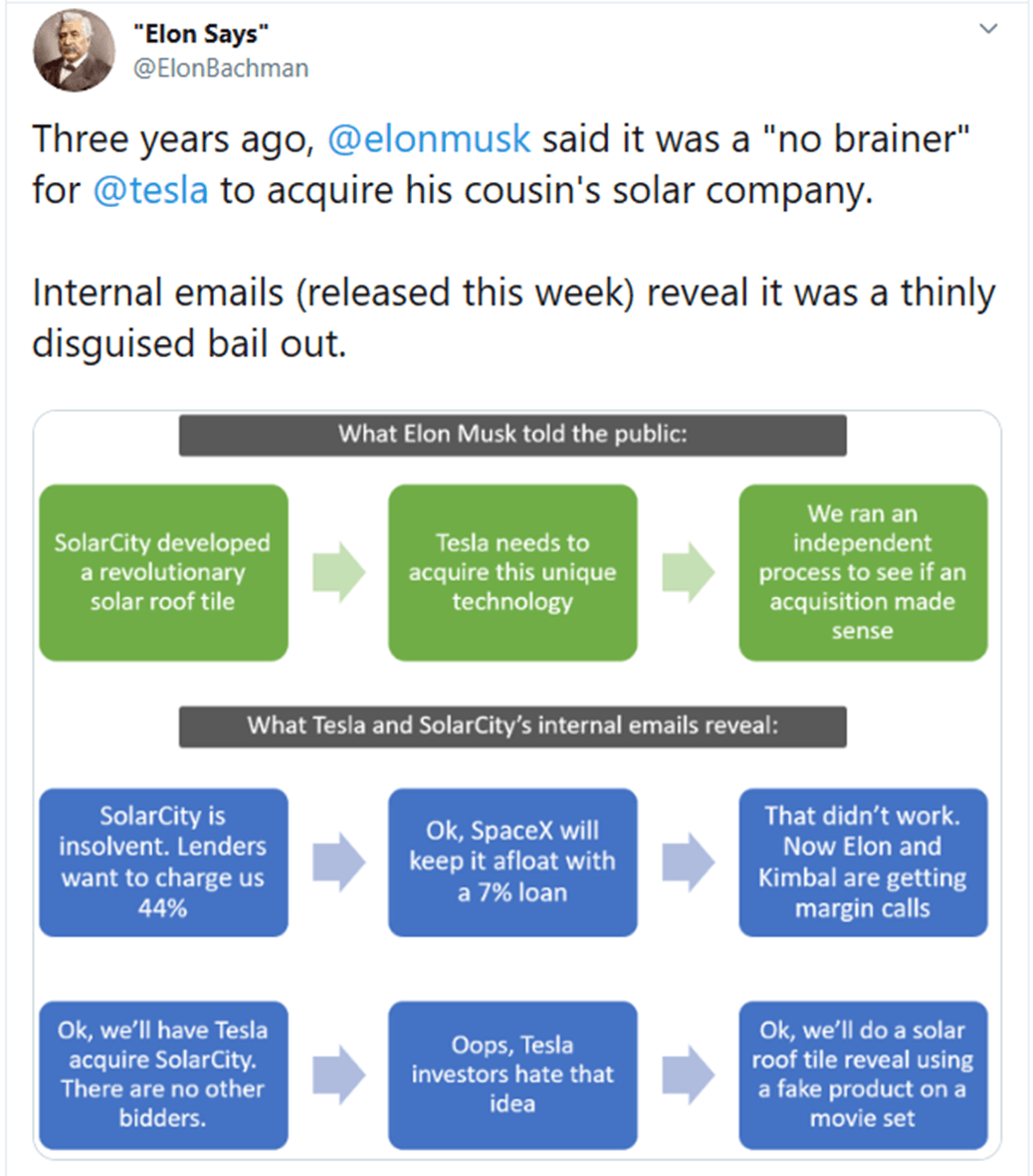 It's for others to say if this situation was out and out fraud, but it is clear from reading the many depositions that material disclosures were either omitted or improperly characterized.
Studying the depositions gives a unique insight into Musk, in his own words. His behavior is appalling. Here are some direct quotes from Musk:
"You are a shameful person."
"What is your purpose in life?"
"You are a professional bully. That's what you do for a job."
"You must have no conscience. Yes, that rings true. I can tell by the laugh."
"Oh, I thought you were reprehensible…you just seem like a very, very bad person. Just a bad human being."
Updated on