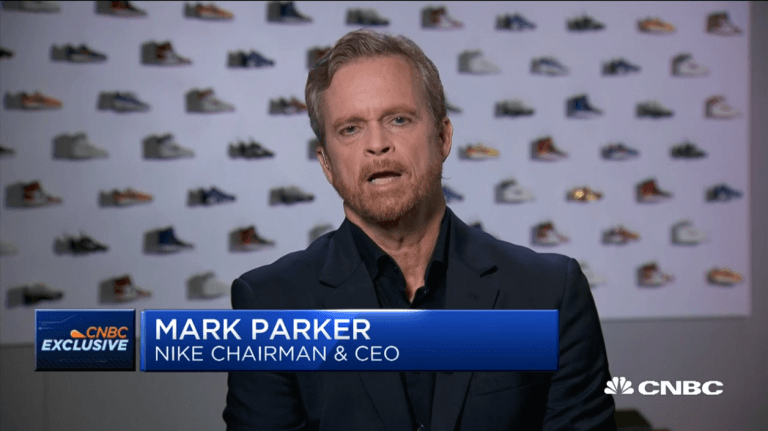 CNBC Exclusive: Nike CEO Mark Parker Speaks with CNBC's Wilfred Frost on CNBC's "Closing Bell" Today Following Breaking News He Will Step Down
WHEN: Today, Tuesday, October 22, 2019
WHERE: CNBC's "Closing Bell"
Robinhood 2021 Conference: Cathie Wood discusses her investment process with Lee Ainslie [Exclusive]
ARK Invest is known for targeting high-growth technology companies, with one of its most recent additions being DraftKings. In an interview with Maverick's Lee Ainslie at the Robinhood Investors Conference this week, Cathie Wood of ARK Invest discussed the firm's process and updated its views on some positions, including Tesla. Q1 2021 hedge fund letters, Read More
The following is the unofficial transcript of a CNBC EXCLUSIVE interview with Nike CEO Mark Parker and CNBC's Wilfred Frost on "Closing Bell" (M-F 3PM – 5PM) today, Tuesday, October 22nd – right after Parker's announcement that he will step down from his CEO role effective January 2020. The following is a link to video of the interview on CNBC.com:
Q3 2019 hedge fund letters, conferences and more
Nike CEO Mark Parker on why he's stepping down
All references must be sourced to CNBC.
WILFRED FROST: Now, a big change in corporate America. Nike CEO Mark Parker is stepping down, effective January 2020, when he will become Executive Chairman. He will be replaced by ServiceNow CEO John Donahoe, who serves on the company's board and is former CEO of Ebay. Joining us for an exclusive interview from the company's headquarters in Beaverton, Oregon is Mark Parker, the CEO and Chairman of Nike. Mark, good afternoon to you. Thanks so much for joining us.
MARK PARKER: Absolutely, yeah.
WILFRED FROST: So, Mark, first question, of course, is why now?
MARK PARKER: Well, we have a great, great leader for Nike coming in. And that's John Donahoe. He is absolutely the right leader for Nike and what we're looking for moving forward. He's the proven CEO of three successful companies. He's no stranger to Nike. And we feel that he's actually the best choice to come in and actually usher this next wave of growth for Nike. He's an extraordinary talent. He's been on the board, so he's very familiar with Nike.
Over the past five years, we've worked closely together on the board. But also, just as part of our strategic planning process, so, he's -- John's been very involved with the senior management team outside of the board process, and into the strategic planning process, as well. Particularly around digital transformation.
He is -- he's coming in with a lot of experience around consumer digital enterprise technology, global strategy, leadership. He's a great developer of talent. He really clicks a lot of boxes that we're looking for to add horsepower to Nike.
We've got incredible horsepower already, but John comes in, adds horsepower, and I think he's going to help us accelerate our whole digital transformation and some of the steps we're taking to become more competitive.
WILFRED FROST: And Mark, you mentioned the world "digital" a lot. Should investors have a big takeaway that this is going to grow significantly and grow margins alongside it as your direct-to-consumer has been doing already?
MARK PARKER: Yes. Digital has been – we have used that word a lot. Digital transformation. It's really a key part of our strategy. It's going to enable this next level of growth. Additionally, it's really about transforming our whole value chain, with areas like digital product creation, consumer demand sensing, flexible manufacturing and responsive manufacturing, as well. And we feel that it's also driving new consumer and commerce models, as well. So, we're really using digital to help transform the company and lift our ability to actually compete and grow our business. And it's having a profound effect. And this is all about accelerating that strategy.
WILFRED FROST: What does that mean for your retail partners, the Footlockers of this world?
MARK PARKER: Well, they're coming along with us. I mean, the retail partners are also going through their own digital transformation. So, it's the partnership between Nike and our right partners to evaluate the consumer experience and serve the consumer better at point of sale, elevate our brand presentation. This is all part of what it takes to have a tighter partnership between Nike and our right retail partners.
WILFRED FROST: In terms of your future involvement as Executive Chairman, I noticed John doesn't have specific brand experience. Will you be helping him with that? How involved will you be day-to-day?
MARK PARKER: Yeah, I'll be very actively engaged working with John as a partnership. One of my main focuses is to make sure that this transition is smooth and successful as possible. So, I'm really look forward to engaging with John day-to-day. He's already familiar with the senior management team. There's a real strong bond and relationship between John and some of our key leaders. So, we feel that's important. My time, I'll be working on brand, of course, I'll be involved with that part of the business.
I have a personal passion, as you may know, around products, around innovation and design. We have part of our strategy is what we call 2x Design or 2x Innovation. And who knows, maybe that will go to 3x Innovation. I think there's so many more opportunities in the innovation space. I've never been more optimistic about that.
And I think that's something I'm looking forward to really diving into, in my role as Executive Chairman, amongst other things. But it's really about making John successful in the role and really making this transition as smooth as possible.
WILFRED FROST: Mark, you were forced to shut down the Oregon Project recently, due to a bit of an alleged scandal. I've got to ask, is that related to the timing of you stepping down at all? And either way, we'd love to hear your response. I think this is your first chance to respond publicly to that whole scandal.
MARK PARKER: Well, first of all, this has absolutely nothing to do with that situation. It's -- you know, the succession planning is a really important part of any CEO's role and certainly has been a part of mine. So, we've spent a lot of time over many months working on secession planning. This is not something that happens in a matter of weeks.
So, it's really unrelated to the Oregon Project or any other issues. This is really about me and the board really wanting to make, you know, build on the momentum that we've got, you know, add the horsepower, accelerate against our strategy, and do it while I'm here and really in a position to lean in and make this as successful as possible. So, that's really where we are.
WILFRED FROST: I wanted to ask about the controversy recently involving the NBA in China, the debate that—as to whether companies should be making a profit in China, or if at the same time, their employees and their fans aren't allowed to speak freely about things like pro-democracy protests in Hong Kong. Where do you and where do Nike stand on that debate?
MARK PARKER: Well, we're obviously standing very close to the situation. And like all of us, we hope there can be a peaceful resolution. You know, we -- we're in the midst of some very complex times. And I think it's important that in this incredibly dynamic environment that we are very thoughtful and deliberate in every situation. So, I have to say, you know, I've been working in sports for forty years of my life, and I've never been more optimistic about the power of sport to help move the world forward and be a positive impact on people around the world to inspire, to unite. And that's where we're focused. That's where we're focused.
WILFRED FROST: How are you managing the tariffs, Mark, at the moment? Are you passing it on to consumers and are you able to move production? Are you just stomaching the costs yourself?
MARK PARKER: Well, we obviously focus on what we can control. The things that are in our power to really influence. And we have been, I think, it's no mystery, that we have been about free and fair trade. That's what we stand for. We think that protectionism and excessive tariffs ultimately burden the consumer.
So, we're doing what we can to move forward as a company and focus on the things that we can control. And that's really running our offense. We're making moves here and there to make sure that we're in the best position possible. We haven't seen any dramatic impact from the tariffs at this point.
And we feel like we're in a great position to manage through that. But we're -- you know, we don't take that for granted. We're staying close and we'll continue to try to work the levers we can and build on the momentum that we've got.
WILFRED FROST: Mark, you mentioned the power of sport and I feel like I can sneak in a soccer question, because Sara's not here. And I wanted to ask, whether you feel like the success of the U.S. women's soccer team at the World Cup is something that cannot only inspire a new generation of female soccer players in the U.S., but male soccer players, too?
MARK PARKER: Oh, absolutely. You know, I think this started back in 1999, at the final, when the USA won that World Cup in very dramatic fashion. That was a big impetus for women's sports, but also for football or soccer, as we call it in the United States. And this is no different. I think the impact that the women's World Cup has had and the victory that the U.S.A. has put on the board and the way they did it and the media attention around that, and the fan base, the excitement, the energy around that has been absolutely fantastic. I think it is another catalyst for women's sports, but also just sports in general.
WILFRED FROST: Mark, thanks so much for joining us. And congratulations on an incredible tenure at the helm of the company. And enjoy the final few months. Good luck being Executive Chairman. Thank you very much.
MARK PARKER: Thank you. Thank you.
WILFRED FROST: Mark Parker there, the Chairman and CEO of Nike. As we just said, he will be standing down, effective in January. We should mention, the next CEO of Nike, John Donahoe will be on "Mad Money" tomorrow evening. You do not want to miss that, 6:00 p.m. Eastern Time.