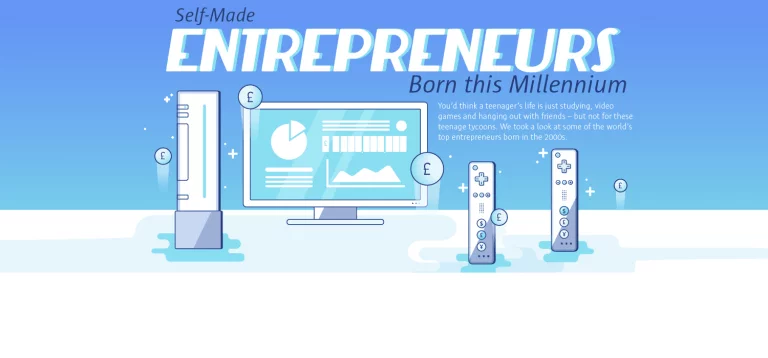 Women often don't get enough credit for what they do, particularly young women. They can often feel underestimated in the work place and can face quite hefty gender pay gaps. But not these women…
These women are changing history with their ambition and their entrepreneurship– they're going on to made $11 million deals with major companies. The best thing of all, they are all born this millennium.
Q3 2019 hedge fund letters, conferences and more
Canyon Capital Has Tapped Into The Pandemic Fallout: In-Depth Analysis [Q4 Letter]
Canyon Balanced Funds was up more than 41% net since the end of last year's first quarter. It took about 10 months for the fund to recover from the lows in that quarter, a few months longer than the 2009 rebound after the Global Financial Crisis. The fund has a little over $26 million in Read More
Noa Mintz –Noa used her own experience of growing up as a 12-year-old in New York to find her million-dollar deal. She created a way for parents to quickly locate the best nannies in the area, background screen them and provide workshops and ongoing support for both nannies and the platform users.
Noa now has a net worth of $375,000.
Mikaila Ulmer –Mikaila's entrepreneur journey started with entering a child's business competition. The four-year-old was fascinated with bees and so took to sweetening her Great Granny's flaxseed lemonade recipe with bee's honey. Titled Me & The Bees Lemonade, her new recipe traded as an $11 million deal with Whole Foods.
She donates some of her profits to Texas Beekeepers Associations alongside the slogan 'Buy a Bottle… Save a Bee'.
Bella Tipping –Twelve-year-old Bella created what is essentially the 'children's Trip Advisor'. The website allows children to rate and review hotels, restaurants, and attractions based on their child-friendly options.
Since creation, this website has received $80,000 in investments.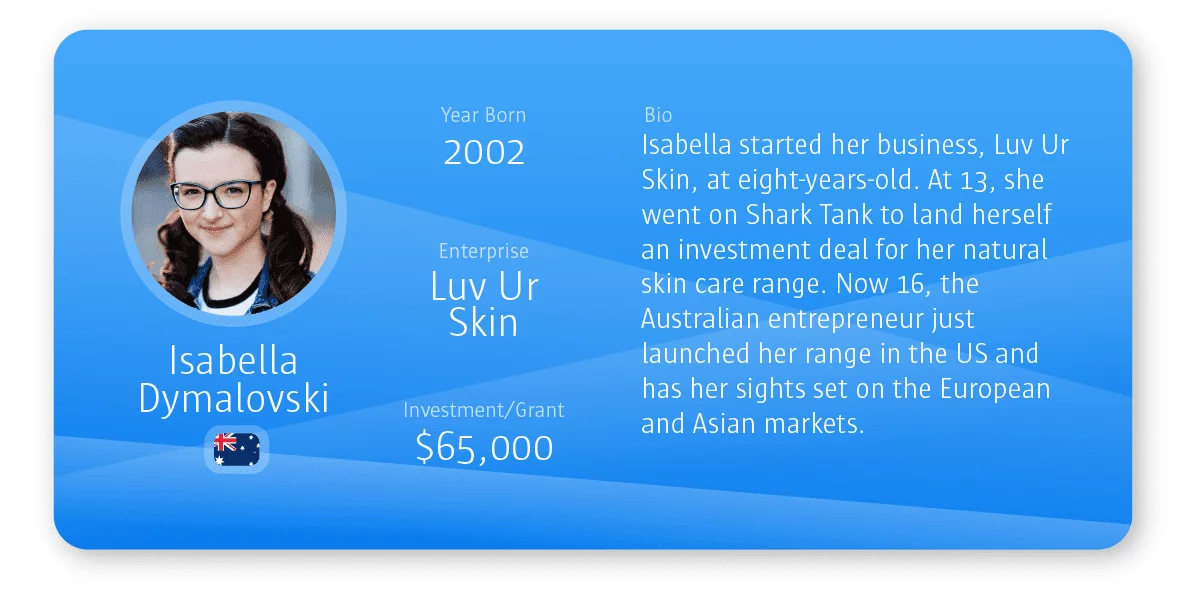 Isabella Dymalovski –Starting at just eight-years-old, Isabella founded her own business Luv Ur Skin a natural skin care range aimed at teenage girls. At age 13, she took this to Shark Tank and gained a $65,000 investment.
Now 16, the Australian entrepreneur just taken her range over to America and also has interests from the European and Asian markets.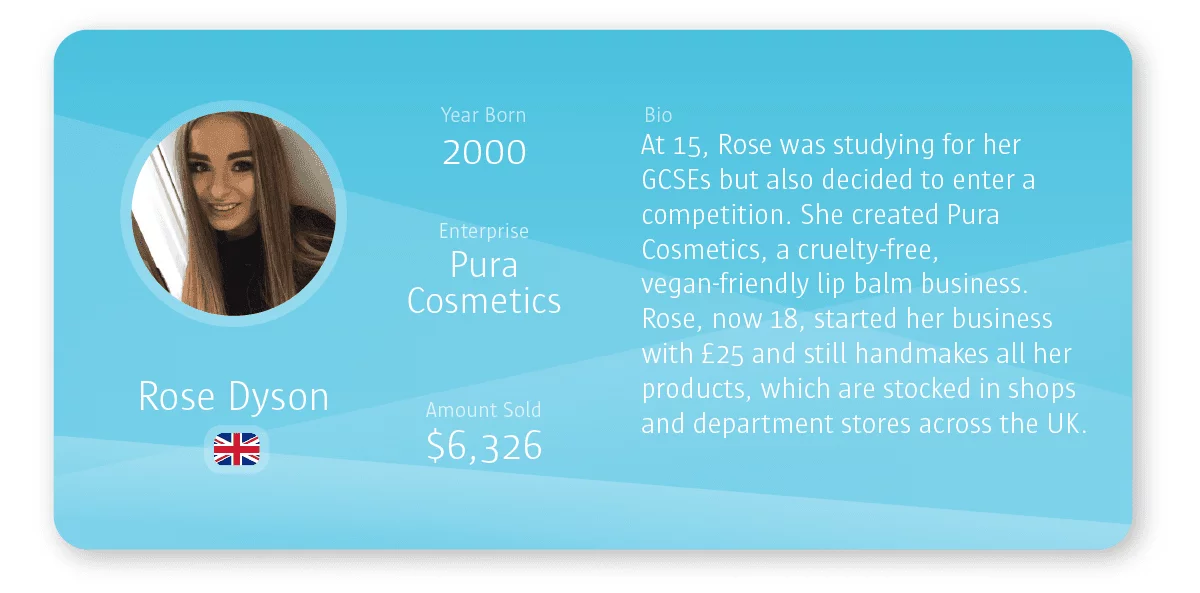 Rose Dyson –While studying for her GCSE's, 15-year-old Rose entered her ethical skincare brand Pura Cosmetics to a local enterprise competition. Her brand started with just £25 but she now recalls selling £4,854 worth of her handmade vegan and cruelty-free products in one Christmas period
Now aged 18, Rose's products are stocked in shops and departments stores across the UK.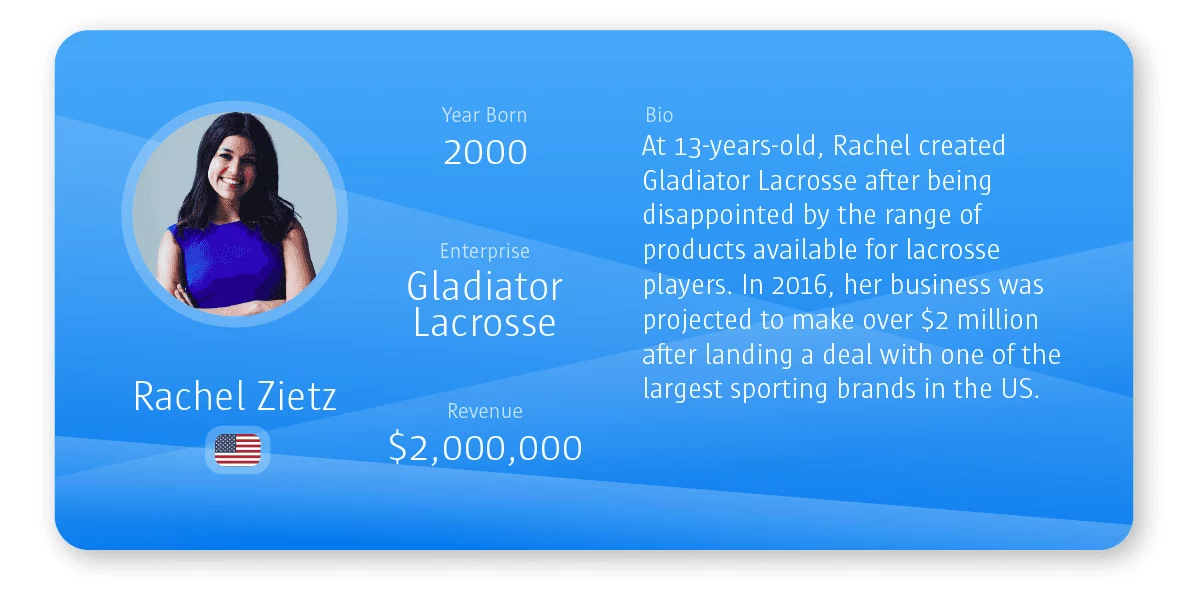 Rachel Zietz –Rachel created the website 'Gladiator Lacrosse' to sell lacrosse goods after being disappointed by the range of products available for players. The website sells equipment and clothing for lacrosse players and includes training videos and tips for players.
Rachel's business was projected to make over $2 million in 2018 after landing a deal with one of the largest sporting brands in the US.
For more information on the world's youngest business creators, please visit the Self-Made Entrepreneurs Born This Millennium graphic here.