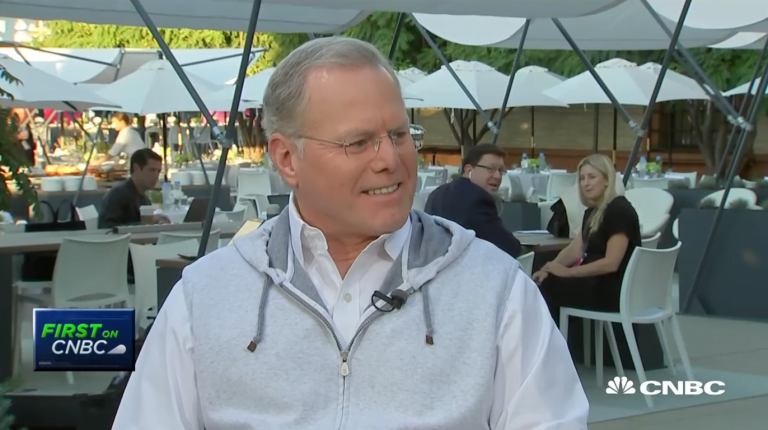 First On CNBC: CNBC Transcript: Discovery CEO David Zaslav Speaks with CNBC's Julia Boorstin Today about the Food Network Kitchen's business and operations.


WHEN: Today, Tuesday, October 22, 2019
WHERE: CNBC's "Squawk on the Street" – Live from Vanity Fair's New Establishment Summit 2019 in Beverly Hills, CA
How A Weakening PE Market Serves As Another Sign Of A Weakening Economy
Amid the turmoil in the public markets and the staggering macroeconomic environment, it should come as no surprise that the private markets are also struggling. In fact, there are some important links between private equity and the current economic environment. A closer look at PE reveals that the industry often serves as a leading indicator Read More
The following is the unofficial transcript of a FIRST ON CNBC interview with Discovery CEO David Zaslav and CNBC's Julia Boorstin on CNBC's "Squawk on the Street" (M-F 9AM – 11AM) today, Tuesday, October 22nd, live from Vanity Fair's New Establishment Summit 2019 in Beverly Hills, CA. The following is a link to video of the interview on CNBC.com:
Q3 2019 hedge fund letters, conferences and more
Discovery CEO David Zaslav on the success of Food Network Kitchen
DAVID FABER: "Vanity Fair" is hosting its sixth annual New Establishment Summit. That is in Beverly Hills, California. Our Julia Boorstin is live there from the event and she has a special guest for us as well. Julia.
JULIA BOORSTIN: Thanks so much, David. I'm joined now by David Zaslav, CEO of Discovery.
DAVID ZASLAV: Hi.
JULIA BOORSTIN: Thanks so much for joining us here at the "Vanity Fair" Summit. So, you are about to go on stage with Martha Stewart and you are announcing today that Food Network Kitchen is going live. Consumers can now sign up.
DAVID ZASLAV: Right.
JULIA BOORSTIN: Tell us what you've seen so far in terms of early demand. since you announced last month and what this says about your direct-to-consumer strategy going forward.
DAVID ZASLAV: Sure. It's a very unique product. It really was born last thanksgiving when 85 million people came to us online in the three days before Thanksgiving asking for help in making their Thanksgiving meal. And so, we looked at that and we looked at the fact that we have most of the great chefs around the world are working with us, and we hired the guy that built Marketplace for Amazon and we built this very unique product. 25 live cooking classes a week, about 1,000, it's like the Peloton of food, but it also allows you with one touch to get your groceries delivered to your house. So, it's very functional and nobody needs to be alone in the kitchen anymore.
JULIA BOORSTIN: Since you announced it and based on the response you've heard so far, can you give us a sense of how many subscribers you expect to get in the first year? I mean, do you have an indication based on demand?
DAVID ZASLAV: Well, the beta has gone great. People love it and they are using it extensively. So, we think we have a terrific product. You know, it's really -- food is unique. It's one of the reasons why we bought Scripps – food and home. There's a huge fight over who is going to own the home. And people spend their most emotional time and important time in the kitchen. And we're fighting to own the kitchen.
Most media companies are trying to get into the home with content, with storytelling, with scripted series and scripted movies. And for us, this is a practical way to help people.
And everybody asks the same question every day, in every language, everywhere in the world, they always ask 'what's for dinner?' So, we think this -- the actual scale of how this could be over the next tens of millions, we think, over the next several years in the U.S. And a multiple of that around the world.
Remember, we have Food Network Kitchen here in the U.S. and Cooking. Food Network is the number two or three-channel for women. And that's actually like a funnel. The people that love Food and Cooking are watching our channels and now we can tell them to come to us and we can help you make your meals in the kitchen.
JULIA BOORSTIN: But then if you're telling the people who are watching on TV to come to you and subscribe directly, is it possible you could drive cord cutting? Because you're telling people who are subscribing to a paid TV bundle that they don't need to anymore to get your content?
DAVID ZASLAV: See-- but the distinction here is this is a different product. These are cooking classes. So, I'm -- Martha is going to be cooking for four consecutive days going up to Thanksgiving. It's cooking classes on four different Thanksgiving dinners. This isn't really -- this isn't competing with Diners and Dives. It's not competing with our traditional content; which people love to watch in a one-way experience. It's also interactive. So, if you have questions about a recipe or about a meal you can call in and get it answered.
JULIA BOORSTIN: So, you mentioned HGTV. You have a Chip and Joanna Gaines direct-to-consumer service launching next year. You have three sports direct-to-consumer services cycling, Golf and Eurosport overseas. Do you see a world in which you're going to bundle together these services to give consumers who like your types of products a new type of mini-bundle?
DAVID ZASLAV: Well, first is we own all of our content. And we own almost all of our content globally. So, we have full flexibility. For now, what we're doing is we're watching the seven or eight great media companies that are fighting over entertainment, whether that's HBO or Showtime or Disney Plus or Netflix, they're all doing entertainment scripted and movies. So, we see ourselves as differentiated. Right now, we're offering a lot of our products individually, like we're offering Golf and Cycling. But in Europe, we do have an aggregated sports product. We have the ability to aggregate and we've never been stronger in the U.S. We're now the largest media company for women in the U.S.
JULIA BOORSTIN: But are you going to work on a bundle, where there's going to be a bundle for women of Home and Cooking and all of that stuff?
DAVID ZASLAV: And ID.
JULIA BOORSTIN: Yep.
DAVID ZASLAV: Look, I think everything is on the table. The interesting moment for us is that everybody in the -- on the entertainment side needs more content. So, we're talking to each of the major players about -- they've been talking to us whether we want to provide more or some content to them. And for now, we've decided not to. We think we can either go individually, with food and home and Oprah and Chip and Jo and Crime. Or we could aggregate here in the U.S. And we'll look over the next year and determine what we want to do. But right now, this Food Network Kitchen product we think could change the game in the kitchen.
JULIA BOORSTIN: And in general, you're not interested in selling content to these giants?
DAVID ZASLAV: No. We haven't been selling our content because people come to us. And I think, you know, the idea that we own all of our content globally gives us I think real power and scale.
JULIA BOORSTIN: David Faber wants to jump in here.
DAVID ZASLAV: Hey, David.
DAVID FABER: Hello, Mr. Zaslav. You know, question to from me on the stock price. And I know you look at it. I'm looking at a five-year chart. You had lows in '17, you're well off them, but the multiple on your stock keeps coming down. The entire group is trading at ridiculous -- I shouldn't say that -- at very low multiples. Is there anything you think you can do to change the narrative that will get investors to pay a higher multiple for companies like your own?
DAVID ZASLAV: Good question. The first thing we did was when we bought Scripps, we were making $1.4 billion in free cash flow and they were making $700. We have a target of $3 billion in free cash flow over the next two to three years. And we took -- we said we were going to take our leverage from 4.7 to 4.8 to less than 3.5 over two years.
In one year, we were below 3.5 times levered and we're now at a trailing 2.9, $3 billion in free cash flow. So, one, we view ourselves as a free cash flow machine. Over the next three to four years, we will be generating 10, 12, $14 billion in cash. So, you know, that's a metric. And on the metric of free cash flow, we're incredibly cheap.
The other thing we can do is we own all of our IP. And, you know, this product that we're talking about today, Food Network Kitchen, you know, that has real terminal value. The issue with our whole industry is people are concerned who owns the right IP and are people going to be watching TV and how often are people going to be watching TV five years from now.
So, if we can get the Food Network Kitchen product working and our content globally distributed to all the devices, then you'll see, I think, not just an acceleration of our multiple, but people will recognize we're a very different media company. We're not an entertainment company with expensive content.
We have between Food, Home, Crime, Discovery, Animal Planet, we have content that people love in every language in the world and we own all of it.
JULIA BOORSTIN: But you are smaller than some of these media giants, especially after the consolidation we've seen over the past couple years. And there is a question when competing for eyeballs and competing for ad dollars and dealing with a shirking are viewer base for television with cord cutting, do you need to be bigger to really compete? And to that end, do you need to sell or would you consider buying more assets?
DAVID ZASLAV: Well, we have a lot of free cash flow. We're looking -- always looking to buy assets if we can find assets --
JULIA BOORSTIN: What type of assets?
DAVID ZASLAV: That are -- that will help us grow faster. IP basically. I mean, we have already 10 to 12 channels in every country around the world. Our business is growing low to mid-single, generating a lot of free cash flow. And so, our overall strategy over the last five years has been to get more compelling content and own it globally.
But in terms of this question of how big do we need to be, if you're one of those eight entertainment companies that trying to do scripted series and scripted movies, they're all fighting over one pie and it's very crowded. When it comes to food, we own almost all the great chefs and all the great food content.
We own almost all the home content. In science and natural history, we did a deal with the BBC, a global deal, where we own almost all the science and natural history in the world. So, in our niches, we're the aggressively overly dominant player.
JULIA BOORSTIN: But you didn't answer my question though, what types of content, companies or studios or media companies, would you want to acquire? And is Discovery for sale?
DAVID ZASLAV:  Discovery is not for sale.
JULIA BOORSTIN: At the right price?
DAVID ZASLAV: As a public company, you know, every public company is for sale. But we think we have great free cash flow, a great balance sheet, really good assets. But, you know, we bought -- we bought a partnership with the PGA tour through 2030 where we own golf, all of golf, most of golf around the world. We bought Golf Digest and did a deal with Tiger Woods. We did a deal with the BBC for all of their IP in the natural history space. So, you know, owning more and better IP gives us a much clearer path to get on to every device. And it's more of a reason why people are going to want to hang out with us and our content.
JULIA BOORSTIN: So, we will look out for more deals for Discovery down the road. David Zaslav, thanks so much for coming to talk to us today, before you head on stage with Martha Stewart. Really appreciate it.
DAVID ZASLAV: Thanks, Julia.
Updated on