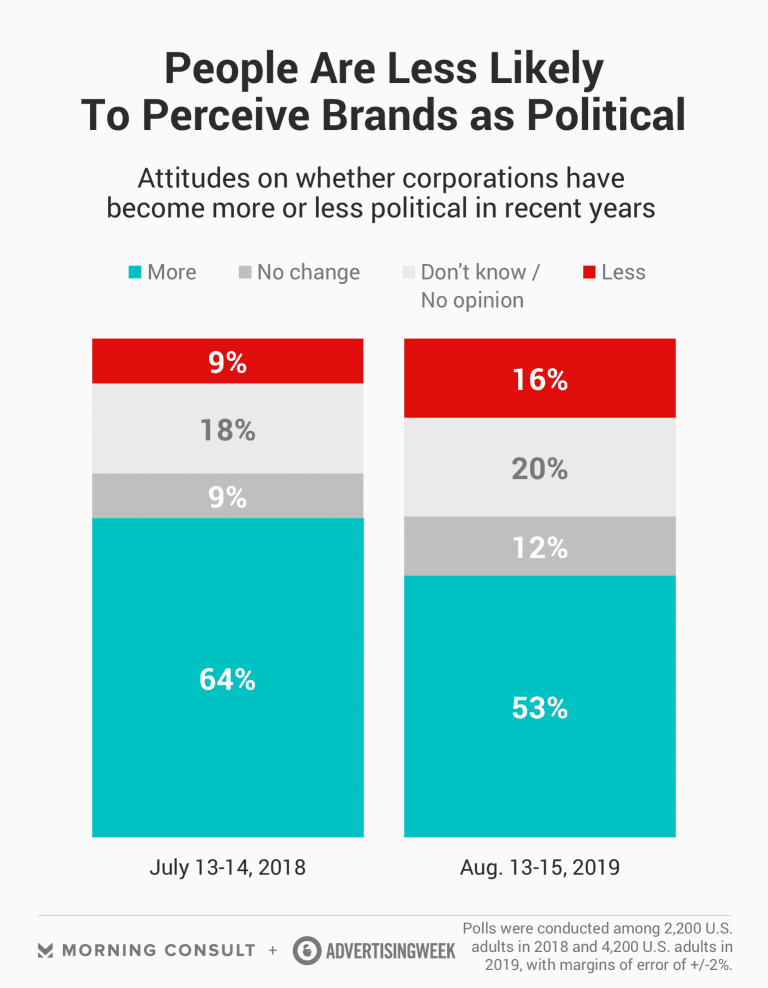 Consumers See Brands Getting More Into Political Activism, And Less In Touch With The Public; Americans Are Twice As Likely to Boycott As They Are to Buycott; The Group Most Likely to Boycott a Brand: Wealthy, Well-Educated Liberals; Gen Z and Millenials Expect More From Brands Than Older Generations, But Are No More Likely to Boycott Brands than Boomers; Engaging With Trump Remains Complicated Tightrope For Brands 
New York, NY (September 18, 2019) – Donald Trump fundamentally changed how brands engage in political and social issues. The 2020 election is shaping up to change it all over again. Although consumer sentiment around brands that engage with politics is softening, companies continue to navigate tricky terrain ahead of the 2020 election, according to a new report released today from Morning Consult and Advertising Week.
Q2 hedge fund letters, conference, scoops etc
Ray Dalio At Robin Hood 2021: The Market Is Not In A Bubble
At this year's annual Robin Hood conference, which was held virtually, the founder of the world's largest hedge fund, Ray Dalio, talked about asset bubbles and how investors could detect as well as deal with bubbles in the marketplace. Q1 2021 hedge fund letters, conferences and more Dalio believes that by studying past market cycles Read More
DOWNLOAD THE FULL REPORT HERE
Overview
This in-depth report uses data from over 4,000 interviews with U.S. consumers and examines what consumers want to see from brands when it comes to corporate social responsibility and political activism. The study offers a first-of-its-kind look at what brands can do to election-proof themselves over the next year. Morning Consult will present the data live at Advertising Week New York 2019 on September 26.
"The politics of brands, and the branding of politics, have been re-shaped overnight. With a non-partisan view, Advertising Week is proud to serve as a platform for healthy debate and discussion around the confluence of brands, culture and politics," Advertising Week CEO Matt Scheckner. "Partnering with Morning Consult to provide our industry with the actionable insights needed to navigate the 2020 election is a natural extension of our thought leadership platform," he added.
"The 2020 election is presenting a whole new set of challenges for companies," said Jeff Cartwright, Morning Consult's Vice President. "We are excited to partner with Advertising Week to pull back the curtain on how the current political environment is evolving and what that means for the future of corporate social responsibility and political activism."
Key takeaways on political activism:
Consumers see brands getting more political and less in touch: 53% of adults say corporations have become more political in recent years - a much higher share than those who say brands have become more responsible, charitable, or in touch with average Americans.

Last July, when Morning Consult asked this question, 64% of consumers said that corporations were becoming more political - a signal that this sentiment is softening.
Americans are twice as likely to boycott political activism as they are to buycott: 29% of consumers say they have stopped purchasing from a brand because of a political stance, just 15% say they've spent money to support a brand because of a political stance.
Gen Z and Millennials expect brands to play a larger role: On a question relating to corporate involvement, 31% of Gen Z and 27% of Millennials agree that "Corporations play an important role in this country, and they should use their influence to impact political and cultural issues." Just 16% of Gen X and 13% of Boomers say the same.
Not just age
However, age isn't a major dividing line when it comes to how consumers interact with brands politically: Younger Americans have different political beliefs than older generations, but there isn't a dramatic difference in how they interact with brands over these beliefs. For example, Gen Z and Millennials aren't more likely to boycott brands over politics.

The share who say they stopped buying the products or services of a company because of a political action or stance it took:

Gen Z adults: 28%
Millennials: 26%
Gen X: 31%
Boomers: 30%

Wealthy, well-educated liberals are the consumer group that brands should be most concerned about: When it comes to boycotting and taking other actions around political issues, education, income, and political ideology are the biggest drivers of engagement.
Immigration is among the most generationally divisive issues: By a net 18 point margin, Gen Z is opposed to companies advocating for stricter immigration policy. Boomers, on the other hand, are overall supportive of this stance by a net 23 point margin. That generational divide between Gen Z and Boomers is one of the largest on the 15 issues tested below.
GENERATION Z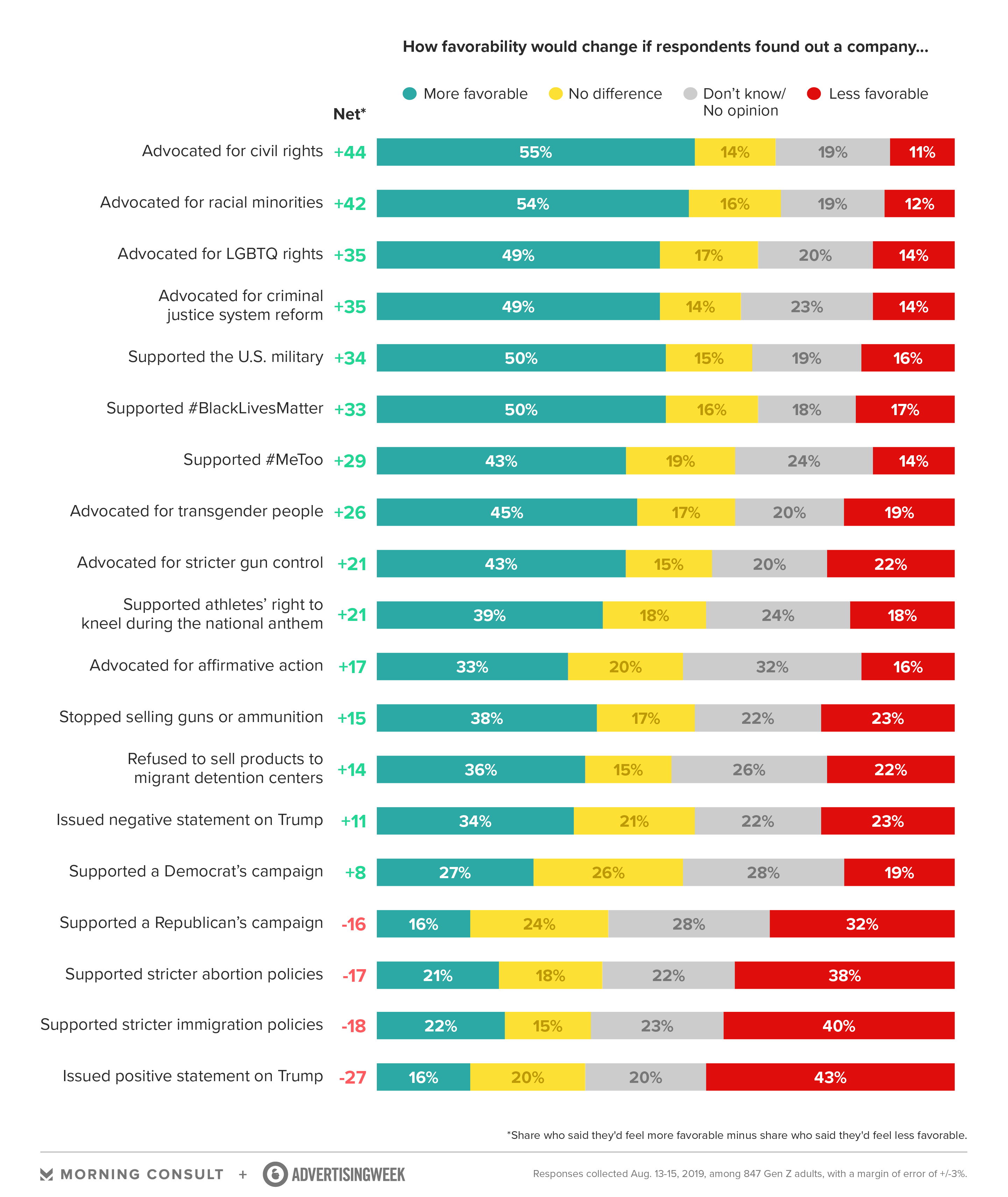 MILLENNIALS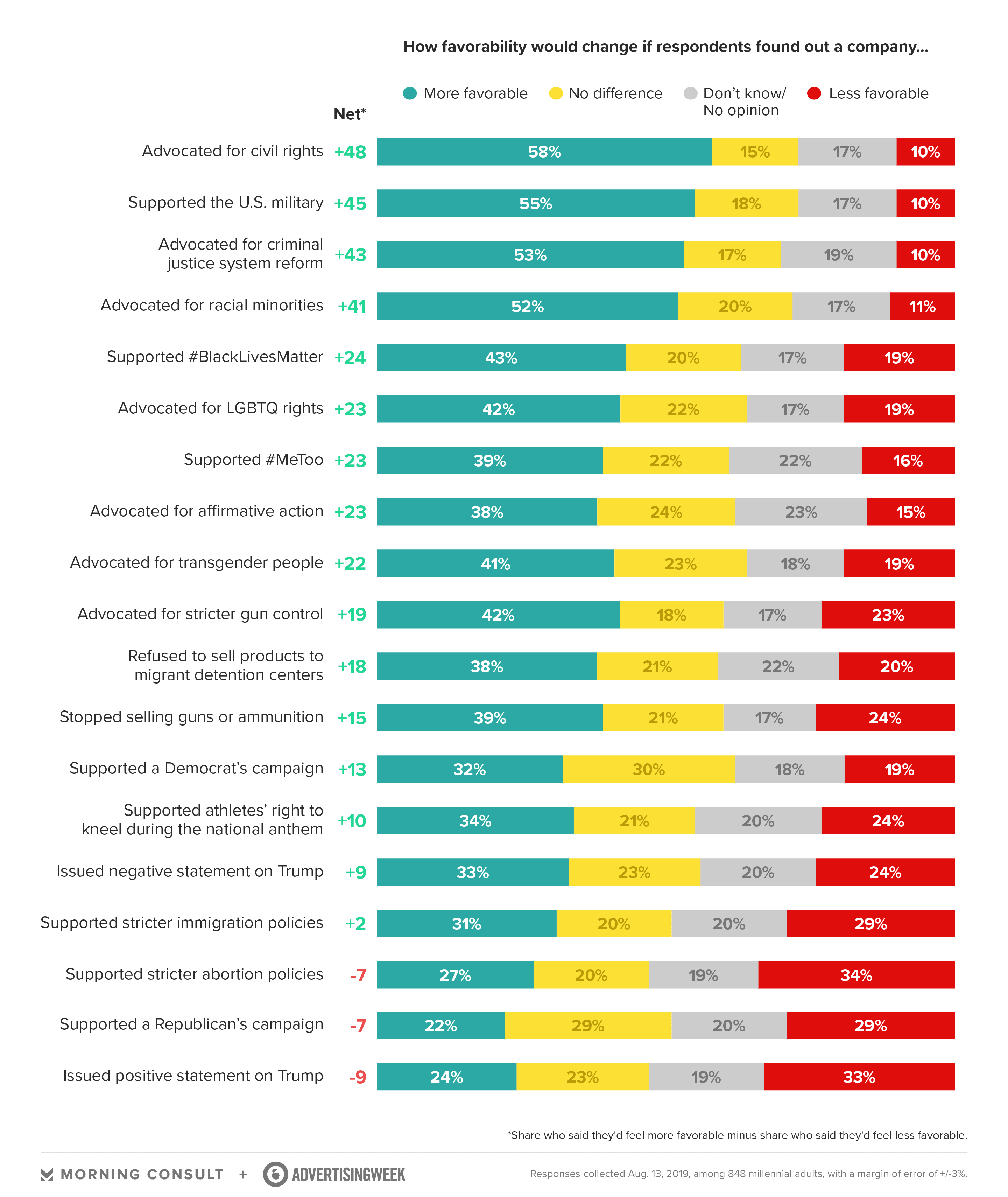 GENERATION X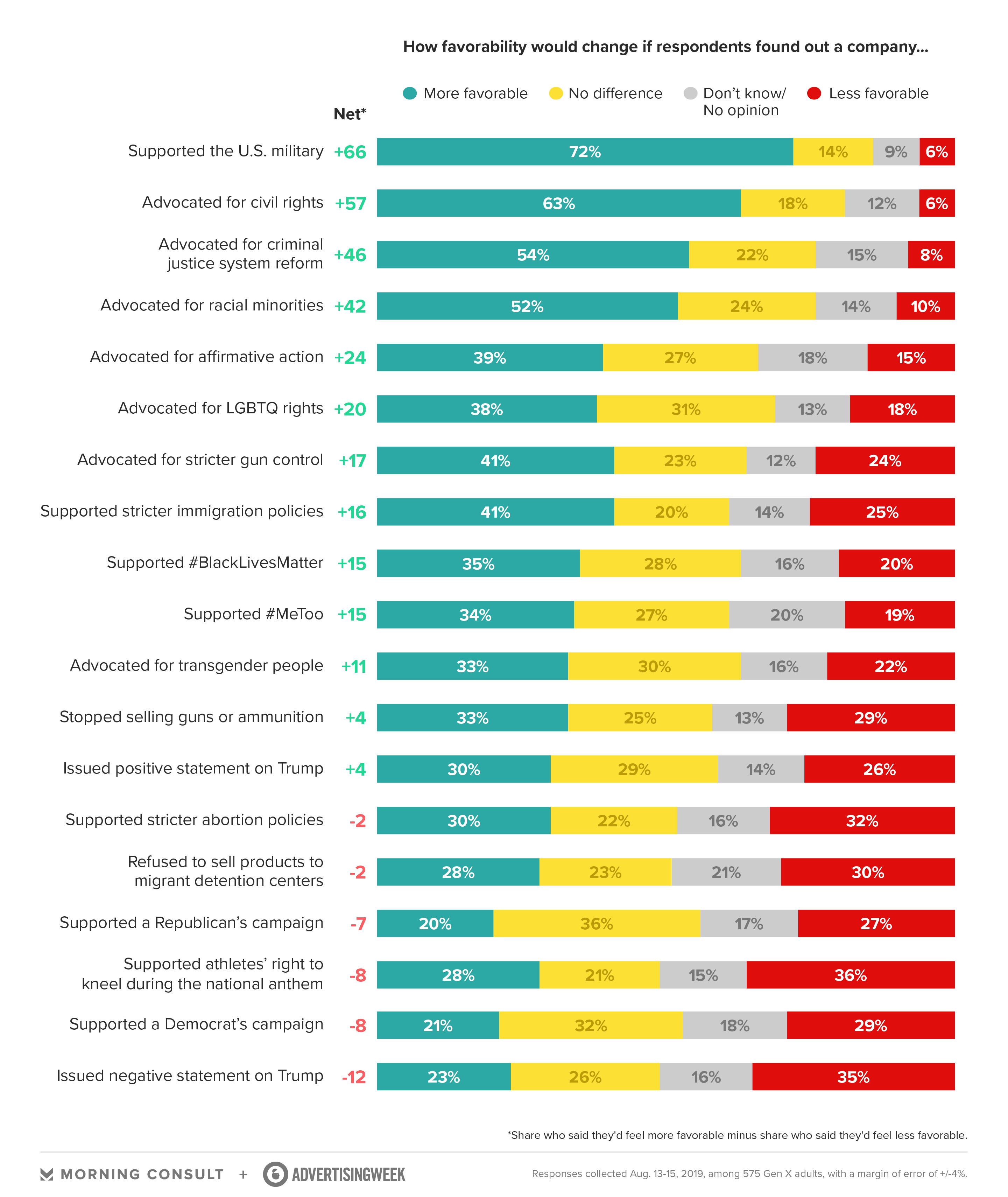 BOOMERS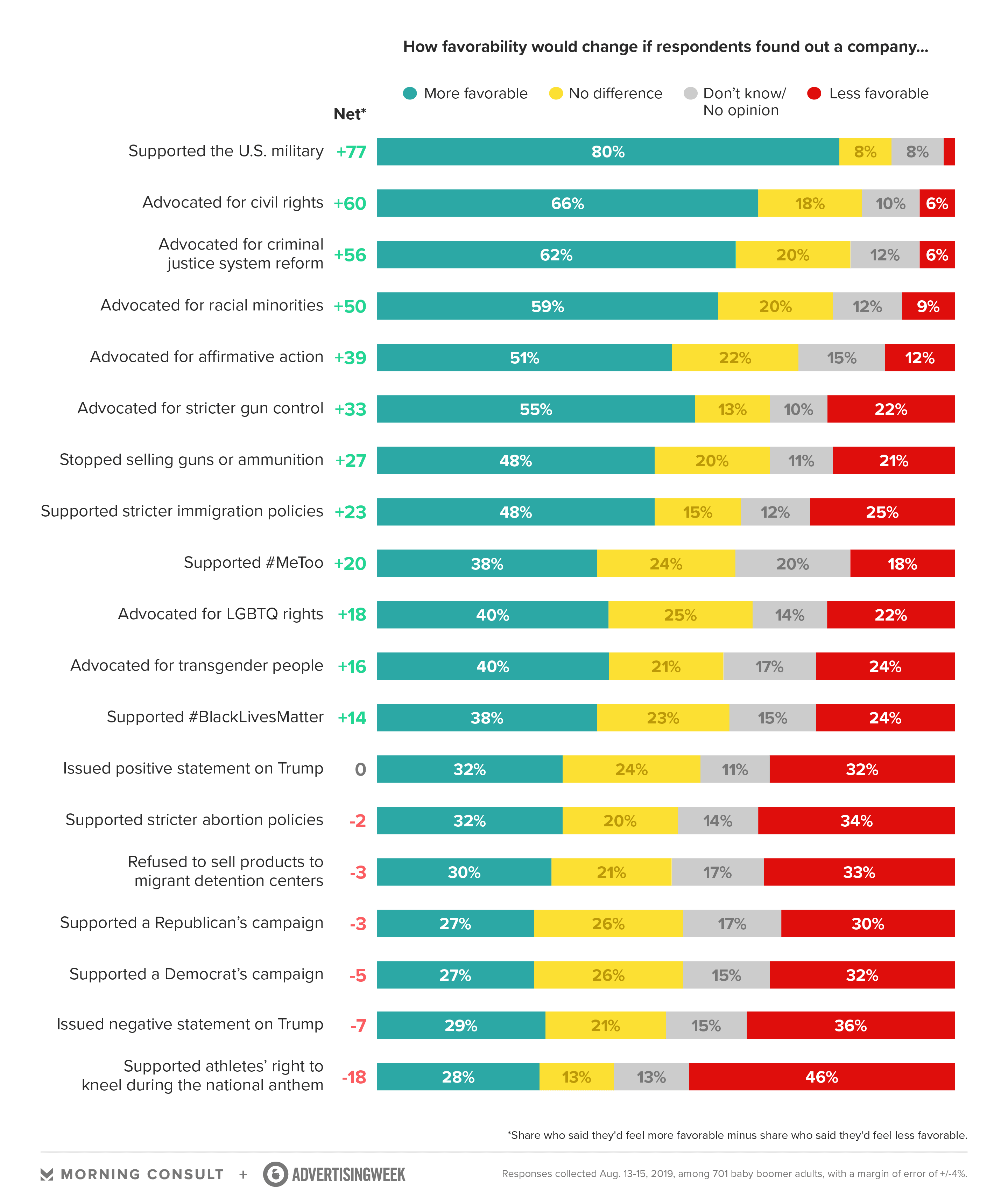 Engaging with Trump is still a complicated tightrope for political activism among brands: Issuing a statement about Trump - whether positive or negative is likely to draw a major backlash. But among brand activists, the reaction is likely to be stronger if the statement is positive.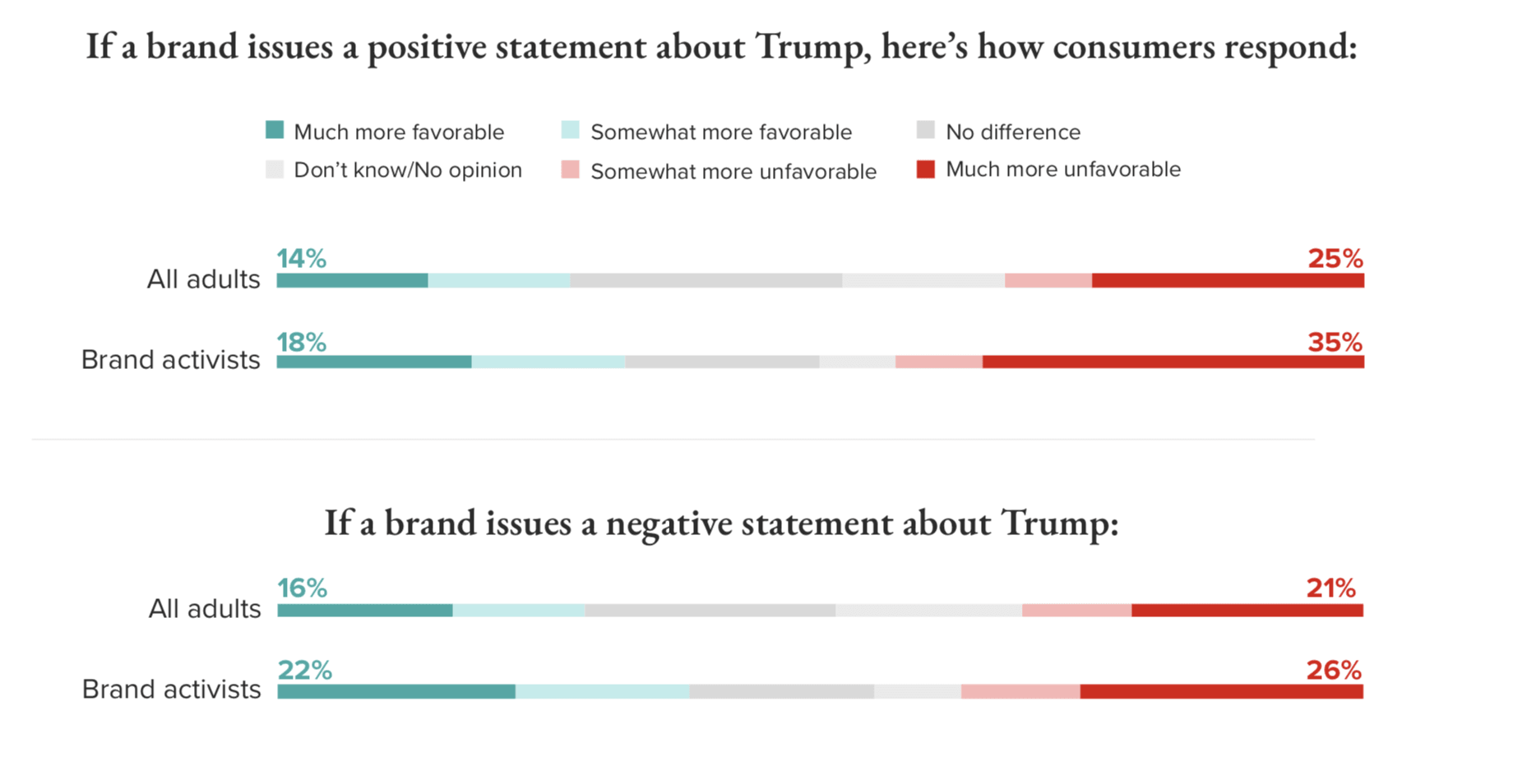 Any references or use of graphics from this report must be credited and linked back to Morning Consult/Advertising Week at the following link: https://morningconsult.com/form/download-2020-survival-guide-for-brands
Questions or requests can be directed to T. Anthony Patterson, [email protected] or 347-422-3105
Political Activism Methodology:
This poll was conducted from August 13-15, 2019, among a national sample of 4,200 U.S. adults - including an oversample of 1,000 millennials and 1,000 Gen Z adults. The interviews were conducted online and the data were weighted to approximate a target sample of adults based on age, race/ ethnicity, gender, educational attainment, and region. Results from the full survey have a margin of error of plus or minus 2 percentage points.
On pages 17 and 18, the results come from a separate study conducted from August 21-23,2019, among a national sample of 2,000 Adults. Results from the full survey have a margin of error of plus or minus 2 percentage points.
---
About Morning Consult
Named one of the fastest-growing technology companies in North America by Deloitte, Morning Consult is revolutionizing ways to collect, organize, and share survey research data to transform how global leaders in business and government make decisions.
About Advertising Week
Advertising Week (AW) is the premier global event platform for advertising, brand, creative, entertainment, marketing, media and technology industry. For more on Advertising Week, visit www.advertisingweek.com.