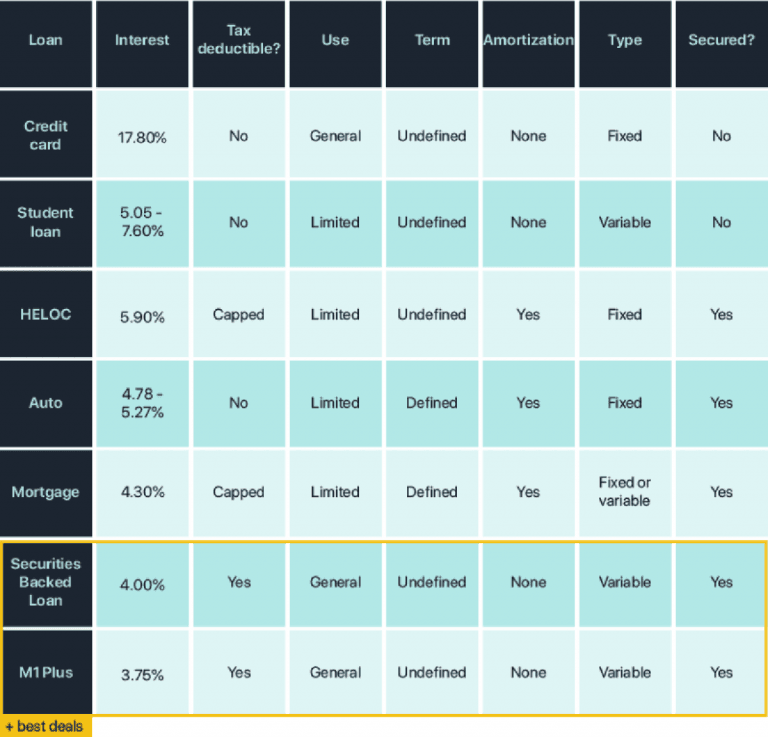 ValueWalk's interview with Brian Barnes, the CEO at M1 Finance. In this interview, Brian discusses his background, the company's product offerings, a smart all-in-one finance tool for more experienced and affluent customers of any age, their long term strategy as a U.S. investor, investors' asset protection, the types of clients they have and how they differ from other broker dealers, the portfolio line of credit, how M1 Borrow works, background checks and limitations on borrowing, how a securities backed loan compares to other common loans, popular stocks according to M1 clients, and bringing your financial future in your hands.

Interview with Brian Barnes
Q2 hedge fund letters, conference, scoops etc
Can you briefly describe M1Finance?
The smart and seamless money management app with free automated investing, low-rate borrowing, and high yield checking. Nearly half a million customers use M1 make their own long term investing decisions, and like the way M1 enables them to control their money, without hassles, commissions or advice.
London Value Investor Conference: Joel Greenblatt On Value Investing In 2022
The first London Value Investor Conference was held in April 2012 and it has since grown to become the largest gathering of Value Investors in Europe, bringing together some of the best investors every year. At this year's conference, held on May 19th, Simon Brewer, the former CIO of Morgan Stanley and Senior Adviser to Read More
You are a full broker-dealer?
Yes. M1 Finance LLC is a SEC registered broker-dealer and Member FINRA / SIPC. You can check the background of M1 Finance LLC on FINRA's BrokerCheck. SIPC protects securities customers of its members up to $500,000 (including $250,000 for claims for cash). Read more at m1finance.com/legal/disclosures
What exactly do you offer?
M1 Finance offers free automated investing and money management tools for smart investors who are confident making their own decisions. Here are some highlights:
No trade commissions. No management fees.
3 core services in one app:

M1 Invest: you design, we automate, free investing portfolio
Our M1 Borrow: instantly borrow up to 35% of your portfolio1 and pay back on your schedule
M1 Spend: FDIC-insured checking account integrated directly into the M1 app

Customize your own portfolio, or choose from nearly 100 expert pies
Intelligent design and tools centered around your portfolio "pie"
Fractional shares (Smart for all accounts, large or small—here's why)
Debit card tied to checking account
Seamless automation and customization, including dynamic rebalancing (better than "automatic" because you enjoy all of the benefits of automatic rebalancing without the drawbacks—here's why)
IRA accounts: Traditional, Roth or SEP
Best-in-class security: military-grade 4096-bit encryption, and we offer two-factor authentication
Investing schedules with auto-deposit.
Optional M1 Plus subscription that unlocks additional benefits including lower borrow rate, second trading window, and higher yield checking--1.5% APY and 1% cash-back.
Research center with performance history and charts
Choose from 6,000+ exchange-traded stocks or ETFs
Available on desktop, iOS app and Android app
Low $100 account minimum ($500 for IRAs)
Do you consider yourself a fintech firm or a formal broker - are you targeting millennials or all age groups?
We consider ourselves a fintech firm rather than a "traditional" broker, even though we're a registered broker dealer. We're a compelling hybrid—not a robo-advisor, not a full-service broker and not a trading platform—for self-directed and more experienced consumers. We're innovating beyond the status quo of traditional financial companies to help people maximize their money—investments, cash and loans.
Our primary focus is being the smart all-in-one finance tool for more experienced and affluent customers, of any age, who take a long-term view of their money. We continually enhance the ways we enable intelligent investors manage their money in a seamless and effortless way.
Every country has different regulations regarding brokers - what countries do you deal with? Is it open to US investors? What about non-US? 
We are currently only available to U.S. investors. We are flattered by the thousands of requests we have received—from many passionate individuals—to make M1 available in their country. It's a terrific problem to have, and is being considered as part of our long term strategy.
How do you protect investor assets? 
We take our user privacy, safety, and security very seriously. We have powerful technology and best-in-class security. Here's how:
Insured Accounts

We're a member of SIPC, so securities in accounts are protected up to $500,000. SIPC insurance does not protect against loss in the market value of securities. Our clearing firm has also purchased supplemental insurance in the event that SIPC limits are exhausted.
M1 Spend checking accounts are FDIC-insured up to $250,000.

Military Grade Encryption: All data transferred and stored within our systems is protected with 4096-bit encryption.
Two-Factor Authentication: We offer two-factor authentication to keep your account extra secure.
Yes, we're regulated by the SEC and FINRA.
Do you offer anything else like RIA or Wealth management services?
We currently do not.
What type of clients do you have - retail or institutional?
100% retail clients—we are consumer focused. Anecdote: many professional advisors and wealth managers use M1 with their own money and investing, and these professionals often refer customers to M1.
Are your clients traders or investors?
We believe in long-term investing, and we design our product for that. (Here's why)
"In order to earn significant returns, traders often require significant capital from the start. From there, they must correctly time the market again and again…and again. While the instant gratification may act as a magnet for those looking to make a quick buck, the reality is that 80 percent of people who trade end up losing money, and a meager 1 percent do it well enough to be 'predictably profitable'" (source)
That's why we only have one trading window per day. So, if you're only a trader and not an investor and would like multiple trading windows, we do not recommend our platform at this time.
How do you differ from other BDs what sets you apart?
We built our product to address these simple "do it for me" investor scenarios that were not fulfilled by existing brokers:

"I want 10% of my portfolio to be in a specific stock or ETF and managed to that allocation over time."

We created the M1 Pie, an intuitive way to construct, organize, and manage your custom portfolio. You can allocate what you want to each investment and track its status against that target.

"I want to buy or sell a specific dollar amount of a security."

Buying in whole shares is unnecessarily limiting and working in dollars is far more intuitive. We support fractional shares for any security and you buy / sell in dollars, not shares.

"I want to buy the investments of my choosing with my paycheck twice a month"

Despite being the most common investing use case, it's undoable due to the time, cost, and complexity of doing it yourself. M1's intelligent automation makes this seamless.

"I want to be fully invested but still have access to cash."

The typical brokerage charges sky-high rates of 7-9% for margin. We launched M1 Borrow, a flexible and low-cost line of credit at 4% interest (as of 9/1/19)

We're free because we believe that being the "smarter all-in-one investment and financial management tool" means enabling our users maximize their earnings. That makes us happy. So, we don't believe in any trading or management fees. It's crazy how much these fees, no matter how small, can eat away at your investments and retirement savings. Here's just one example: If you have a $10,000 balance today and plan to add $5,000 per year to your 401(k) over the next 30 years, a 2% fee will cost you an estimated $153,218 over time (source: Business Insider)
We're for people who are, preferably, what we call "Engaged" investors, meaning the best of both worlds between an active and passive investor, while still offering pre-built portfolios for those who would prefer to copy what experts do. (Learn more here)
While a lot investment apps only offer investing, we exponentially benefit our users with borrowing and checking features.
M1 is an Intelligent, seamless and elegant app. We want investing and money management to be effortless. Something to experience.
Some experts say margin trading/ line of credit is dangerous and some call it an outright scam what is your view of these products? 
Our view is:
Borrowing on margin is simply a tool. Whether it's good or bad depends on how you use it.
A portfolio line of credit lets investors borrow against their stock portfolio at a low interest rate to make large purchases, consolidate debt, use for emergencies, and more, not just re-invest.
It's an intelligent way for prudent consumers to use debt because it offers low interest rates, flexible repayment terms, tax advantages, and complete spending freedom.
This type of credit is a margin loan, which means it has the potential to amplify gains or losses; savvy investors should be sure to weigh their risk tolerance when deciding how much to borrow.
For more insight, we put all our thinking into this portfolio line of credit guide.
Can you give us examples of how borrowing would work and how clients make money and pay back?
What our customers typically use our Borrow feature for:
Funding major purchases such as a dream home, remodeling, a wedding, or a new car (since our lending rate is lower than most bank loans)
Refinancing existing debt (e.g. student loans, car loans, mortgages, HELOCs)
Startup capital
Emergency funds
Adding leverage to their portfolios (buying power)
How M1 Borrow works:
Our portfolio line-of-credit feature, called Borrow, can be activated once the user's account is above $10,000.
It's a margin loan that enables the user to borrow up to 35% of their portfolio value at a low rate: 4% as of 9/1/19. (Plus members get an additional 0.25% discount, optional).
Quick and hassle-free: all done with a few clicks within the M1 app. No additional paperwork, no credit checks, no loan officers, no denials.
Traditional loans use an amortization schedule that includes a percentage of principal and interest. With M1 Borrow, repayment of principal and interest are independent of one another. We don't require a minimum monthly loan repayment, so users can pay back any principal amount at any time.
Read more on the mechanics of M1 Borrow
How users typically pay back borrow:
Users decide their own monthly payback amount, based strictly on the amount borrowed that month, on their own schedule.
Payments pulled from cash they keep in their account, either deposited into account from their external bank account, or transferred from their M1 Spend checking account.
More information on billing
You require no background checks so can anyone borrow $1million and put it all in short term options—i imagine not—Can you tell me your limitations?
We run background and "KYC" for compliance when the user applies for their first account, and completes their initial onboarding process. At that point, if we approve their account (not a given) they are free to fund their account with an account transfer from another brokerage or with cash, with no ceiling. Our average account is $20K to $50K.
As stated, to qualify for M1 Borrow, a user must maintain at least $10,000 in an individual account (cannot be an IRA).
Once they qualify, a user can borrow up to 35% of their investment portfolio value (non-retirement portfolio). So, based on your question, if an M1 user wanted to borrow $1mm, they would first have to create a non-retirement portfolio with a value of at least $2.9mm (35% of $2.9mm = $1mm)
M1 does not offer options or derivatives or forex or crypto trading, so if the user wanted to borrow from M1 to trade those financial instruments, they are free to do so outside of M1 with the money they borrow, but that risk would be their own and not through our platform. As you know, within M1 the user is limited to investing in stocks and ETFs, in one trading window, 1x per market day, based on portfolio allocation instead of direct buy/sell orders.
How does refinancing, line of credit and those types of loans fit in with investment management?
If you've built up an investment portfolio of any size, well done. You'll reap the rewards of financial independence, having the resources to do what you want to do and on your schedule. It also means you have a powerful weapon in your arsenal. You can use your investment portfolio to optimize the other side of your balance sheet: the money you borrow. Using this tool will let you borrow at lower rates and on more flexible terms to more easily reach your financial goals
Debt, or loans, can be an important, and even necessary, part of a sound financial plan. The most important thing to keep in mind when you use debt is that it's a productive tool for all levels of wealth. Too much debt can cause problems. Too little debt, and you overpay and forgo opportunity. Understand what you're doing, what you're hoping to achieve, and why you're using one particular type of debt to get where you're headed.
Viewing debt solely as a negative ignores all its productive uses. What do you intend to use the money for? Borrowing money to buy things you cannot afford is not a good idea. Rather, borrowing can often be the more intelligent and cost-effective way to pay for things you can afford. Debt, when used responsibly and in an appropriate amount, can help you achieve your financial goals through:
Amplifying the returns on your investments
Deferring or reducing your taxes
Spreading the cost of something over time
Insuring peace of mind through a reliable source of emergency funds
Take a look at how a securities backed loan (like M1 Borrow) compares to other common loans:
Think of your finances like a company thinks of theirs. The entire field of corporate finance involves analyzing and optimizing a company's cash flows and balance sheet, consisting of their assets and liabilities. Improving your personal finances involves optimizing all three: your cash flows, your assets, and your liabilities.
Optimize your borrowing. Borrowing against your investments is one of the best ways to borrow money. It typically has lower rates, more flexible terms, and better tax advantages than nearly every other form of borrowing. The ultra-wealthy are aware of these advantages and prioritize this type of credit.
Setting up your finances so you can tap into an investment portfolio line of credit is beneficial even if you do not use it. Doing so also increases your options should you ever decide to borrow money in the future. More options, and better options, is never a bad thing.
Unfortunately, popular belief is that borrowing is bad. This depiction can be warranted, as too much debt or debt carried at a high interest rate can be financially harmful. However, this view of debt is incomplete at best and harmful to your finances at worst. Debt can be a strong and positive force when used intelligently. It is a tool of the financially astute: financially sophisticated companies borrow, the wealthy borrow, and you too should strategically borrow.
For more insight, we put all our thinking into this portfolio line of credit guide.
What trends are you seeing with your clients? What assets are popular these days and how has that changed from the beginning of 2019?
For our M1 customers, the emphasis is on generating value over the long term, so that's the lens to understand what we see in terms of assets
Cannibis and tech stocks, and sector ETFs continue to be popular since the beginning of 2019.
Most popular stocks by % of customers who own them:

AMZN 46%
AAPL 45
MSFT 35
VOO 32
FB 27
Final thoughts?
Our focus every day is to be the intelligent seamlessly integrated money management platform that puts your financial future in your hands.
Every day, the entire team focuses on how to improve the M1 experience for our customers. Our goal is to be so beneficial to our users that it would be financially irresponsible to use any other option.
We offer an investing experience that wasn't possible just a few years ago. That same will be said a few years from now and people will have a personal finance option unparalleled by today's standards. We're allocating our time, energy, and money towards building that.
We have raving fans and partners (check out M1's high ratings on the app store and all the videos on us on Youtube)
Finally, we believe that everyone should Be Invested. We love this quote: "The Best Time To Start Investing Was Yesterday, The Second Best: Now"
Updated on