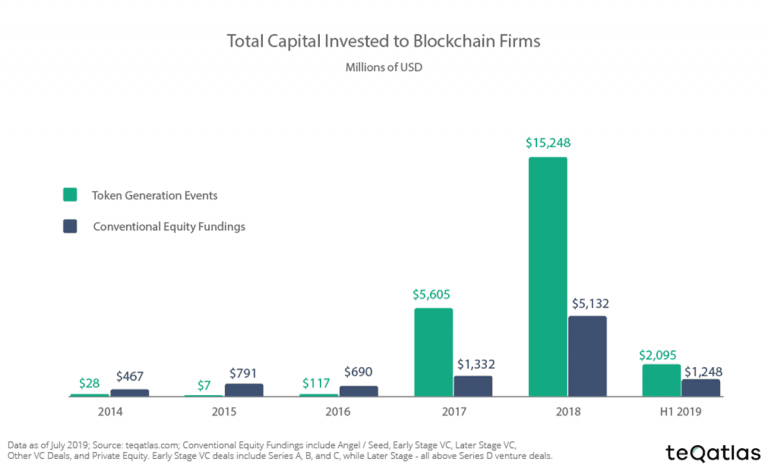 While VC activity surpasses Dot-Com era in the U.S., Chinese tech companies valuations are higher than any time in recent memory, and SoftBank raised another multi-billion dollar fund, the state of the blockchain investment market shows indications of maturity and saturation. Although most blockchain companies are newbies into the market, they still present an attractive investment potential.

The Blockchain Investment Trends Research by TeqAtlas includes analysis of 2.5k active blockchain companies that were funded by 1.8k blockchain investors in 2.5k funding rounds through both – conventional and alternative instruments. TeqAtlads takes a comprehensive view of the unique trends that define blockchain investment market to understand the investor expectations.
Q2 hedge fund letters, conference, scoops etc
Connor Leonard Of IMC Explains: Here's What Value Investors Should Know About Moats
When it comes to value investing, one strategy that's often used is seeking out companies which have sizeable moats against competition. In a presentation for the Value Investing Club at Google earlier this year, Connor Leonard of the Investors Management Corporation explained two ways of looking at moats and how value investors can benefit from Read More
Investors Continue To View Blockchain A High Return Investment
In the first half of 2019, total capital investment into blockchain companies has been the opposite of what we saw in the previous year, which saw a dramatic rise in the amount of capital investment. The previous year saw a record-breaking $15.2 billion investment in TGEs (token generation events) and $5.1 billion in conventional equity funding. In contrast, approx. $2 billion in TGE capital were raised in the first half of this year. The upward trend is losing steam in the first half of 2019, after four years of positive growth.
The research still reports a positive, upward trend in terms of venture capital (VC) injected into blockchain companies. Conventional equity rounds have accumulated $1.2 billion in the first 6 months of 2019, as compared to $1.3 billion for all of 2017.
How Did Blockchain Companies Fare In Deal Activity?
Throughout the research, 2018 continued to remain the benchmark for blockchain companies. The height set during the blockchain boom is hard to replicate as the effects of the dramatic fall in value still affect the industry.
In terms of deals, the grand total of investment rounds in the blockchain industry in the first half of 2019 was 268.
For comparison, blockchain companies attracted 910 deals in 2018 and 478 deals in 2017. At the same pace, 2019 might just oust 2017 in terms of blockchain deal activity.
Surprisingly enough, if you add private equity into the equation, the total number of conventional funding rounds almost equal the growth numbers in 2018.
A breakdown of all the blockchain investment funds also reveals that TGEs were more successful in raising money than Venture Capital rounds – with the former amassing 26% more on average.
There Is Increasing Interest In Alternative Funding Techniques
Research into completed deals in 2019 shows an emerging trend; investors are increasingly experimenting with alternative funding methods. In fact, a majority (56%) of all closed deals in these six months were secured through TGEs.
Venture capital deals of early-stage funding ensure that traditional investment comes in second with a 34% share. Early-stage VC rounds form the major part of conventional funding rounds in terms of the total capital invested in active Blockchain companies with a 34% share in 1H 2019. If you add in angel seed rounds, this share increases by another 7%.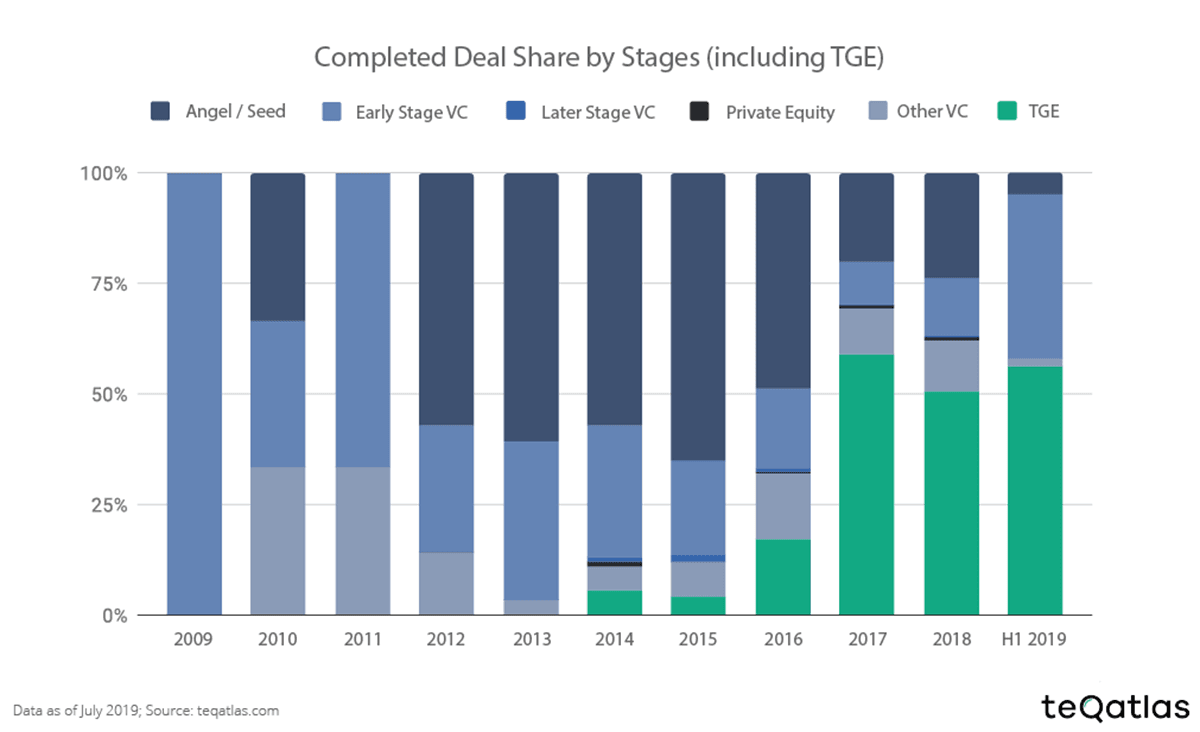 Equity Funding Has Decreased as compared to 2018
If you analyze the investment pattern from 2014 to the first half of 2019, you are likely to notice that Early-stage VC rounds come out on top for most blockchain investment by stages, with blockchain investments in this stage exceeding $2 billion.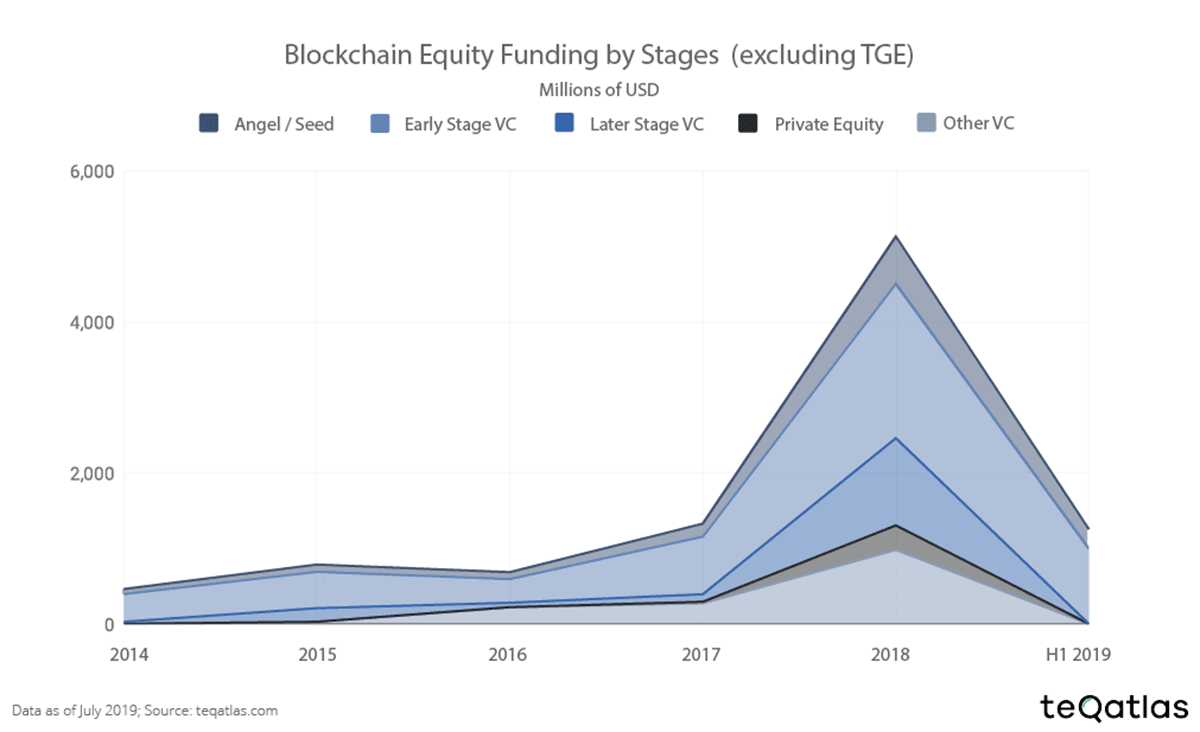 Later Stage Venture Capital Investment Is On The Rise
Later stage venture capital rounds have become increasingly popular, which means that major players, such as institutional investors, became interested in this market. The total amount raised by later-stage blockchain companies backed by venture capital was $289 million in 2018 only. To compare, the median round amount of the later-stage IT companies amounted to $11.5 million in 2018, according to Statista.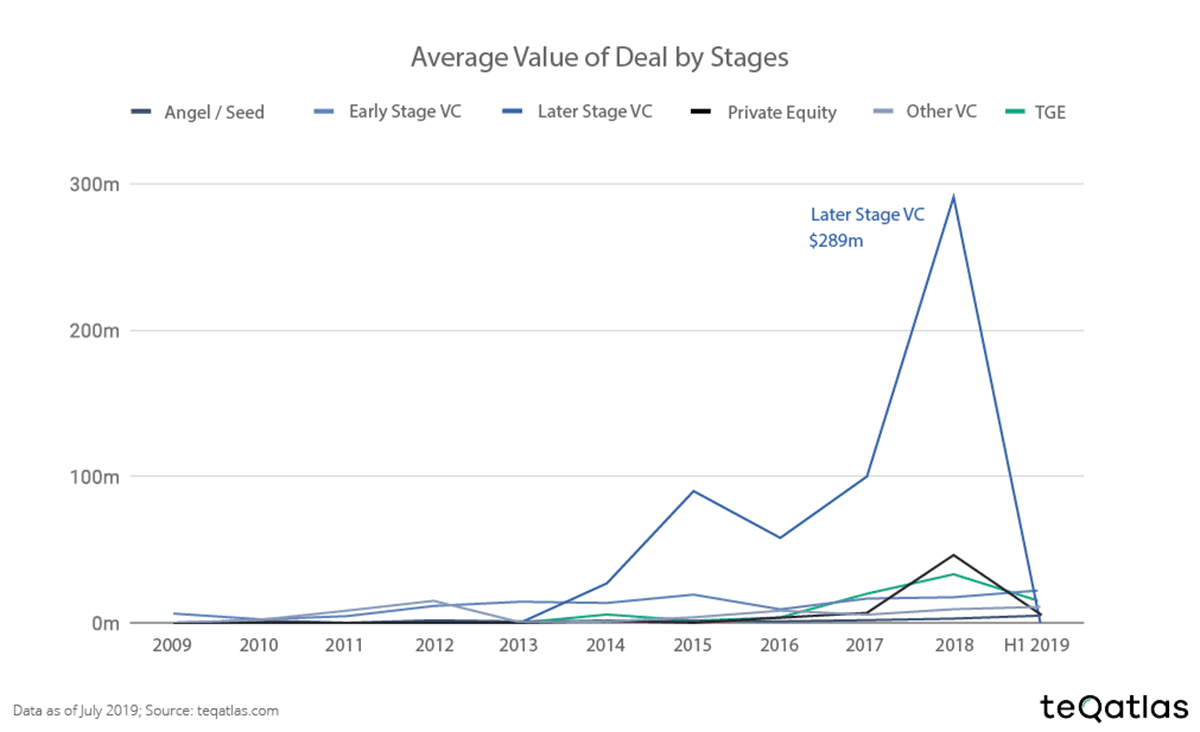 The TGE Hype Is Fading Away
TeqAtlas analyzed TGE investment data for 18 months ending in June 2019 to consider how many investors participate through TGE.
The findings state that – despite minor spikes – the overall trend and interest in token generation events remain on an all-time low. Blockchain investors tread carefully when it comes to investing in TGEs, with only 153 deals to show for the six months of 2019.
Blockchain regulations surrounding TGEs, coupled with the dismal investment numbers, has led us to predict that they are nowhere near becoming the principal funding method in the blockchain industry.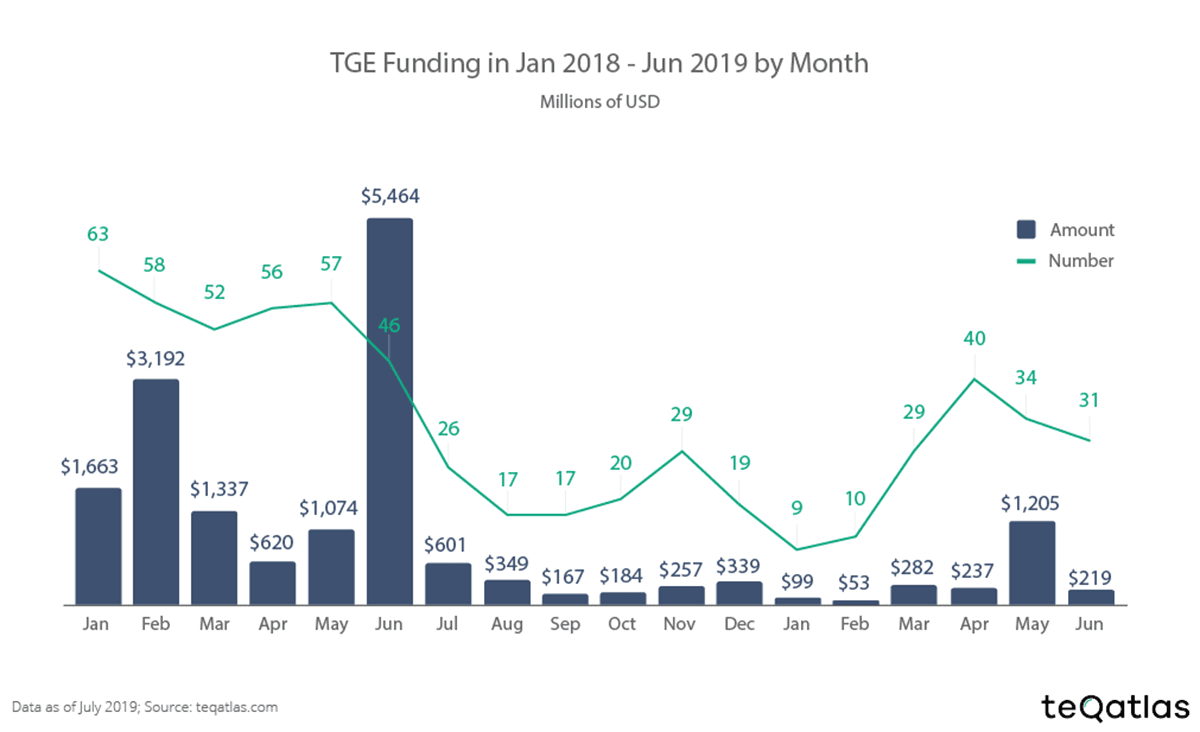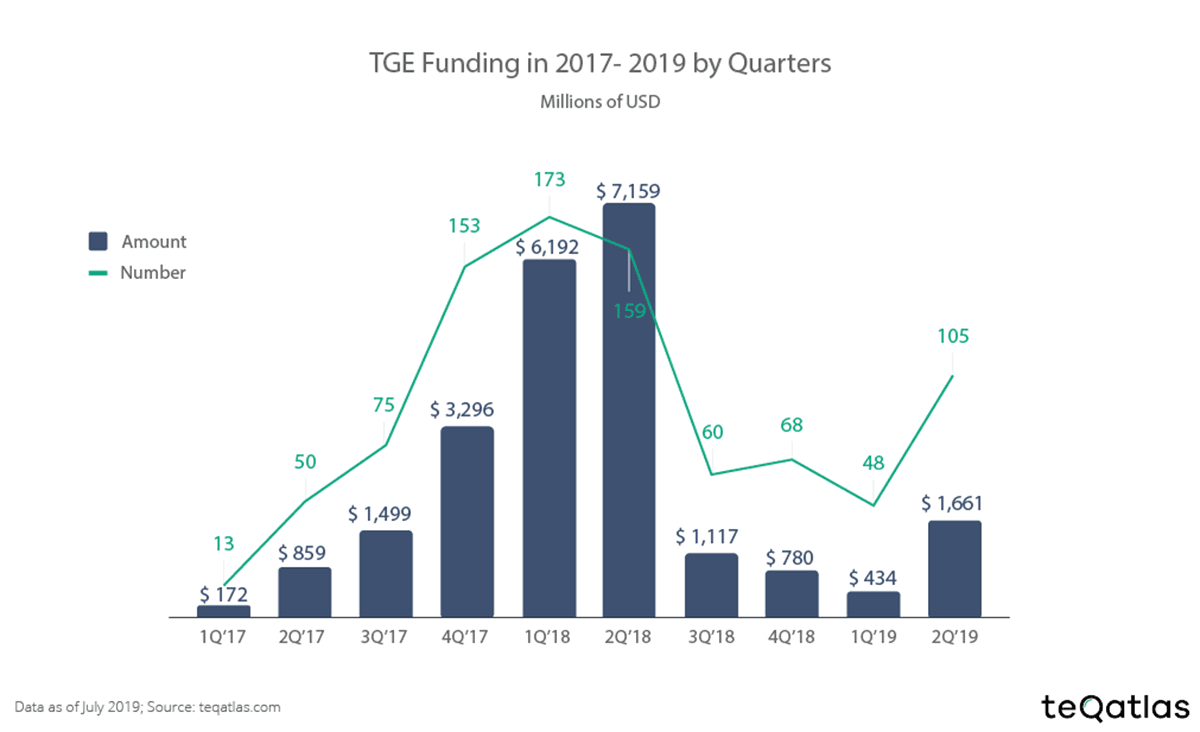 64% Of Startups Don't Meet Their Hard Cap
Another challenge identified in the research was that startups, due to being new and relatively inexperienced, often fail to predict their hard cap amounts accurately.
A mere 36% of startups manage to meet their hard caps during the token generation event, with the rest failing to do so. Nevertheless, 2019 has been a slightly better year for startups; the percentage of startups that didn't meet their hard cap dropped 13 points as compared to the previous year.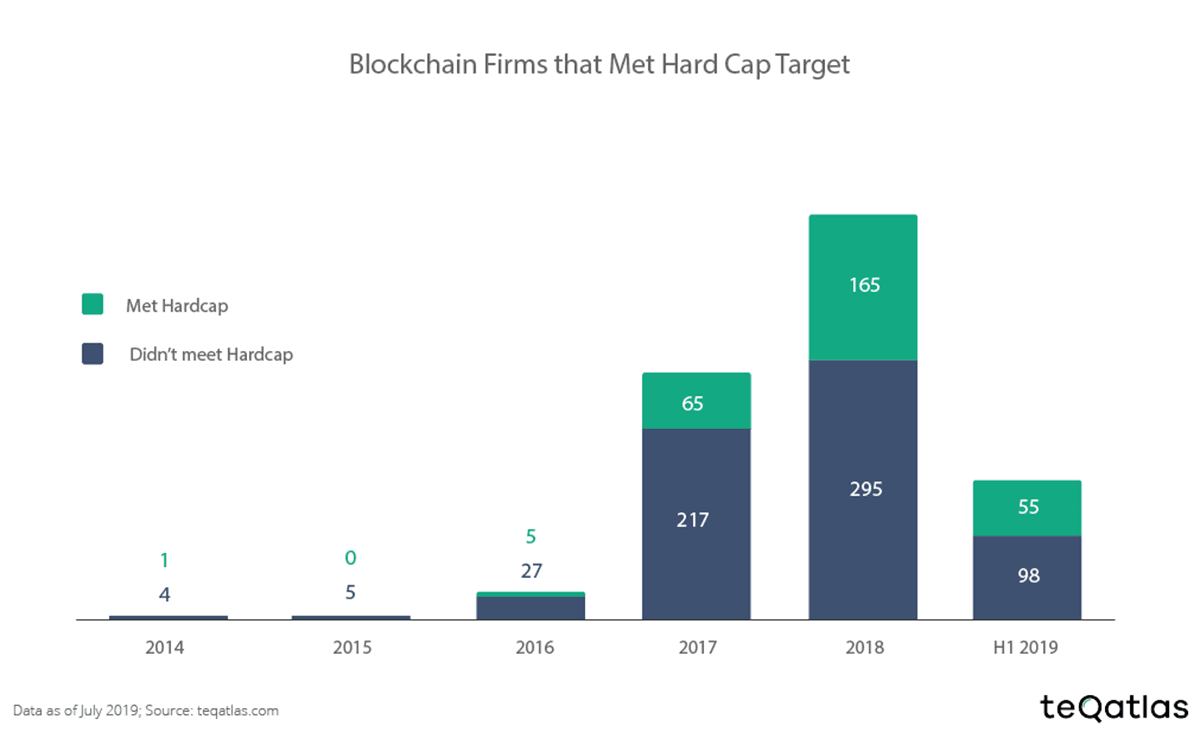 What Are The Biggest Deals since the Blockchain inception?
When comparing the different types of fundraising, the general trend is that TGE usually outperforms conventional VC funding by the capital raised. The biggest TGE was held by EOS.IO and led to an enormous fundraising amount of $4.2 billion. When compared to the biggest VC deal, EOS.IO's amount is approximately 220% higher.
The biggest VC-backed company by funding value is Bitmain that has raised $400 million being valued at $12 billion in a Series B round. Another blockchain company Bakkt, owned by Intercontinental Exchange (ICE), secured $182.5 million for their project which will enable them to build the global digital assets platform and bitcoin futures product.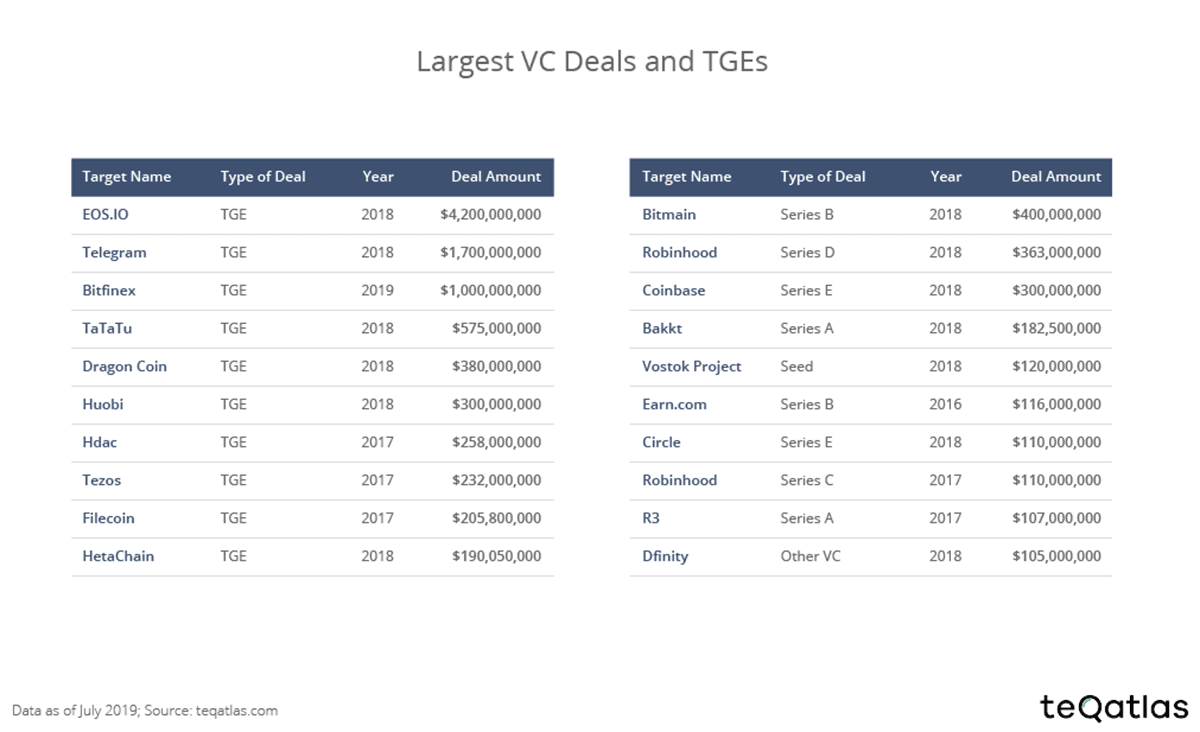 Which TGE Type Extracts The Greatest ROI?
The research analyzed the return on several different TGE investments, and the results showed a clear winner – blockchain infrastructure developers.
Amongst investors who enjoyed the best returns, many had funded blockchain platforms, IoT Infrastructure providers and interoperability blockchain developers such as Ethereum, IOTA and Cosmos Network, respectively.
DCG Dominates The Number Of Deals
The research outlined that more than 800 venture capital firms are already capitalizing on blockchain adoption.
Still, no one comes close to the Digital Currency Group, which is comfortably placed at #1 with 131 deals to date. In fact, the second and third-placed competitors combined have 109 completed deals.
Unsurprisingly, 80% of the top 10 active blockchain investors reside in the USA.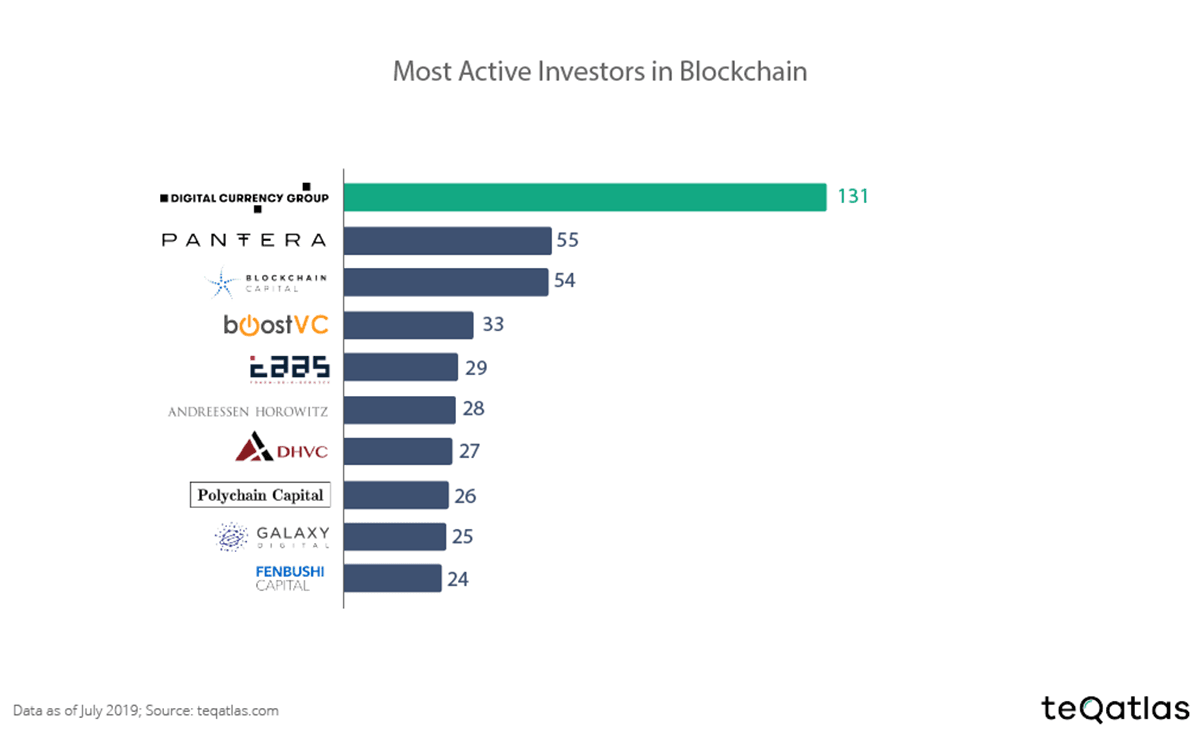 Most Active Investors industry focus is FinTech
Considering the security and encryption prowess of the technology, it comes as no surprise that a majority of blockchain technology investment is concentrated in the financial sector. In fact, FinTech has 114 more deals completed than the second-best sector, blockchain infrastructure.
Not only does FinTech boast the highest number of completed deals (150), but investors have poured in huge amounts in such blockchain startups. This proves that investors truly believe in the potential of blockchain, especially in the field of FinTech.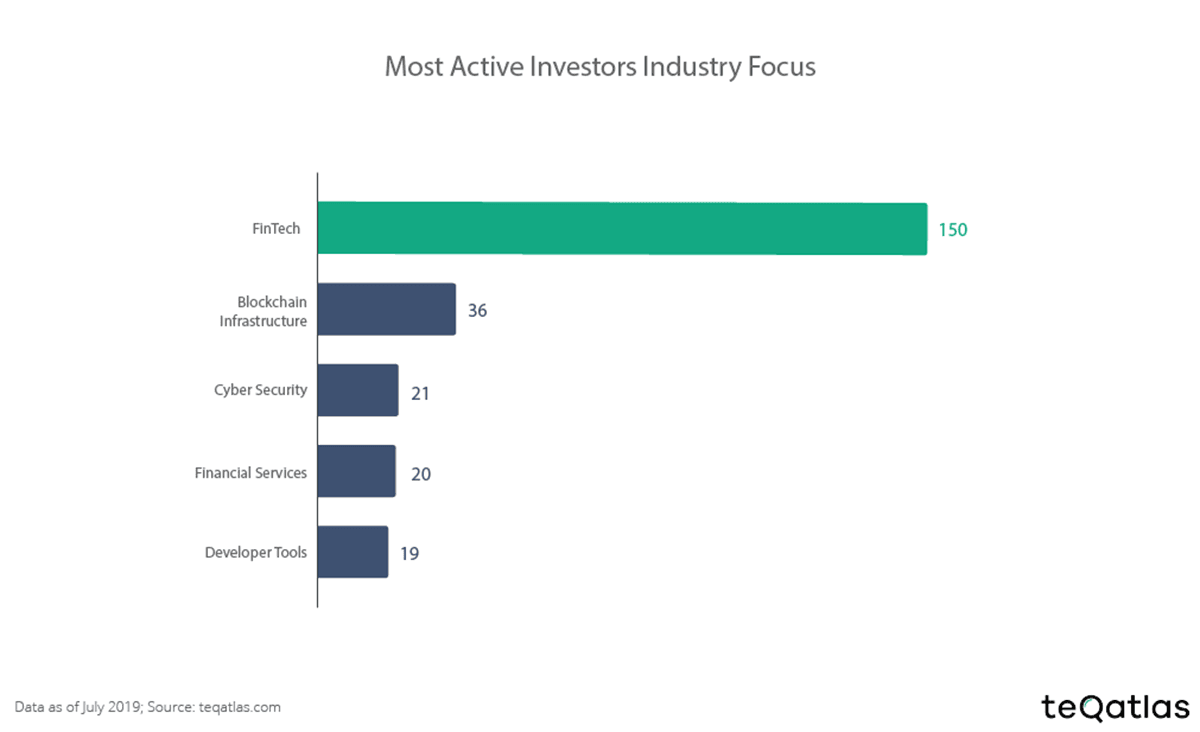 Angel/Seed Rounds Are The Investors Favorite
While reviewing the biggest active blockchain investors, an interesting trend was identified; most of them fill their portfolios in the first round of funding – the Angel round. While alternate funding methods might be gaining hype, conventional funding instruments prevail in the portfolios of the most active investors.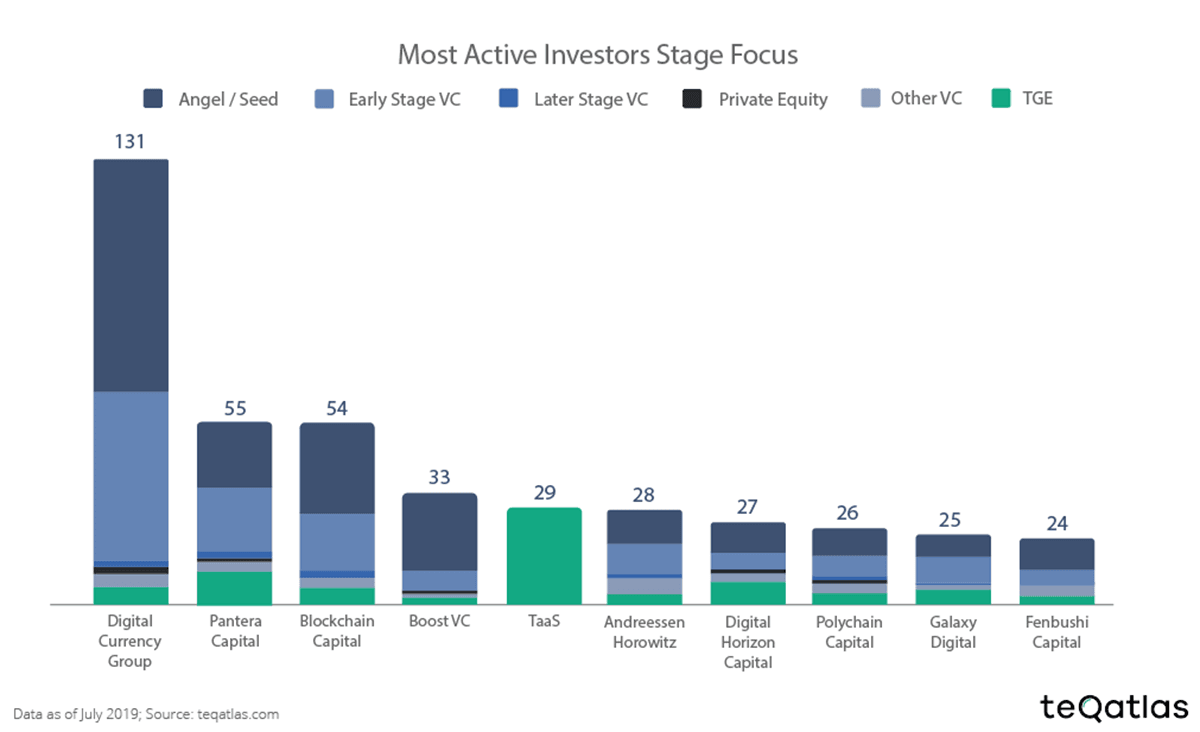 IEO – The ICO Replacement?
ICOs were riddled with problems by the end of 2018, partially due to fraud that hindered investor trust in blockchain as a whole.
Now, there is a new way to offer coins and this method involves crypto exchanges in the offering process. This involves the exchange becoming a core member – essentially, the exchange offers the coins to their existing consumer base rather than the company offering it to the public.
This allows exchanges to run background checks and verify developer legitimacy, substantially decreasing the risk of fraud. In the research, TeqAtlas came across all launchpads that have already conducted IEOs in the current year – or are planning to.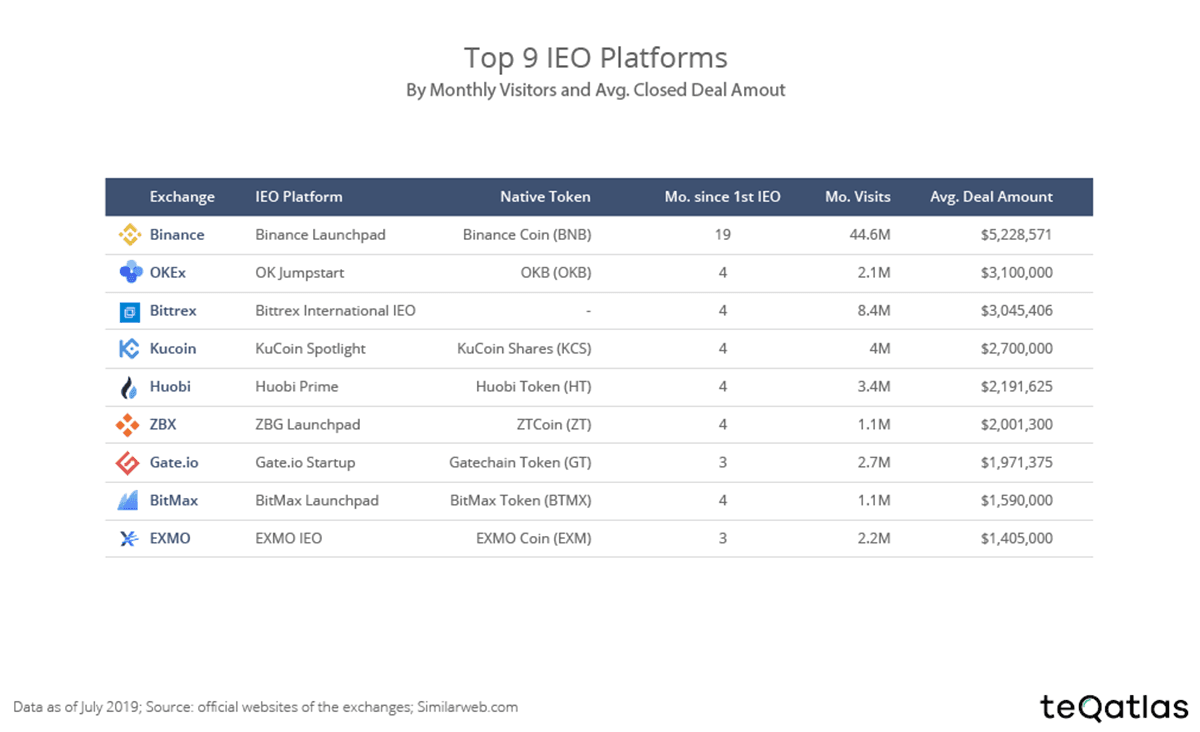 IEOs have gained considerable momentum in 2019
The blockchain market had long wished for a secure alternative to ICOs and IEOs have provided just the option. The growing number of IEOs has led many exchanges to offer tokens this way.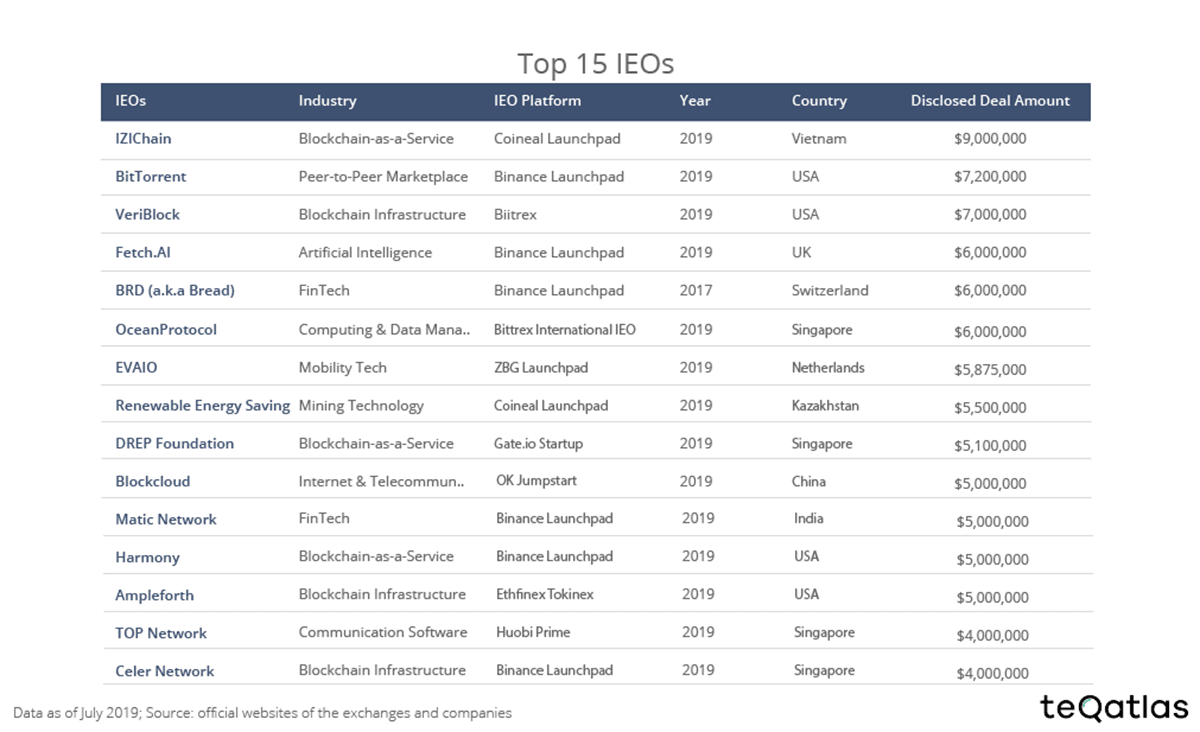 The Leading IEO Exchange – ProBit
In the extensive cryptocurrency platform review, it was revealed that ProBit's IEO platform is leading the market with 41 completed deals. They have had considerable success, amassing 28 deals since April alone. It was even voted as the best exchange due to its bonus policy that allows users to get more of their favorite tokens as a bonus if they purchase using ProBit's own token: PROB.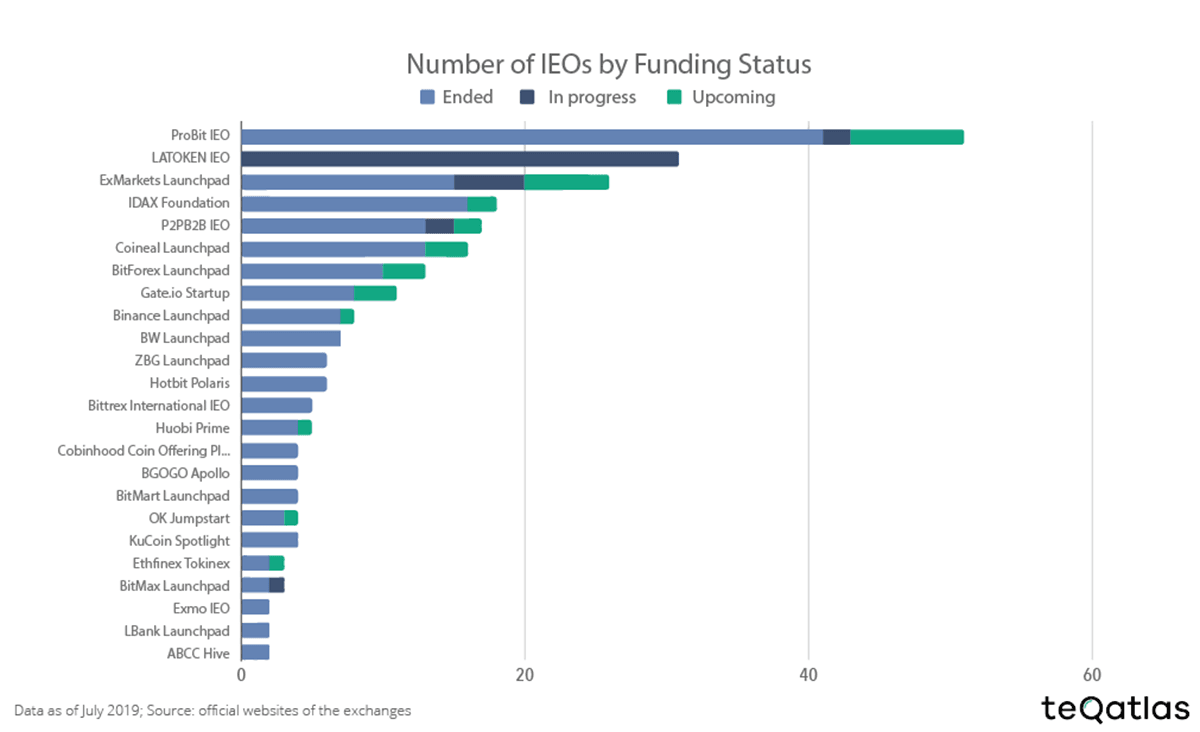 IEO Platforms Are Attracting Big Money
The research revealed that IEO platforms have already amassed $185 million to date. Binance Launchpad takes the lead here as well, contributing $36.6 million of this amount. As pioneers, their first IEO was held back in 2017 with $9 million raised through two IEOs, GIFTO and Bread. Binance Launchpad plans to offer a new token each month in the current year.
If you analyze the IEO platforms market on average, the median funding amount comes out to $2 million with approximately 7.5 completed deals.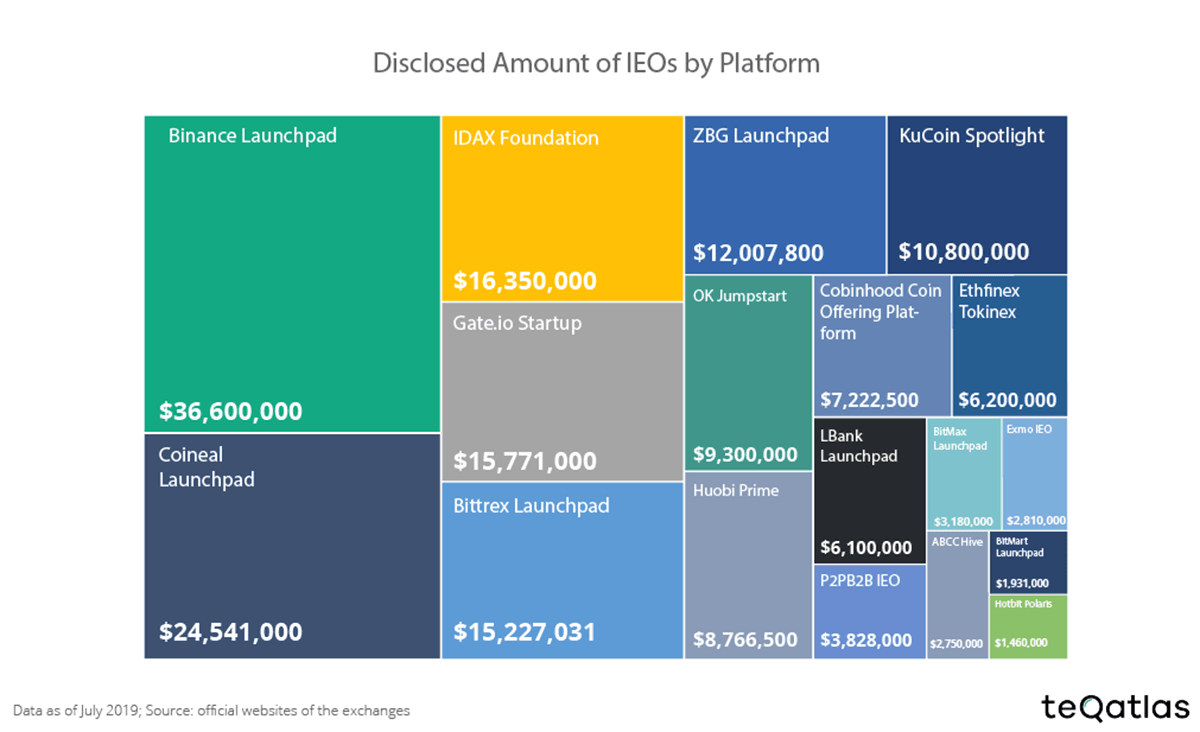 Conclusion
Current blockchain trends indicate the settling and maturing of a market that had its bubble burst in 2018. While blockchain companies continue to raise record funds, the cryptocurrency market volatility has caused a drop in the number of people investing in blockchain. Meanwhile, more stable and mature participants, such as institutional investors, have entered the market. Previously, companies could only rely on traditional measures such as venture capital funding, private equity funding, mergers, and acquisitions or IPOs. Now, they have the option of blockchain-based crowd-funding such as TGEs, IEOs, etc.
Methodology
This research utilizes TeqAtlas's database, which included all deals that were made by active blockchain companies since the very inception of the Blockchain technology. The details diverge into multiple funding rounds as well as venture capital stages and other deals.
Here are the exceptions that are not included in the database:
Upcoming TGEs
Unsuccessful TGEs
TGEs that collected less than $100k
Undisclosed deals
---
About TeqAtlas
TeqAtlas is the Market Intelligence Provider that drives and eases scouting of emerging technologies for SMEs. Our goal is to encourage tech professionals all over the world to adopt modern solutions and wide-spread digitalization.
TeqAtlas Analytics & Research provides a knowledge base for tech pioneers. Products & Services database helps find vendors for any job. Investment Opportunities provides the data you need preparing for the next funding round, benchmarking your company against competitors and looking for the lead investor.
Updated on