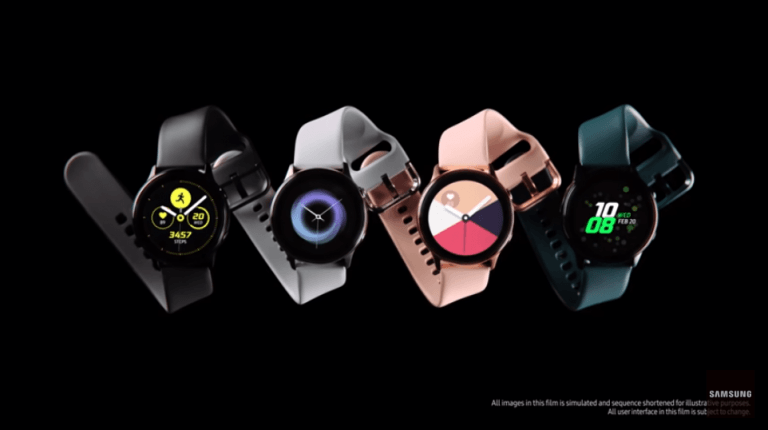 While Apple remains the biggest player in the smartwatch industry, not everyone can afford to spend $400 on the Apple Watch Series 4. There are many other excellent smartwatches and fitness trackers that cost only half as much as Apple Watch Series 4. I'm talking about the Samsung Galaxy Watch Active and the immensely successful Fitbit Versa. If you are looking to buy a smartwatch under $200, this Galaxy Watch Active vs Fitbit Versa comparison would help you decide which one is a better buy.
Galaxy Watch Active vs Fitbit Versa: Design
The Galaxy Watch Active has a sporty design with a slimmer exterior than the more expensive Galaxy Watch. It comes only in one size, is lightweight, has a circular design, and sits flat on your wrist. Samsung has launched it in Green, Black, Silver, and Rose Gold colors. Its small form factor and slim design makes it an excellent companion for working out and sleep tracking.
The Galaxy Watch Active lacks the rotating bezel of the previous Samsung smartwatches. Despite Samsung's best efforts to make it slimmer, the Watch Active is still a bit thicker than Fitbit Versa. Samsung has added two physical buttons on the side for navigation and interaction.
Odey Discusses Howard Marks' Astute Observation On Why Hedge Fund Alpha Is Increasingly Rare [January Letter]
According to a copy of the firm's January investor update which ValueWalk has been able to review, the Odey Asset Management Odey Special Situations Fund returned 7.7% in January, outperforming its benchmark, the MSCI World USD Index, by 8.7%. Q4 2020 hedge fund letters, conferences and more The $60 million fund, which Adrian Courtenay manages, Read More
The Fitbit Versa has a compact design with a square screen. It comes with a rubber band, which feels great on the wrist. The Versa has three buttons to give you shortcuts to notifications, music controls, and health features. You can easily customize the clicks and click-and-hold commands for different actions. It comes in Black, Rose Gold, and Silver color options.
Galaxy Watch Active vs Fitbit Versa: Tech specs
The Galaxy Watch Active features a round 1.3-inch AMOLED display with 360 x 360 resolution. Content on the screen remains visible even when you are under direct sunlight. The display is protected by Corning's Gorilla Glass 3. Samsung offers built-in GPS and on-board music storage with Spotify integration. The GPS allows you to go running without your smartphone. The device also lets you download Spotify songs for offline use.
The Galaxy Watch Active runs Samsung's own Tizen OS instead of Google's Wear OS. It handles notifications pretty well. Since it doesn't have a speaker, it relies on haptic vibrations for notifications. You can respond to messages using an on-screen keyboard or your voice. The Galaxy Watch Active supports NFC, meaning you can use your Galaxy Watch Active to pay for purchases at stores via Samsung Pay.
Samsung claims two days of battery life per charge on the Galaxy Watch Active, which is far less than what you get on Fitbit Versa. The Watch Active also features a barometer to register altitudes on hikes.
The Fitbit Versa runs FitbitOS, which has a user-friendly and intuitive interface. Both Versa and Galaxy Watch Active are compatible with Android as well as iOS devices. But Samsung's device works better with its own Galaxy smartphones. If you pair the Watch Active with an iPhone, you'd lose some features like mobile payments and text responses.
Both Versa and Galaxy Watch Active are water-resistance up to depths of 50 meters, making them perfect swimming companions. The Versa offers up to four days of battery life on a single charge. While the Galaxy Watch Active supports Qi wireless charging, Fitbit Versa comes with the company's proprietary charger, which is bulky.
The Versa doesn't have a microphone, which means you can't respond to notifications with your voice. It also lacks built-in GPS, meaning you can't leave your phone behind when you go running. Fitbit Versa also lacks contactless payments. If you want Fitbit Pay, you will have to spend $230 for the Fitbit Versa Special Edition.
Fitbit offers only 2.5GB of on-board music storage on Versa, and you have to load the music via a computer. The app selection on Fitbit's App Gallery is also relatively smaller. It has about 500 apps available to customers. They include some cool watch faces, tip calculators, Strava, Flipboard news headlines, Yelp, and apps for Philips Hue and Nest light controls. Versa doesn't allow you to bookmark your favorite watch faces.
The Galaxy Watch Active not only as a greater selection of apps but also it offers more customization options. You can easily add or rearrange apps and widgets on the screen.
Galaxy Watch Active vs Fitbit Versa: Health features
This is where the Fitbit Versa truly shines. The Galaxy Watch Active is loaded with tons of health and fitness tracking capabilities, but it lags behind Versa. The Samsung device displays activity info clearly. The Health app dashboard gives you quick access to calories burned, active minutes, heart rate data, and other details. But if you want specific information from a specific date, you have to spend some time digging in.
The Galaxy Watch Active is capable of tracking 39 different physical activities. It also has the auto pause function and the ability to detect workouts automatically. It has an optical heart rate sensor on the back to analyze your sleep, calories burned, and track the stress levels. The Health app gives you a breakdown of your sleep quality and sleep time. However, Samsung's blood-pressure monitoring feature is still in its infancy.
Fitbit Versa is also capable of tracking your sleep quality and sleep time. It records your steps, calories burned, distance covered, and other details. It also features floor and lap-tracking for swimming enthusiasts. The device can also monitor your heart rate.
The Fitbit app has a Community tab where you can connect and interact with other Fitbit users for tips and motivation. Fitbit Versa also has a dedicated system for female health tracking, which is missing from the Galaxy Watch Active. Fitbit also offers a paid monthly subscription service called Fitbit Coach to offer you tips and help you achieve your fitness goals.
Pricing
Both the Samsung Galaxy Watch Active and Fitbit Versa cost $200. You can get them for around $175 at online stores, though. Both of them are affordable.
So, which one is a better buy? If you want a device which is primarily a smartwatch and then a fitness tracker, the Galaxy Watch Active is a great choice. But if fitness tracking is your priority, and you are not too concerned about smartwatch features, Fitbit Versa is a better choice.