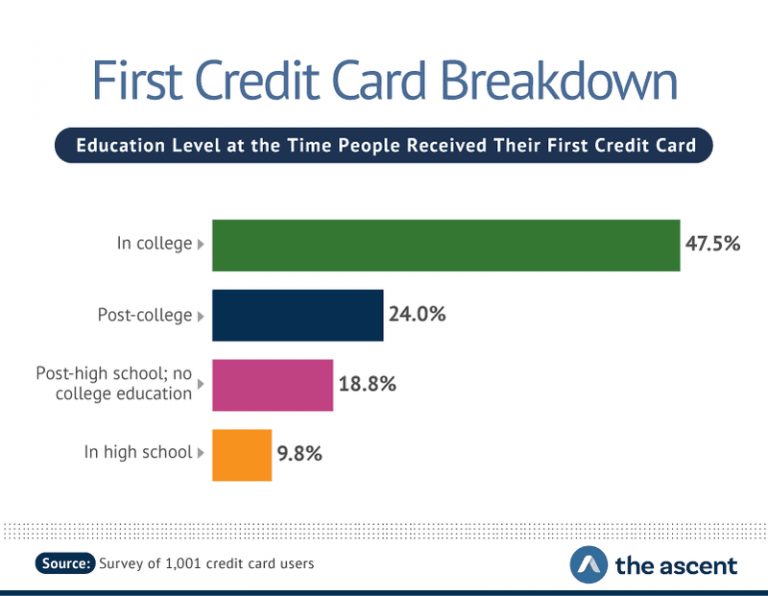 At a certain age, young adults become responsible for their own financial standing, including making the decision to open and maintain active credit profiles.
For many Americans, the reality of this first-hand financial education comes hand-in-hand with other major milestones in life: getting their first jobs, going to college, even moving out on their own.
Q1 hedge fund letters, conference, scoops etc
Robinhood 2021 Conference: Cathie Wood discusses her investment process with Lee Ainslie [Exclusive]
ARK Invest is known for targeting high-growth technology companies, with one of its most recent additions being DraftKings. In an interview with Maverick's Lee Ainslie at the Robinhood Investors Conference this week, Cathie Wood of ARK Invest discussed the firm's process and updated its views on some positions, including Tesla. Q1 2021 hedge fund letters, Read More
For a more intimate look at how young people often approach their first experiences with credit cards, The Ascent by The Motley Fool commissioned a study of 1,001 credit card users to learn how often teens and students are venturing into the world of credit despite not always having the best financial health or understanding to back their decisions. As this study explores, this can result in young adults amassing thousands of dollars in debt as students or while they're still unemployed.
Survey Findings
This survey found women often open their first credit cards slightly earlier than men, though a majority of respondents become authorized credit cardholders at a similarly young age.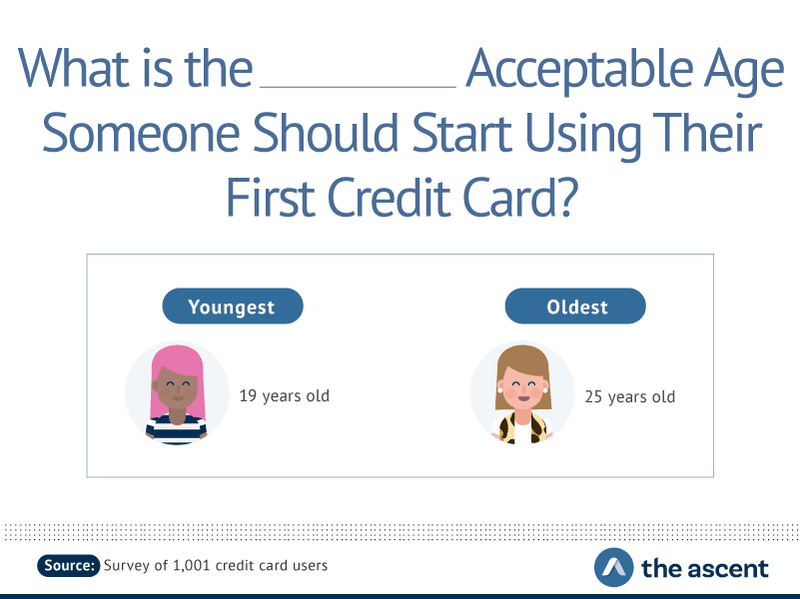 Young Adults With Open Credit Profiles 
More than half (54.3 percent) of respondents received their first credit card between the ages of 18 and 20 years-old. While a small percentage of respondents (4.2 percent) became authorized users or account holders under the age of 18, they found another 29.8 percent were between the ages of 21 and 24 before opening accounts. More than 1 in 10 respondents (11.8 percent) were at or over the age of 25 before coming into possession of their first credit cards.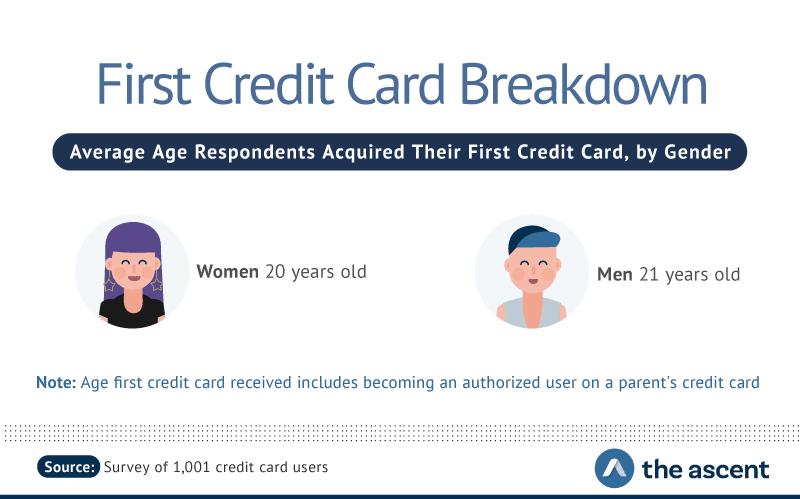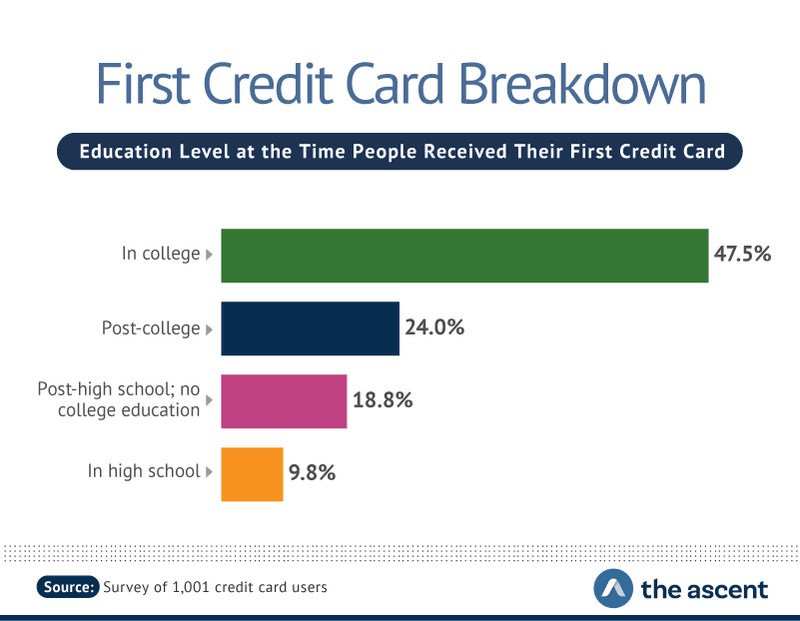 General Opinion On Credit Cards By Age
As credit card holders, many respondents believed there was some pressure to open a credit account by a certain age. While adolescents under the age of 19 were deemed too young on average to maintain an open credit profile, those polled also suggested any age after 25 might be too late.
There are benefits associated to establishing credit history earlier in life, particularly in an effort to establish an advantageous credit score. Of course, opening a credit profile without the right financial understanding or spending habits can have the opposite impact on Americans' overall credit health.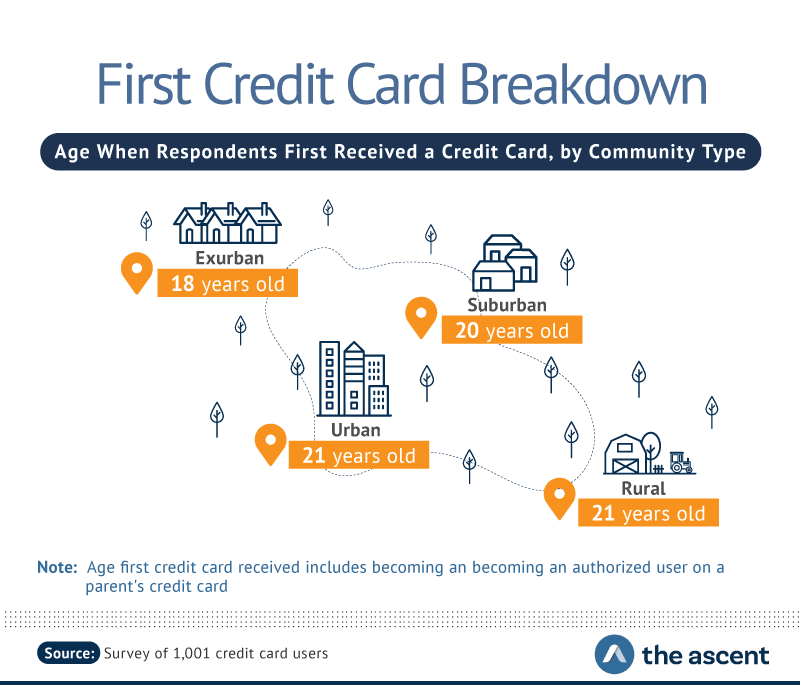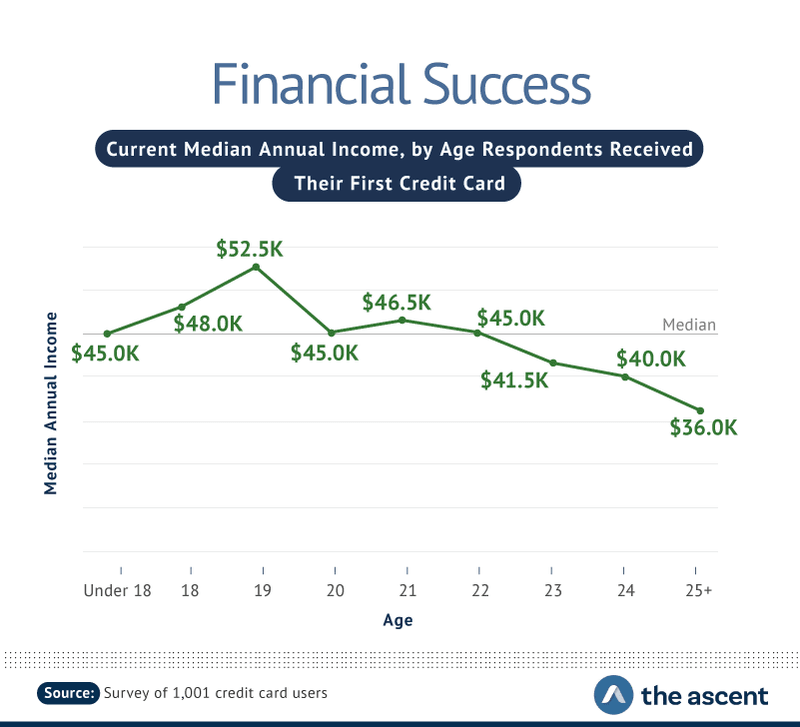 Given the young age at which many respondents acknowledged opening their own credit profiles for the first time, it was discovered that 47.5 percent of respondents were enrolled as college students at the time they received their first credit cards. While 24 percent were beyond college at the time their accounts were opened, 18.8 percent of first-time credit cardholders were high school graduates with no college education and nearly 1 in 10 (9.8 percent) were still in high school.
Living environment was also found to have an impact on the average age with which respondents opened their first credit cards. At the youngest age, exurban communities often opened accounts the earliest on average: 18 years-old. Following those living in exurban environments, suburban (20 years-old), urban (21 years-old), and rural (21 years-old) cardholders waited an average of two to three years longer before opening their first accounts.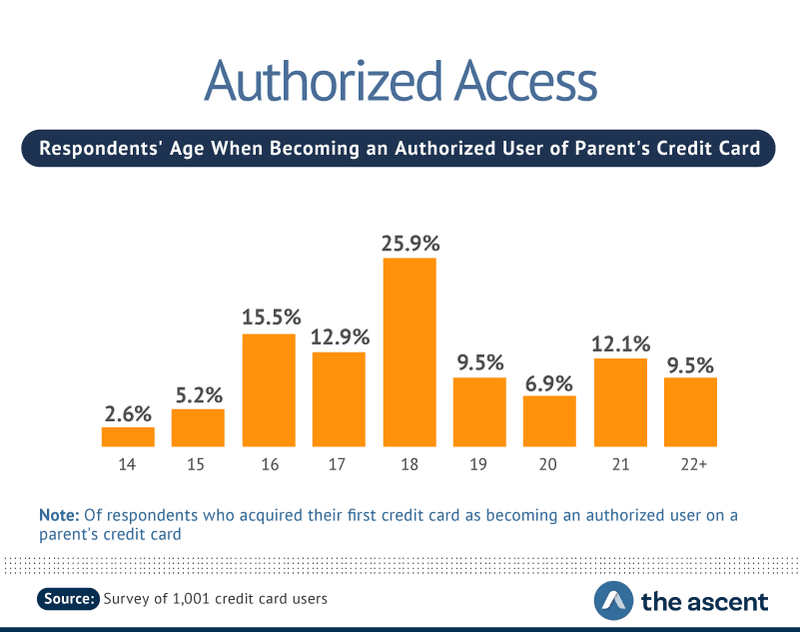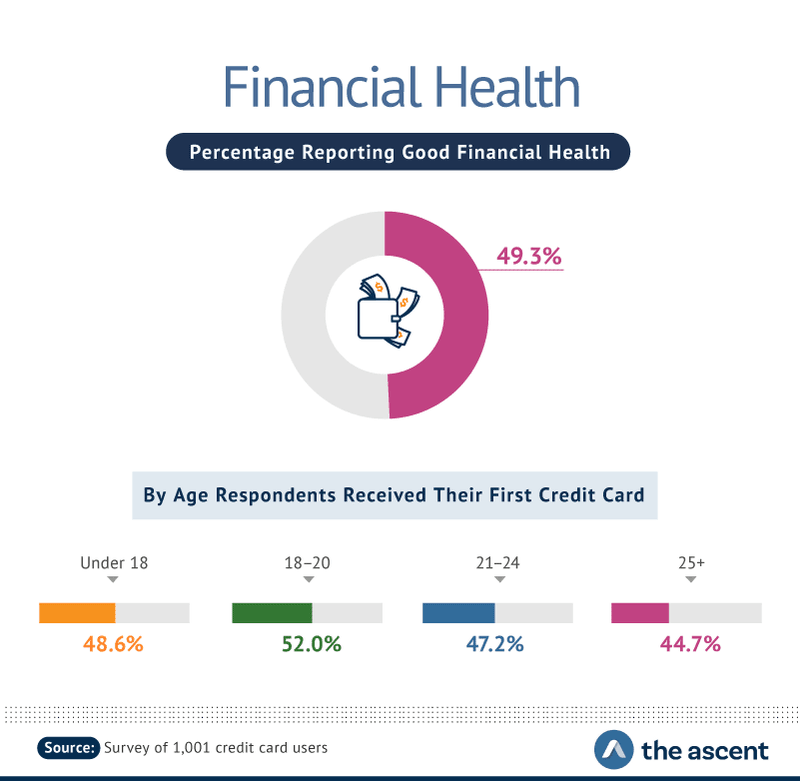 The Impact Of Financial Education
Despite being in various stages of education, income and salary play a pivotal role in the age at which Americans open their first credit cards, though higher earnings don't immediately correlate to opening credit at a younger age.
On average, respondents who opened their first accounts at the ages of 19 had a median income of $52,500 annually. In contrast, respondents under the age of 18 reported a median income of $45,000, while those opening credit accounts at or over the age of 25 reported the lowest overall median income, $36,000.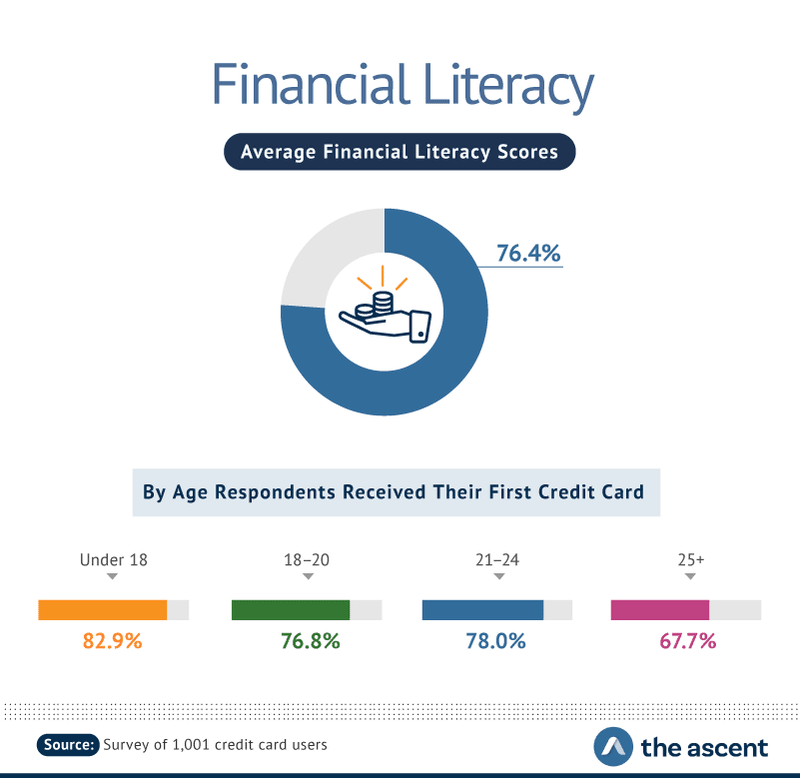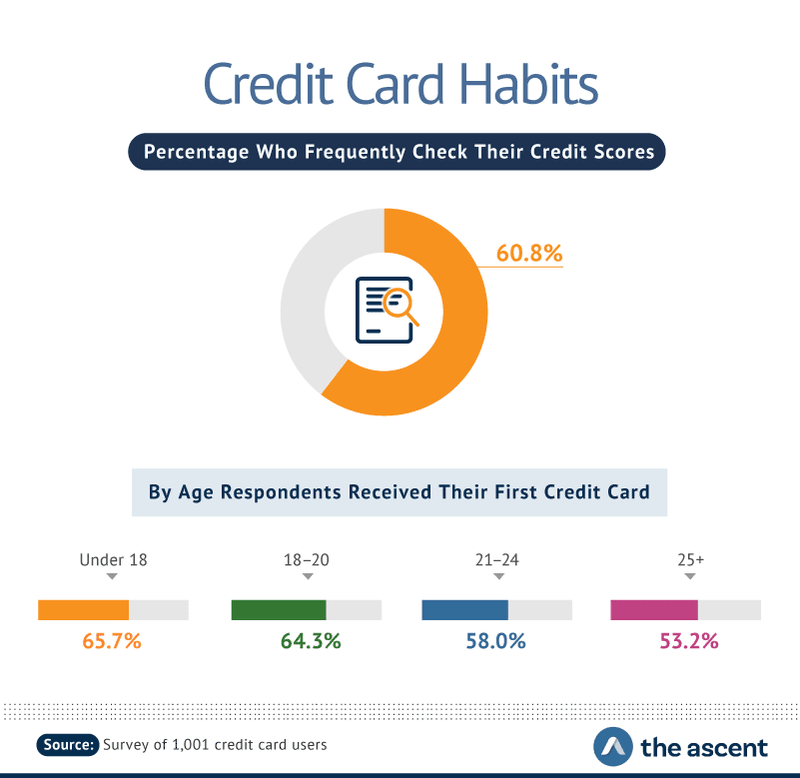 Family History And Credit Care Use
More than 1 in 10 credit card users (12 percent) were authorized on their parents' accounts prior to opening their own credit cards. Of these, more than 1 in 3 (36 percent) were under the age of 18 at the time they were allowed to use their parents' accounts.
Despite the low number of users authorized on a parents' account, a vast majority (63 percent) believe young adults are better off learning how to properly maintain a credit profile at a young age. These respondents went on to suggest parents should authorize their children on their own accounts in an effort to teach them better money management. In contrast, 1 in 10 credit cardholders would never recommend opening a credit card to anyone, regardless of age.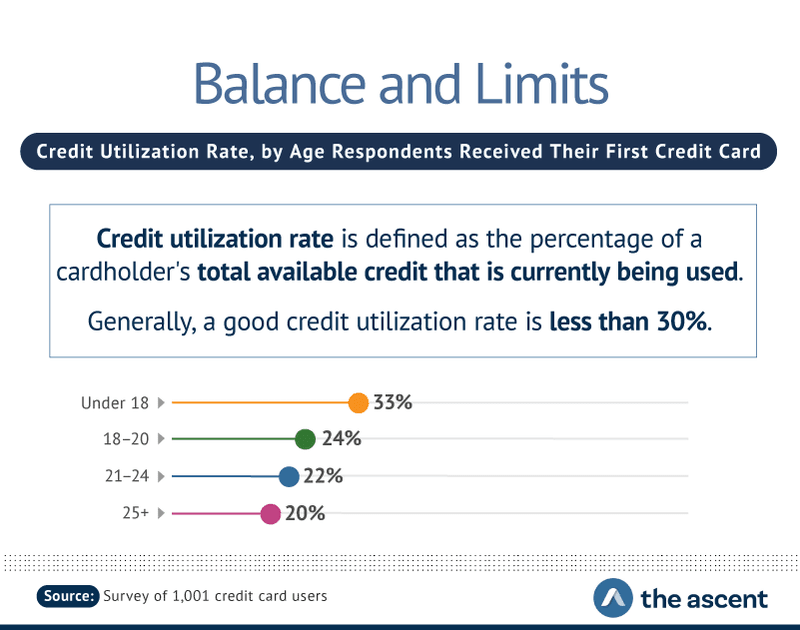 Financial Understanding And Healthy Credit Habits
Nearly half (49.3 percent) of respondents believed they had "healthy" financial profiles, the rates were significantly increased among those who received their first credit cards earlier in life. At most, 52 percent of respondents who opened their first credit accounts between the ages of 18 and 20 identified their financial standing as healthy, followed by 48.6 percent of people who opened a credit card (or were authorized on one) under the age of 18.
Credit cardholders who opened accounts under the age of 18 were also the most likely to be financially literate while those opening accounts after the age of 25 were the least likely to consider themselves financially literate.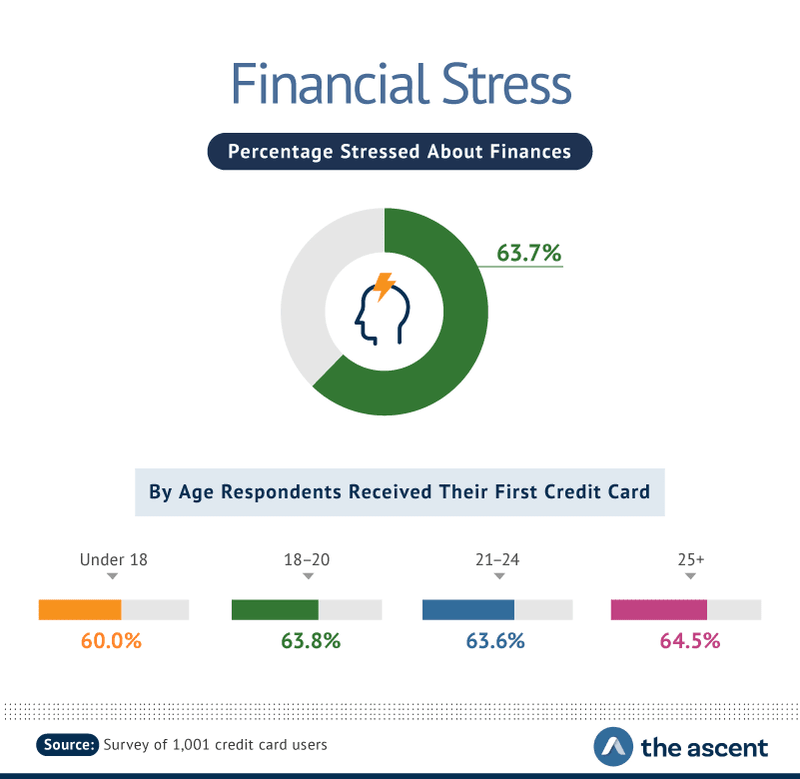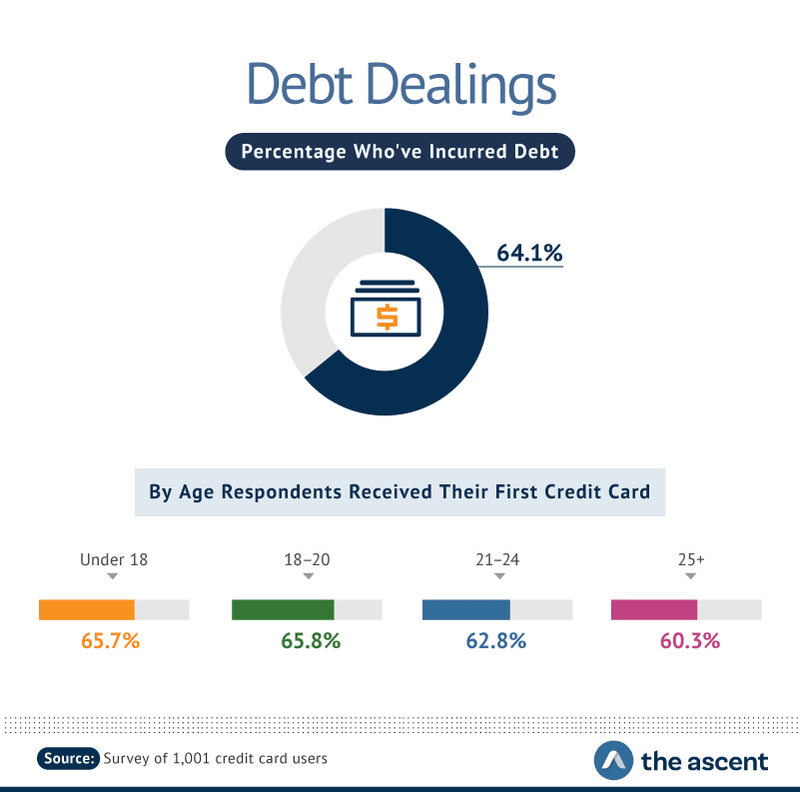 The Impact Of Age On Overall Credit Score
Despite discovering that cardholders who received their first accounts between the ages of 18 and 20 years-old often considered their credit history more stable and identified as being more educated on financial matters, they have higher revolving balances and sometimes lower credit scores.
Card holders who were authorized on their first accounts under the age of 18 had the highest overall revolving balances on their accounts at the time of this study, 33 percent. These respondents were also more likely to have a below-average credit score, 696. Respondents who opened their first accounts at 24 years-old had the highest average credit score, 710.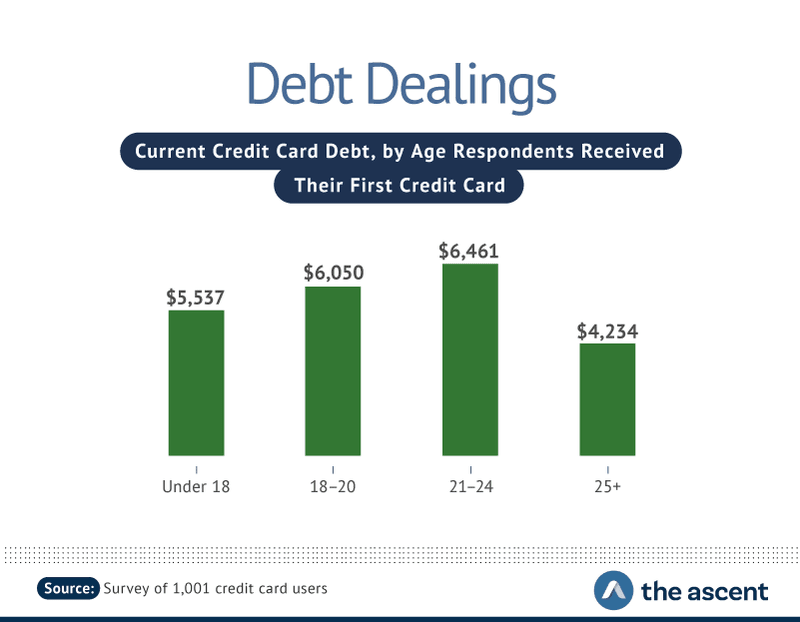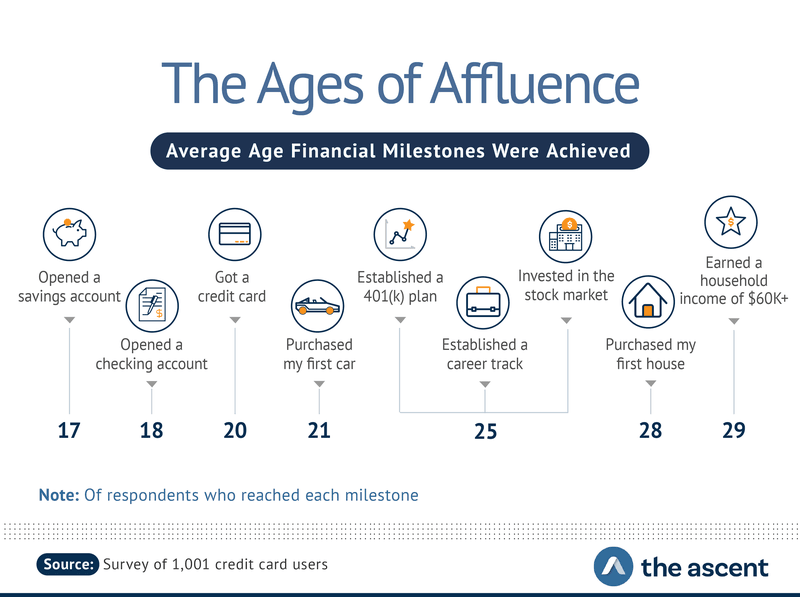 Similarly, respondents who opened or were authorized on their first accounts after the age of 21 were less likely than those with credit accounts at younger ages in incur debt. At most, 65.7 percent of cardholders with their first accounts under the age of 18 built up debt at some point in their lives.
Regardless of age, the average amount of credit card debt built by respondents in this survey was $6,021.
The Average Progression Of Financial Milestones
For many people surveyed in this study, opening a credit card preceded many other major financial milestones. While respondents often opened a checking or savings account prior to opening a credit card, they waited longer to buy their first cars (21 years-old on average), establish a 401(K) (25 years-old), establish a career for themselves (25 years-old), or invest in the stock market (25 years-old).
While the average respondent didn't purchase their first home until the age of 28, those with credit cards before the age of 20 were more likely to become homeowners at 27 years-old.