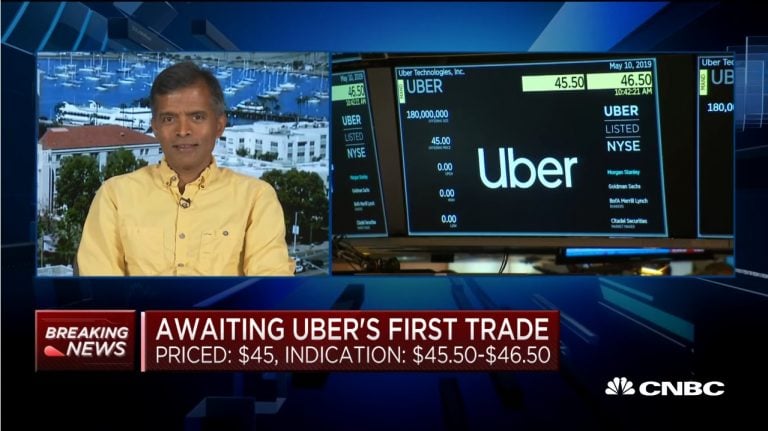 Aswath Damodaran, NYU professor of finance, joins "Squawk on the Street" ahead of Uber's IPO to discuss whether the company can reach the valuation the market is expecting.
H/T Dataroma
Aswath Damodaran: I'm Not As Optimistic On Uber As The Market
Investing in the Next Generation of Emerging and Frontier Markets with Maurits Pot
ValueWalk's Raul Panganiban with Maurits Pot, Founder and CEO of Dawn Global. Before this he was Partner at Kingsway Capital, a frontier market specialist with over 2 billion AUM. In the interview, we discuss his approach to investing and why investors should look into frontier and emerging markets. Q2 2021 hedge fund letters, conferences and Read More
Q1 hedge fund letters, conference, scoops etc
Transcript
I remember you joining us not very long ago and if memory serves you're not particularly constructive on the valuation of Uber.
Fair to say. I think we live in hard times and attaching a 60 billion dollar valuation to a company that lost 2 billion last is viewed as pessimistic but I guess those are the times they're wearing because I actually I'm pretty optimistic on Uber. But the core of the problem is to get to an 80 and 85 billion. There are pathways which I think are incredibly narrow. I know autonomous cars is the big deal but that's kind of an unformed business. I'm not even sure how that business will look if it exists. So I think I'm being pretty optimistic just not as optimistic as the market today.
Well okay. Talk to. Then explain the differential in viewpoint between the markets and your own. What would you like to see or why do you turn yourself optimistic then overall for a company that clearly you don't seem interested in buying at forty five bucks a share.
I think it succeeded and one half of this equation it's changed the business in credit. I mean it's the car service business or even the logistics business has been shaken by what Uber has stopped. So does that have to the equation really well. I've consistently underestimated its capacity to grow but overestimate its capacity to profitable. So I think the real challenge for Uber is not growth which I think they've conquered but whether they can deliver this profit margin sometime in the future not even in the near future but in the far future. So I think the key here is finding that pathway. And I think they will find it. I just don't think it's going to be easy or it's going to be as lucrative as people claim it's going to be. So what we're told that the company outright marketed itself or thinks of itself a little like an Amazon right which didn't value profits.
And grew tremendously investors giving it the benefit of the doubt and now it's a profit machine. Can. You.
Make that case. Oh it could. I mean it and everybody seems to want to be the next Amazon and as somebody who's tracked and I've been obsessed with Amazon for 20 plus years I mean I've seen Amazon go through some hard times. I think the real test for all of these companies is not how they handle growth and success but how they handle the downturn because in my view what made Amazon what it is is how it handled. The 2001 crisis when it came very close to the edge. I think perhaps that's what we need these companies to get shaken out is a crisis and let's see how these companies handle it. I don't think they've been tested yet. So.
What would be the best case scenario then. I mean you know I asked what I talked to people who are buying the stock who believe in five years they can have 20 percent damn margins on a revenue number of. I don't know 20 plus billion. Then you can get 25 and you can get somewhere near 5 billion and even if you don't think that that's a possibility.
I think the near-term the only way that can happen is if somehow and this is it this is mildly could use it Uber and Lyft figured out a way to raise prices and customers. I know that profitable. When my ride from Newark Airport into the city it cost me seventy five billion is not 43. I mean it's been stuck at 43 now for a year. I mean. Given the fares they've charged I don't see how I did that. Drivers and Uber can make money at these levels. And I'm not sure how Uber and Lyft come to an agreement which is legal where they can raise fares without the other side trying to cut. CALDWELL One school of thought is that.
Now that Lyft in Uber are coming public as well. That may be the the duopoly allows some rate increases over time. Right. Isn't that the hope.
That is the hope. But there's a tipping point at sixty dollars I'd go back to taking New Jersey Transit and subway from Penn Station so they don't have unlimited right to think.
Your habits have not been changed and have not been fundamentally changed how you get knocked in.
Not to that extent. I'm not that budget unconscious at some point I would switch and my guess is that a lot of people have come into ridesharing have come not from taxi cabs and car service but from other modes of transportation. That's a tipping point that they'll have to face. But there's EADS there's freight you know you mentioned Amazon obviously shareholder letter no one was always about securing future cash flows to the extent that that's worked out why not with Uber as well moving into different areas spending now to obviously accrue later.
I think the taxi cab business is a particularly soft one. It is an easy one to take out. Once you move into freight and delivery you're looking at businesses which don't have as much softness as the first businesses they went after. And if you look at uber success Uber Reith's has been the only obvious extension that they've had that's made the money. And I think it's the one that's closest to that ridesharing business. I did think that I didn't think before it's really gotten off the ground because it's a much more difficult business to break into and kind of grow at the rates that they have. The rest of the businesses. So unless you find yourself business's growth is not that easy.
But I have to disagree I spent some time with Uber freight. I mean they are already setting up the infrastructure that I think is rather amazing and it's definitely being credibly environmentally friendly. And I think that's going to matter a great deal. You're not going to have that truck going from Dallas to Minnesota film and then haven't come back empty. If you use what they have built and they expect that they will reduce the price of freight in 15 and 20 percent by year end. Nothing would shock me with this company. They do have a very good logistics arm so I know you may think that they're not there but of the different businesses they're going to go in. I think that's one that they could astonish because of the ecological greatness of what they're offering. I mean I.
I'm open I'm open to possibilities but until I see the numbers show up and they still haven't I. So maybe they've the infrastructure design and you're going to see it take off in the next year two years three years. But I would leave it when I see it in terms of the numbers coming through. So I'm a.. I'm a skeptic in terms of that that is providing the kind of margins that they need. But remember.
Hiring is up one or sixty five and they're beginning. I mean they're in very much of a roll out mode. We are we are run as promised nothing. But I. This is something you can't write off before it starts. Which is what I. I don't like it. Belief can happen.
I just I'm not writing it up. I mean as I said to get to 60 billion I needed to do this every.
It's not an older university. You and I could both agree. It's not like you think the tariffs are paid for by.