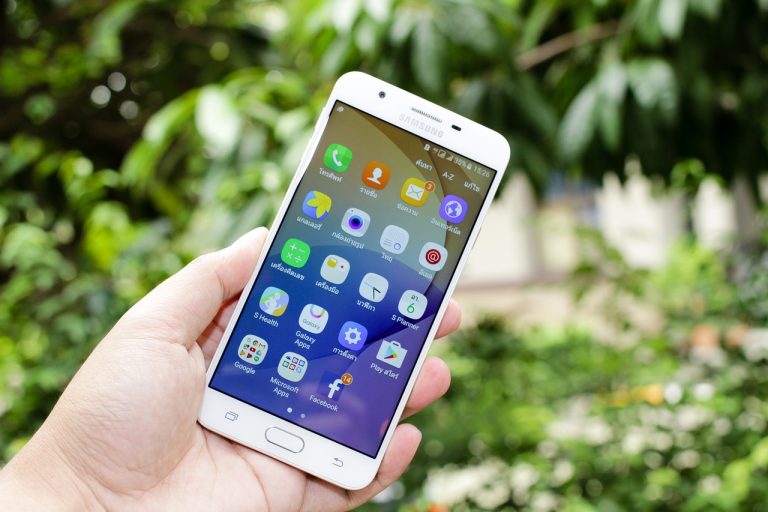 Managing content on Android devices is never as easy as we want it to be. Transferring pictures, messages, videos, contacts, and other files from Android to your computer is even more painful and inconvenient. There are plenty of tools that let you manage content and transfer files from one device to another, but I haven't yet come across a tool as feature-rich and convenient as AnyTrans for Android. Software maker iMobie has updated AnyTrans to make it better than ever before.
AnyTrans is easy, fast, and secure
AnyTrans lets you wirelessly manage Android content and transfer files across devices in the easiest possible way without using USB cables. You can use the software on your Mac, PC, Android device, and even directly via their website to manage content, organize files, and transfer data over WiFi.
This is the tool to use when you want to transfer pictures and music from your phone to computer, or send files from computer to your Android device. It also acts as a backup tool, letting you transfer and save important data to your computer.
Hedge Fund Launches Jump Despite Equity Market Declines
Last year was a bumper year for hedge fund launches. According to a Hedge Fund Research report released towards the end of March, 614 new funds hit the market in 2021. That was the highest number of launches since 2017, when a record 735 new hedge funds were rolled out to investors. What's interesting about Read More
The software is easy to set up and get started. You can download it on Windows or Mac. If you don't want to install it, you can use the web application directly from your computer's browser. I tried it on my Windows computer and installed the app from Play Store on my OnePlus 5.
Make sure that the computer and Android phone are connected to the same WiFi network. Launch AnyTrans on your computer and open the app on the Android device to scan the QR code on the computer.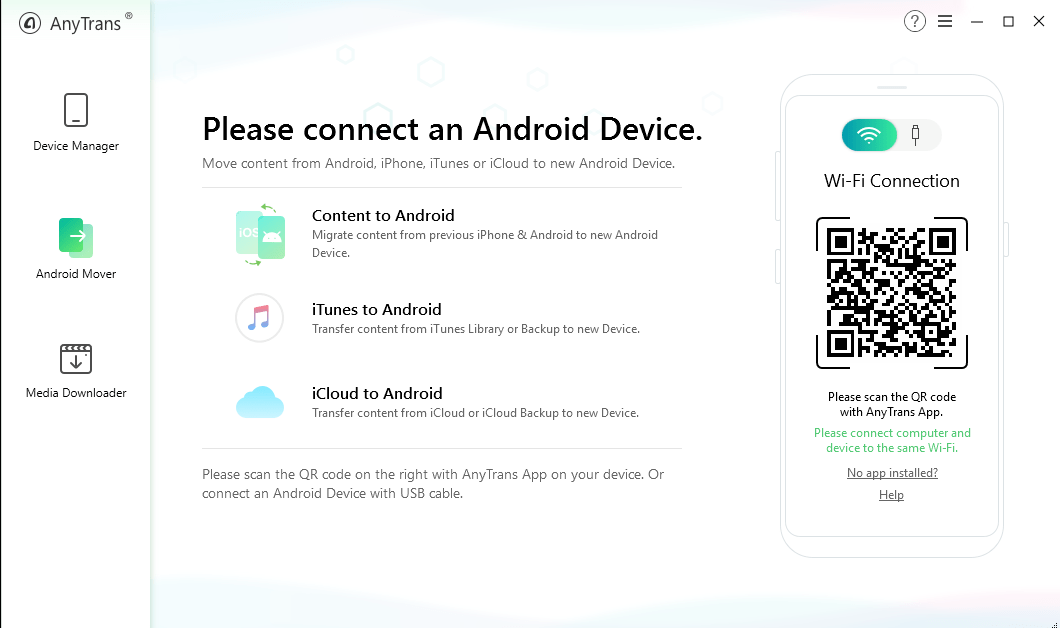 Now you can get started transferring files from one device to another. You will be able to browse and preview all of your Android content on the computer screen including music, videos, photos, text messages, contacts, documents, zipped files, and even apps.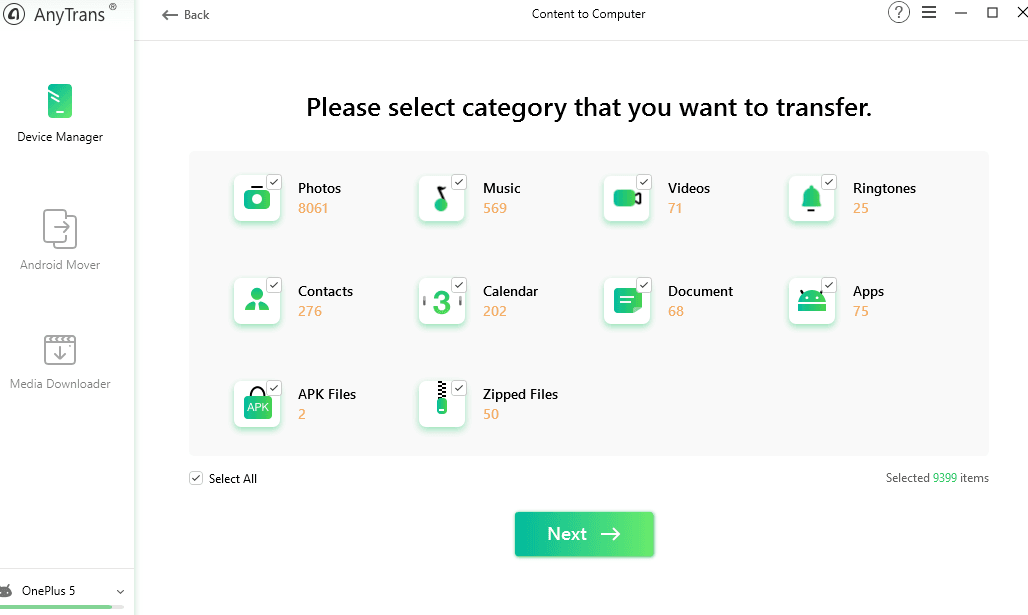 From there, you can copy individual files or a category of files to your computer. If you want to transfer data in bulk, use the Content to Computer option. AnyTrans lets you even transfer messages, call logs, and contacts to your computer. Transferring data from your computer to the Android device is equally convenient.
Quickly transfer data from your old phone to new one
AnyTrans has a feature called Android Mover that is incredibly useful if you are switching from an old Android phone to a new one, or coming from an iPhone to Android. It takes the pain out of changing mobile ecosystems. Just connect both phones to your computer, click on the Android Mover button on the left, and select whether you are moving from iOS to Android or Android to Android.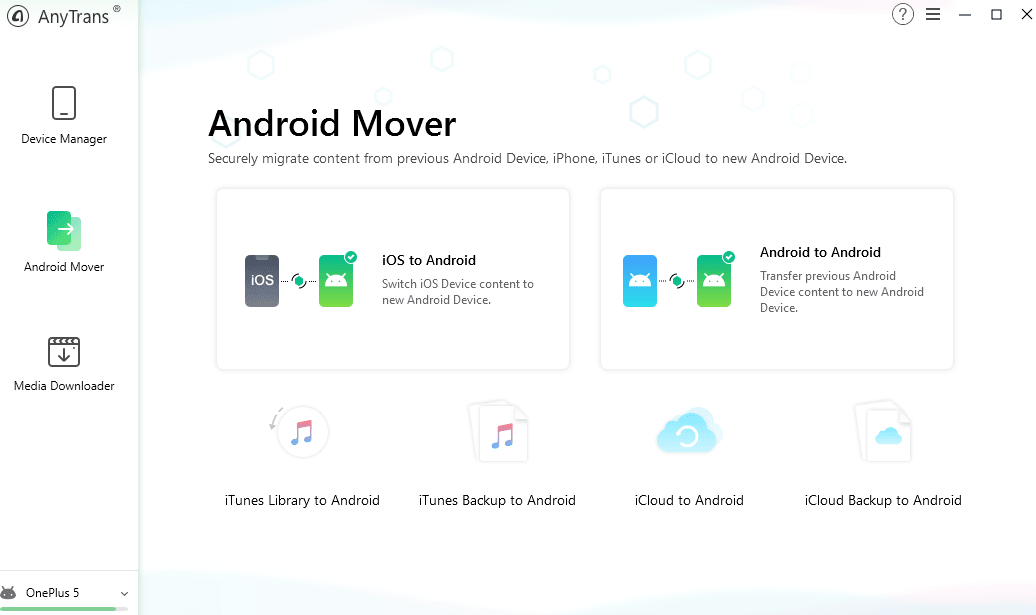 Now AnyTrans will securely transfer all the messages, contacts, photos, videos, apps, music, ringtones, calendar, and other data to your new device within minutes.
Download movies, TV shows for offline viewing
AnyTrans does much more than just managing and transferring files between devices. It is also a media downloader. It allows you to download music, movies, and TV shows from over a thousand websites including YouTube, Ted, Vimeo, SoundCloud, and DailyMotion.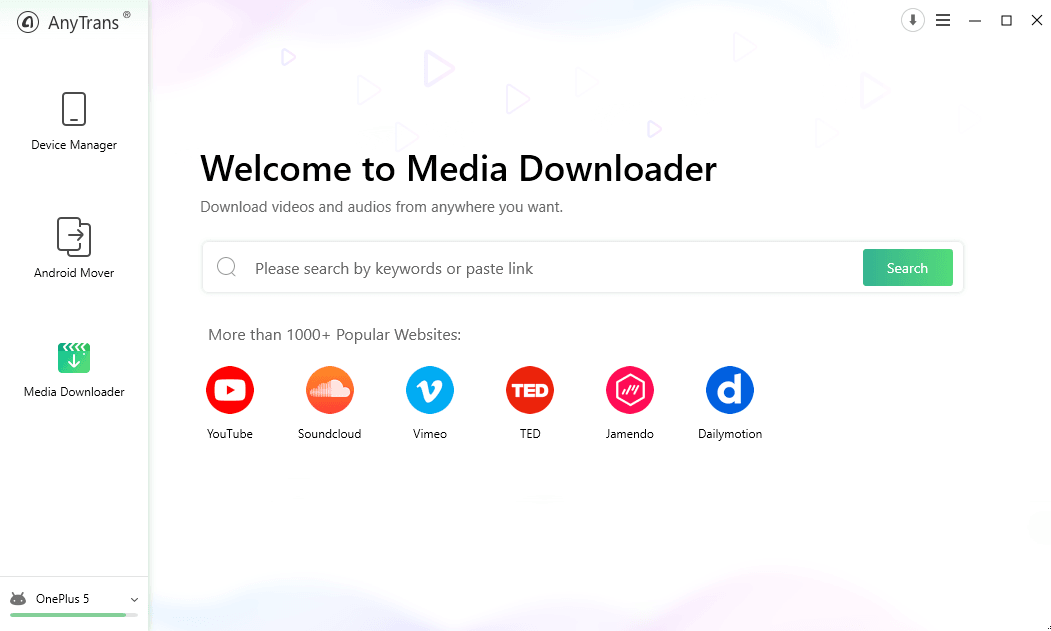 It automatically converts the incompatible formats to MP3 or MP4, so you never have to worry about the compatibility of downloaded media files.
How much does it cost?
The AnyTrans software costs $39.99 for a single license. You can choose to buy the family license at $59.99, which allows you to install it on up to five computers. The developers offer a 100% money-back guarantee for 60 days, which means there is no risk in trying it out.
AnyTrans is not only better than other Android content management tools, but the latest 2019 update has made it better than its own previous version. It is fast, secure, and convenient.
Updated on