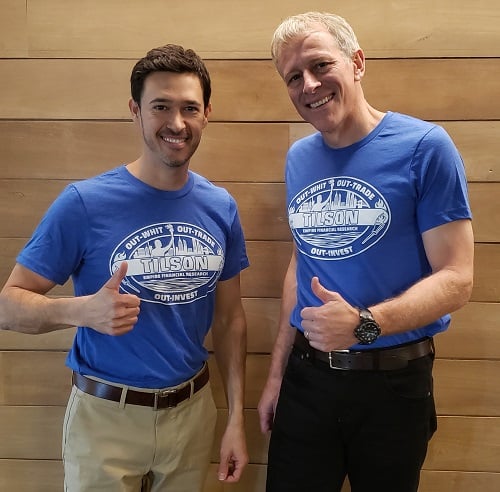 Whitney Tilson's email to investors discussing the launch of his webinar tonight; subscribe in advance; Q&A; Lessons from a short seller; Tesla news; articles that blew his mind.
1) My new newsletter, the Empire Investment Report, launches with a free webinar that starts at 8 p.m. Eastern tonight – wish me luck!
Hedge Fund Launches Jump Despite Equity Market Declines
Last year was a bumper year for hedge fund launches. According to a Hedge Fund Research report released towards the end of March, 614 new funds hit the market in 2021. That was the highest number of launches since 2017, when a record 735 new hedge funds were rolled out to investors. What's interesting about Read More
Q1 hedge fund letters, conference, scoops etc
Nearly 95,000 people have signed up for the event, so I'm feeling optimistic that we'll get off to a strong start. We had T-shirts made, which my lead analyst, Steve Culbertson, and I are wearing in this picture (sharp-eyed readers may recognize the reference to my favorite TV show, Survivor):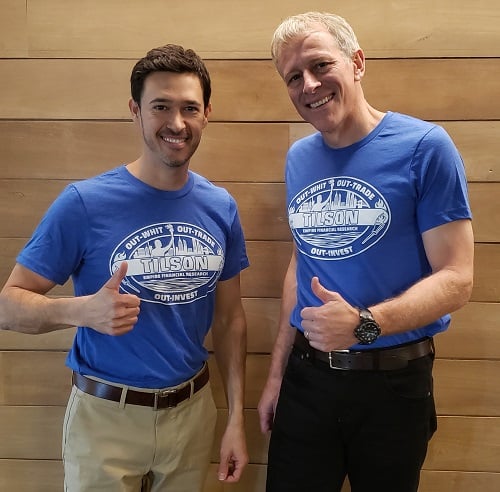 If you'd like to join us, you can register here. By doing so, you'll get immediate access to my three videos on Berkshire Hathaway and reports on Facebook, Alphabet/Google, Amazon, and Tesla.
I'm psyched about the stock I'm recommending in the first issue. It's going to blow a lot of people's minds because it's only the fifth time in my career that I'm going long a stock I was once short. The first four resulted in a double in a year... a triple in a year... a 15-bagger in two years... and a 50-bagger in six years.
If you're interested in subscribing, you can learn more about the special offer we're making today only by watching the webinar tonight or going to this private website we've set up. The offer expires at midnight tonight, so don't wait.
We're so confident that you'll be happy with it that we're offering a 30-day, no-questions-asked, money-back guarantee.
And as a special bonus, every person who becomes one of our charter subscribers will get FREE access for a full year to our Lessons From the Trenches: Value Investing Bootcamp – a $995 value. The 36-hour video series includes 32 teaching modules, totaling 24 hours, five guest speakers, and 57 answers to questions.
2) Some folks have e-mailed me some questions about my newsletter, so I thought I'd share my replies:
Question: Once you launch your paid newsletter tonight, will you stop sharing investment ideas in your daily emails?

Answer: No, nothing is going to change. The Empire Investment Report is a monthly newsletter in which I will share my absolute best stock ideas with my subscribers. Over time, my analysts and I will build a portfolio of 2-3 dozen companies we follow closely, always ranking our top dozen or so whose stocks we recommend owning at any given time. In many ways, it will be exactly what I did for nearly two decades running various funds: do a lot of reading, talking to folks, researching, analyzing, and thinking, with the goal of coming up with one good investment idea a month. The only difference is that, instead of manifesting that idea by acting on it myself on behalf of the handful of high-net-worth investors in my fund, I'll share it with my subscribers so they can buy it for themselves.

Question: What's the difference between your Stock Idea of the Day in your daily emails and what you'll be recommending in your monthly newsletter?

Answer: My Stock Idea of the Day is something that's on my radar screen that I think is interesting. I haven't done the work on it yet – rather, I'm sharing an idea in the hopes of gathering information and insight from my readers. A few might make it on to my recommended list for my newsletter (at which point, my analysts and I will of course have done all of the work), though it's hard to know how many.

Question: Your investment ideas could be time sensitive. Will you be sending the sell/buy recommendation right away? Or will you be waiting for your next newsletter?

Answer: Generally, we'll try to stick to our regular publishing schedule, which will be the third Wednesday of every month (the second issue will come out on Wednesday, May 15), but we can always be flexible if the situation calls for it.

Question: Will you be also investing your personal funds in your recommended ideas?

Answer: No, I'm not allowed to invest personally in the ideas I recommend, so as to avoid possible conflicts of interest. My subscribers can rest assured that I always put them first.

Question: I understand that you have partnered with Stansberry Research. What role are they going to play in your newsletter/research?

Answer: I am 100% responsible for the content of the newsletter – the ideas, research, recommendations, etc. Stansberry provides various support functions such as marketing and copywriting, as it does with other affiliates.
3) Continuing the series of articles I'm publishing leading up to the webinar, in this one, Lessons From a Short Seller, or How I Ended Up on 60 Minutes, I use Lumber Liquidators (LL) as a case study to highlight the three things I look for in winning investments. Excerpt:
Do good fundamental analysis, find an information edge, and take advantage of extreme investor sentiment.

If you can do these three things consistently, you'll make a fortune.
4) So much Tesla news
5) Once or maybe twice a year, I read an article that fundamentally changes the way I think about something. I'm going to start sharing some of them in a series I'm calling Articles That Blew My Mind.
Here's the most recent one: Is Sunscreen the New Margarine? Instead of hiding from the sun and slathering ourselves with 50 SPF sunscreen, this article argues, persuasively I think, that we should seek regular sun exposure (while being careful to avoid sunburns). Excerpt:
As it turns out, a rogue band of researchers has had an explanation all along. And if they're right, it means that once again we have been epically misled.

These rebels argue that what made the people with high vitamin D levels so healthy was not the vitamin itself. That was just a marker. Their vitamin D levels were high because they were getting plenty of exposure to the thing that was really responsible for their good health-that big orange ball shining down from above.
Best regards,
Whitney
Updated on