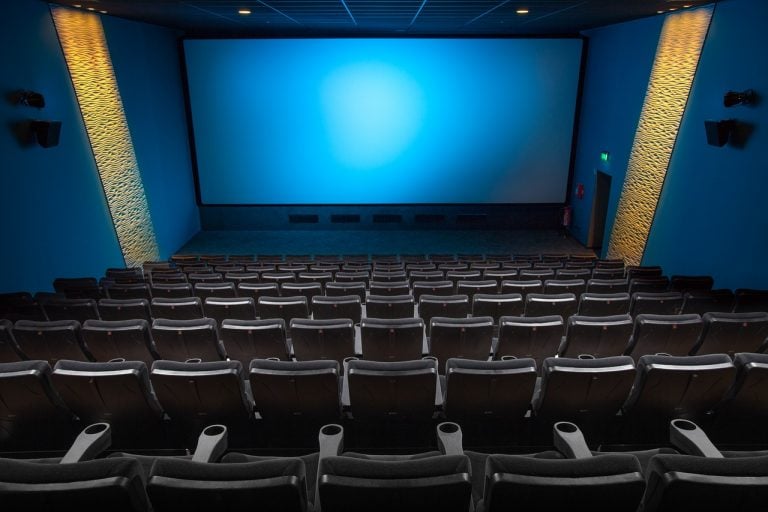 Hollywood actors might be rich and famous, but they can't predict the future after all.

Whilst most of us can understand the pain of looking back on a career choice that we have made, for the average joe, this doesn't cost us millions of dollars and a potential Oscar win.
[REITs]
ValueWalk's July 2022 Hedge Fund Update: Tiger Cub Hedge Fund Shuts Down
Welcome to our latest issue of issue of ValueWalk's hedge fund update. Below subscribers can find an excerpt in text and the full issue in PDF format. Please send us your feedback! Featuring Andurand's oil trading profits surge, Bridgewater profits from credit, and Tiger Cub Hedge Fund shuts down. Q1 2022 hedge fund letters, conferences Read More
Q1 hedge fund letters, conference, scoops etc
For silver screen actors, making a bad career decision can mean just that. While most actors still go on to enjoy a successful career, they must surely kick themselves at these costly choices.
Betway Casino looked at some of the biggest financial missteps made by some of Hollywood's biggest stars, including Sean Connery, Jim Carrey and Will Smith, to name a few.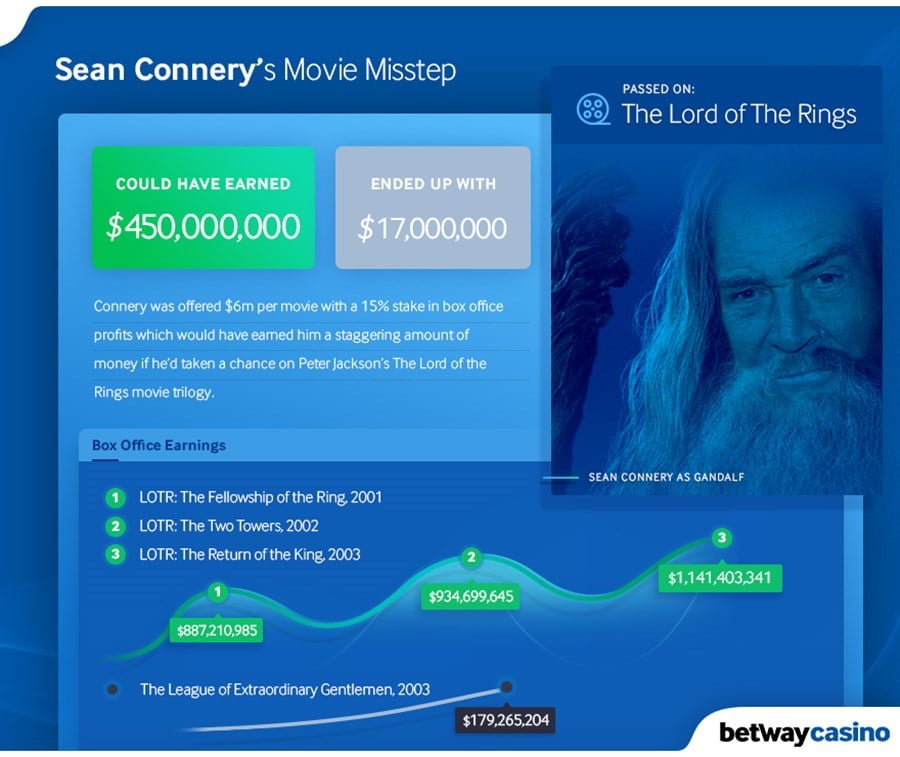 Sean Connery Didn't Understand Lord Of The Rings
Looking back on the Lord of the Rings trilogy, it's hard to imagine anyone else but Ian McKellen donning the hat and robes of Gandalf. However, early in production, the role was offered to the original James Bond, Sean Connery. Unfortunately for him, he couldn't get his head around the script and passed up one of the most beloved franchises in film history.
Connery was offered $6m per movie with a 15% stake in box office profits, which would have earned him a staggering amount of money if he'd taken a chance on Peter Jackson's The Lord of the Rings trilogy. Instead, he chose The League of Extraordinary Gentlemen, which was critically panned and is widely credited as the reason that Connery decided to quit acting altogether. Total Loss from choosing League of Extraordinary Gentlemen over LOTR = $433,000,0000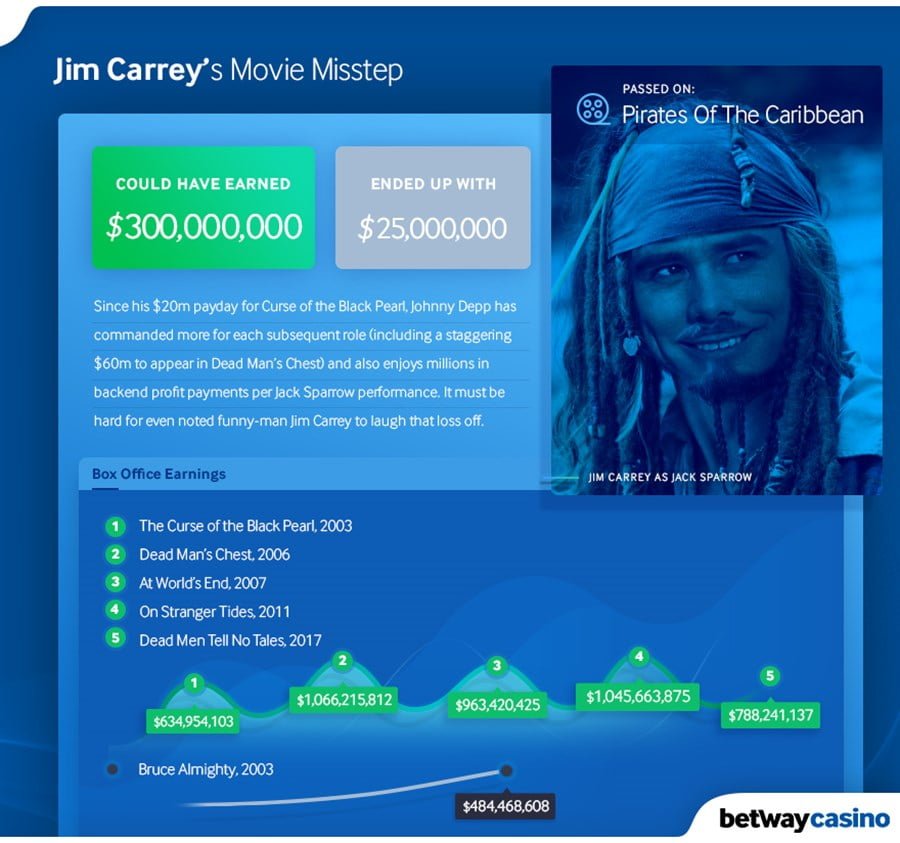 Jim Carrey Passed On Pirates
When people think of Disney's Pirates of the Caribbean series the first thing that comes to mind is, inevitably, Johnny Depp's rum-swilling, Keith Richards impersonation Captain Jack Sparrow. However, we might have seen an even more outrageous portrayal if the first choice had said "Alrighty-then".
Since his $20m payday for Curse of the Black Pearl, Johnny Depp has commanded more for each subsequent role (including a staggering $60m to appear in Dead Man's Chest) and also enjoys millions in backend profit payments per Jack Sparrow performance. It must be hard for even noted funny-man Jim Carrey to laugh that loss off. Total Loss from choosing Bruce Almighty over Pirates of the Caribbean = $275,000,000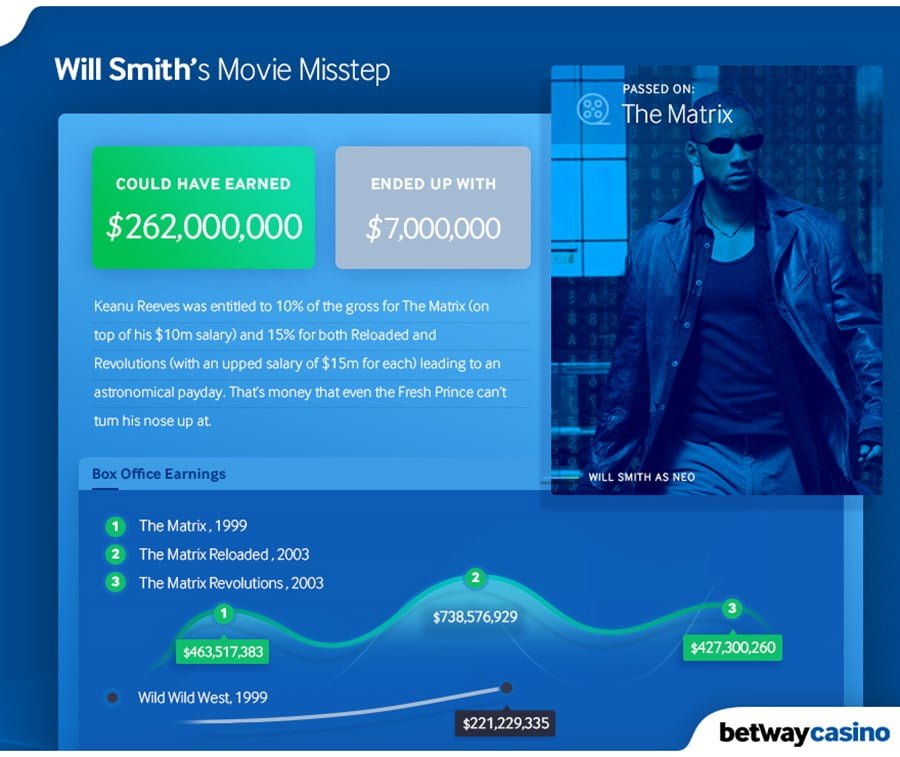 Will Smith Took The Blue Pill
When presented with the option to appear in a ground-breaking trilogy of movies that pushed the boundaries of storytelling, special effects and action sequences on-screen or a light-hearted steampunk western, most people would jump at the chance to be in the former. Not Will Smith though. Despite being the favourite to lead the cast of The Matrix, Smith took a gamble and said no, riding into a sunset of shame with Wild Wild West.
Keanu Reeves was entitled to 10% of the gross profit for The Matrix (on top of his $10m salary) and 15% for both Reloaded and Revolutions (with an upped salary of $15m for each) leading to an astronomical payday. Total Loss from choosing Wild Wild West over The Matrix = $225,000,000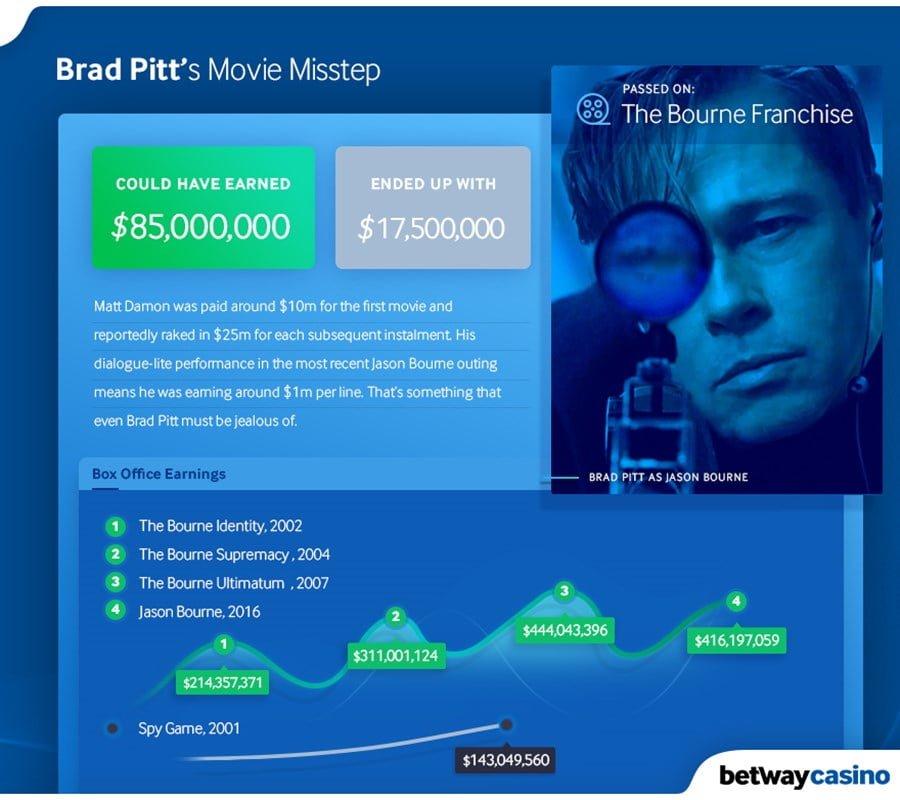 Brad Pitt Backed The Wrong Spy
In a classic case of backing the wrong horse (or spy in this case) Brad Pitt turned down the opportunity to become Jason Bourne for the chance to star opposite Robert Redford in 2001's Spy Game. While the latter was well received, it's barely even on the radar when compared to the value of the Bourne franchise.
Matt Damon was paid around $10m for the first movie and reportedly raked in $25m for each subsequent instalment. His dialogue-lite performance in the most recent Jason Bourne outing means he was earning around $1m per line. That's something that even Brad Pitt must be jealous of. Although Spy Game, which Pitt chose instead, was well received, it barely even registers on the radar when compared to the value of the Bourne franchise. Total Loss from choosing Spy Game over The Jason Bourne Series = $67,500,000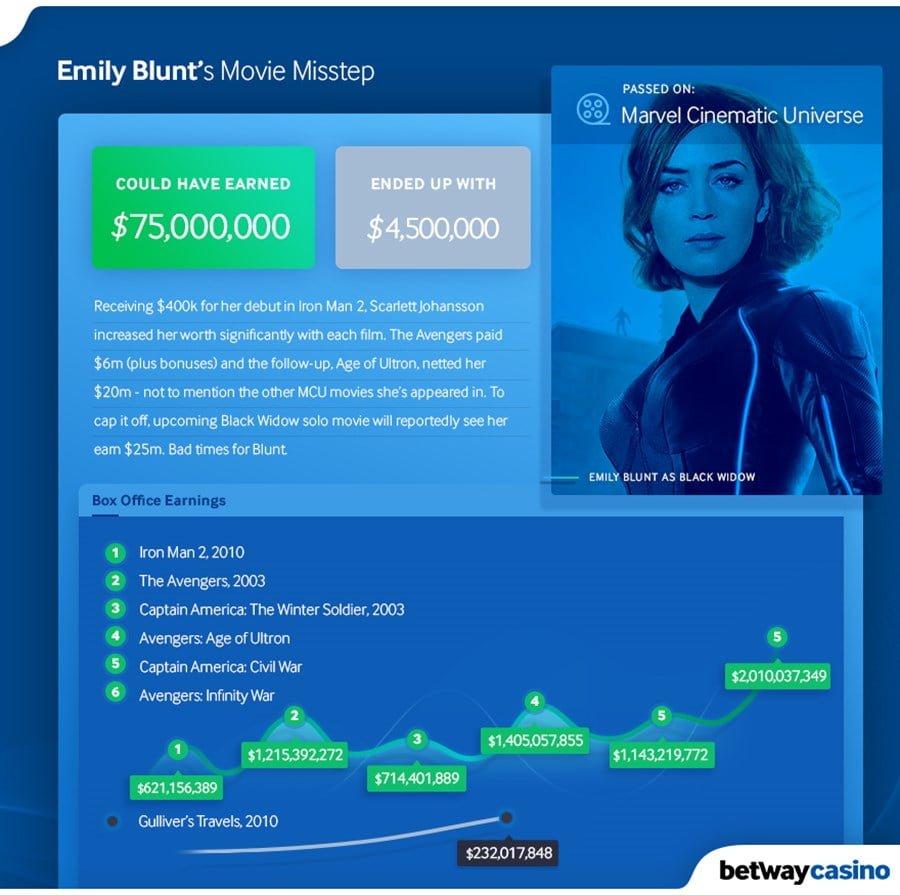 Emily Blunt Wasn't Wowed By Marvel
Emily Blunt's decision not to appear in Marvel's Cinematic Universe as one of the central characters must keep her up at night. The role of Natasha 'Black Widow' Romanoff has led to Scarlett Johansson frequently appearing on top-paid actor lists and, despite being a large multi-movie commitment, must come with a great feeling of job security.
Receiving $400k for her debut in Iron Man 2, Scarlett Johansson increased her worth significantly with each film. The Avengers paid $6m (plus bonuses) and the follow-up, Age of Ultron, netted her $20m – not to mention the other MCU movies she's appeared in. To cap it off, upcoming Black Widow solo movie will reportedly see her earn $25m. Bad times for Blunt who instead chose Jack Black's Gulliver's Travels, which was critically savaged and isn't a drop in the ocean compared to the payday Johansson continues to enjoy to this day. Total Loss from choosing Gulliver's Travels over The Marvel Cinematic Universe = $70,500,000
Emily Browning Chose Studies Over Sparkly Vampires
Twilight author Stephanie Meyer had Browning in mind when the casting for the movie trilogy began. However, the young Australian actor had just finished a project and wasn't ready to jump into a franchise which she thought would jeopardise her studies. This left the door open for Kristen Stewart to swoop into her big break alongside a sparkly Robert Pattinson.
Kristen Stewart was reportedly paid $2m for the first movie which jumped to $12m for New Moon and Eclipse before rising to $25m to appear in the final two movies. Although it's commendable that Browning chose to take time out to study rather than be caught in love triangle with a vampire and a werewolf – $50m beats schoolwork any day of the week. Total Loss from choosing The Uninvited over The Twilight Sage – $49,000,000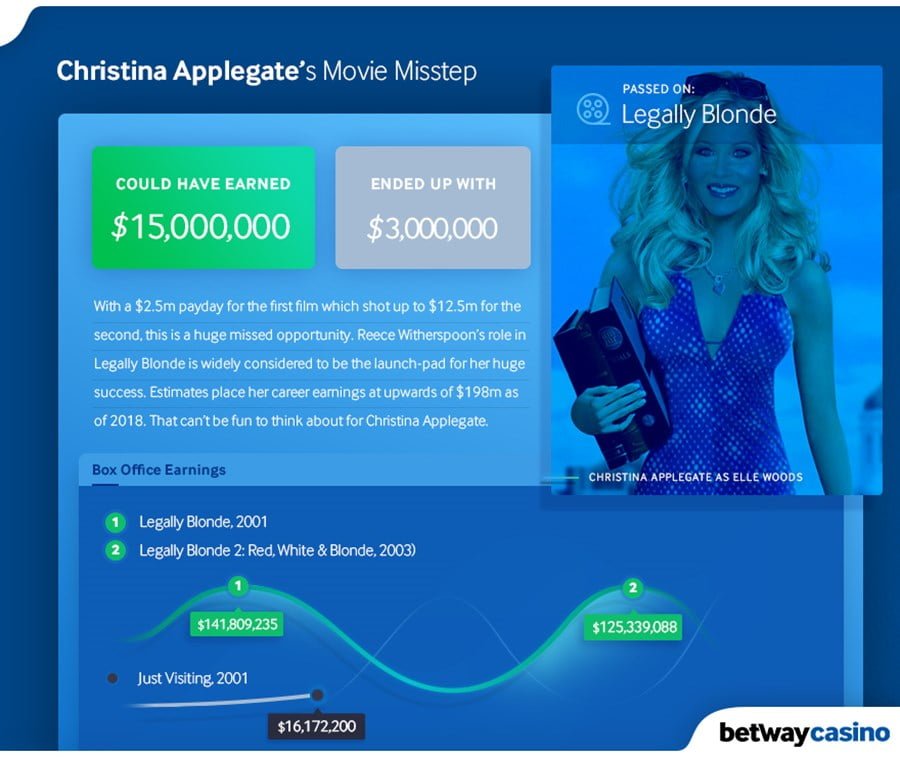 Christina Applegate Made An Error Of Judgement
Legally Blonde may have been a career-maker for Reese Witherspoon, but it also represents a terrible misstep for the original casting choice, Christina Applegate. Afraid of being typecast as a 'ditsy blonde' stereotype, she turned the movie down in favour of time-travelling comedy Just Visiting.
With a $2.5m payday for the first film which shot up to $12.5m for the second, this is a huge missed opportunity. Reece Witherspoon's role in Legally Blonde is widely considered to be the launch-pad for her huge success. Estimates place her career earnings at upwards of $198m as of 2018. That can't be fun to think about for Christina Applegate. Total Loss from choosing Just Visiting over Legally Blond I & II – $12,000,000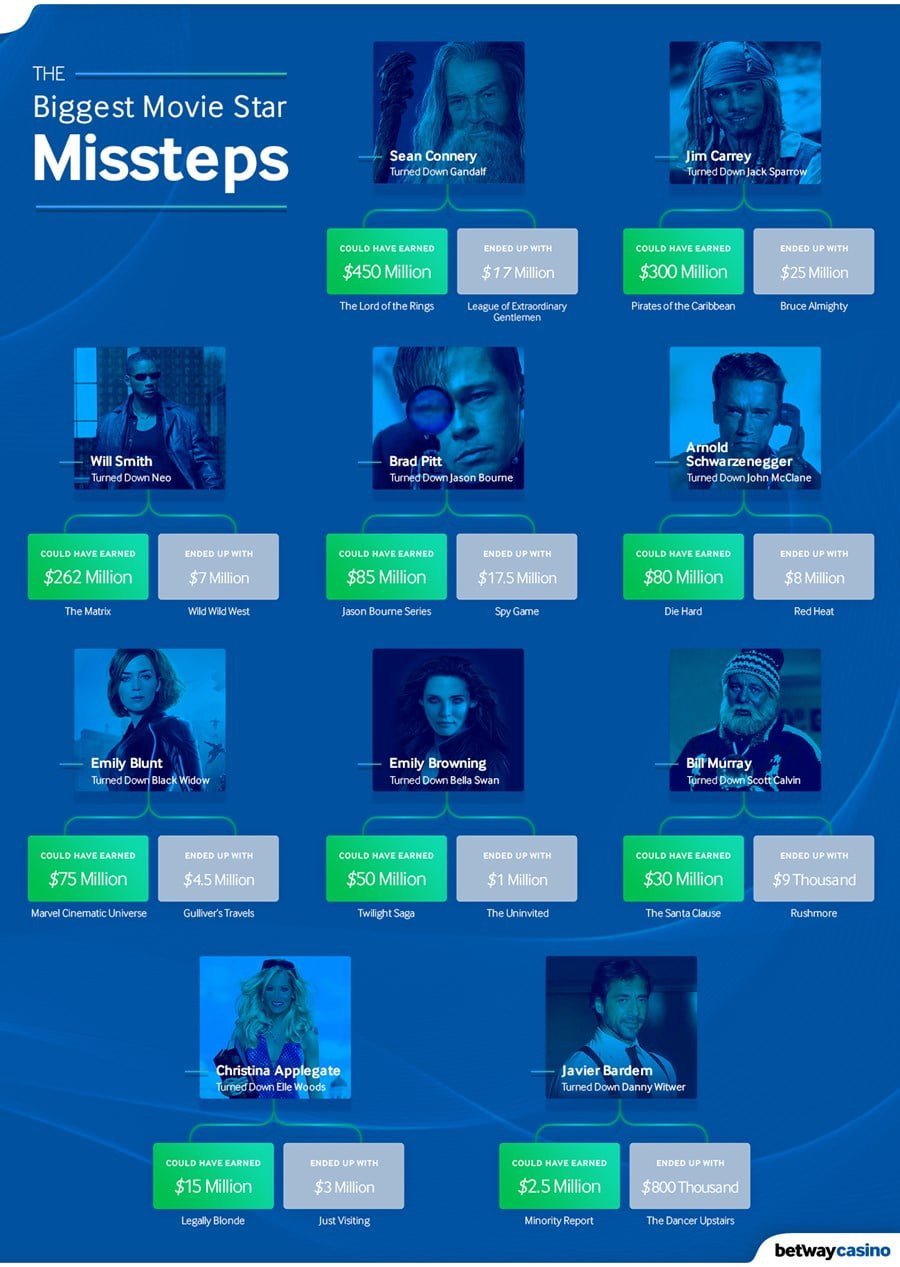 Updated on