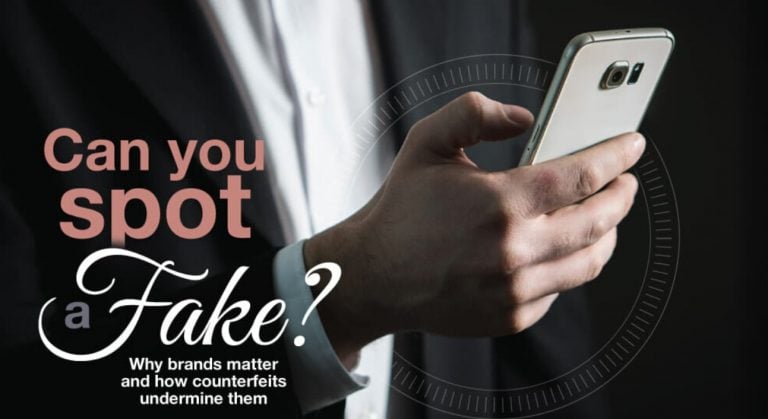 Counterfeits caused the loss of $323 billion from the global economy in 2018 alone, and an estimated 2 out of every 5 'brand name' products consumers think they are purchasing online are counterfeits. It's almost impossible to know the difference sometimes unless you know what you are looking for – often times counterfeiters have obtained information about the products through manufacturers, a key component of our current trade war with China. How can you protect yourself from counterfeit merchandise?
Counterfeits Lead To A Trade War
Because so much manufacturing has been going on in China in the last several decades, Chinese manufacturers have had access to intellectual property from around the world. This accusation led the United States to push back with tariffs on Chinese-made goods, and Chinese manufacturers are pushing back by raising the prices of goods for American consumers. Ironically, the trade war could spur demand for counterfeit products as the cost of the real ones continue to soar.
Retail Investing Trends With TradeZero America's Dan Pipitone
ValueWalk's Raul Panganiban interviews Dan Pipitone, co-founder of TradeZero America, and discusses his recent study on retail investing trends. Q1 2021 hedge fund letters, conferences and more The following is a computer generated transcript and may contain some errors. Interview with TradeZero America's Dan Pipitone ValueWalk's ValueTalks ·
Q1 hedge fund letters, conference, scoops etc
Counterfeit merchandise Can Be Dangerous
If you can't tell the difference between a name brand purse and a knock-off, why would it matter that you purchase the real deal? In clothing and accessories the theft of intellectual property can devalue an artist's work and lead to decreased future creativity, which means you could be putting your favorite designers out of business.
In products like pharmaceuticals and electronics, it could actually be dangerous for the end user to purchase counterfeits. Counterfeit medications can lead to death or serious injury, and counterfeit electronics have been known to burn users and start fires.
More than one in four consumers has reported discovering a purchase they made online turned out to be a counterfeit. A terrifying 16% of medications purchased online turned out to be counterfeit, as well as 22% of supplements. Makeup and skincare products are also highly likely to be fakes, with 25% of skincare products and 32% of makeup bought online being fake.
Be wary of mobile apps and advertisements on social media sites - 20% of advertisements are peddling counterfeit merchandise, as are 22% of mobile apps. But even well known search engines and marketplaces aren't immune to the scourge of counterfeits.
If It Seems Too Good To Be True, It Probably Is
Consumers should be wary of airpods that are selling for $10 or the latest cell phone 'on sale' for 90% off. Unless you really know what to look for, many of these products could work well enough to fool you - until they steal all your personal information and use your credit card numbers. Learn more about the cost of counterfeits from this infographic.