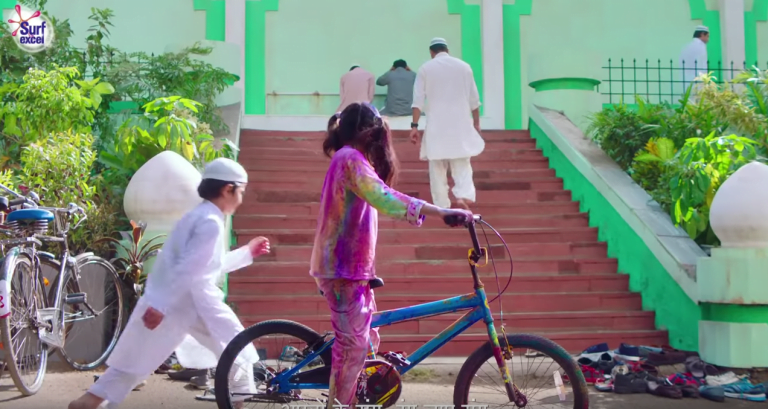 A case of mistaken identity has hit the Google Play Store. Many Hindus are angered by an ad they feel unfairly targets their religion, but there's one problem. The ad was made by detergent maker Surf Excel, but Microsoft's Excel app is catching much of the flak for it, on Android devices.
What's wrong with the Surf Excel ad?
Surf Excel has been running an ad (embedded below) in India showing children celebrating the Hindu festival Holi by dowsing each other in colors. For those in the West who aren't familiar with Surf Excel, it's a brand of detergent sold by Unilever in India, Pakistan, Bangladesh and Sri Lanka. In the U.S., Surf is the detergent's brand name without the word "Excel" attached to it.
In the controversial Surf Excel ad, a girl rides her bike as the other children throw color at her as part of the celebrations. Toward the end of the commercial, she rides to the home of a Muslim boy and takes him to the mosque on her bike. Outsiders not fully aware of the often-violent relationship between India and Pakistan—and historically, Hindus and Muslims as well—may not see anything wrong with the ad, but it has outraged many Hindus.
Carlson Capital's Double Black Diamond Strategy Gains 5.3% On Jewelry Play
Carlson Capital's Double Black Diamond fund added 3.09% net of fees in the second quarter of 2021. Following this performance, the fund delivered a profit of 5.3% net of fees for the first half. Q2 2021 hedge fund letters, conferences and more According to a copy of the fund's half-year update, which ValueWalk has been Read More
Many have taken to social media with the hashtag "#BoycottSurfExcel." Many Hindus feel the ad has targeted them in a negative way. Many have pronounced the ad "anti-Hindu," so they're making their voices heard. This tweet is only a small example of the ire Surf Excel has raised among Hindus:
One of the worst Ad ever by Surf Excel. It should be rolled back and @HUL_News should apologize for hurting sentiment of our religion.#BoycottSurfExcel

— Dileep Jaiswal (@DileepKJaiswal) March 11, 2019
Microsoft catches flak for Excel
It didn't take long for the controversy to spill over to the Google Play Store, where numerous Hindus have left strong negative reviews for Microsoft's Excel app, accusing it of partnering with the detergent brand for the controversial ad. However, Microsoft's Office app has nothing to do with Surf detergent, so some who took notice of the increasing number of social media posts linking the two in relation to the ad have begun trolling those who made the mistake:
Kids boycott #SurfExcel
Legends go for #MsExcel

— Sahib Kumar (@SahibKumarBala) March 12, 2019
As the controversy over the Surf Excel ad has grown, some are starting to come out in support of the message it delivers, which is one of religious unity and tolerance. However, it seems clear this is one battle that won't be going away any time soon, because many are denouncing the tolerance the ad appears to call for. The only question now is how long it will take for it to blow over.
To @HUL_News, #Masjid is not required to offer Namaz as per Quran so this Holi read Namaz at home. No need to step out. Regarding #lovejihad propoganda start making  reverse advertisement now. Lets see their tolerance when a burqa clad girl is playing holi ? #BoycottSurfExcel pic.twitter.com/sMjOOFl8jI

— PAYAL ROHATGI & Team (@Payal_Rohatgi) March 9, 2019