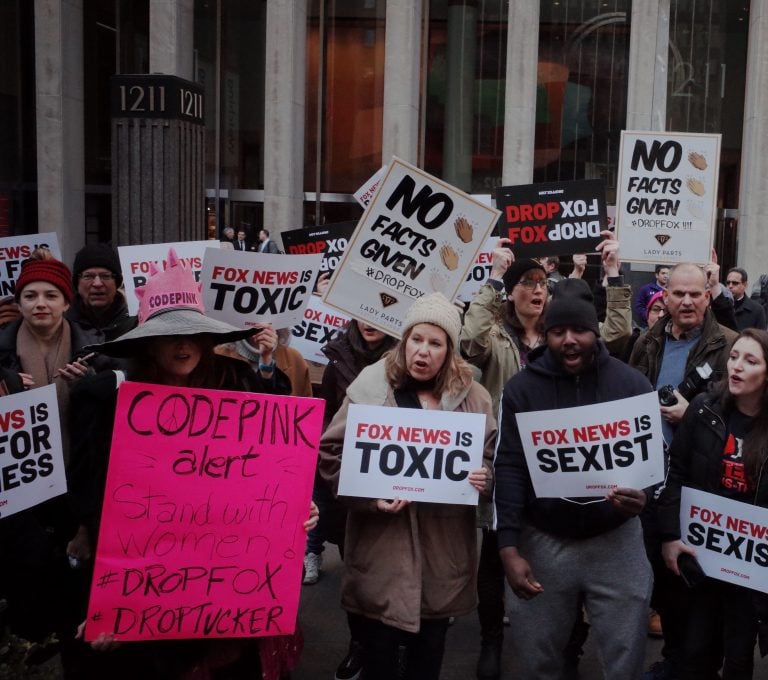 Fox News End Emergency Meeting with Advertisers Early in Effort to Avoid Blowback, Ushers Media Buyers Out the Back Door Before Protest Begins
Protest Comes As Explosive Reports from Media Matters Expose Tucker Carlson's Misogyny, Homophobia and Racism
Seth Klarman Describes His Approach In Rare Harvard Interview
In a rare interview with Harvard Business School that was published online earlier this month, (it has since been taken down) value investor Seth Klarman spoke at length about his investment process, philosophy and the changes value investors have had to overcome during the past decade. Klarman's hedge fund, the Boston-based Baupost has one of Read More
Q4 hedge fund letters, conference, scoops etc
NEW YORK -- Earlier today, New Yorkers, joined by activists and members of Media Matters for America, CREDO, Rise and Resist, Free Press, Daily Kos, Lady Parts Justice League, Brave New Films, UltraViolet, Working Families Party, MPower for Change, NY Immigration Coalition, CAIR-NY and United We Dream held a protest outside Fox News headquarters in New York City at the same time Fox News was supposed to hold a pre-planned meeting with advertisers and media buyers.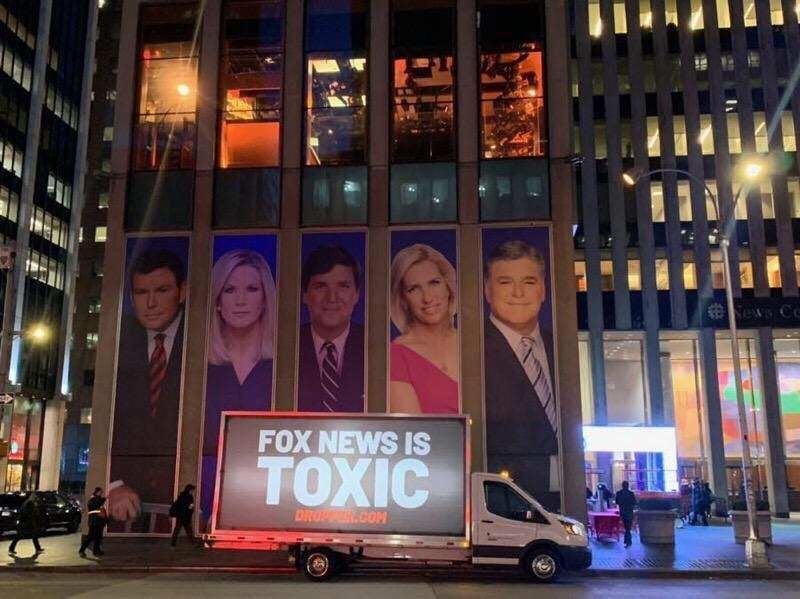 Coinciding with the action, Media Matters for America, commissioned two billboards to circle Fox News' headquarters all day, with messages reading "Fox Is Toxic" and "Fox News Is Racist, Bigoted, Sexist, Toxic And Bad For Business."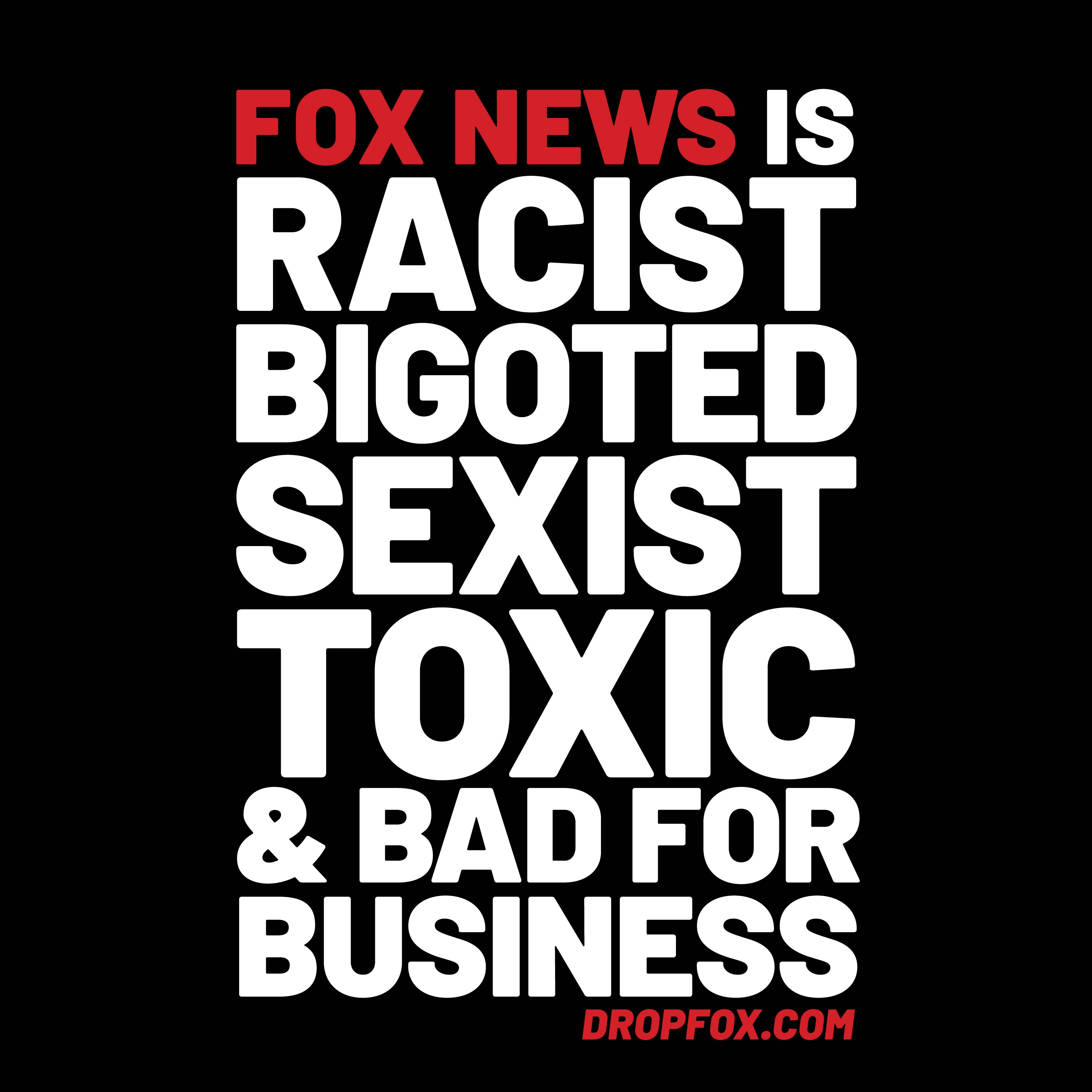 Fox News ended its meeting with advertisers early, ushering media buyers out of the back door before protests began, in an effort to avoid additional blowback.
The actions came after a series of explosive reports from Media Matters that revealed Fox New host Tucker Carlson's pattern of making disgusting anti-woman comments, defending domestic violence and statutory rape and making perverted remarks about underage girls and pattern of making homophobic and racist remarks.
On Sunday night, Tucker Carlson refused to apologize for the comments, and then again on Monday and Tuesday, Tucker doubled down and even bragging about continued support from Fox News after the audio was unearthed . Fox News has so far refused to comment, referring reporters to Carlson's statement.
Earlier this year, Media Matters for America published a list of the leading advertisers on his show, Tucker Carlson Tonight.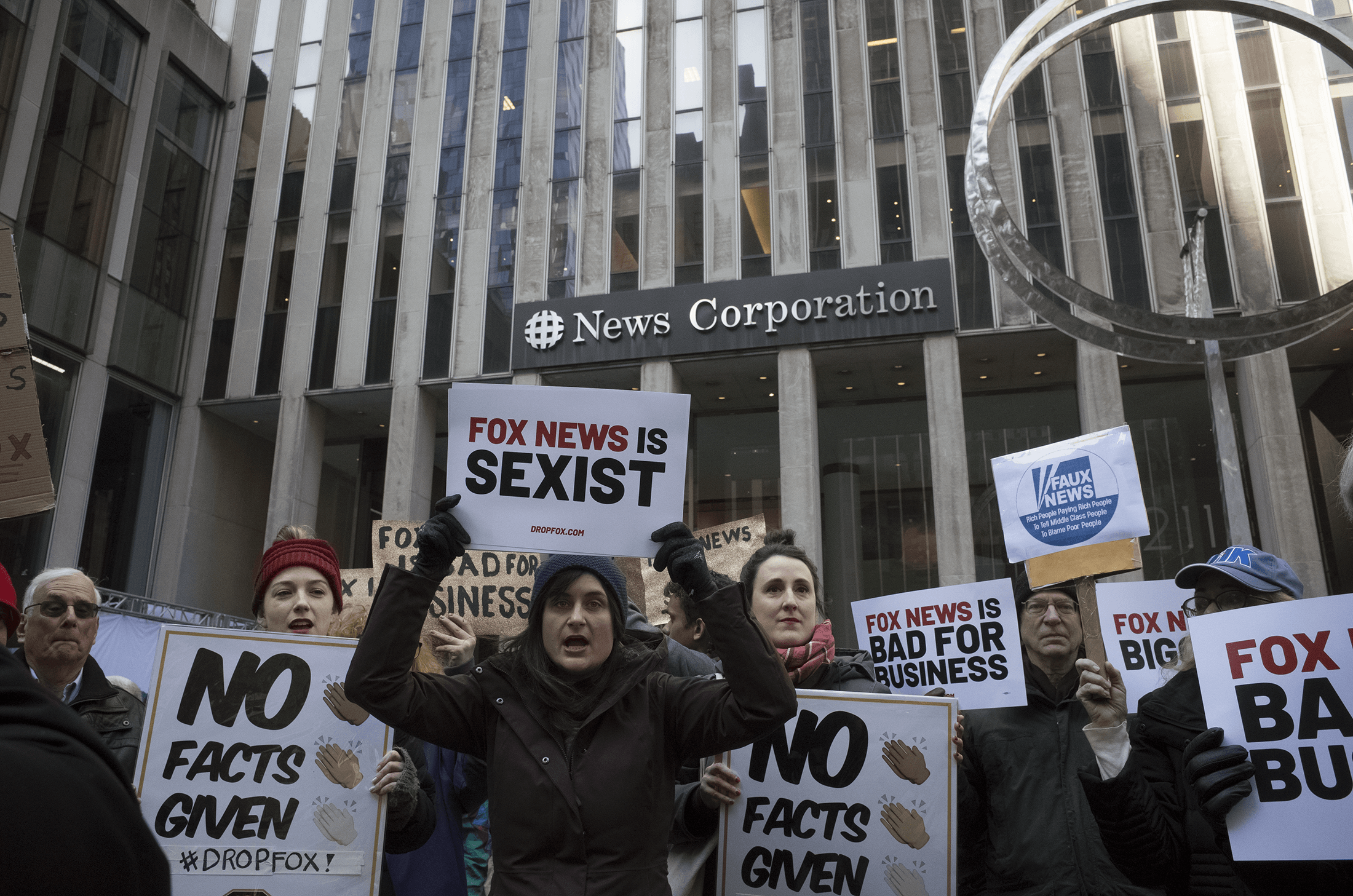 "No company should associate its brand with a media outlet known for spreading propaganda, fomenting racial fear and silencing sexual assault victims," said Timothy Karr, Free Press' Senior Director of Strategy and Communications. "The exodus of advertisers from Fox News is a sign that the Murdochs have crossed too many lines, for too many people. While their extreme mix of misinformation and hatred may work for a certain resident of Pennsylvania Avenue, it's become toxic on Madison Avenue and Main Street America."
"In the 11 years since I first directed 'Outfoxed: Rupert Murdoch's War on Journalism,' we've seen Fox not only keep up their bad behavior but find new ways to spread hate as they have (d)evolved into the sophisticated propaganda machine that we know today," explained Robert Greenwald, Brave New Films.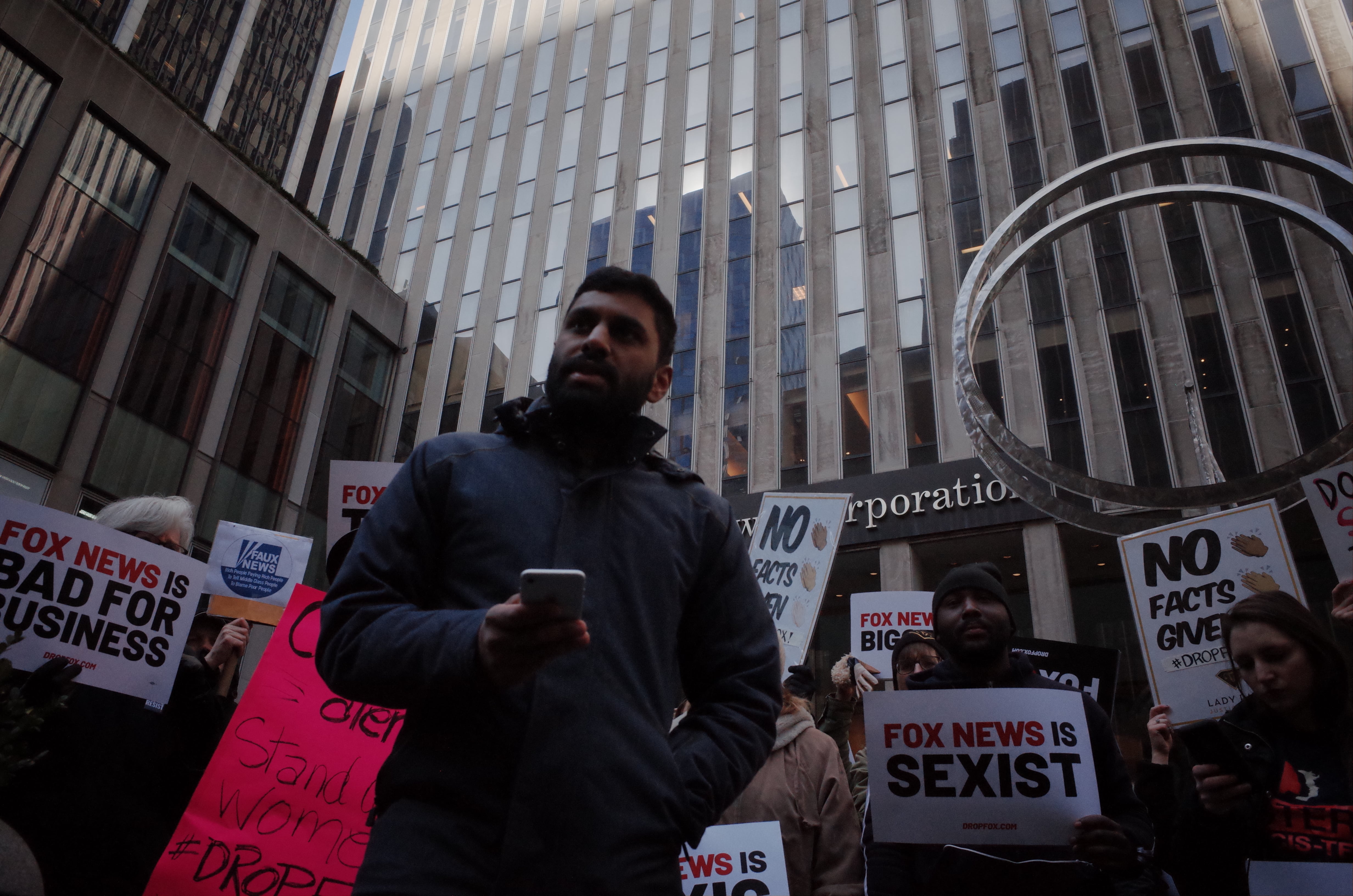 "Between all the sexual harassment and sexual assault, how does Fox News find the time to also produce 24 hours of racism and bigotry every day? It's impressive," added Lizz Winstead, founder of Lady Parts Justice League.
"For too long, people like Tucker Carlson and Jeanine Pirro have polluted our airwaves and reached millions of Americans with bigotry, Islamophobia, and racism — all because they think advertisers will give them a free pass," said Josh Nelson, co-director of CREDO Action. "That's changing as more and more advertisers realize that Fox News is toxic, and that sponsoring the network's right-wing propaganda machine is a surefire way to anger huge swaths of America. We're here to tell advertisers that it's not worth the risk: take your money elsewhere, skip the controversy, and send a message to the country that your brand isn't associated with toxic misogyny, bigotry, and racism."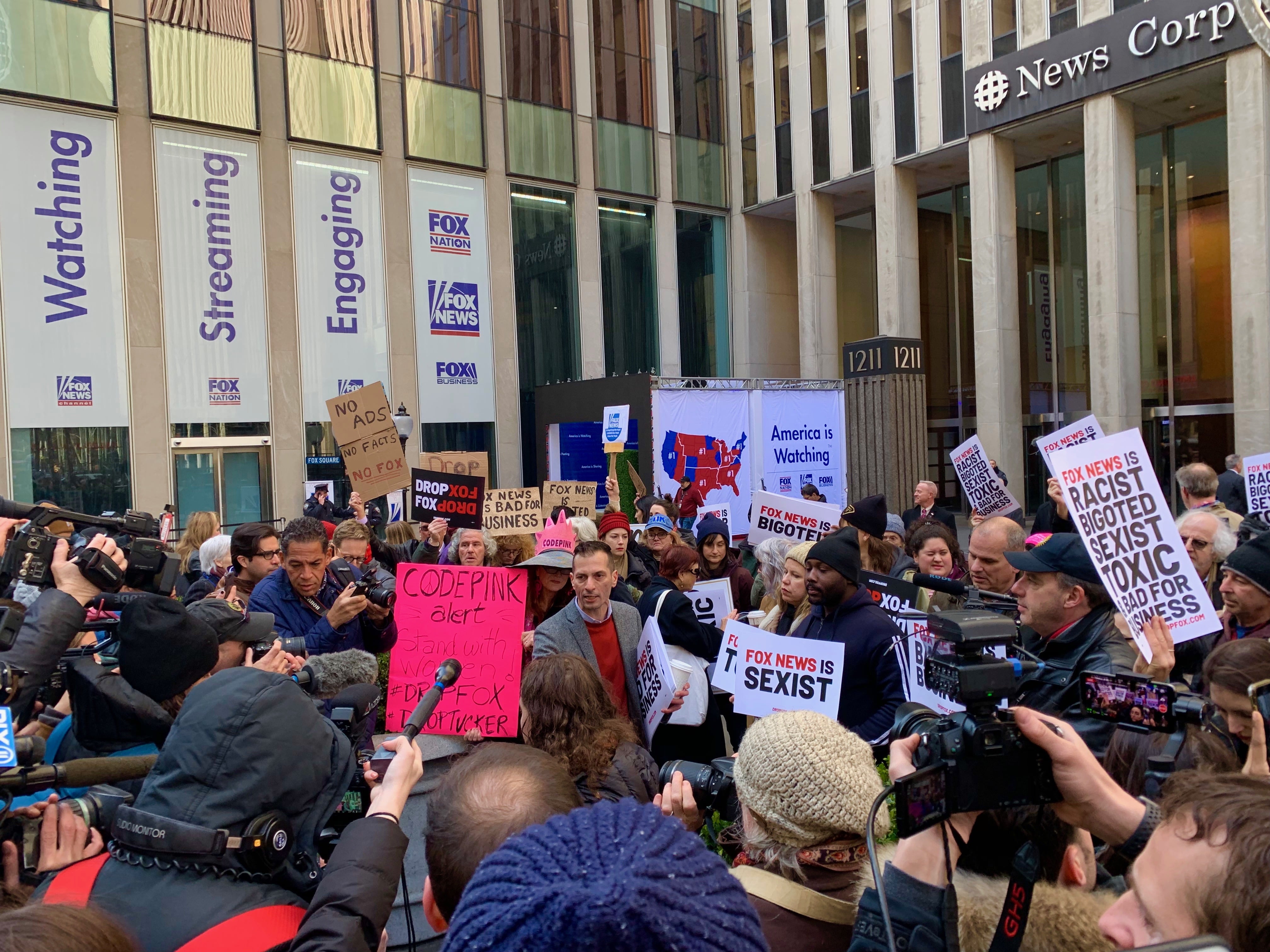 "Tucker Carlson's dangerous misogyny, defense of domestic abusers and statutory rapists, and perverted comments about underage girls are vile - but frankly, they shouldn't be shocking for anyone who has watched his program before - this is the real Tucker Carlson, and this is the real Fox News," explained Angelo Carusone, president of Media Matters for America. "This isn't the first time a Fox News host has gotten the network in trouble, and it won't be the last. Fox News is racist, bigoted, sexist, toxic and a pro-Trump propaganda operation without any concern for truth. The message to companies and their media buyers is clear: No matter what time of day you advertise on Fox News, you support the network's extremism and bigotry. Quarantining your ads to only a small subset of programs will not insulate your brand from public rebuke when Fox News' next controversy strikes. Both the "news side" and the "opinion side" are cogs in the same propaganda machine. The network as a whole is the problem, not merely a few prime-time hosts."
"Going back decades, Tucker has relied on misogynist and racist talking points to power his media career and has steadily escalated his rhetoric to the full blown white supremacist ideology he spews today. I've been able to piece together the overall trajectory by watching his show on a nightly basis and looking backwards to see the roots of his extremism,"  said Media Matters Researcher Madeline Peltz who authored Media Matters' reports about the recently unearthed audio of Tucker Carlson making misogynistic, perverted and racist comments.
Updated on