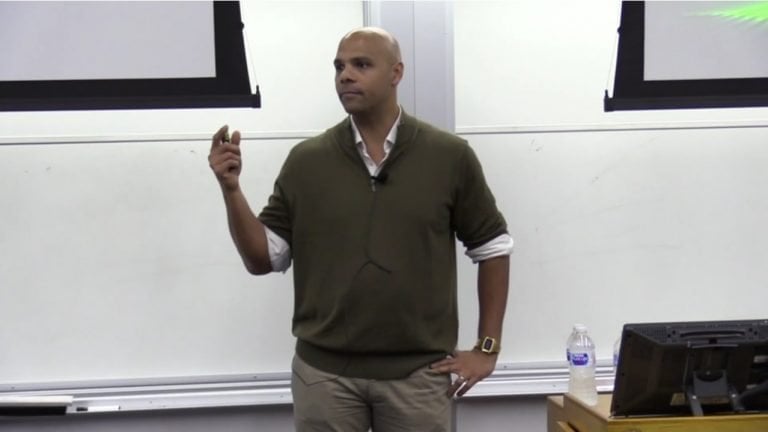 On November 2, 2018, the Program for Financial Studies hosted Chris White, CEO of ViableMkts, in teaching a Market Structure Workshop to MBA and Masters students.
Chris White, CEO, ViableMkts: Market Structure Workshop
Q4 hedge fund letters, conference, scoops etc
Consistency is what makes the top 50 best-performing hedge funds so strong
Every month and quarter, multiple reports on average hedge fund returns are released from several sources. However, it can be difficult to sift through the many returns to uncover the most consistent hedge funds. The good news is that Eric Uhlfelder recently released his "2022 Survey of the Top 50 Hedge Funds," which ranks the Read More
Transcript
When I'm assuming some of your ages out here when I was your age it was just trying to figure some of this out and what I'm hoping to do in this time with you is accelerate your process by changing the way you think about markets. And so this can be very very powerful not just for financial markets. This can actually be truly powerful for entrepreneurship. Figuring out what it is that needs to be built what is the market missing and how do we build it is something that I believe you can get from my course. Now I think that there was some talk about addressing crypto currency trading it's really exciting. But when I heard that that was what this group was interested in I really should push back slightly. And the reason why is because most people do not have a basic foundation in market structure.
And what this courses is I call it financial market dynamics. It's the study of why markets work. And so one of the things you know some of you are eating and that's fine. But this is not me talking here for two hours. This is not how this course went. This is an interactive course in which I'm going to ask you questions and I'm really listening to your answers because the way that discourse works is your fellow teach your fellow students are going to learn from you. Some of the questions that you asked some of your thinking were going to work through stuff together because I want to make sure that you have this foundation in the way that you approach your thinking process around market structure.
If you've got that foundation and build out or you're cooking with gas in terms of being able to evaluate what's going on out there come up with some of your own ideas and also predict the future. All right so this course has several modules. I'm going to start with this basic module because we needed to kick everything off and then depending on what your interest is we can kind of jump around a little bit. But the first thing that I really want to talk to you about and you get in your hands is really important for understanding the rest of this course. The first question I have is what is the market. Sorry for prehaps.
Will make that mistake again. I like someone's view. What's the market. Yes. It's a mechanism for us. Okay. And the other answer is yes. Abidance that is not a physical place unaesthetic. Okay. Any other answers.
Yes the kind actions are executed. Okay. Again the fiscal place you're thinking of market is somewhat data and that's the market is really able to see data. Well a market is actually a social arena for buyers and sellers we they can meet virtually or they can meet physically but these are three different markets. We recognize these two this is the futures pit. Maybe 60 years ago. OK. But one thing I want you to start thinking about when you walk into a supermarket. Do you know how it works. You know what you're supposed to do right. You know who doesn't know how works. There's a little kids that are getting they're getting spanked in supermarkets right. They don't know you're not supposed to just take stuff off the shelves and start eating in flea markets you go to flea market you know how it works. Here you might have to figure it out. But one thing I want to make clear here. There's no rule book. You learn as a human being how a market works basically by observing other human beings and being informally taught.
And so when we think about a market of markets really nothing more than a system of shared rules which can be can be laws or collective understanding pretty much held in place by custom or explicit agreement. That's what the markets markets have been around since human beings have been around. Of course they started out as being physicalist people meetings. But you have to think about the rules of engagement in the market. How do we get here. How does this person know what their role is and that person knows what their role is.
And so when you're thinking about markets and it's going to make it a lot easier for you to understand financial markets. I'm going to translate this collective understanding piece what really markets are markets or culture. And when you look at markets as culture the same way we kind of look at social culture.
Updated on