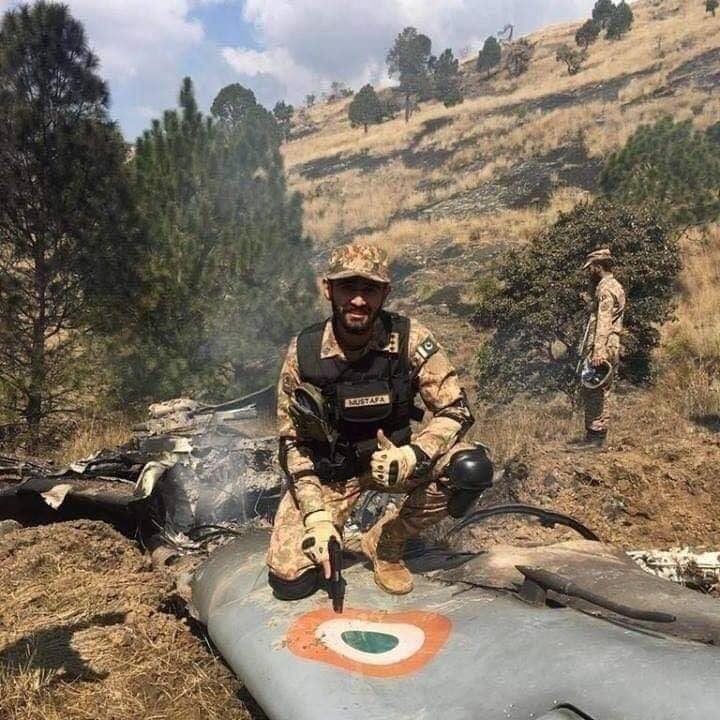 This week the Indian Air Force (IAF) violated the Line of Control (LoC) with Pakistan and proceeded to drop bombs in Pakistan territory. According to Indian military forces 'dropped bombs on a terrorist camp in Pakistan,' in response to the February 14th attack by the terrorist organization Jaish-e-Mohammad (JeM). Pakistan has denied Indian reports that the bombing raid struck terrorist camps on their side of the LoC, with evidence appearing to show Indian media broadcasting footage of a 2017 bombing.
Pakistan Shoots Down Two IAF Jets
Earlier today, Pakistan has claimed to have struck back against IAF jets who again violated the LoC, Indian officials have yet to officially respond to the incident as of the writing of this report, however, pictures of the downed warplanes began appearing on social media — among reports of Pakistan capturing an IAF pilot. Some outlets are reporting Pakistan captured the other pilot, ValueWalk is unable to confirm those reports at this time or independently verify the images are of downed IAF warplanes. Yet, video exists of a pilot claiming to be of the IAF.
Pakistan army releases images of a downed Indian jet and documents/guns recovered from the captured pilots.#PakistanArmyZindabad #PakistanStrikesBack pic.twitter.com/g6i8Wl2Z59

Seth Klarman Describes His Approach In Rare Harvard Interview

In a rare interview with Harvard Business School that was published online earlier this month, (it has since been taken down) value investor Seth Klarman spoke at length about his investment process, philosophy and the changes value investors have had to overcome during the past decade. Klarman's hedge fund, the Boston-based Baupost has one of Read More

— SahibzadaAhmedAbbasi (@SahibAhmedAbasi) February 27, 2019
https://twitter.com/BhittaniKhannnn/status/1100677168789704704
Major General Asif Ghafoor, Spokesperson of the Pakistan Armed Forces published the following tweet concerning the incident.
In response to PAF strikes this morning as released by MoFA, IAF crossed LOC. PAF shot down two Indian aircrafts inside Pakistani airspace. One of the aircraft fell inside AJ&K while other fell inside IOK. One Indian pilot arrested by troops on ground while two in the area.

— DG ISPR (@OfficialDGISPR) February 27, 2019
A press conference with Ghafoor was published approximately an hour after the preceding tweet.
"Pakistan is not pushing the environment towards war. If that was the case, we could've engaged military targets, or caused human casualties today. We deliberately avoided escalation. We just wanted to show our capacity to strike," Ghafoor stated during the press conference for the media in Pakistan. "We locked, engaged and struck in a wide, open space, kept a safe distance. This was not retaliation in the true sense. We just wanted to show our capability," he continued.
BREAKING MOMENTS when Indian Pilot Wing Commander Abhi was captured alive,and Pak Army actually acting to protect him from revenge by locals. #PakistanStrikesBack pic.twitter.com/SUUaV9yDaj

— Pak Defence (@pak_def) February 27, 2019
A team of the Pakistan Army receives a hero's welcome as it arrives at Bhimber Brigade, Azad Kashmir division, with captured IAF pilot Abhinandan Varthaman. #PakistanStrikesBack #PakistanZindabad pic.twitter.com/esCj1KVhSr

— Ali Salman Alvi (@alisalmanalvi) February 27, 2019
An Escalating Situation
"At about 1730 hours, Pakistan initiated unprovoked Cease Fire Violation by resorting to heavy Shelling using Mortars and Firing Small Arms along LoC in Akhnoor, Nowshera and Krishna Ghati Sectors", said Lieutenant Colonel Devender Anand, defense spokesman at Jammu to Indian Media. He would also tell CNN that on Tuesday Pakistan troops opened fire at 15 places across the LoC in Jammu and Kashmir, injuring five Indian soldiers. ValueWalk cannot independently verify if the incident occurred.
At a Tuesday press conference Pakistan Foreign Minister Shah Mahmood Qureshi, Finance Minister Asad Umar and Defence Minister Pervez Khattak held a joint press conference where Qureshi would state "We will act, not react" and "do not underestimate them [the PAF] and their ability and capability to defend Pakistan," while urging that Pakistan was working toward de-escalation. Whether or not the Minister was foreshadowing his belief that the IAF would again violate the LoC, is unknown.
China who has an economic interest in the region due to the mega China-Pakistan Economic Corridor (CPEC) deal asked both countries to use 'restraint' prior to the incident on Wednesday.
Prime Minister of Pakistan, Imran Khan would also speak about the event on Wednesday, "It is not in the interest of Pakistan that its soil should be used for exporting terror. Similarly, Pakistani soil cannot be subjected to terror," Wajahat Saeed Khan, a multimedia journalist in Pakistan summarized the event at the beginning of a tweet series quoting the Prime Minister. 
Two Indian MiGs who entered Pakistani airspace today after our retaliation were shot down. But where do we go from here? – @ImranKhanPTI #PakistanStrikesBack

— Waj Khan ✊🏽✊🏾✊🏿 وجاحت (@WajSKhan) February 27, 2019
All wars have started due to miscalculation. World War 1, World War 2, Vietnam, the War Against Terror – @ImranKhanPTI #PakistanStrikesBack

— Waj Khan ✊🏽✊🏾✊🏿 وجاحت (@WajSKhan) February 27, 2019
Can we afford a miscalculation? Have we accounted for where we will go from here. That's why, I again invite India for dialogue – on terror, or any other issue. Better sense should prevail – @ImranKhanPTI #PakistanStrikesBack

— Waj Khan ✊🏽✊🏾✊🏿 وجاحت (@WajSKhan) February 27, 2019
We should sit down and talk about differences – – @ImranKhanPTI #PakistanStrikesBack

— Waj Khan ✊🏽✊🏾✊🏿 وجاحت (@WajSKhan) February 27, 2019
The Next Steps
At some point, India will make an official response regarding the two downed jets and their origin. If they do indeed belong to the IAF, the captured pilot(s) could be used as a bargaining chip by Pakistan in exchange for their release. Even such a situation would not guarantee further escalation between the two countries as hostilities and ill will seems to be mounting as the days go by.
However, China and Saudi Arabia could play a role in helping prevent a war from breaking out. Both countries are heavily invested in CPEC and do not want a war in the region to put the deal in jeopardy. The larger international community could help prevent war, but it could turn into various countries picking sides rather than playing a role in finding a solution which doesn't turn into a humanitarian crisis.
If Pakistan honestly does not wish to 'react' to recent events in an offensive manner the situation may come to a close without much further conflict. Although, if the IAF continues to violate the LoC — Pakistan may decide to drop their defensive stance and move to escalate the situation.
War can still be adverted if Indian Prime Minister Narendra Modi and Prime Minister Khan meet and hash out a diplomatic resolution. Wajahat Saeed Khan summarized the possibility in a tweet prior to Prime Minister Khan speaking to the media on Wednesday.
https://twitter.com/WajSKhan/status/1100670405122162688
Updated on