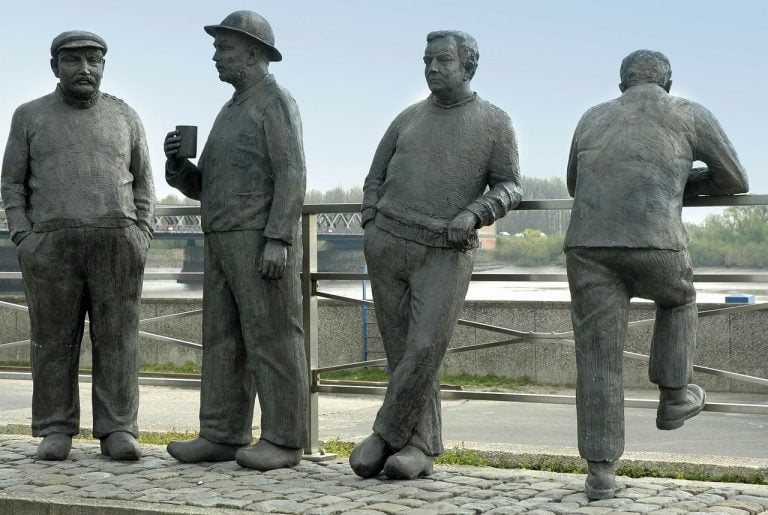 In general, the markets seemed to be shaping up to be similar to what they looked like a year ago performance-wise. January was a month of strong returns, and now that we're into February, we're suddenly seeing a steep pullback. It remains to be seen whether the rest of the month will be as tumultuous as last February was.
However, a bit of good news is that even though the market performance is looking a lot like it did last year, the setup is quite a bit different, according to one firm. As a result, it's possible this February won't be as bad as last February.
Q4 hedge fund letters, conference, scoops etc
Hedge fund thesis for Spirit Airlines and AerSale, a recent SPAC merger
Prescience Partners returned 6.75% for the second quarter, underperforming the S&P 500's 8.55% return but coming out ahead of the Barclay Equity Long/ Short Index's 2.62% return. However, for the first six months of the year, Prescience is up 30.66%, doubling the S&P's 15.25% return and smashing the Barclay Equity Long/ Short Index's 9.27% return. Read More
Similarities in performance
In their recent "Hedge Fund Update," Morgan Stanley analyst John Schlegel and team focused on the performance and setup of the early-year markets in 2018 and 2019. They noted that many of the markets are on a "very similar trajectory" as they were last year. Many of the major market indices were up in the mid-high single digits in January, including the S&P 500's and MSCI AC World's 6% to 7% gains each.
Hedge fund performance finally started to bounce back as well, which is welcome relief for an industry that could do little more in Q4 but remark on how strange and difficult the quarter had been. According to Morgan Stanley, average hedge fund returns were up "a similar amount" in January as they were a year ago.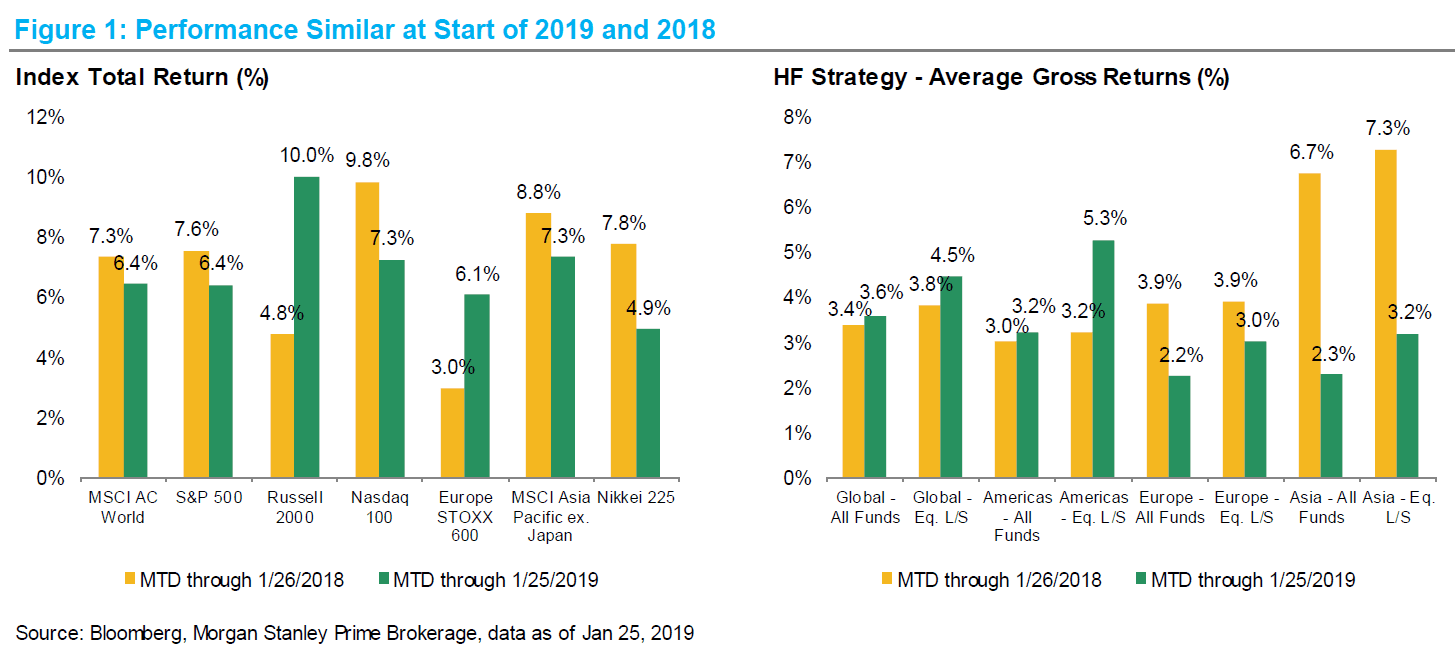 U.S. hedge funds are doing "a bit better," and they cite strong performance of crowded stocks as a key reason for this. This means the handful of hedge funds which managed exceptional performances by avoiding crowded stocks in Q4 probably saw a reversal of their fortunes in January. Morgan Stanley also noted that small-cap stocks outperformed as well.
However, Asia hedge funds have lagged their counterparts from other parts of the world, and the firm chalks this up to much lower net positioning this year compared to last year.
Here's why the markets may not sell off as steeply this month
The Morgan Stanley team also explained why they think the steep selloff observed in February 2018 may not repeat this year even though January looked much like January 2018. They explained that hedge funds have generally held their leverage far below where it was a year ago when leverage was at peak levels.

They also noted that if the asset markets continue to stabilize, hedge funds could increase their net leverage, but they don't have to do so.
The Morgan Stanley team also observed another reason to think this month won't bring as steep of a selloff as last February did. They said that last year, some funds were selling into the market strength in January after significant buying due to short covering at the end of 2017. These flow trends pushed net positioning close to highs last year. However, this time the selling is arriving with much lower net leverage after a tumultuous fourth quarter.

Extreme sector positioning: Auto, Energy and Semis
Schlegel and team also examined positioning based on sectors to identify where exposure is sitting at extreme levels amid the Q4 earnings reporting season. They said that after selling North American equities for most of January, funds started adding to their long positions late in the month, which they hadn't seen in about four weeks before that.
Earnings season is now in full swing, so the Morgan Stanley team examined each sector for earnings revisions and weighed them against fund positioning. This year they observed some of the biggest downward earnings revisions of the last several years in Auto Components, Energy and Semiconductors. As we would expect, hedge fund positioning in these industries has also fallen to lows, they said.
However, underneath the hood, they observed some different trends. For example, in Auto Components and Semis, long exposure is at lows while short exposure is "quite high." Additionally, long and short exposures in Energy have fallen to their lowest levels since 2010.
High exposure: Hotels, Restaurants, and Leisure, Biotech, and Software
The Morgan Stanley team also found that net exposure among hedge funds to Hotels, Restaurants, and Leisure, Biotech, and Software is either at or close to record highs looking back to 2020. They added that these three industries haven't seen major downside earnings revisions.
As a result, they warned that if earnings revisions within any of these industries should shift into the negative, then positioning in them could be at risk. They added that long exposure is at highs in all three industries, while short exposure is closer to the median for Hotels, Restaurants, and Leisure and Biotech. However, short exposure to Software has been climbing steadily to make new highs.
Low hedge fund positioning, Banks, Media and Pharma
The Morgan Stanley team also reports that earnings revisions in Banks, Media and Pharma remain "well above" the lows recorded in 2015 and 2016. Despite that, hedge fund positioning in these industries remains low in the 10th percentile or less, signaling little hedge fund conviction in these industries despite the lack of downward earnings revisions.
This article first appeared on ValueWalk Premium