Whitney Tilson's email to investors in which he pays tribute to John Bogle; calls Avon a scam; and talks about Herbalife; Chico's; Tilray; Signet Jewelers; Goldman Sachs.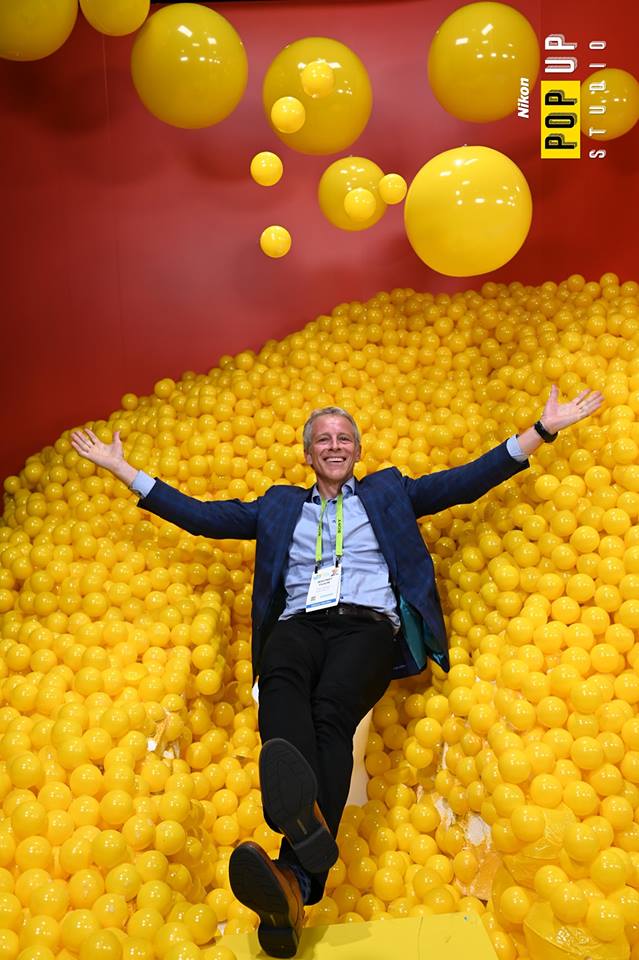 1) The investing world lost a giant – a true warrior for average investors. Here are some articles that pay tribute to John Bogle:
Alkeon expects data growth to surpass 5G's capabilities by 2028 [Q4 Letter]
Alkeon Growth Partners wrote at length on tech stocks and why they are defensive in their recent letter to investors, which was reviewed by ValueWalk. The fund also highlighted 5G and other advanced technologies and the investment opportunities they offer. Q4 2020 hedge fund letters, conferences and more Artificial intelligence and machine learning The Alkeon Read More
John C. Bogle, Founder of Vanguard Group, Dies at 89
Jack Bogle Was Proud He Wasn't a Billionaire
5 Pieces of Advice from John Bogle
Q3 hedge fund letters, conference, scoops etc
2) A few follow-ups from my email on the ICR conference earlier this week: I was stunned to see that the shares of Avon, the granddaddy of the multi-level marketing scam, oops, I mean industry, have declined by nearly 95% over the past decade, closing today at $2.01! Here's the 10-year chart:

Will Herbalife follow the same path?
3) There were some fireworks at the Chico's breakout session. As background, the stock has been cut in half over the last 3+ years since Shelley Broader took over as CEO. My friend David Berman, a retail expert who gave a great presentation at our shorting conference on Dec. 3, asked her, in response to her acknowledgment that margins were weak in the most recent quarter, why she keeps saying inventories are not a problem when they've risen faster than sales in 11 of the last 12 quarters, and if she was aware of the relationship between margins and inventories.
It was a tough but totally legitimate question.
At first, CFO Todd Vogensen said David's numbers were wrong, but as this chart David provided me shows, they're not: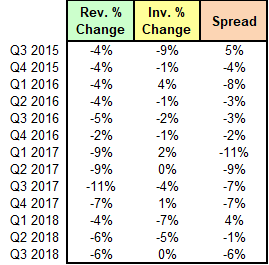 Then Broader, clearly rattled, came out into the audience to where David was sitting and aggressively stood over him as she almost shouted her answer. Here's a picture of it: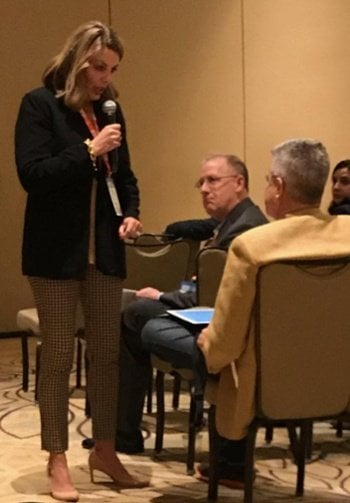 One friend who observed it said she was like Trump in the debate vs. Hillary. Another said if a male CEO had done this to a female analyst, he would have been fired immediately. These are the tells you look for on the short side…
4) I really enjoyed this long profile in Fortune of the CEO of Tilray, Brendan Kennedy: The Marijuana Billionaire Who Doesn't Smoke Weed. It's a great entrepreneurial story and Kennedy is clearly a very savvy CEO – but it doesn't change the view I expressed on Yahoo Finance TV the hour it peaked at $300 last Sept. 19 that the stock was in an enormous bubble/short squeeze and would decline by 90% in the next year. Down another 7.5% today to $77.20, it's already down 74% in only four months… Excerpt:
The doubts that dogged Kennedy the longest stemmed from his own ambivalence about the product. He began personally experimenting with pot after decades of abstinence, but he doesn't remember any catharsis and didn't like the unpredictability of the experience. His wife, Maria Chapman, says she's never seen him high. Kennedy struggled to reconcile the enthusiasm he was hearing for therapeutic use from military vets and cancer patients with his own antidrug upbringing. "That was the hardest part from a D.A.R.E., cracking the egg on the frying pan, 'This is your brain on drugs' perspective," Kennedy says. "How could this thing that Nancy Reagan said was so bad be a medicine that people use?"
5) Hat tip to Matt Kliber of Gracian Capital, who pitched Signet Jewelers at our shorting conference on Dec. 3 – it's been cut in half in only six weeks since then, as you can see in this chart: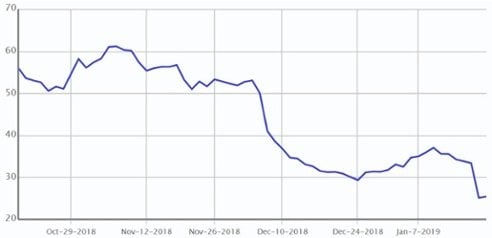 6) It's not at all surprising that Goldman's senior executives are trying to make the case that they were duped by a rogue partner, but it's total BS. Of course they knew something shady was going on when they were making many multiples of their usual fee selling bonds for Jho Low and his fraudulent scheme at 1MDB – but as long as the money was pouring in, nobody wanted the gravy train to end. For the details, I recommend reading this highly entertaining book, Billion Dollar Whale: The Man Who Fooled Wall Street, Hollywood, and the World. Here's the article in today's NYT: Goldman Sachs's Tactic in Malaysian Fraud Case: Smear an Ex-Partner. Excerpt:
In part, Goldman is using the presentation to argue that, given Mr. Leissner's supposed slipperiness, the bank's compliance system should not be faulted for failing to detect his scheme. The bank also is hoping to dissuade authorities from relying on any testimony or cooperation that Mr. Leissner might provide and that could put Goldman in a bad light.