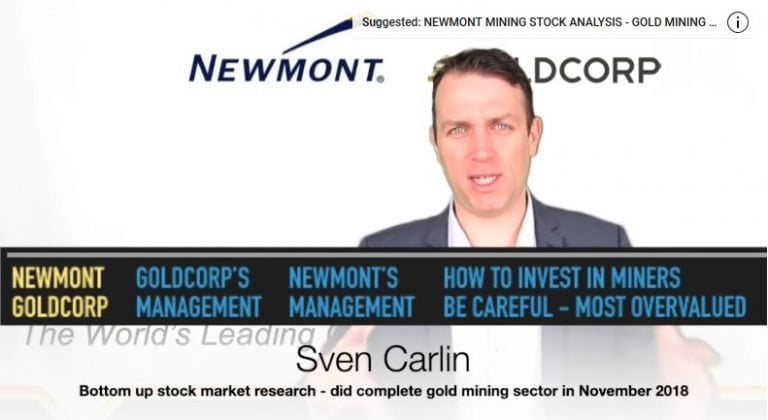 Newmont Goldcorp Stock merger analysis and discussion. In November I spent the whole month looking at gold mining stocks and what I found wasn't really special. This merger is just a continuation of management policies in the industry. Gold miners are a tough place to invest.

Newmont Goldcorp Stock Merger Analysis – Gold Mining Stocks
Q3 hedge fund letters, conference, scoops etc
This Long/ Short Equity Firm Sees A Time-Arbitrage Opportunity In This Pest Control Merger
Yost Partners was up 0.8% for the first quarter, while the Yost Focused Long Funds lost 5% net. The firm's benchmark, the MSCI World Index, declined by 5.2%. The funds' returns outperformed their benchmark due to their tilt toward value, high exposures to energy and financials and a bias toward quality. In his first-quarter letter Read More
Transcript
Because they feel investors I received I think about 40 to 50 questions about what I think of the Newmont GoldCorp. merger and I have analyzed I have made videos both about Newmont both about Goldcorp. So let's discuss this merger so that I can give you my opinion as you requested it. The first thing is my intrinsic value of GoldCorp. Gold Corp's value of the minds of the future cash flows at current gold prices was about half a billion the market cap was what five billion. So that is the first reason and then I logically think OK the management knew that okay what we own is mostly shitty. So what can we do. How can we save ourselves. The stock price of GoldCorp. has been in freefall for the last year. So they don't get stock options. They don't get anything. But if we merge with a big company like Newmont then we have again stock options with the better company with a better price and Newmont had let's say better assets. Goldcorp was a stock for higher gold prices and this movement from the management actually shows how investors get screwed with gold miners because the focus of managers is on their own benefit not on investors. 99 percent of the gold miners out there have their main focus on their selves not on shareholders. Goldcorp was a clever play on gold prices. If gold prices would have increased significantly the stock would have exploded.
However the investors that invested in Gold Corp with that notion in mind that Gold Corp is going to grow 20 20 20 to 20 percent production 20 percent lower cost 20 percent expansion in resources. Plus if gold prices would have gone up as they did even a little bit over the last month then they should have made a really really good. But the management failed to deliver how to solve the situation how to solve that. The actual value of the company goes to half a million. How can we take the management's some advantage of what's going on. Shareholders could have always sold the stock. So how can we take we can merger. We can make a merger or we can be acquired by Newmont and I'm very very interesting and curious to go perhaps one day if I have the time to read about the shareholder or the management options that were transferred from Goldcorp door Newmont and how much money will the management make in this transaction. So screwing shareholders first think or not even thinking about shareholders is on top of Goldcorp's mine in mind in this case because OK they led a failed on their promises because that's why there were. That was the news over the last time on Newmont side. Now we had burek that acquired Drenthe gold. So there was some excitement. OK the CEO has a bigger company more mines more ounces more production I'm probably getting rewarded for what I'd do so if I do things I'll get higher rewards I get the bigger plane. There is no synergies between mines. If I listened to a Bloomberg interview from the Gold Newmont CEO says the there will have synergies with the head office there will have synergies with the regional offices and blah blah blah like that.
So there is no real synergies. It is mining. You can hire special squads. The technology that says the mines how to do it than Cetra what Newmont wanted is growth as Barrick has merged with around the gold. So they want that. Oh we have to grow to we have to be at high at that ETF level. We have to do something to deserve a bigger plane a bigger salary a bigger parachute more options et cetera et cetera and the market hasn't rewarded Newmont for what they have been doing because it's another stupid thing to do. So no value creation here it's not an acquisition it's not synergies it's not anything. It's just too management's trying to improve their situation. And as I look over and over as I looked through all the gold miners traded out there I think in more than 50 of them for my stock market research firm I did see that there is really really mostly overvalued miners and bed management with own interests and I think the most important factor with this merger.
Updated on