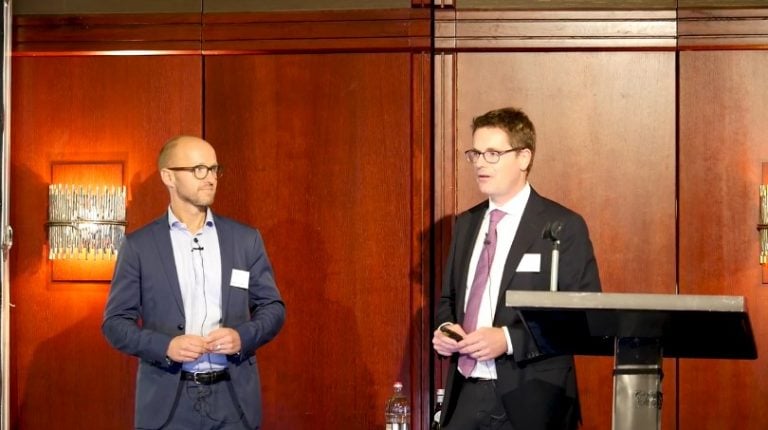 In the first part of their presentation Léon Kirch and Allan Saustrup Jensen from European Capital Partners are talking about Value Investing in the current market and from 14:55 on about the case of Krones. Krones AG is a developer and manufacturer of machines and lines for processing, packaging and filling based in Germany.

European Capital Partners: Value Investing In The Current Market And Krones
Q3 hedge fund letters, conference, scoops etc
Morningstar Investment Conference: What To Do During Fed Hiking Cycles
Value investors have been enjoying a recovery of value strategies, but one fund manager says that won't last long. At the Morningstar Investment Conference on Monday, Michael Grant, co-CIO and head of long/ short strategies at Calamos, said growth outperforms value during Fed hiking cycles. What To Do When You're Not Fighting The Fed He Read More
Transcript
Good afternoon ladies and gentlemen. Well thanks for attending. After the coffee and coming back. We'll of course also speak about value investing. But first let me present Helen and myself. So my name is. Well start with and of course it's my up and the. We work together at European Capital Partners which is fund management Boutique here in Luxembourg. Ellen has been in the previous stage of his career he has been my trader for they are European Value funds. I was one of the managers myself. I started my career.
It's already now more than 20 years ago at Luxembourgish bank in Luxembourg and suddenly in 2002 I joined to become one of the managers of snow they are Yupin Value Fund which I manage between 2002 and 2014. I joined boutique and in one of the previous ECP in one of the previous speeches there was a lot of discussions on skin in the game and alignment of interest were at one of the reasons we represent ECP he said. We try to have. As a company lot of alignment of interest. I'm personally owning half of business. We are all invested in our strategies. We come and actually the second shareholder comes is a real entrepreneur and entrepreneur outfits coming from the private equity world also is a very long term mindset but we are not talking too much about ECPA but more about what we're actually doing and where it's still the same slide. Unfortunately last year I'm not innovating a lot in terms of investment philosophy it has been the same since 2002 when I started at Nodia but at ECP what we're trying actually to do is to apply the same investment philosophy but go back to the rules and here our investment philosophy is simply based on three important pillars and I think a lot of the elements a lot when I listen to the presentations during the day a lot of the elements are recovering and coming back in different forms also in in in in investment in our investment philosophy of there must be a common denominator to value investors in some way. So the first pillar is now here for us. And to. Me It simply is the definition of risk which is important because an entrepreneur when he wants to to invest in the business he probably doesn't look at the historical volatility of the stock price he doesn't get to be what he looks at is the fundamentals of business and overseas more than 15 years and now appliances philosophy. Each time the investment went where it all went very wrong. Some also went unfortunately wrong. It was due to fundamentals. It was either development in the fundamentals which we didn't get. Or understand fully understand or it for something unexpected happening and we didn't adjust on time in our model.
So the second part the second pillar is value we are a value investor as well. I'm not trying here to which is converted already. But what these four value investing I think value investing simply means that when we look at the business in our modeling we run the business for cash. So we look at how much earning power Kenzie's business generate. We have nothing against gross growth for business. It's very important. However we find that it's very difficult to estimate that growth correctly. So we prefer to look at earning power and earning power is defined as well as has a long definition it's the capacity of the business to generate discretionary free cash flow. So it's actually operating cash flow in the growing company in the normal year minus the maintenance CapEx and then we are value investors because of course we look at some margin of safety. And for us that concept is very important. We didn't invent it in Luxembourg you know that. But when Benjamin Graham initially used it.
Updated on