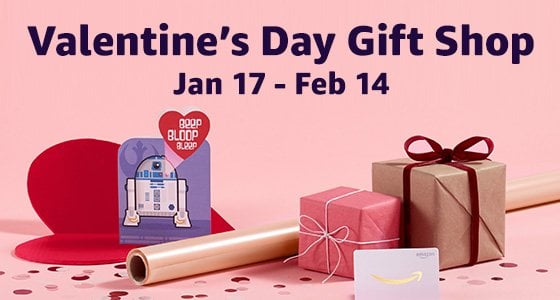 Amazon is a offering huge discounts on their Valentine's Day gift shop and much more for their 2019 promotion, "New Year New You." See all current live deals on the Today's Deals Page.
Q4 hedge fund letters, conference, scoops etc
Hedge fund managers present their best ideas at Robinhood [In-Depth]
The latest Robinhood Investors Conference is in the books, and some hedge funds made an appearance at the conference. In a panel on hedge funds moderated by Maverick Capital's Lee Ainslie, Ricky Sandler of Eminence Capital, Gaurav Kapadia of XN and Glen Kacher of Light Street discussed their own hedge funds and various aspects of Read More
Rams vs. Patriots: It's Almost Time for the Big Game!
It's almost game time! Rams and Patriots fans alike – stock up for the big game with deals on snacks and beverages from Coca-Cola, Kellogg, KIND and other sponsors.
Gift Shop Spotlight: Valentine's Day
Love is inclusive. No longer is Valentine's Day a holiday only for romantic couples, but a day to celebrate the important people that you love in your life.
Now through February 14, you can shop by recipient in curated gift lists for Her, Him, Kids, Pets, Friends and Coworkers and find both traditional gift categories like jewelry, candy, flowers, and greeting cards as well as non-traditional categories like electronics, home, luxury beauty, apparel, toys and more.
Valentine's Day Gift Shop: Grocery
February 14th is almost here and love is in the air. you can find the perfect Valentine's Day gift for your loved ones with Amazon's curated selection of chocolates, flowers, gift baskets and more.
Valentine's Day Gift Shop: Beauty
Give the gift of beauty, share beauty and grooming Valentine's Day gifts including fragrances, cosmetics, skin care products and more.
Deal Spotlight: Handmade
Save 25% off or more on handcrafted items made by Artisans from around the world including personalized jewelry, home decor, organic beauty products, leather handbags and more.
Audible Spotlight: The Nightingale
Releasing as a major motion picture on January 25, 'The Nightingale' is an unforgettable novel of love and strength in the face of World War II. You can get a free audiobook version of The Nightingale if you sign up for Audible Free Trial.
Last Chance New Year New You: Audible Deal
There are only a few more days for you to sign up for a 30-day free trial of Audible and get two free audiobooks of your choice and two Audible Originals PLUS a free copy of titles "Do Over: Rescue Monday, Reinvent Your Work and Never Get Stuck ," "Finding Ultra," and "Good Calories, Bad Calories: Fats, Carbs, and the Controversial Science of Diet and Health" for a total of seven free listens. Promotion ends January 31.
Audible Best Sellers: Exercise & Fitness
Check out best selling listens in exercise and fitness. Our customers have spoken and you will also want to check these out these top hits as they focus on their health for the new year. New trial signups can get any two FREE audiobooks plus your choice of one of three promotional titles. Promotion ends January 31.
Spring Break with Prime Student
Get ready for spring break with FREE Two-Day Shipping on travel necessities and more. With Prime Student, college students can enjoy the best of shopping and entertainment in the dorm, on the road or at home.
Category Spotlight: Musical Instrument Rentals
Musical instrument rentals are now available on Amazon. You can rent a wide variety of professionally inspected band and orchestra instruments with free shipping, returns and multiple rental periods to choose from.
Product Spotlight: Arlo Ultra Security System
Use cutting-edge protection for what matters most. Arlo Ultra 4K wire-free security camera delivers ultimate peace of mind with advanced video and audio quality, panoramic view, color night vision and clear two-way conversations.
Tax Season with TurboTax
Despite the government shutdown, the IRS confirmed that they will begin processing tax returns on Monday, January 28, 2019 and provide tax refunds as scheduled. TurboTax is already accepting tax returns and will securely hold them for transmission to the IRS and states once they begin accepting e-file. Use TurboTax today to file your 2018 taxes.
Bounty Spotlight: FreeTime Unlimited
FreeTime Unlimited is an all-in-one subscription that gives kids access to thousands of kid-friendly books, movies, TV shows, educational apps, Audible books, and games on compatible Fire, Android, iOS and Kindle devices. You can try FreeTime Unlimited free for one month!