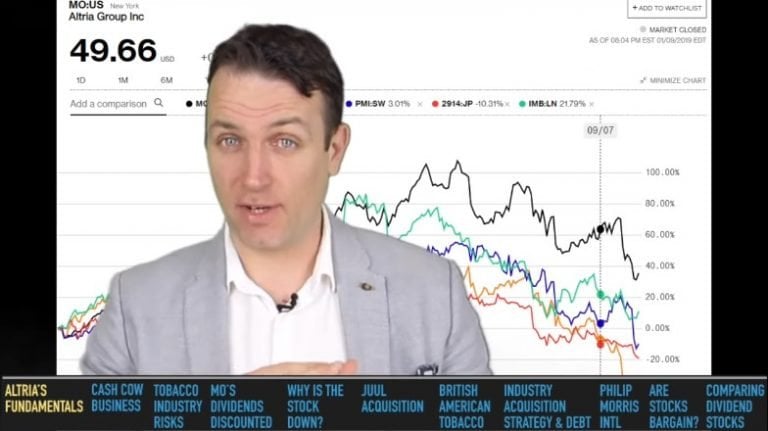 Altria stock analysis – perhaps one of the most requested stocks for me to analyze and that's logical, we have strong fundamentals, declining stock prices, high dividend yields, and a difficult industry to understand, due to lots of risks and uncertainties. Let's dig into the industry and discuss Altria, Philip Morris International, and British American Tobacco and talk about management, risks, investing strategy and potential long term expectations.
Altria Stock Analysis – High Dividend Yields, Strong Fundamentals, Declining Stock Prices
Q3 hedge fund letters, conference, scoops etc
Peter Lynch: How Investors Can Find Their Edge
Peter Lynch was one of the best growth investors of all time. As the Magellan Fund manager at Fidelity Investments between 1977 and 1990, he averaged a 29.2% annual return. Q1 2021 hedge fund letters, conferences and more The fund manager's investment strategy was straightforward. He wanted to find growth companies and sit on them Read More
Transcript
Good day fellow investors. Perhaps one of the most requested stocks for me to analyze were tobacco stocks and that's logical because we have seemingly strong fundamentals, declining stock prices, high dividend yields, and a difficult to understand industry, because there are lots of uncertainties lots of risks. So in this video we'll dig into the industry we'll discuss Altria Philip Morris International and British American Tobacco see their fundamentals see their businesses what is the management doing what you can expect over the long term and then try to figure out investment strategy if you have to be invested and then compare it to others compared to risk and reward. Calculate the present values and everything that comes into the package of looking at the sector. So let me just start with ultrafast fundamentals. So as I said stock prices down Altaria are really badly hit over the last year year and a half but very good over the five years British-American Tobacco very bad over the last five years and extremely bad over 2000 18 down 52 percent. But let's look at the fundamentals as I said ultrafast fundamentals look very very good. We have lined up revenues are up even if they have been stagnant for the last seven years line to net income had been stable but exploded in the last three years. Operating cash flows Mindfreak have been consummately positive and significantly increased in the last 12 months and getback spending is really minimal which leaves plenty of room for a high free cash flows which leads to dividends buybacksetc.
As I said dividends buybacks earnings per share growth of 9 percent 21 billion dividends paid 6 billion repurchases so total shareholder return 180 percent over the period. Very very very good with the evidence increasing. So you might say okay this is a great business. I really want this stock in my portfolio. However just a note on their earnings per share they say we have seen that they were very calm in the last years but those are four due to special items. The reported earnings per share were higher in 2007 due to the tax items that increased earnings by one point ninety one dollars while earnings in 2016 were higher due to the gain on AB InBev, SAB Miller business combination also bought by four point six dollars so you cannot really take the real earnings there because the actual earnings for the company have been freep on Free 2016 three point forty nine 2017 and are expected to be given the guidance around 4 in 2018. This means that the adjusted average price earnings ratio. If I use free or separate earnings of three point forty seven the current stock price is 50 so the price earnings ratio is 14 the price to book value is six so we can't really focus on that. Now was the reason for the stock price decline. Now a company like Alcivar you have to look at as a cash cow. So we have a stagnating business really hard to grow when cigarette usage volume is declining. So the only thing you can see is not invest anything in capital expenditures that they are actually not doing and really milk the cow as much as you can can. So it's a cash cow in the business cycle.
However when you have a cash cow like that then the only thing you can Bezier valuation on our future cash flows. So it could be like a bond but even worse because it's more like an annuity because when those cash flows dry up eventually in time there is no principle that gets back to you. So that's also something you have to take into account when discounting future cash flows. Fortunately for Altria shareholders the dividends have been growing as they work on efficiency over time. But the key is that OK for how long will the evidence grow for how long will the yield be five point seven per cent which is a good yield. And for how long will the dividend increase the tobacco business as they say here from the World Health Organization kills up half of its users. So leading cause of that illness and impoverishment. The governments know it and they are trying to prevent it. So the trend is actually pretty clear when it comes to cigarettes and there are also other threats like FDA regulation on nicotine and cigarettes and I always urge people to read the annual report and read the risk section of any stocks you might be thinking of investing in because it's pretty detailed as you can see here in the video on YouTube and you can see how.