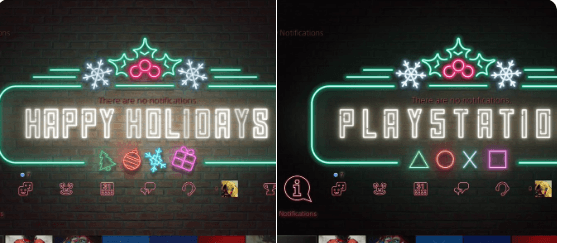 Fans are anxiously waiting for the PS5, but Sony, so far, has been quiet on its development. So, fans are constantly searching for any hint they can get on the console that suggests its release or specifications. One such hint, according to the users, came hidden in the holiday theme for PS4.
As in previous years, this year again Sony came up with a holiday theme for PS4 users. However, this year's holiday theme was special as it possibly came with the first PS5 teaser.
Sony's holiday theme for PS4 is a creative design and is heavily decorated with holiday items like a Christmas tree, ornaments, snowflakes and a gift. Despite the attractive decoration, fans seemed more interested in what was written in the theme.
Seth Klarman Describes His Approach In Rare Harvard Interview
In a rare interview with Harvard Business School that was published online earlier this month, (it has since been taken down) value investor Seth Klarman spoke at length about his investment process, philosophy and the changes value investors have had to overcome during the past decade. Klarman's hedge fund, the Boston-based Baupost has one of Read More
In one part of the theme, the phrase "Happy Holidays" was written in all caps – nothing special in it. Then "PlayStation" also appears in all caps. But in this word, what caught the attention of the fans was the font for the letter "S." Fans noted that Sony used a different font for the "S" in holidays and PlayStation. The font is so different that the "S" used in PlayStation appears more like a "5."
Many users noticed the same difference and were quick to point it out on social platforms. Some even said that this teaser is Sony's announcement for the next-gen console.
HOOLLLDDDD UPP.

Look at the S in "Holidays."
Now look at the S in "PlayStation."

Did @PlayStation just low key announce the PS5 in their holiday theme??? pic.twitter.com/8rfFUjao41

— Mike Peterson (@bmikeyp) December 18, 2018
Though many agreed to the possibility of the first PS5 teaser, some also came up with another theory, which seemed more believable. The second theory claims that Sony's holiday theme for PS4 celebrates the fifth anniversary of the PS4.
Last month, Sony celebrated the fifth anniversary of its console, which launched on November 15, 2013 in North America. So, the special font that looked like a "5" could have been there to signify the five years of the PS4. This seems more believable than the first PS5 teaser thing. It is very unlikely that Sony will give the first PS5 teaser in such a simple way.
PS5 release date – nothing is confirmed
Sony is yet to say anything officially about the PlayStation 4 successor. But, its executives have hinted about the next-gen console in development. A couple of months back, Sony president Kenichiro Yoshida said that it is important to have "next-generation hardware."
Earlier in May, PlayStation head John Kodera told that the work on the next-gen console may take several years to complete, suggesting a launch window of sometime in 2021.
Though there is no doubt on the existence of the PS5, the release year of Sony's next-gen console is getting harder to predict.
Analysts also are not settling on any one release year for the PS5 with some predicting a launch in 2020, some in 2021 while some in 2019. In July, Wedbush Securities analyst Michael Pachter told GamingBolt that he believes the PS5 will be backwards-compatible with the PS4 Pro and that it won't launch until "2019 or 2020, but probably 2019."
Such a launch date makes sense as it would be in line with the growth of the 4K TV market in the U.S. "I think Sony has probably got the next console cycle lined up already," he says, "I think they already know what they've got to do."
More recently, Pachter said that the Japanese company would release the new console in 2020. Further, he noted that the PS4 Pro would become the base model and get a reduction in price as well.
A recent report from Kotaku's Jason Schreier also backs Pachter's estimated release date for the PS5. Schreier spoke to several developers about the PS5 release date with most suggesting a 2020 release.
Other speculations also point to a 2020 release. Such speculations were triggered by Sony's announcement that it won't be attending the E3 2019. Thus, fans and commentators believe that Sony might be working on something big, and it would hold a separate PS5 announcement event somewhere close to the E3 schedule and then do a full reveal at the PlayStation Experience 2019, followed by a launch in early 2020.
However, a recent Wall Street Journal report suggests a release around three years away. Moreover, Sony's new CEO, Kenichiro Yoshida, came up with a three-year business plan, which predicts a drop in profits in the run up to 2021. Such a drop many believe could be due to PS4 market saturation, hinting the launch of the PS5 in 2021.
Updated on