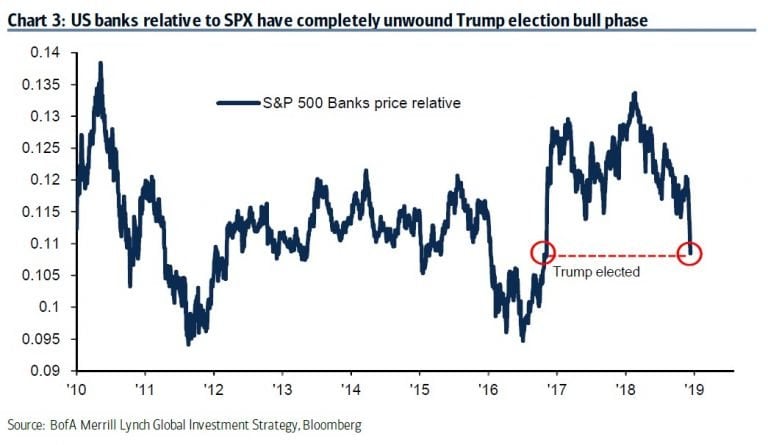 It seems investors are becoming increasingly fed up with underperforming equity strategies, so redemptions continue to climb. To quantify just how poorly the equity market has performed this year, Bank of America Merrill Lynch estimates that the global combined equity market cap has shed $15.7 trillion in value since peaking on Jan. 26.
The firm's data indicates that overall redemptions hit a new record high earlier this month. In fact, the turmoil is spilling over from equities into other markets, which means equity funds aren't the only ones seeing tremendously high redemptions this month. We're also seeing a very interesting trend in credit when we combine this new data from BofAML with other recent findings from other sources.
Q3 hedge fund letters, conference, scoops etc
Philip Carret And Warren Buffett: Why Sell If There's Nothing Wrong?
Philip Carret was an investor and founder of Pioneer Fund, one of the first mutual funds in the United States. Carret ran the mutual fund for 55 years, during which time an investment of $10,000 became $8 million. That suggests he achieved a compound annual return of nearly 13% for his investors. Q1 2021 hedge Read More
Record-high redemptions
BofAML Chief Investment Strategist Michael Hartnett and team released their latest "Flow Show" report toward the end of last week, and they observed some interesting trends. They gave the U.S. dollar a score of 5.3% and cash a score of 1.7%. Meanwhile, the scores on bonds and equities were all in the red. Government bonds were at -2%, while high-yield bonds were at -2.1% and investment-grade bonds earned a score of -4.3%. Global equities scored -5%.
Interestingly, they said cash has been outperforming equity and bonds, and the last time that happened was in 1994. Moreover, the last times cash returns were positive while equity, credit and government bond returns were all negative takes us all the way back to 1969.
Equity outflows reached a record high of $39 billion, while investment-grade bond outflows were at $8.4 billion. The week also marked a record high for equity and bond redemptions. U.K. equity funds recorded record-high redemptions at $9.8 billion, while U.S. equity funds saw their second-highest level of redemptions on record at $27.6 billion.
BofAML also reports that redemptions from financials were at their fourth-highest level ever at $2.1 billion. The firm adds that U.S. banks relative to the S&P have totally unwound the Trump election bull case.
Pensions are buying credit, but seems like no one else is
Interestingly, BofAML reports that credit redemptions have also been high, with the firm going so far as to describe the situation as "Crexit," playing on the widely-used term "Brexit."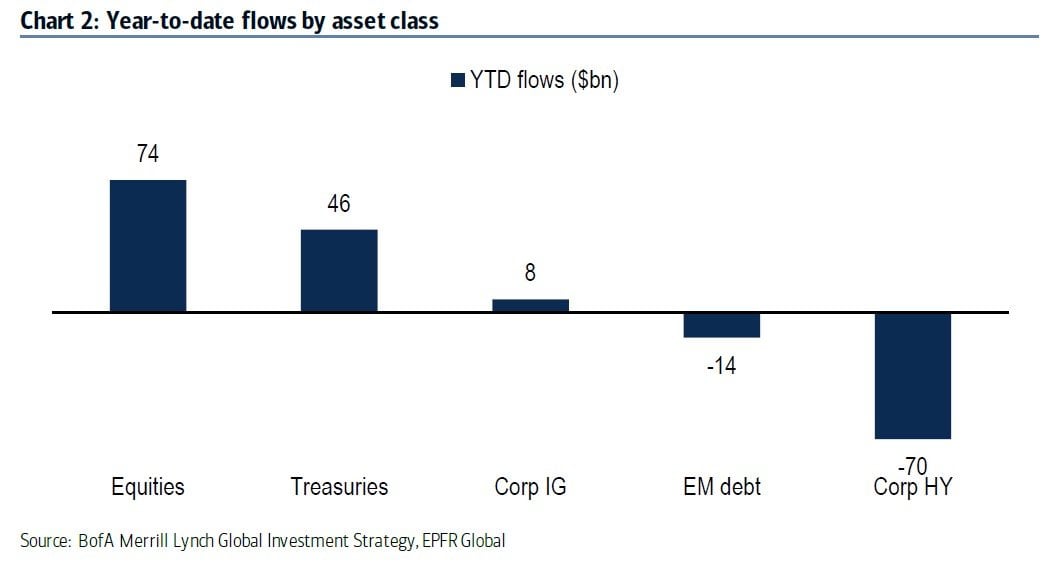 Year to date, they have observed a record-high $63 billion in redemptions from high-yield and investment-grade bonds. Inflows to stocks have reached $74 billion year to date, while inflows to government bonds are at $46 billion for the year.
What makes the outflows from credit particularly interesting is data Canaccord Genuity released last week. The firm observed that pension funds are pouring large amounts of new cash into credit and alternatives. In fact, pension allocations to credit and alternatives continue to set record highs of late, so even though the overall market is exiting credit, pensions are going all in.
Here's what investors are actually buying
With so much red across the board, we're left wondering what investors are actually buying. Interestingly, government bonds are at the top of the list, so corporate credit is the part of the bond market which has been most affected by the so-called "Crexit." BofAML clients bought $3.2 billion in government bonds in the week and $20 billion over the last 10 weeks.
The firm's clients also bought emerging market stocks, totaling $16.7 billion in purchases over the last two months, and $2.3 billion in Japan. Among the firm's private clients, Global Wealth and Investment Management ETF flows have turned defensive over the last four weeks, rotating into munis, dividends, real estate investment trusts and out of Japan and investment-grade, high-yield, and EM bonds.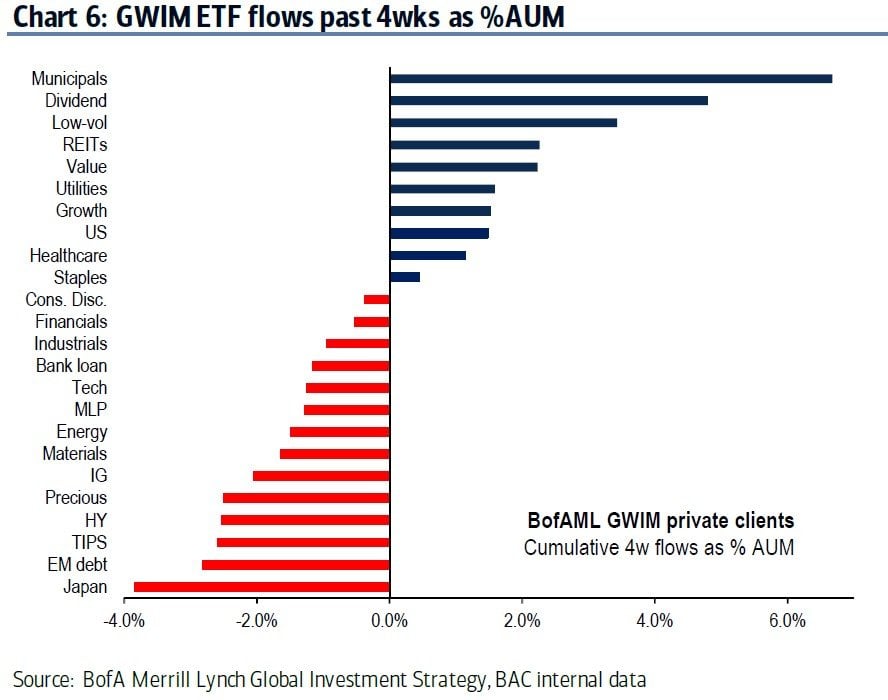 Precious metals are also starting to pick up. BofAML's data indicates that inflows to precious metals were at their highest level in 28 weeks.
From "buy the dip" to "sell the rip"
The BofAML team said they remain in a "sell the rip" position, waiting for "profits & policy," a.k.a. interest rates, "to reset to secular stagnation reality." This shift in tactic has taken the markets by force and is one cause for the extreme volatility we've seen recently. Morgan Stanley analysts said recently that this year is the first time in 13 years that the "buy the dip" strategy has resulted in negative returns.
In fact, Nomura analysts blame the very same trend in pension funds we mentioned above and in previous articles this month. They said in a recent note (hat tip to Zero Hedge) that it appears as if pension funds widely believe the stock market has peaked, so they've been rotating into credit in an attempt to benefit from the recent selloff in fixed income.
They also note that the combination we've been seeing recently is quite rare. Normally, a rotation out of risk and into the U.S. dollar (as demonstrated by the CTFC long dollar position being 1.5sd above the norm) combined with a dovish Fed would spark a rally, but that hasn't been happening this month.
The BofAML team believes the only reason this mix of factors wouldn't spark a rally is because investors worry about a "credit event" and "policy impotence."
The firm's "Bull & Bear Indicator" ticked lower to 2.6 and remains close to a buy signal, but it's not there yet.

This article first appeared on ValueWalk Premium