Most Visited E-commerce Platforms on Desktop and Mobile Web in Malaysia and Southeast Asia in 2018
Lazada maintains its leading position as the most visited e-commerce company in Malaysia and Southeast Asia on desktop and mobile web
Shopee ends the year in 2nd place and reduces Lazada's lead by 66 percent on a regional level
Events which garnered the most interest were the Birthday Sales, Singles' Day and the 12.12 Sale periods in Malaysia
2018 has been an important year for e-commerce. According to the Minister of International Trade and Industry, Darrell Leiking, e-commerce contributed a total of RM86.5 billion in gross domestic product (GDP) in 2017 with annual growth at 12.5 percent. In addition to this, Google recently upped its predictions stating that the e-commerce sector is growing faster than expected and is slated to reap in RM426 billion in gross merchandise value (GMV) by the year 2025.
[REITs]
Alluvial Fund May 2021 Performance Update
Alluvial Fund performance update for the month ended May 2021. Q1 2021 hedge fund letters, conferences and more Dear Partners and Colleagues, Alluvial Fund, LP returned 5.4% in May, compared to 0.2% for the Russell 2000 and 1.0% for the MSCI World Small+MicroCap . . . SORRY! This content is exclusively for paying members. SIGN UP Read More
Q3 hedge fund letters, conference, scoops etc
Before we wrap up the year, we conducted a study to find out who were the top players in the region, the competition and point out the most interesting developments of 2018. To derive our findings, we analysed consumer search patterns on Google and total visits on desktop and mobile web on SimilarWeb on Malaysia's top e-commerce platforms. Utilising data from SimilarWeb, we also analysed the most visited (desktop and mobile web) e-commerce companies on the regional level. E-commerce platforms featured in this study were chosen based on their performance on our study on the Map of E-commerce.
Stiff Competition at The Top
By analysing the total visits on desktop and mobile web garnered by each e-commerce platform, we were able to ascertain who gained the largest market share in visits for 2018. Lazada maintained its lead and commanded the largest market share of total visits at 46%. The following is Shopee and 11street at a market share of total visits at 23% and 13% respectively.
However, the Alibaba backed e-commerce received a strong challenge from Shopee who grew its total visits on desktop and mobile web by 98% between Q4[i] and Q1 2018. By end 2018, Shopee reduced Lazada's lead by 62% to become its closest competitor.
The most visited Malaysian based e-commerce platforms on desktop and mobile web were Lelong, Hermo, and GoShop. Lelong is the fourth most visited e-commerce platform after Lazada, Shopee, and 11street and has an average of 5 million visitors in 2018.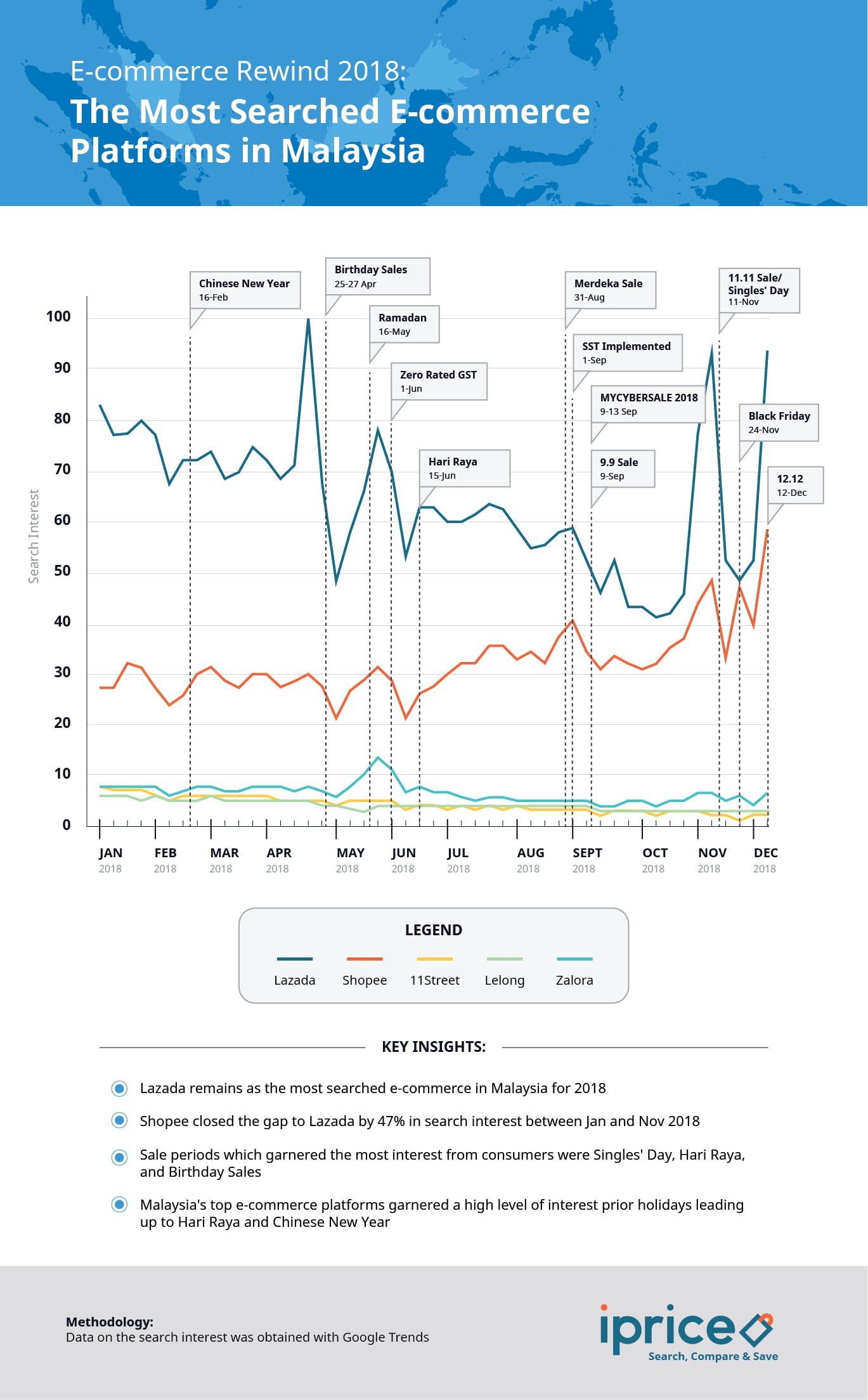 The Most Popular Shopping Periods
By analysing Malaysians' search patterns on Google, we saw that the Singles' Day sale, 12.12 Sale, birthday sales, Hari Raya sales and the day GST was zero-rated garnered the most interest.
The Singles' Day sale garnered a bigger interest in 2018 as compared to the previous years due to increased investment by various players to promote the event. This was evident as players such as Lazada organised a star-studded 11.11 Super Show to promote the event. Other players also initiated various offline and online activities to get consumers shopping.
2018 also saw the rise of the Birthday Sales which was initiated by Lazada and followed by Shopee. In fact, the event garnered a higher interest as compared the Singles' Day sale.
Other events which garnered a high level of interest on Malaysia's top e-commerce platforms were the Hari Raya sales and the moment the Government Service Tax (GST) was zero-rated on 1 June.
The top five e-commerce platforms in Malaysia saw a decline in search interest on 9 May during the 14th general elections period and on Hari Raya when most consumers were offline to celebrate the occasion.
Lazada, Tokopedia, and Shopee were the most Visited Platforms in Southeast Asia on Desktop and Mobile Web
We calculated the percentage of growth of the total visits on desktop and mobile web by the company between January and November 2018. From this, we saw that 60 of the top e-commerce platforms in Southeast Asia grew its total visits on desktop and mobile web by 46% on average. This positive uptrend is mirrored by Google's report stating that the online retail sector is moving quicker than expected.
Holding the biggest market share of total visits on desktop and mobile web of the year was Lazada at 25%, Tokopedia at 16%, Shopee at 15% and Bukalapak at 11%. Lazada maintains its market-leading position despite facing stiff competition from Tokopedia and Shopee throughout the year. By the end of 2018, we see Shopee closing into Lazada to become its closest competitor. Shopee grew its total visits on desktop and mobile web to overtake Tokopedia and reduced Lazada's preeminent position by 66% by November 2018.
Indonesian and Vietnamese E-commerce Platforms Competing with Regional Players
Lazada's dominant position was almost overtaken by Tokopedia in July and August 2018. In fact, Tokopedia was able to sustain a high number of total visits on desktop and mobile web garnered from its Ramadan and Hari Raya sale campaign in May 2018. The Ramadan period was considered among the most important festive season in Indonesia. It is a popular sale period when consumers will actively purchase gifts, apparels, and decorative items to prepare for the occasion in June. As such, it was apparent to see that both Tokopedia and Lazada experienced a dip in total visits on desktop and mobile web in June 2018 in Indonesia as most consumers were offline during the Hari Raya celebrations.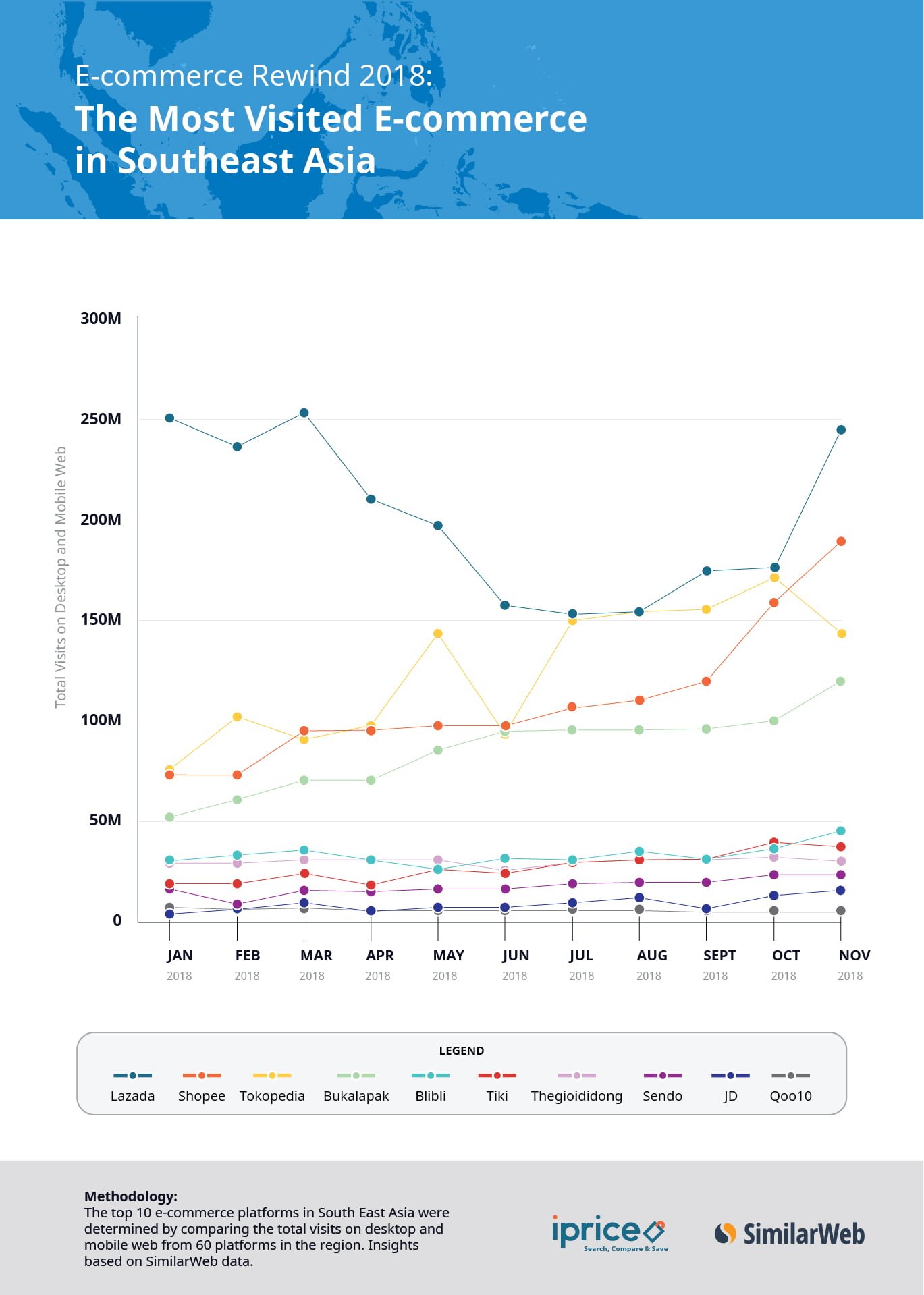 Among the many successful efforts initiated by Tokopedia to maintain its increased total visits on desktop and mobile web after Hari Raya was with its 9th-anniversary sale, which was held in August 2019. The Indonesian e-commerce company has been particularly impressive as it was able to challenge for the top spot though it was only available in Indonesia. Meanwhile, Lazada is a regional player with customers from 6 countries. Its success received further validation as Tokopedia recently raised $1.1 billion from Softbank in December 2018 to become Indonesia's most valuable startup, valued at about $7 billion.
Also remarkable in the regional level were Vietnamese e-commerce platforms Thegioididong and Tiki receiving an average total visit on desktop and mobile web at 29 million and 26 million respectively in 2018. This was particularly impressive as both players are only available in the Vietnamese market.
Thegioididong (also known as Mobile World in Vietnamese) initiated its business as brick and mortar electronics store since it was founded in 2004. Through the years, the electronics store rose to become the most prominent platform in Vietnam both online and offline. In its home country, Thegioididong overtook Lazada to become the second most visited e-commerce platform after Shopee by November 2018.
On the other hand, Tiki was popular amongst locals as well and is backed by Chinese e-commerce giant, JD.com. The e-commerce company recently received approximately $44 million to develop its business specifically for the Vietnamese market.
***
Insights based on SimilarWeb and Google Trends data. This is an expert article by iPrice Group.
[i] Q4 data did not include the month of December 2018 as this report was released prior the end of the month. As such, the percentage of growth recorded between Q1 and Q4 were calculated by averaging the total visits received in each quarter and by comparing the percentage of growth between the two quarters.