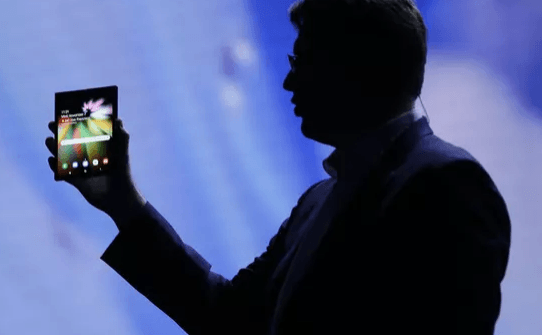 Samsung gave a glimpse of its much-awaited foldable phone at the developer conference last week. The Korean firm did not reveal many details at the time, but a report now claims to know the Galaxy F foldable phone price and release date.

Galaxy F foldable phone price and release date
This new report from South Korea, citing industry sources, claims that the foldable phone will be named Galaxy F. The name Galaxy F has already been making rounds on the Internet. "F" here could stand for "fold" or "flex." Another name that many believe the foldable phone might get is the Galaxy X, where "X" means "extra" or "10."
Talking of the Galaxy F foldable phone price and release date, the report says the handset would debut in March and could cost as much as $1,770. The report, however, notes that Samsung hasn't finalized the price yet.
Morningstar Investment Conference: Fund Manager Highlights Personalized Medicine, Energy Security
Hedge fund managers go about finding investment ideas in a variety of different ways. Some target stocks with low multiples, while others look for growth names, and still others combine growth and value when looking for ideas. Some active fund managers use themes to look for ideas, and Owen Fitzpatrick of Aristotle Atlantic Partners is Read More
Dan Ives of Wedbush Securities expects a lower price tag for the Samsung foldable phone. Ives believes that the foldable phone would cost much more than Samsung's top phone – the Galaxy Note 9. "Given this totally innovative design and significant R&D behind it we believe $1,200-$1,350 price points are what we would expect when they eventually hit the market," Ives told The Sun.
It will be interesting to see how many takers there will be for the foldable phone at such a price point. However, Samsung's mobile head recently said that the company expects to sell a million foldable devices next year. According to a market research firm – TrendForce – Samsung shipped over 300 million phones in total last year.
Samsung has already revealed that it would begin with the mass production of the foldable phone in the coming months. Samsung will reportedly launch the Galaxy S10 with 5G support in February at the Mobile World Congress (MWC) in Barcelona. And, in March, the Korean firm would announce the Galaxy F, possibly without any 5G support.
Infinity Flex – what's special about it?
Samsung, on its end, is quiet on the so-called Galaxy F foldable phone price and release date. The company so far has only showcased a prototype of the device, which appears to be a normal 4.5-inch phone when folded. But, when unfolded it works like a tablet with a 7.3-inch display.
Samsung revealed that the device uses "Infinity Flex" display, which features a panel bending tech. Moreover, it gets a new protective layer and an advanced polymer, which is both flexible and strong. Samsung claimed that the display can be folded hundreds of thousands of times without it showing any signs of wear and tear. If such a display gains popularity, we may see more foldable gadgets from the company, like folding Note phone and flexi-laptop displays, going ahead.
"We've been living in a world where the size of your screen can only be as large as the device itself. We've added a new dimension to help you browse, watch and multitask like never before," Justin Denison, Samsung senior vice president of mobile marketing, said while showing the device last week.
Samsung's foldable phone – what else is known?
Samsung's foldable phone has been in development for quite some time now. Samsung first introduced the concept at CES 2013, and reportedly showed a prototype at CES 2014. After that, the company went quiet until last year, when Samsung mentioned the flexible and folding screens in its end-of-2017 financial report.
Samsung's foldable phone appears to have two displays – one big display on the inside and one smaller one that comes into play when the device is folded. Meaning, the device does not use the same display when folded or unfolded, rather one display triggers the other display when the device is folded or unfolded accordingly.
For the software part, Samsung is working with Google to develop a software interface for this new form factor. The phone will be able to run three apps at a time, a technology that Samsung refers to as Multi Active Window.
Talking of other specifications, there are not many details. Samsung also did not reveal anything at the developer conference. However, one rumor going round is that Samsung would use a 7nm processor in the foldable phone.
Similar to its other flagship phones, Samsung reportedly plans to release a new version of the foldable phone each year. And, if the initial response is good, Samsung could boost the production volume of its foldable devices.
Updated on