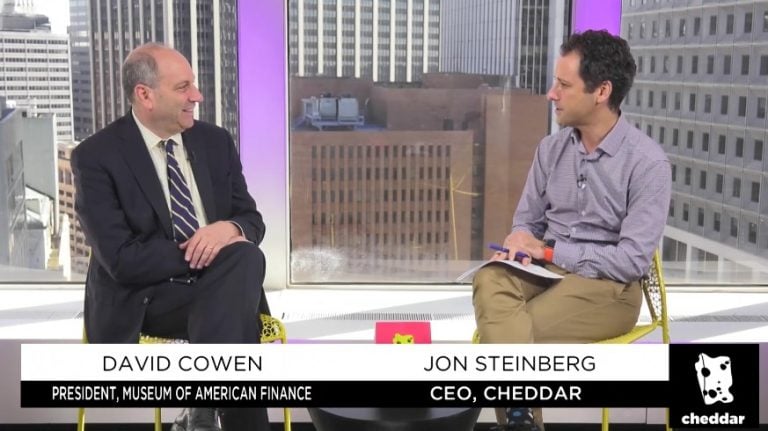 In October 2018, the Museum of American Finance introduced Part 2 of its C-Suite Series in collaboration with Cheddar, a live news network covering financial news, which broadcasts daily from the floor of the NYSE. The new Series, "Disrupting Wall Street," features C-Suite executives discussing the impact of financial technology on their own company, financial services, and the industry, as a whole. The introduction to the series, shown here, features MoAF President/CEO David Cowen in an interview with Cheddar Founder/CEO Jon Steinberg.
Cheddar CEO: Disrupting Wall Street
Ray Dalio At Robin Hood 2021: The Market Is Not In A Bubble
At this year's annual Robin Hood conference, which was held virtually, the founder of the world's largest hedge fund, Ray Dalio, talked about asset bubbles and how investors could detect as well as deal with bubbles in the marketplace. Q1 2021 hedge fund letters, conferences and more Dalio believes that by studying past market cycles Read More
[REITs]
Q3 hedge fund letters, conference, scoops etc
Transcript
But what about the personal and the very this time is disruption is why does Wall Street matter and why does disruption matter to Wall Street.
Absolutely. And now we're going to do phase two of that at Cheddar which is with chief technology officers chief digital officers chief information officers and my favorite chief innovation officers and some of these individuals run ten thousand technologists as we are disrupting Wall Street like never before.
Are these technology companies now up in many aspects? They are on the leading edge technology companies. I happen to be at one of those major banks and you see thousands of technologists at work and they're thinking about the entire spectrum of customer experience as well as speed of information flow and what's insuring is a history museum when you look at that you know you look at the floor of the exchange you look at old tickers and that information. This started 200 you know 30 odd years ago when Alexander Hamilton created our financial system. There would be speed express coaches and horses racing between Philly and New York and it's well identified in the newspapers about information flow to get arbitrage going.
So technology as old as the hill as old as our capital markets and we're going to talk about recent disruption and that it seems what drove them when I talked to people from incumbent large financial institutions like this. It was the startups. It was Robin Hood. It was block chain. It was wealth brought betterment. That's really what's sort of like Pokemon these staid institutions to get a move on it. Fair enough.
Fair an interesting point to him by the way when you say blockchain you know 10 years ago no one heard that phrase know five years ago you couldn't go to any conversation on the street without hearing that you know hearing that right away. There is a lot of disruption going on but there's also democratizing of finance and lots of big companies out there that are trying to achieve that whether it be paypal venmo. But there's so much action happening with this. It is really timely for us to partner again and we'll do it in two segments. First there is the video and then your team you or your team is going to interview these individuals live and that's the really exciting part as well.
OK. Well I'll do some of them but I have to like be disrupting me so I don't get to do all the finance Cheddar interviews. When I when I go I love every time I go to the museum for an event. I love looking back at the old ticker. I do love the old ticker's. I have lots of pictures of them. If you had to kind of rattle off you know let's say past 25 years what would be some of the biggest disruptions would it be decimalization would it be electronic trading what would be a few that would come to mind.