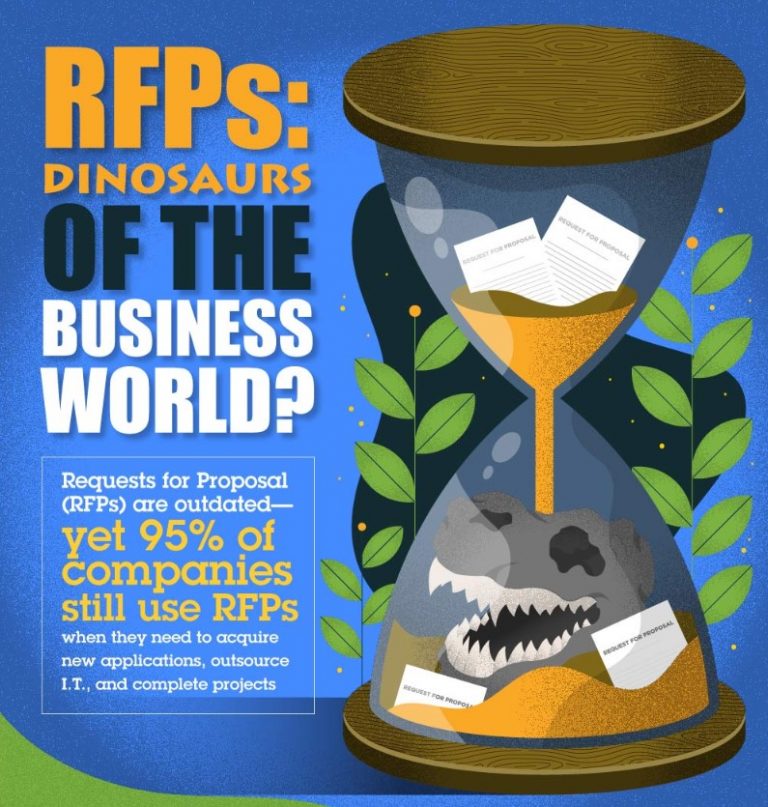 For decades, businesses on the hunt for new vendors and partners to complete projects of any scale turned to the RFP. In fact, 95% of businesses still use Requests for Proposals (RFPs) to this day, often due to a lack of better systems. Requests for Proposals were once considered industry necessities, but today they fell woefully inadequate. In modern business environments, fast and high quality solutions are essential for success and RFPs simply aren't able to keep up.

According to a LexisNexis survey among professionals, 17% say their firms responsible to up 21 RFPs per month and 15% say their firms respond to over 21 a month – at least 252 RFPs per year. Even just one RFPs accounts for dozens of work hours, thousands of dollars spent, and weeks or even months of waiting to earn the winning bid. That's a lot of manpower to place on a single gamble, and once winning the bid, success is not always a guarantee. Project management professionals who focus on IT say that among their strategic initiatives 42% failed to recoup the project budget, 28% are deemed failures, and only 60% met minimum project goals. Traditional RFPs often encourage business leaders to weed out high cost options in lieu of cheaper vendors, and reward the longevity of a business by ignoring startups. For current business operations, fast solutions developed by startups, and innovation brought on by technology, RFPs prevent businesses from reaching vendors with the skills they are looking for.
How Value Investors Can Win With Tech And "Fallen" Growth Stocks
Many value investors have given up on their strategy over the last 15 years amid concerns that value investing no longer worked. However, some made small adjustments to their strategy but remained value investors to the core. Now all of the value investors who held fast to their investment philosophy are being rewarded as value Read More
Q3 hedge fund letters, conference, scoops etc
Modern solutions to address the concerns with traditional RFPs focus on quality, rather than quantity. PoV or, Proof of Value, ensures the best value projects are done for the right price.  The goals of PoV is to set up a project for success before it even begins; based on information measurement theory, this process considers the predictability of success or errors by using the information available. This replaces the RFP with a performance-based solution, rather than a typical shot in the dark, allowing vendors the best opportunities to showcase their skills, lower the risks, and make the most of the time spent in development.
Is your business still relying on RFPs to get the job done? Stop using a 1950s solution to get a 2018 project finished. It's time for an upgrade. Take a look at this infographic for more on the dying RFP system, how it hurts modern businesses, stifles growth, and most importantly, what alternative and effective options are out there.

Updated on