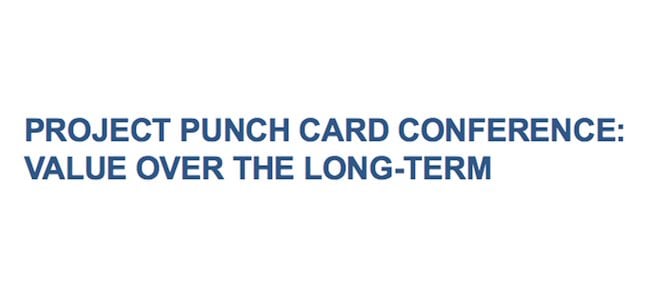 We will be covering the Punch Card conference featuring speakers such as David Abrams so stay tuned – more info below!
Focused on long-term value investing, you will hear from highly respected thought leaders in the value investing community about what it means to be long-term oriented. Project Punch Card Conference will be hosted on December 7th, 2018 at Gabelli Center at Fordham Lincoln Center 150 West 62nd Street, New York, NY 10023 from 9:00 AM – 3:00 PM.
The conference has an incredible line-up of speakers and thought leaders including David Abrams (in a rare public appearance), John Rogers, Jonathan Levin, Murray Stahl and more. We are offering a limited number of super-early-bird tickets for $145, after which the price increases to $495 for early-bird tickets and $995 for full priced tickets
Greenlight Capital Full Q2 2021 Letter: Einhorn Thinks Inflation Is Here To Stay
David Einhorn's Greenlight Capital returned -2.9% in the second quarter of 2021 compared to 8.5% for the S&P 500. According to a copy of the fund's letter, which ValueWalk has reviewed, longs contributed 5.2% in the quarter while short positions detracted 4.6%. Q2 2021 hedge fund letters, conferences and more Macro positions detracted 3.3% from Read More
REGISTER today for the Project Punch Card value conference, the inaugural event which launches the Project Punch Card nonprofit organization.
Q3 hedge fund letters, conference, scoops etc
Project Punch Card Conference Lineup
Confirmed speakers include:
David Abrams - Abrams Capital Management
David Abrams is the managing partner of Abrams Capital, an investment firm that currently manages approximately $8.7 billion across a wide spectrum of investments. Mr. Abrams serves as a director of iHeartMedia, Inc. and several private companies. He is an Overseer of the College of Arts and Sciences at the University of Pennsylvania.
John Rogers - Founder, CEO and CIO, Ariel Investments
Ariel Investments has ~$13.7 billion of assets under management. In 1983, John founded Ariel Investments to employ a patient, value strategy in small and medium-size companies. He is a member of the board of directors of Exelon, McDonald's and The New York Times Company. In 2013, John was featured alongside legendary investors Warren Buffett, Sir John Templeton and Benjamin Graham in the distinguished book: The World's 99 Greatest Investors by Magnus Angenfelt.
John Levin - Founder, Levin Capital Strategies
Levin Capital Strategies is a long-only and alternative investment manager with approximately $7.5 billion of AUM at June 30, 2018. John serves as the Chief Executive Officer, Portfolio Manager, and Chairman at Levin Capital Strategies, L.P. Mr. Levin served as the Chief Executive Officer and Chairman at Levin Management Co., Inc. and John A. Levin & Co., Inc., from June 1996 to September 28, 2005. Mr. Levin was a Partner at Steinhardt Partners, serves as Chairman Emeritus of BKF Capital Group Inc. and served as its Director from 1996 to September 28, 2005. Mr. Levin serves as the Member of Board of Advisors at The Yale School of Management.
John Bader - Chairman, CEO, Halcyon Capital Management
Founded in 1981, Halcyon Capital Management is a global investment firm with over $9 billion in assets under management. Mr. Bader is Chairman and Chief Executive Officer of Halcyon. Prior to Halcyon Mr. Bader was Director of Research at Gruss & Co. Mr. Bader has been a frequent speaker at educational and industry forums on investing. He has participated in the Barron's Roundtable, and has been featured in the Financial Times, Pensions & Investments, and Bloomberg, among other publications. He has appeared on CNBC and Bloomberg TV. Mr. A recipient of numerous academic prizes.
---
About Project Punchcard
Our goal at Project Punch Card is to foster long-term investment orientation amongst students underrepresented in the investment research and management business. Visit our site for more information.