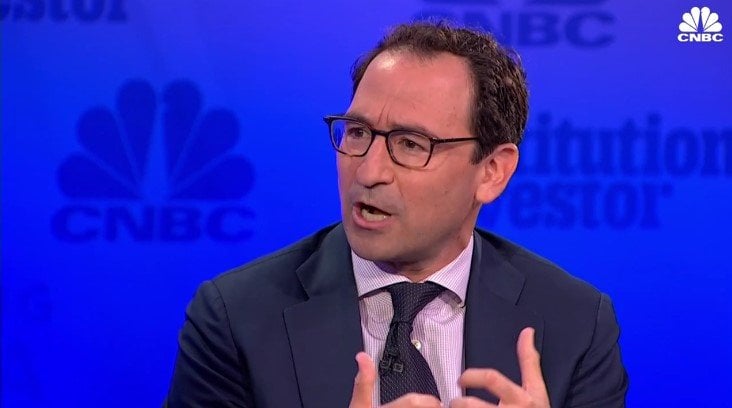 An interview with billionaire president and COO of Blackstone, Jonathan Gray. In this interview, Jonathan discusses the future of Blackstone and the new investment strategies it is implementing. Jonathan also talks about scaling and the economy.
Billionaire Jonathan Gray: Future Of Blackstone, Investment Strategy And Growth
Q3 hedge fund letters, conference, scoops etc
Q1 2021 13F Round-Up: Notable Hedge Fund Changes
Below is our 13F roundup for some high profile hedge funds for the three months to the end of March 2021 (Q1). Q1 2021 hedge fund letters, conferences and more The statements only include equity positions as 13Fs do not include cash and debt holdings. They also only include US equity holdings. Funds may hold Read More
Transcript
Blackstone as you know. But others may not hold its first Investor Day in four years on Friday and revealed a lot about its future. A new initiative in life sciences that you're talking about. An expansion into Asia a tilt toward growth in technology and emphasis on permanent capital and a bunch of specific funds you plan to raise. Why reveal so much about your strategy.
Well it had been a while since we sat down with investors and we wanted to give them a comprehensive update and a lot has changed that Blackstone since four plus years ago. I think the biggest thing that's changed is just the way the firm is expanded. If you went back really even further the firm was more focused let's say in private equity and real estate private equity. And we've seen this proliferation of things we do all built on the back of delivering great performance for our investors. We've delivered great returns that's given us the confidence of investors and they've allowed us to expand our platform. So as you said we've got a bunch of different initiatives we can talk about some of those but we're excited about those. And we also wanted investors to understand that the nature of our company is changing. We're moving as you mentioned to perpetual capital long term vehicles and that's leading to not only accelerated earnings but an improvement in the quality of our earnings quality because more of it is.
Fear related as opposed to carry.
Yes if you look at our business we get paid in two ways. We get base management fees we also get performance fees the market puts a bigger discount on performance fees even though we've shown over time we've been able to generate them over the summer slot. It's a bit of a sore spot for us but we understand the market likes more recurring earnings that are more predictable. And so we've said look if you look at the mix shift that's happening if you went back to 2017 about a third of our earnings were fee related. We said over time that could grow to as much as two thirds.
John scale is a word used in conjunction with Blackstone frequently. You pointed out on Friday that Blackstone has attracted almost as much capital in the past five years as your three largest competitors combined. Why is it important to be the biggest. Why is it important to grow by the most. Yeah.
For us scale has proven to be over and over again a real competitive advantage. So what do I mean by that. One is in buying assets. You know if you think about it in public markets if you want to buy a million dollars of stock and I want to buy a billion dollars of stock you have a competitive advantage because I'll move the market. If you go to private markets when Thomson Reuters wants to do a 20 billion dollar deal we end up in a bilateral discussion. The same thing when G wants to sell 20 plus billion of real estate. So scale for us across our platform really matters. It also gives us all sorts of information. So if you think about our portfolio companies what we're seeing on the ground around the world. Again that allows us to do more. And there are all sorts of adjacencies against our scale. So the reason we've been able to move into Europe in Asia the reason we've been able to expand private equity into energy into core private activity. All these activities is because we have this large base and we can grow off that. So for us scale is really important. We'll continue to emphasize that and are investing and again it helps us drive higher returns which is really the essence of our business. It is as simple as bigger is better bigger is better in the private markets. Over and over again if somebody needs a solution in a hurry. If you need to borrow a bunch of money and you need a billion dollars or two billion dollars you can call us and our GSO folks can show up and give you a solution. What about the risks of being so large. Well the classic Chris are you have a lot of money. There's not a big opportunity set and you worry that returns.