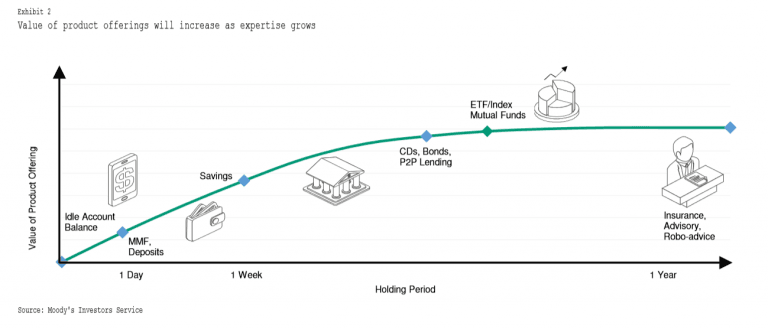 The "Amazon effect" isn't only about technical superiority disrupting retail stores. Increasingly, big tech firms such as Facebook, Apple and Alphabet (Google) are poised to disrupt and potentially displace incumbent asset management and financial services firms, particularly as passive forms of investing gains popularity. Several reports point out that the market changes, impacting brokerage firms, asset managers, banks, and insurance companies to different levels, are already occurring in a slow but steady fashion. The first step in the process, says Moody's, is for big tech to partner with the financial services firms.
Financial incumbents will cede a portion of control to big tech firms because companies such as Facebook and Google will know more about customers through digital interactions and can provide a seamless service with less friction, several analysts have predicted.
Marathon Partners: There Is A "Compelling Opportunity" In US Cannabis
Marathon Partners Equity Management, the equity long/short hedge fund founded in 1997, added 8.03% in the second quarter of 2021. Q2 2021 hedge fund letters, conferences and more According to a copy of the hedge fund's second-quarter investor update, which ValueWalk has been able to review, the firm returned 3.24% net in April, 0.12% in Read More
Q3 hedge fund letters, conference, scoops etc
"Big tech firms are formidable competitors in retail financial services given their large user bases, delivery of seamless user experience, long-term focus and significant capital resources," noted a September 25 Moody's report titled "Threat of big tech disruption is real."
The Moody's report came just after a World Economic Forum (WEF) report, titled "Beyond fintech: A pragmatic assessment of disruptive potential in financial services," said banks and insurers could have their core value proposition hallowed out by the very technology firms with whom they are currently partnering.
"Financial institutions increasingly rely on technology firms for their most strategically sensitive capabilities, but can so far only offer their ongoing business in return," said Jesse McWaters, lead author on the WEF report.
Moody's draws the same general conclusion, noting that "ceding control of customer relationships is the greatest risk to incumbents."
"Big tech companies' expansion into retail financial services distribution, primarily via partnerships with incumbents, will likely loosen incumbents' grip over customer relationships, a credit negative," Moody's said. "In most regions, big tech firms will likely avoid manufacturing financial products given a high regulatory burden on financial institutions. Still, higher price transparency and less customer interaction when customer relationships are "owned" by providers of digital ecosystems could translate to margin pressure for incumbents."
In Moody's central scenario, financial incumbents cede a portion of control over retail financial services to tech firms over time. They have an alternative analysis that shows big tech displacing financial incumbents rather quickly, particularly targeting legacy firms that fail to timely execute an effective digital transformation strategy.
While big tech firms are currently cooperating with legacy financial services providers, but one of their alternative scenarios sees open and direct competition between the two.
Legacy financial services firms, for their part, have invested in new technology but such efforts "have not fully demonstrated their value," Moody's noted. "In our alternate scenario, big tech firms would control a significant share of distribution and also manufacture some financial products. Incumbents with strong franchises and competitive digital strategies could still do well, but digital laggards would be at risk and financial services more profoundly disrupted."
"Tech giants would be able to pick and choose their points of entry into financial services, maximizing their strengths like rich datasets and strong brands, while taking advantage of incumbent institutions' dependence on them," McWaters said, noting a key performance driver in the equation for big tech firms: trust.
While big tech will likely have the ability to sit back and pick and choose how and where it enters the financial services domain, consumer trust will likely emerge as a key theme for retail investors. The moves come as significant privacy and trust issues have arisen with firms such as Facebook and Google. Having access to detailed customer data to extreme levels will provide big tech firms a meaningful advantage, but if they are not trusted their plans in the space could encounter execution risk.
This article originally appeared on ValueWalk Premium