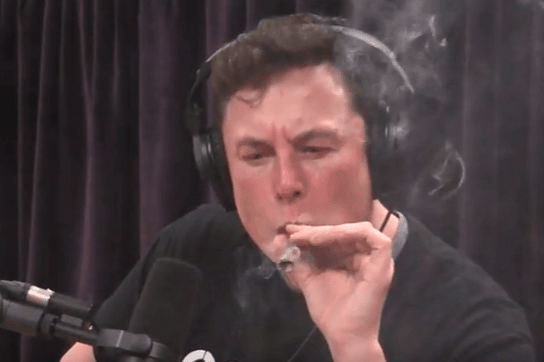 At a time when Tesla is burning cash and its shareholders' wealth is burning, CEO Elon Musk is smoking weed. In a live interview on YouTube, Musk talked about his plans for an electric plane while smoking pot.
Electric plane is not a priority
On Thursday in an interview for the Joe Rogan Experience podcast, Elon Musk said, "I have a design for a plane."
The Tesla CEO feels an electric airplane would do better than the current ones. He said an electric plane would be capable of vertical take-off and landing (VTOL) and supersonic flight at high altitudes.
ValueWalk's August 2021 Hedge Fund Update: Point72 Suffers Loss; Hedge Fund Assets Hit $4 Trillion
Welcome to our latest issue of ValueWalk's hedge fund update. Below subscribers can find an excerpt in text and the full issue in PDF format. Please send us your feedback! Featuring Point72 Asset Management losing about 10% in January, Millennium Management on a hiring spree, and hedge fund industry's assets under management swell to nearly Read More
He also said he has given it a lot of thought to the design of the electric plane, but he admits he has only discussed the idea with his friends.
According to Elon Musk, "The trick [is] that you have to transition to level flight. The thing you'd use for vertical takeoff and landing is not suitable for high speed flight."
Good times with @JoeRogan …https://t.co/8uZUsEJoq1

— Elon Musk (@elonmusk) September 7, 2018
Musk, who is CEO of both SpaceX and Tesla, then goes on to describe some technical details about the electric plane. However, he also admitted that an electric plane is not something on his mind for now.
"Electric cars are important, solar energy is important, stationary storage of energy is important," said Musk. "These things are much more important than creating electric supersonic VTOL."
Here's how Elon Musk feels about traffic jams and flying cars
Musk also talked about his other company: The Boring Company. He said transporting passengers in high-speed pods by digging tunnels under cities is the best solution to traffic jams. He also talked about the challenges they are facing in their efforts to build a tunnel under Los Angeles.
"Maybe it will be successful, maybe it won't," he said. The city "is a terrible place to dig tunnels," he added. "Mostly because of paperwork."
As far as flying cars go, he said the idea is impractical and that it would be too noisy. He suggested the noise from flying cars considering they are "1,000 times heavier," would make neighbors go crazy.
"If you want a flying car, just put wheels on a helicopter," he added.
Musk then adopted an emotional tone and stressed the importance of adopting sustainable energies.
He said, "We're really playing a crazy game here with the atmosphere and the oceans" by digging volumes of carbon from underground and then putting it in the atmosphere. He then referred to this as the "dumbest experiment in human history."
When Roagn asked, "So we're f*cked?"
Musk said "no," but "the momentum to sustainable energy is too slow."
Managing Tesla is the "hardest"
Elon Musk also talked about his job of managing multiple tech companies. He said many people would want to be like him, stressing the difficulties of running more than one company. He added that inside his brain, there is always "a never-ending explosion" of ideas, and it becomes "very hard" to switch his brain off. Musk also described Tesla as the "hardest" job.
"It's very difficult to keep a car company alive," he told Rogan.
Pressure on Musk has intensified recently, as the company has struggled with the production of the Model 3. Previously, Musk even revealed his intentions of taking Tesla private. Since the day Musk tweeted about the plans, the company's stock has dropped from $379.59 to about $280. Though Musk retracted the plan later, questions about his leadership capabilities are swirling.
Later in the interview, Rogan said he was smoking marijuana inside tobacco and asked Musk, "You probably can't because of stockholders, right?"
The Tesla CEO then asked if it's "legal," and when Rogan replied, "It's totally legal," Musk took a drag. The interview was conducted in the state of California, where marijuana is legal for recreational use.
"I'm not a regular smoker of weed," Musk said. "I don't actually notice any effect. I don't find that it is very good for productivity."
In an emotional interview with The New York Times last month, Elon Musk admitted to taking the prescription drug Ambien because he has difficulty sleeping.