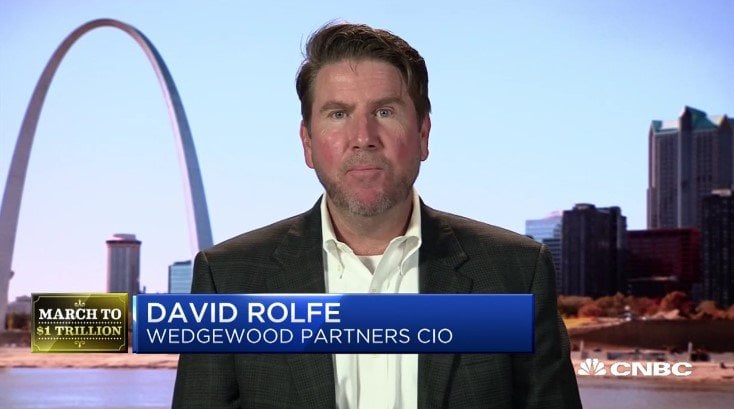 Wedgewood Partners CIO David Rolfe and Ross Gerber, Gerber Kawasaki CEO, discuss their outlook for the future of Apple stock as it marches closer to a $1 trillion market cap after its third-quarter earnings beat.
H/T Dataroma
Wedgewood Partners CIO David Rolfe: Apple Not Buying Stake In Tesla Would Be 'Biggest Mistake Of Tim Cook's Career'
Greenlight Capital Full Q2 2021 Letter: Einhorn Thinks Inflation Is Here To Stay
David Einhorn's Greenlight Capital returned -2.9% in the second quarter of 2021 compared to 8.5% for the S&P 500. According to a copy of the fund's letter, which ValueWalk has reviewed, longs contributed 5.2% in the quarter while short positions detracted 4.6%. Q2 2021 hedge fund letters, conferences and more Macro positions detracted 3.3% from Read More
Transcript
There was as evidenced by the move we're seeing right now in the stock a lot to like in this report but is there anything here that worries you or are you found disappointing.
Actually surprised that they know when they really hit everything exactly how we had hoped it was. After watching Simpsons numbers we were a little curious to see if they were just taking share or was the whole market really dropping. And what we're seeing is really the market is steady and Apple continuing to hold its position and growth. So really I think the biggest issue moving forward for Apple is sort of what's their next big thing. You know that other than that they're doing a wonderful job in services mobile commerce.
And I want to dig into a valuation that first David also as a shareholder here I want to get your take on the report as well is there anything that concern you.
Why there is there are so many things like actually in my mind the biggest negative was I was hoping that they would buy back even more shares than what they did. I think we're I think we're starting to realize that that as big as this trillion dollar company soon to be is there are some days that the liquidity just isn't there. And so you know that's a that's a first class problem to have. But it was it was a sterling report report on many fronts.
And David there's been a lot of debate about how to value this company is it a tech hardware company given the fact that it's growing its services business and paying more attention to that. Some folks have called it a consumer company of consumer staples company. How do you look at it and is it valued fairly.
I think we got to take it a couple of steps further. I don't know very many people who leave their home without their smartphone and there's so many things a smartphone can do. Now it's really morphed into I would call it almost not a consumer staple but almost a utility maybe even an unregulated utility and take that analogy a little bit further. Think of it is an unregulated toll road or toll bridge. And in terms of in terms of the valuation I think it should have a consumer staple multiple you know you put you put a 20 multiple on the earning power of Apple where we think at the at the end of calendar 2019 fiscal 2019 but the end of calendar 2019 with some pretty aggressive share buybacks you're going to be looking at earnings of around 14 and a half on its way to maybe 15 put a 20 multiple on that you've got a 300 dollar stock.
EROS We had a discussion this morning about whether or not they should be a little more aggressive on getting into accessories or pricing the exact reason they do have. I know you've made the point the car continues to be an area where we're still looking for something new. Obviously there's been challenges in getting a speaker that's competitive. What do you make of all those so-called negatives.
Well I think you're hitting the exact problem. Apple has right now. They're hitting it out of the park today. What about five or 10 years from now as investors we're not planning on selling our stock so that's that is the concern. So number one if I was CEO of Apple the first thing I would do is buy companies like Sonos is going public very soon. I mean this is a very attractive company control for a wonderful addition to the home business. And then on the car side how Apple hasn't taken a stake in Tesla is going to go back in history as one of the biggest mistakes that Tim Cook's career. So this is an opportunity for Apple to buy maybe 10 or 20 percent of Tesla and ride the car away. But getting the iO West system into the Tesla screen on the car has tremendous potential. So we really think that Apple has to start thinking about the future. They're spending a ton and orangy right now they're hitting it out of the park completely with everything that they're doing.