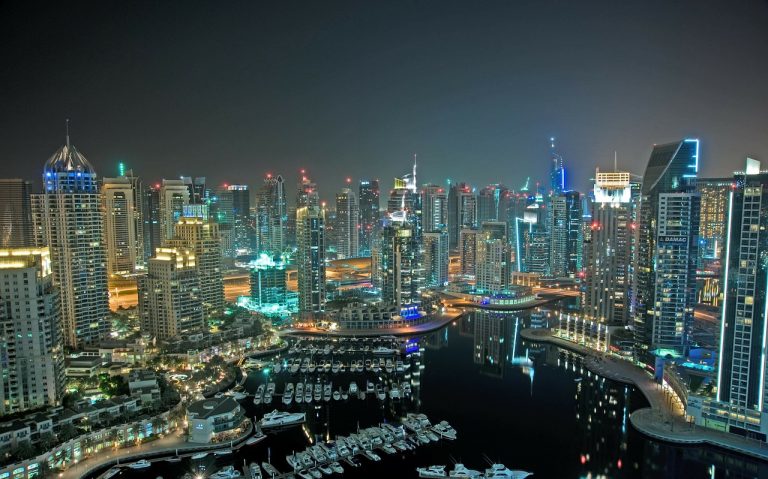 Wednesday the United Arab Emirates launched what has been called a "landmark" amnesty program for undocumented workers and those who have overstayed their visas. The UAE visa amnesty program will allow illegal foreign workers to leave the country without penalty. It will also grant illegal workers six months to find a job.
This is the third such amnesty program the UAE has adopted in a decade.
A Catch-22 for Illegal Workers
Illegal workers generally have to pay fines for visa violations before they are able to leave the UAE and return to their home country. They are often unable to afford the fines, which increase daily, trapping them in a Catch-22 situation. Fines range from $7 to $27 per day after the visa has expired.
Jim Chanos Unveils Lastest Short As Fund Manager Bets On Further Market Declines
Jim Chanos has a new short target in his sights. Earlier this week, the hedge fund manager disclosed that he is betting against "legacy" data centers that face growing competition from the trio of technology giants, which have previously been their biggest customers. The fund manager, who is best known for his winning bet against Read More
Some illegal workers end up trapped in the UAE for years unable to pay these fines on their laborer salaries. Without a proper visa, they are forced to take illegal jobs, which are often dangerous or unethical. Without a visa, children are also unable to attend school or receive health care.
The UAE visa amnesty program is not a permanent measure. Rather, visa violators from before August 2018 will have until October 31 2018 to rectify their visa situation.
According to the Federal Authority for Identity and Citizenship (ICA), not all illegal workers will be eligible for amnesty. Those who are blacklisted or who have pending legal cases against them will not be able to benefit from the new UAE visa amnesty program.
Who Will Benefit from Amnesty?
The UAE visa amnesty program will mostly affect the large Indian population living in the country. Roughly 2.8 million Indian expatriates live in the UAE out of a population of 9 million. Of the 9 million people living in the UAE, only 12% are Emiratis.
Indians are the largest expat community in the UAE, the majority of which are poor laborers. Of the community, 65% are blue collar laborers. 20% are white collar workers and 20% are professionally qualified.
While the UAE government did not release official figures related to the amnesty program, Abu Dhabi did say they expect thousands of laborers from countries like India, Pakistan, Nepal, Bangladesh, Sri Lanka, and the Philippines will be returning to their home countries. Those who have overstayed their visas will have the option of returning to their home country without facing fines or jail time. They will also not be banned from re-entering the country.
In addition to foreign workers, those from war-torn countries like Yemen and Syria will be eligible for a one year residence visa. One official described this visa program as "a gift from the government of the UAE as a humanitarian gesture."
After the official start of the amnesty period Wednesday, immigration offices have already been overwhelmed by applicants. Tens of thousands of illegal workers across the country have already lined up to rectify their visa situations. Air conditioned tents have been set up in Dubai for those waiting in line, while community organizations have opened help desks to provide assistance to those taking advantage of the three month amnesty period.
With embassies and community organizations launching awareness campaigns to help illegal workers, authorities expect to see thousands more applying for visas.
Maj. Gen. Mohammed Ahmed Al Marri, director of Dubai's Office for Residency and Foreigner Affairs, said, "No one will stay at home while there's a good chance to solve their problems."
Al Marri went on to say that those who have overstayed their visas in the UAW are "not criminals." He said, "We are here to support and help these people to start over again and start working."
Assistance from the Philippines
After the UAE visa amnesty program announcement the government of the Philippines announced that they will provide financial assistance to Filipinos stuck in the UAE. Manila will be offering financial assistance to cover the cost of exit passes, fines, and a one way flight back to the Philippines. The financial assistance will not be offered to those who have been unable to leave the country due to police cases. The Philippine Consul General in the UAE issued a statement reading:
"Attention: The UAE Amnesty program from 1 August to 31 October 2018 is only for those with overstaying and/or absconding cases only. It does NOT cover those with police cases (bank loans, baby cases, etc.) The Philippine Government will pay for the necessary exit permits, clearances, and one-way plane fare to the Philippines ONLY for those who wish to avail of amnesty and return to the country."
Updated on