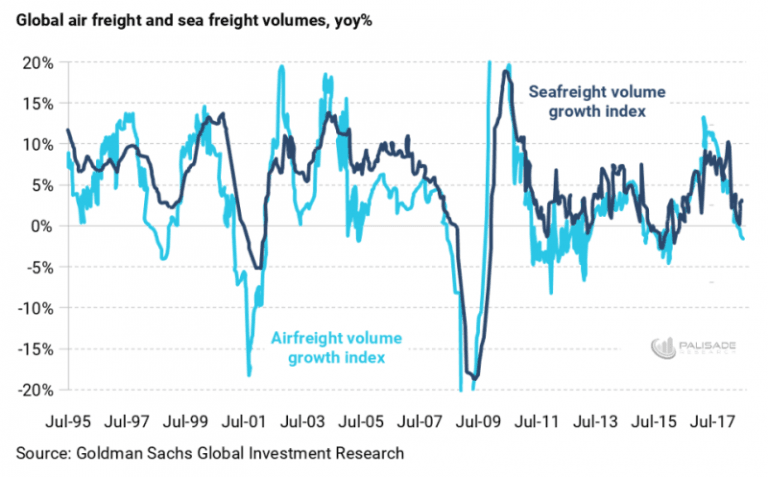 Lately, nothing seems able to shake Wall Street's bullish attitude.
Q2 hedge fund letters, conference, scoops etc
Investors and the mainstream continue to still ignore the worsening trade war – which is evolving into a currency war – with China.
Option Trading and the Future of Option Alpha with Option Alpha's Kirk Du Plessis
ValueWalk's Raul Panganiban interviews Kirk Du Plessis, Founder and CEO of Option Alpha, and discuss Option Alpha and his general approach to investing. Q1 2021 hedge fund letters, conferences and more The following is a computer generated transcript and may contain some errors. Interview with Option Alpha's Kirk Du Plessis
But since early May – we at Palisade have maintained that there's going to be a worldwide earnings recession sometime in summer 2019. . .
I haven't been shy writing about this topic – and if you haven't read my thesis of why I think this yet, you can check it out here – and here.
If you looked at the markets enthusiasm today – and share prices – you'd think I was dead wrong.
But if you look between the lines – things are getting even worse for global corporations.
Goldman Sachs recently published some damning data that only bolsters my global earnings recession hypothesis. . .
To summarize: world trade has continually declined since early 2017 – long before the trade war talks – and the recent data only suggests this trend is worsening.
The U.S. Dollar has rallied significantly since March of this year – after declining nearly 15% between January 2017 and February 2018.
This paired with the Federal Reserve's tightening has created chaos for the emerging markets and their currencies throughout much of 2018.
And yet, instead of weaker currencies boosting foreign exports, things have only worsened since. This signals that there's a deceleration in world wide demand.
Just take a look at the following charts. . .
If you study the growth of 'global air and sea freight volumes' year-over-year (YoY), there's significant declines over the last 24 months – especially for air freight volume. It recently dipped into negative YoY growth.
Making matters worse – China's economy has slowed down considerably the last couple of years. This no doubt has affected world trade.
But it's not just China that's seeing a slowdown in trade activity. . .
Other major Asian cities are suffering declining container shipments.
Singapore, Shanghai, and Hong Kong all have seen weakening 'container shipment throughput' since last year.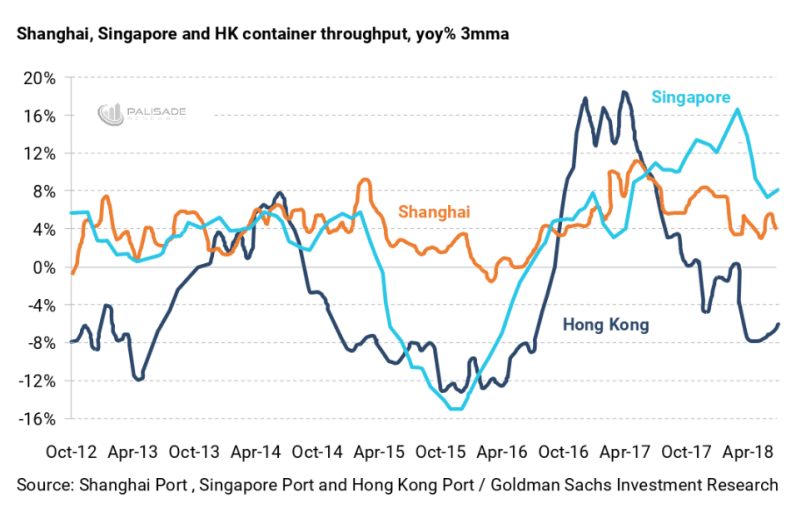 The European Union (EU) is also seeing significant drops in their airport cargo growth.
Continuing it's decline since March 2017 from roughly 10% YoY growth – to currently negative -2%.
That's a -12% drop in the last year. . .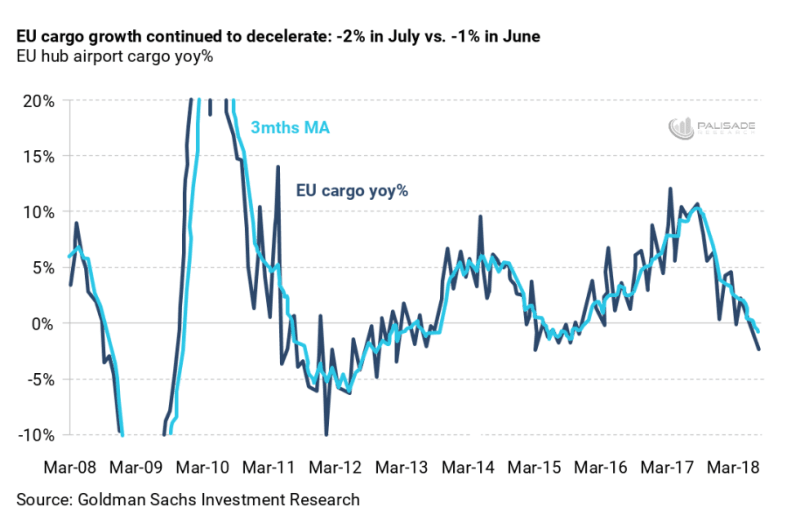 Goldman makes note that the key weakness stemmed from trade with Asia. . .
Finally, looking at the popular Suez Canal trade hub in Egypt – connecting the Mediterranean Sea to the Red Sea – we've seen a sharp drop in activity.
Containership net-tonnage has declined sharply over the last year. . .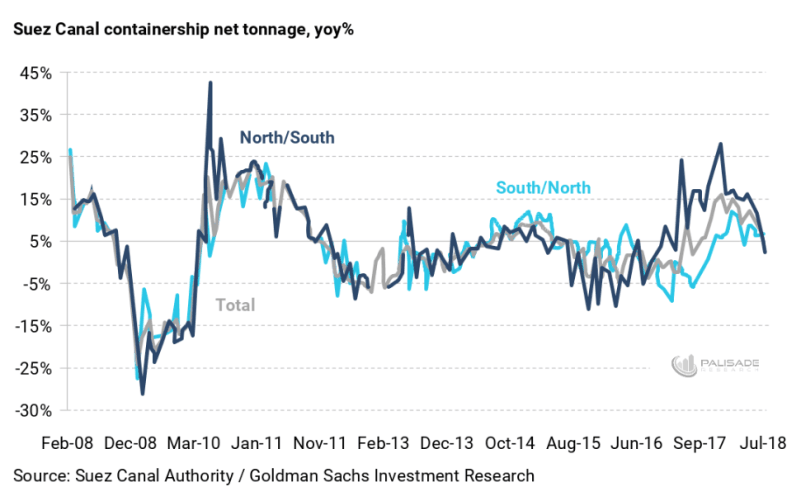 All the above shows that deteriorating trade is happening worldwide. This clearly isn't just an isolated issue with one or two countries.
The data indicates that global trade volumes are screeching to a halt.
So what gives? Why's this happening?
Some will point to the first round of US-China tit-for-tat tariffs that took effect in early July. No doubt this will impact trade negatively going forward.
But it doesn't explain the deceleration in world trade that's occured over the last year. . .
Another important factor is that over the last year, global central banks have followed the Federal Reserve and began tightening. This global financial tightening clearly impacted world trade volumes.
I remain bearish on the global economy over the next year or two.
The signs from global trade indicate that sales and exports are weakening. This will hurt corporate balance sheets overtime.
As financial tightening continues – the world's over-indebted businesses (and all borrowers) will feel significant pressure.
What I mean is: they'll be squeezed between less sales/exports – which will cause lower earnings. And higher debt servicing costs from increased interest rates – especially as the dollar rises in value.
The data above only makes the case for a global earnings recession that much more likely to happen. . .
The mainstream hasn't caught on to this – yet. So it remains a minority position.
But when being contrarian, I'd rather be early than late on something of this magnitude.
Article by Adem Tumerkan, Editor-in-Chief, Palisade-Research